Senator Chuck Grassley's former chief of staff David Young and former U.S. Attorney Matt Whitaker have both officially entered the U.S. Senate race. Highlights from the candidates' announcements and recent interviews are after the jump.
Any comments about the IA-Sen campaign are welcome in this thread.
David Young mailed his campaign's organizing paperwork to the Federal Election Commission on June 1 and held a low-key kickoff event with family and friends in Van Meter. The previous day, he spoke to The Iowa Republican blog's Jeff Patch. Excerpt:
Young said that what separates him from potential primary challenges such as former U.S. Attorney Matt Whitaker or state Sen. Joni Ernst is that he could immediately impact Washington by exercising oversight investigations of the Obama administration, a practice he honed as Grassley's top aide.

"A lot of people [who run for Senate] say they're going to do this that or the other," Young said. "It's not as easy as you think, but I can hit the ground running with oversight right away."

Young also differentiated himself from Whitaker and Ernst by noting that he lacks a legislative or legal record that could provide a fertile target for Democrats. Furthermore, he noted that he's the only potential candidate with proven fundraising experience in Senate races and the ability to raise the $8-10 million needed for a competitive race. [...]

Young pointed out issues where he disagrees with his former boss. He said he would not have voted for the Wall Street bailout, known as the Troubled Asset Relief Program, to confirm Eric Holder as U.S. Attorney General, or the 1986 immigration bill, which Young described as amnesty.

Young also said that he would not have signed on to the Stop Online Piracy Act or participated in the "Gang of Six" health care negotiations that preceded Obamacare.
Patch quoted Grassley describing Young as "an outstanding staffer, just an outstanding individual of good moral character" who "would be qualified on day one." However, Grassley does not plan to endorse a candidate in the GOP Senate primary.
Robert Cramer, the president of Bob Vander Plaats' organization FAMiLY LEADER, told Patch that he has known Young for many years and that he is a "man of integrity," trustworthy and an "across-the-board conservative."
Radio Iowa's O.Kay Henderson also interviewed Young over the weekend. Excerpt:
"When Senator Harkin announced his retirement I really didn't think much of it in terms of getting into the race because I felt that there were some very formidable candidates - Latham, Reynolds, King, Northey, Schultz - who were probably going to take up this venture and it would have been foolish for me to even think about it," Young said. "But as one by one kind of dropped out, I said to myself: 'Here's an opportunity to take your public service to another level.'" [...]

"I"m conscious that I have to be my own man," Young told Radio Iowa this evening. "A lot of people are going to probably see me out there being some kind of Chuck Grassley clone, but I'm David Young. He's Chuck Grassley. We're two different people and we don't think the same on everything. I think I can be a real good check and balance against President Obama and the (Democrats) who control the senate because I really don't like what's going on and a lot of Iowans don't like what's going on either."
Matt Whitaker drew a larger media presence for his official campaign announcement today in Ankeny. You can listen to his 11-minute speech and his press availability at Radio Iowa's site. Whitaker's Facebook page included what I would describe as the condensed "elevator speech" version:
"We have a government that spies on our people, steals from our future and taxes beyond what is appropriate and necessary. That federal government is threatening to grow even larger. Someone has to do something. And that is why I'm here today taking a stand."
Radio Iowa's Dar Danielson posted more highlights:
"We have promised our next generation that they will have the American dream, but the only thing we seem to be handing them now is 50-thousand dollars in debt for every man, woman and child. That is why I am running," Whitaker said.

"There is not doubt in my mind that Bruce Braley and Barack Obama will not make America strong. They will not have better days under their leadership." [...]

"That same federal government I described is threatening to grow even larger. Someone has to do something. And that is why I am here today taking a stand and that is why I want to be your next senator for the great state of Iowa," Whitaker said.
Jennifer Jacobs covered today's event for the Des Moines Register. I would guess that this football anecdote will become a mainstay of Whitaker's stump speech.
"It's 4th down, two yards to go. Hometeam has the ball and they need a first down. Now you all knew I was going to tell a story like this," said Whitaker, who was a tight end for the University of Iowa, playing during the team's 1991 Rose Bowl game.

"The quarterback takes the snap from the center. The center hands off the ball to the running back. The running back lunges for the first down and comes up short."

Whitaker seemed to want people to think he was talking about his own sports career, but was instead talking about one of his three children.

"Now, I remember that. Doesn't seem like a significant moment for you all I'm sure, but I remember that day like it was yesterday. Because I ran on the field and grabbed my youngest son, Lincoln, who had just unsuccessfully tried to get a first down. I picked him up and he was inconsolable and I said, 'Lincoln, stand strong. There will be better days.'

"And that is why I'm running. Ladies and gentlemen, I am not sure I can look my kids in the eye and honestly say that in our country, there will be better days."
I'm interested in campaign list-building techniques, and tactically speaking, Whitaker's struck gold here. I took this screen shot from his campaign's Facebook page today: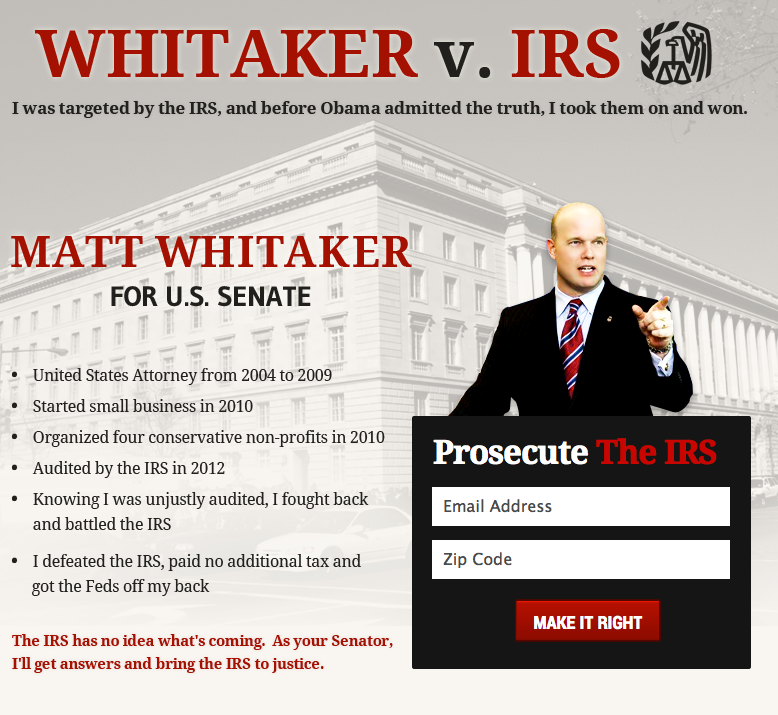 Not many people would add their name and e-mail address to a page begging, "Sign up for my continual pleas for money!" But a lot of Republicans would add their name and address to a page demanding that we "bring the IRS to justice."
I find it ironic that a former U.S. attorney wants to prosecute the IRS for attempting to enforce the law on tax-exempt organizations. Does Whitaker believe all IRS audits of groups claiming non-profit status are illegitimate? Does he think no one has ever abused that federal law?
All's been quiet lately on State Senator Joni Ernst's twitter feed. She recently indicated that she would make up her mind soon about the U.S. Senate race.
UPDATE: The Iowa Democratic Party sent out this press release today, trying to put Whitaker on the spot over health care reform.
DOES MATT WHITAKER SUPPORT OBAMACARE REPEAL OR NOT?

DES MOINES -- As Matt Whitaker continues his tour around Iowa today announcing his campaign for the US Senate, Iowa Democrats have one question - has Matt Whitaker finally decided whether he supports Obamacare or not?

When discussing his possible candidacy with the Des Moines Register last month, Whitaker said the law needed to be "reformed and fixed".

Barely two weeks later, Whitaker lurched back into line with Tea Party firebrands Ted Cruz and Rand Paul telling a group of conservatives he did in fact support the full repeal of Obamacare.

Repeal of Obamacare would cost Iowa hospitals more than $33 million and leave up to 17 million children open to being discriminated against for having a pre-existing condition.

"Matt Whitaker is clearly suffering from an identity crisis" said IDP Chair Tyler Olson. "As we have seen over the last five weeks, Matt Whitaker is willing to say anything to pander to the extreme Tea Party wing of his party to get more votes. Iowans deserve to know: which Whitaker is going to show up on Election Day, the one who supports Obamacare or the one who wants it repealed?"
SECOND UPDATE: The Iowa Democratic Party took its first shot at Young in this June 4 press release.
DAVID YOUNG IS EXACTLY WHAT IS WRONG WITH WASHINGTON

DES MOINES - Longtime Washington, D.C., resident and Republican Senate candidate David Young has demonstrated once again that while you can take a politician out of Washington, you can't take Washington out of the politician. When asked by a reporter if he can be a bipartisan candidate, Young said that he will not "compromise on anything."

"David Young's mentality is exactly what is wrong with Washington today," said IDP Chair Tyler Olson. "Congress is supposed to be a place where people of different backgrounds and ideas come together and solve our country's problems. Instead, Washington politicians like David Young refuse to come together and break the partisan gridlock.

"Young has spent nearly two decades in Washington, and it shows," Olson continued. "Iowans deserve a voice in the Senate who will work for them, not an ideology."

Young made the remarks in an exchange with an Iowa reporter in Van Meter. A transcript and a link to video of the exchange follow:

REPORTER: A lot of political gridlock in the Senate. Do you believe that you can be a bipartisan candidate, work with the people who are currently in Washington?

YOUNG: Well I have no problem reaching across the aisle, but I'm not going to give up my principles and compromise on anything.

You can watch the exchange here: http://youtu.be/W0Xmyo5qghM
Bipartisanship is already a big theme of Bruce Braley's Senate campaign and a central argument on his "Iowa problem solver" website. In any event, I don't think Democrats need to worry about David Young winning the Republican nomination.