UPDATE: The Iowa Senate and House approved a revised version of this bill on February 23 and 24. Original post follows.
Republican-controlled states "are increasingly not 'laboratories of democracy,' but 'laboratories of democratic backsliding,'" political scientist Jake Grumbach noted in a new article by Perry Bacon Jr. for FiveThirtyEight.com.
Look no further than the Iowa legislature, where House and Senate Republicans unveiled a wide-ranging election bill on February 16. The 37-page legislation would make it much harder for Iowans to obtain and cast absentee ballots, either using the mail or voting early in person.
While House Republicans worked with Democrats to remove many voter suppression provisions from election bills the Iowa Senate had approved in 2019 and 2020, House State Government Committee chair Bobby Kaufmann is now on board with every piece of this year's attempt to make it harder for Iowans to vote.

Kaufmann and Senate State Government Committee chair Roby Smith introduced identical bills, currently numbered Senate Study Bill 1199 and House Study Bill 213. The bills appear to be on a fast track, with subcommittee meetings in both chambers already scheduled for February 17.
Although Iowa GOP candidates did well across the board in the 2020 general election, Iowans who preferred Democrats were far more likely to vote before election day. For example, certified results indicate that Joe Biden received 569,478 early votes here, to 408,848 for Donald Trump. By comparison, Trump carried Iowa's election day vote by 488,824 to 189,583. According to the statewide statistical report published by the Secretary of State's office, 430,116 of the 562,606 registered Democrats who cast a ballot in the presidential election voted early (76.5 percent), compared to just 320,665 of the 614,760 Republicans who participated (52.2 percent).
Republican leaders including Iowa GOP state party chair Jeff Kaufmann (Bobby Kaufmann's father) have promoted false claims about election fraud in other states to justify further restrictions on voting in Iowa.
The new legislation, enclosed in full at the end of this post, attacks early voting from many angles. The most important:
1. Iowa's early voting period would be shortened from 29 days to eighteen days (Section 34 on page 17). Republicans had previously shortened that window from 40 days to 29 as part of the 2017 election law, best known for its voter ID requirements.
Eighteen days would leave almost no room for error for Iowans voting by mail. At best, they could receive their ballots sixteen or seventeen days before the election. The ballot might arrive much later than that, given the postal delays that were common around the country in 2020.
2. County auditors would be prohibited from sending absentee ballot request forms to voters under any circumstances (Section 30 on page 15). The intention is presumably to stop auditors in large, Democratic leaning counties from mailing those request forms to all registered voters in their jurisdictions. But under this provision, if a voter who lacks transportation or access to a printer called the county auditor's office specifically to request a ballot, the election officials would not be able to send them a form.
3. The secretary of state could send absentee ballot request forms to all registered voters only if directed by the state legislature, or by the Legislative Council, while a governor's public health emergency disaster order is in effect. (Section 30 on page 16) Secretary of State Paul Pate sent such forms to all registered voters before Iowa's 2020 primary, encouraging people to vote from home to reduce COVID-19 spread.
4. No one could fill in any portion of any absentee ballot request form provided to a voter, other than the election date and type (primary or general). (Section 31 on page 16) In recent years many groups, including state political parties, have sent voters absentee ballot request forms with names and addresses filled in. Last year, three county auditors mailed all voters in their jurisdictions absentee ballot request forms with most information pre-filled; Iowa courts later invalidated those forms.
5. Political volunteers would be banned from picking up and hand-delivering absentee ballots to the county auditor's office. (Section 52, page 27) Under this bill, only the voter, someone in the voter's household, a caretaker, or someone affiliated with an assisted living facility (if the voter didn't live independently) could return an unmailed ballot. This would end ballot "chasing" operations by Democratic candidates or party organizations.
6. Iowans would be able to request absentee ballots starting 70 days before an election, reduced from 120 days under current law. (Section 30, page 15) So whereas Iowans could start requesting absentee ballots in early July for the 2020 general election, that date would move to late August for 2022 and beyond.
7. County auditors could have only one "drop box" for delivering absentee ballots, located in or immediately outside the government building where the auditor's office is located. (Section 40, page 19) This would codify an order Pate issued last year to prevent Linn County's auditor from setting up drop boxes at Cedar Rapids area grocery stores.
8. County auditors could no longer choose where to set up satellite locations for Iowans to vote early in person. (Section 38, page 18) Iowans could request satellite voting locations through a petition process that already exists. However, this law would prevent county auditors from drawing on past experience to establish early voting at convenient locations in their communities, such as public libraries, community centers, or state university buildings.
9. Only postal barcodes (not postmarks) could establish that a voter mailed an absentee ballot on time--that is, on or before the day before the election. (Section 44, page 21)
Bleeding Heartland sought comment from Smith and Kaufmann about the justification for making it harder to request a ballot, return a ballot by mail, or cast an early ballot in person. Neither legislator has responded to the inquiry, but I'll update this post as needed. To my knowledge, no Republicans have even claimed, let alone proved, that Iowa's current early voting procedures facilitate fraud or any other problems.
The bill also reduces the authority of Iowa's 99 elected county auditors in other ways. Section 14 would place them under the direct supervision of the secretary of state, and would allow the secretary of state to "issue guidance that is not subject to the rulemaking process to clarify election laws and rules." Section 15 states that county auditors do not "possess home rule powers" with respect to conducting elections. Section 24 gives the secretary of state oversight over any county auditor from 60 days before any election to 60 days after the election.
Other noteworthy provisions:
Section 9 would require the Iowa attorney general or a county attorney to investigate any allegations of election misconduct reported. Last year, Pate asked Attorney General Tom Miller to open a criminal investigation against Linn County Auditor Joel Miller; the attorney general declined.
Section 18 would move more voters to "inactive" status, the first step toward taking them off the rolls. Longtime Johnson County elections worker John Deeth pointed out on Twitter that under this provision, "voters would be inactivated after missing ONE general election, not two. And that's just for not voting, not for mail getting returned. Miss one governor election and the cancellation clock starts ticking."
Section 12 would require minor political parties to hold state conventions with at least 500 delegates (up from 250 in current law) to nominate candidates for statewide offices. At least 200 convention delegates would be needed from a Congressional district to nominate a candidate for that office. Convention sizes would also increase for nominating candidates for Congressional or state legislative races. This would primarily affect the Libertarian Party of Iowa. Deeth is likely correct that the last two election results in Iowa's third Congressional district inspired this provision. In 2018 and 2020, Democrat Cindy Axne won with less than 50 percent of the vote, and Libertarian Bryan Jack Holder was perceived to pull votes away from Republican David Young.
Section 13 dramatically increases the number of signatures needed on nominating petitions for various offices. U.S. Senate candidates would need at least 3,500 signatures (up from 1,500 under current law). Candidates for statewide offices would need at least 2,500 signatures (also up from 1,500). U.S. House candidates would need at least 1,726 signatures; in 2020 they needed 375. Signature requirements for various county and local offices would increase as well.
Unlike previous bills introduced by Smith, this one does not change Iowa's poll closing time from 9:00 pm to 8:00 pm. According to Deeth, the Iowa Secretary of State's office has proposed shortening election day voting hours in its election bill.
I'll update this post as needed with more details on or reaction to the Smith/Kaufmann legislation.
UPDATE: During a February 17 news conference, Erin Murphy of the Lee Newspapers group asked Governor Kim Reynolds whether Iowa's 29-day early voting period was too long. Reynolds said she thought Iowa's previous early voting period "was too long," adding, "I think this was a compromise that they landed on. So it is a long period of time, I think it's something we should continue to look at, so, you know, I'd be willing to take a look at that."
SECOND UPDATE: Republicans approved the bills in Iowa Senate and House subcommittees on February 17. The bills are on the agenda for the full State Government Committee meetings on February 18.
Most public speakers at both subcommittee meetings opposed the bill. Sioux County Auditor Ryan Dokter, a Republican who is the president of the Iowa State Association of County Auditors, raised a number of concerns. For instance, compressing the early vote period and prohibiting auditors from mailing absentee ballot request forms would require more overtime or hiring additional staff, increasing the potential for errors. Banning auditors from setting up satellite voting sites in convenient locations would increase lines and delays on election day. The new restrictions on drop boxes would be a hardship for small counties as well as large ones. I've added the auditors' association's full written comments at the end of this post.
Near the end of the Senate subcommittee, Republican State Senator Jason Schultz invoked the Big Lie about the 2020 election to justify more voting restrictions. My partial transcript of his remarks:
I think this is incredibly important. I think it is, it addresses the controversy that the country is going through right now. I think, myself, that Iowans' votes were disenfranchised by some shady dealings in five cities around the country that I think shows what happens when you don't strengthen your election system, when you allow people to game elections to the point that they did in cities such as Philadelphia.

So I'm happy to sign this. I think it's incredibly important. Elections are like infrastructure. You never stop working on them to make them stronger and better and more reliable.
For decades, Republicans have pushed racist lies about voter fraud in cities with large Black populations. The reality is that residents of many urban precincts vote heavily Democratic, just like people living in Schultz's Senate district vote heavily Republican. There is no evidence any voter fraud occurred in Philadelphia, Detroit, Milwaukee, or other large metro areas in states Joe Biden carried. All the GOP lawsuits purporting to show fraud failed in court.
As the subcommittee chair, Smith spoke last. He claimed, wrongly, that "the vast majority of this bill has been out there for years." He spun the bill as creating uniform election procedures across all 99 counties. While he praised the work of "the vast, vast majority" of county auditors, he bashed the work of "a handful of auditors," who violated the law, in his view. (Smith did not explain why lawmakers should make it harder for hundreds of thousands of Iowans to vote early just because he's angry at the auditors of Linn, Johnson, and Woodbury counties.)
Shortening the early voting window to eighteen days "will limit voter remorse, the length of campaigning in the state, and allow more time for informed voting," Smith claimed. He reminded his critics that people warned previous GOP election bills would limit voting, but the state had record turnout in 2020. He concluded that when Republicans pass election laws, "we get record turnout." (Turnout was up across the country last year, because Donald Trump was on the ballot. He brought out large numbers of low-propensity voters, both supporters and detractors.)
Smith also claimed, wrongly, that the average length of early voting in the U.S. is eighteen or nineteen days. Erin Murphy reported for Lee Newspapers, "According to the nonpartisan National Conference of State Legislatures, the average starting time for early voting is 22 days before the election."
THIRD UPDATE: The House and Senate State Government Committees advanced this bill on February 18. A public hearing will be held in the Iowa House on February 22, and House Speaker Pat Grassley told reporters the chamber could approve the bill as soon as February 24. Many Republican lawmakers, including Kaufmann and Grassley, have claimed giving Iowans less time to vote early would shorten the political campaign season. That's laughable, considering that candidates for statewide and federal offices routinely spend heavily on television, radio, and digital advertising many months before an election. Even state legislative candidates often have radio and television commercials running six weeks or more before election day.
FINAL UPDATE: Republicans approved a slightly different (and in some ways more disenfranchising) version of this bill on February 23 and 24. Bleeding Heartland covered the final legislation in detail here.
---
Appendix: Full text of Senate Study Bill 1199, introduced by State Senator Roby Smith on February 16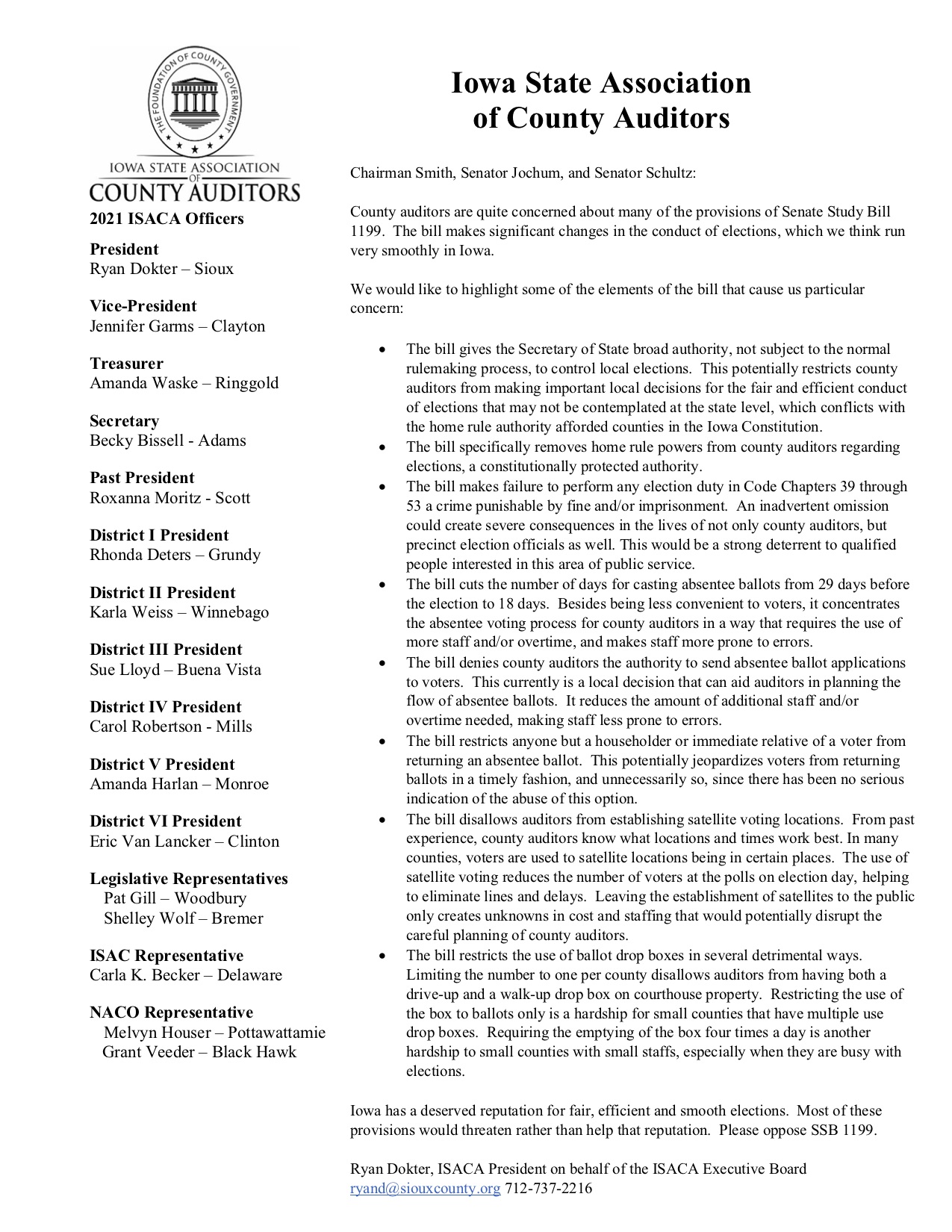 Top image: Official photos of State Senator Roby Smith (left) and State Representative Bobby Kaufmann.