State Representative Mary Gaskill will seek a tenth term in 2020, House Democrats announced on November 7.
That's good news for Democrats, who might have had a difficult seat to defend if Gaskill had chosen to retire.

House district 81 covers the city of Ottumwa and much of Wapello County.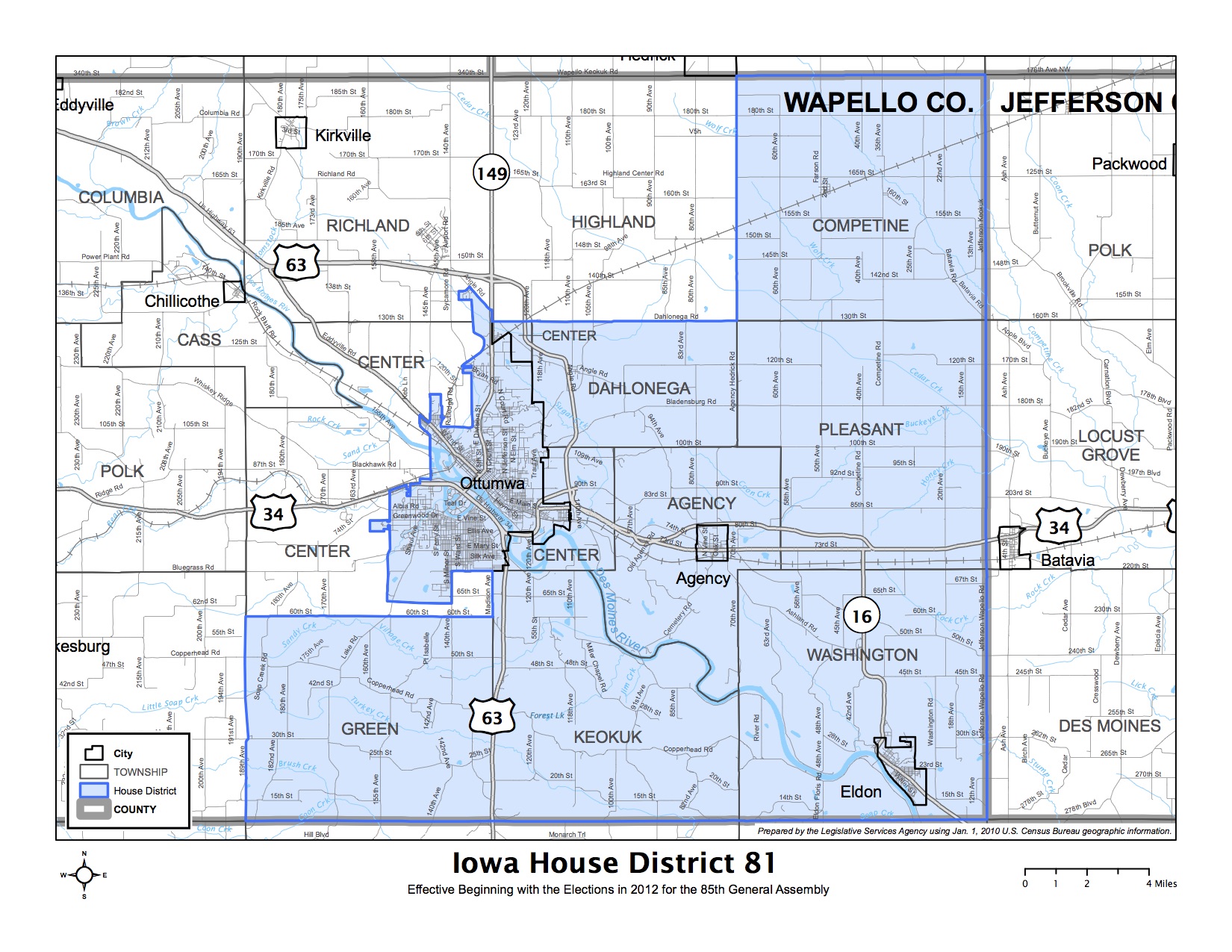 On paper, this district leans Democratic, with 6,673 active registered Democrats, 4,358 Republicans, and 5,623 no-party voters, according to the latest official figures.
But like other Iowa counties containing mid-sized cities that long depended on manufacturing jobs, the Ottumwa area has trended strongly toward Republicans over the past decade. The canary in the coal mine was Democratic State Senator Keith Kreiman, who lost his 2010 re-election bid to Mark Chelgren by ten votes.
That result initially seemed like a fluke of a GOP landslide. But Chelgren won re-election in 2014, and Mariannette Miller-Meeks kept Senate district 41 in Republican hands after Chelgren retired last year.
President Barack Obama received 56.6 percent of the 2012 vote in House district 81, while just 41.9 percent supported Mitt Romney. Four years later, Gaskill's constituents supported Donald Trump over Hillary Clinton by 55.9 percent to 39.5 percent. Governor Kim Reynolds outpolled Democratic challenger Fred Hubbell here in 2018 by 49.9 percent to 48.0 percent.
Gaskill is well-known locally, having served in the legislature since 2003 and previously as the Wapello County auditor. Republicans didn't field a candidate against her in 2014 or 2016. On the other hand, she may not be immune to broader political trends. Gaskill's winning margin shrank from more than 2,500 votes in 2012 (59.8 percent to 40.0 percent) to a little less than 900 votes last year (54.3 percent to 45.5 percent).
Gaskill's 2018 challenger, Cherielynn Westrich, spent little money and received no in-kind support from the Iowa GOP, which was spending tens or hundreds of thousands of dollars on behalf of candidates in targeted state House races. Last month, Westrich announced plans to run for House district 81 again.
If Gaskill retired, next year's race in House district 81 could resemble the 2018 campaign in House district 9, covering the Fort Dodge area. (The two districts voted for Trump by roughly the same margin.) After longtime Democratic State Representative Helen Miller chose not to seek re-election, Republican Ann Meyer carried House district 9 by 383 votes. The GOP massively outspent Democrats in that race.
Any relevant comments are welcome in this thread.
Iowa House Democrats news release, November 7:
Gaskill Announces Re-Election to the Iowa House

State Representative Mary Gaskill announced today she will seek re-election to the Iowa House in District 81, which includes Ottumwa, Agency, Eldon, and the townships of Center, Competine, Dahlonega, Green, Keokuk, Pleasant, and Washington.

"It's a great honor to serve in the Iowa House and I'll keep working hard to improve the lives of families in Wapello County. While I'm proud of the progress we've made, there's more work to do to create new jobs, raise wages, and keep health care both affordable and accessible in our community," said Gaskill.

Prior to her time in the Iowa House, Mary served as the Wapello County Auditor. Mary is the Ranking Member of the House Ethics Committee. She also serves on the Economic Growth, Local Government, Ways and Means, and the Economic Development Budget Appropriations Sub-Committees. Mary is also a member of the Commission on Aging, Iowa Workforce Ex- Offender Reentry Committee, and a Board Member of the Iowa Finance Authority.

"My top priority is listening to the people of Wapello County. Working together, we can build a community where our children want to stay and start their own families. That means affordable housing and child care; world-class schools; and an opportunity for everyone in our community to get additional training or education after high school," added Gaskill.

Mary is the widow of Jim, a retired Iowa State Trooper. She is currently involved in the Ottumwa Area Chamber of Commerce, the League of Women Voters, American Legion Auxiliary, Veterans of Foreign Wars Auxiliary, a member of the St. Mary of the Visitation Church, and a member of Catholic Daughters of America. Mary is also the mother of four children, who all still live in Iowa, and the proud grandmother of seven grandchildren.