Almost every election produces a shocking result in at least one Iowa legislative race. This year's contender: Republican Jeff Shipley winning House district 82. A recount requested by Democratic State Representative Phil Miller narrowed Shipley's margin of victory (which had been 34 votes after the official canvass) but did not change the outcome, multiple sources told Bleeding Heartland. I will update this post when final numbers are available. UPDATE: Shipley had led by 34 votes after the initial count; the recount determined 6,120 voters supported Shipley and 6,083 Miller (50.2 percent to 49.8 percent).

Two years ago, Republicans failed to recruit a challenger against State Representative Curt Hanson in this district, covering a large area of southeast Iowa.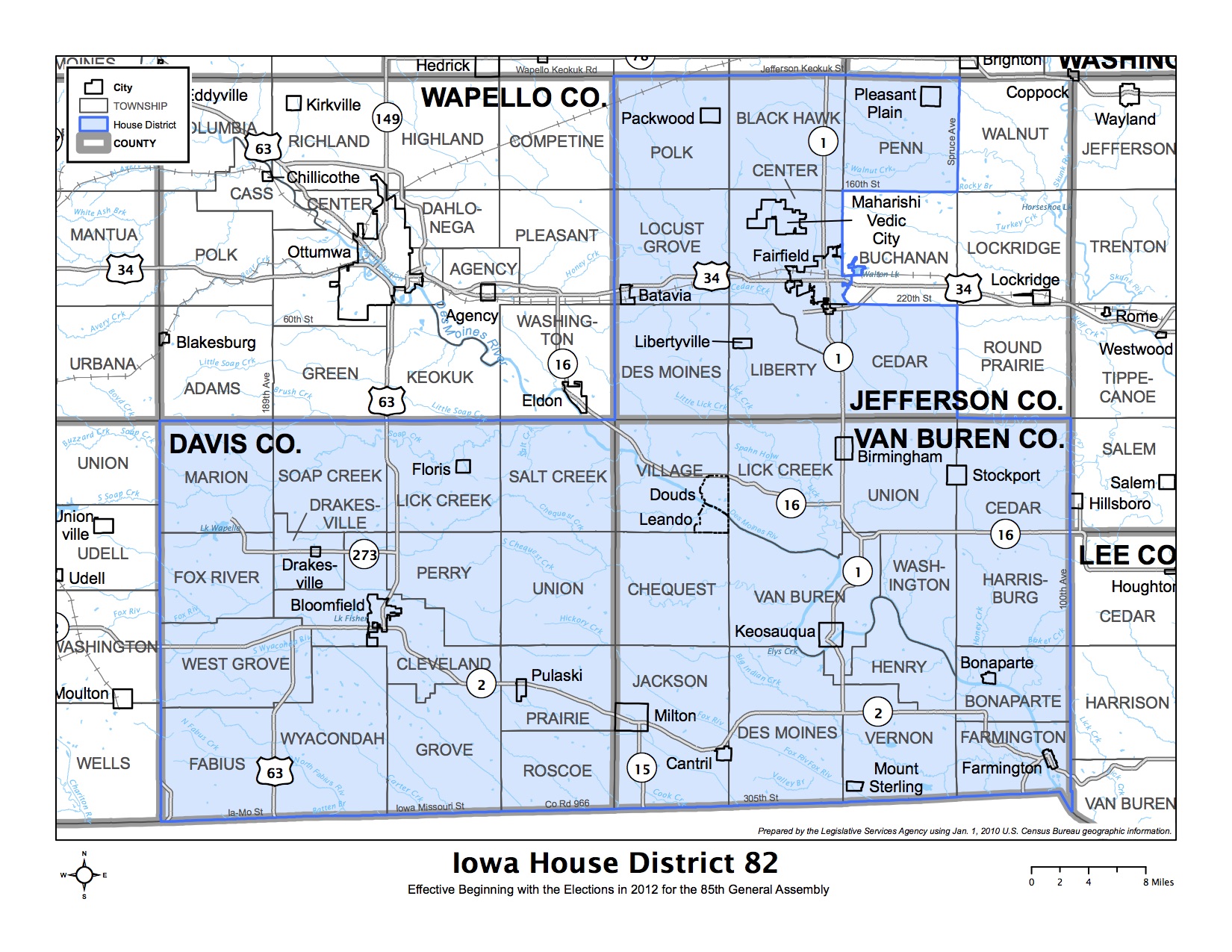 After Hanson passed away during the summer of 2017, Democrats nominated his good friend Miller, a veterinarian who had worked in the area for decades and served on the Fairfield school board. Miller won the special election to serve the remainder of Hanson's term by a convincing margin. Both parties invested heavily in advertising and field operations during that campaign.
This year's primary election filing deadline passed with no GOP candidate in House district 82. But over the summer, district Republicans nominated Shipley at a special convention. The young conservative activist and legal assistant in Fairfield had run unsuccessfully against Hanson in 2014.
While Republicans and Democrats spent hundreds of thousands of dollars on more than a dozen other competitive House races this fall, House district 82 stayed below the radar. Shipley raised and spent less than $20,000 and received no in-kind support from the GOP. Miller also appears to have spent less than $20,000 on his campaign; Democrats spent a little more than $11,000 on mail supporting his re-election.
Shipley is one of seven newly-elected Iowa lawmakers who lost campaigns in either 2016 or 2014. His victory gives Republicans at least 53 of the 100 Iowa House seats and their second pick-up in the lower chamber, after Ann Meyer won the open-seat race in House district 9. Democratic candidates triumphed in seven GOP-held districts and will hold at least 46 seats in January.
A recount is underway but not yet complete in House district 55, where Republican State Representative Michael Bergan led Kayla Koether by seven votes after the canvass.
UPDATE: I forgot to mention that House district 82 makes up half of Senate district 41, a top target for both parties. Turnout efforts on behalf of Republican Mariannette Miller-Meeks, who won that open Senate seat, presumably helped Shipley.
After the recount in House district 55, Bergan led by 6,924 votes to 6,915, according to Waterloo/Cedar Falls Courier reporter Thomas Nelson. I'm seeking comment on whether Koether will contest the election to force the counting of about 30 disputed absentee ballots from Winneshiek County. Those were not counted initially or during the recount, because they arrived after election day without a postmark. However, a barcode near the bottom of the envelopes may be able to prove that voters mailed the ballots before election day.