An internal poll conducted for Jim Mowrer's campaign indicates that the Iraq War veteran "holds a commanding advantage over both of his opponents" seeking the Democratic nomination in Iowa's third Congressional district. Some 36 percent of respondents would support Mowrer if the primary were today, according to the limited information released to Bleeding Heartland. Desmund Adams registered 17 percent support and Mike Sherzan 13 percent. After respondents heard "balanced messages on Mowrer and Sherzan, along with a slightly shorter message from Adams (to account for campaign funding discrepancies), [...] Mowrer wins 50 percent of the vote to Sherzan's 20 percent and Adams' 18 percent." I enclose below the one-page polling memo from the firm GBA Strategies.
Mowrer's campaign declined to provide further findings from this survey or details from the questionnaire. I was most interested in the wording of the "balanced messages," but no dice. (Perhaps Iowans who received this polling call will contact me to fill in the blanks.) Campaign manager Andrew Mulvey said the messages contained neutral biographical background, not negative information akin to another survey on the IA-03 Democratic race that was also in the field last week. Bleeding Heartland posted positive and negative messages from that poll here. Both Mulvey and Mowrer told me that their campaign did not commission the other survey, which Bernett Research Services conducted.
As mentioned in the GBA Strategies memo, the internal poll for Mowrer gave respondents less information about Adams because of "campaign funding discrepancies." Year-end financial reports indicate that unlike the other two contenders, Adams will not have the funds for district-wide paid media before the June 7 primary.
Adams has been holding events around IA-03 since declaring his candidacy last July. Sherzan launched his campaign in December and is touring all sixteen counties in IA-03 this week. Mowrer joined the race in August and has attracted the most support from Democratic insiders and from organized labor. On March 24, his campaign announced endorsements from former Iowa Democratic Party chairs Roxanne Conlin and Scott Brennan. The same day, Mowrer unveiled constituency outreach chairs for veterans, women, Latinos, LGBT voters, and youth/students.
Any comments about the IA-03 campaign are welcome in this thread. Bleeding Heartland welcomes guest posts advocating for Adams, Mowrer, or Sherzan. Please read these guidelines before writing.
UPDATE: Added below a March 29 press release from the Adams campaign.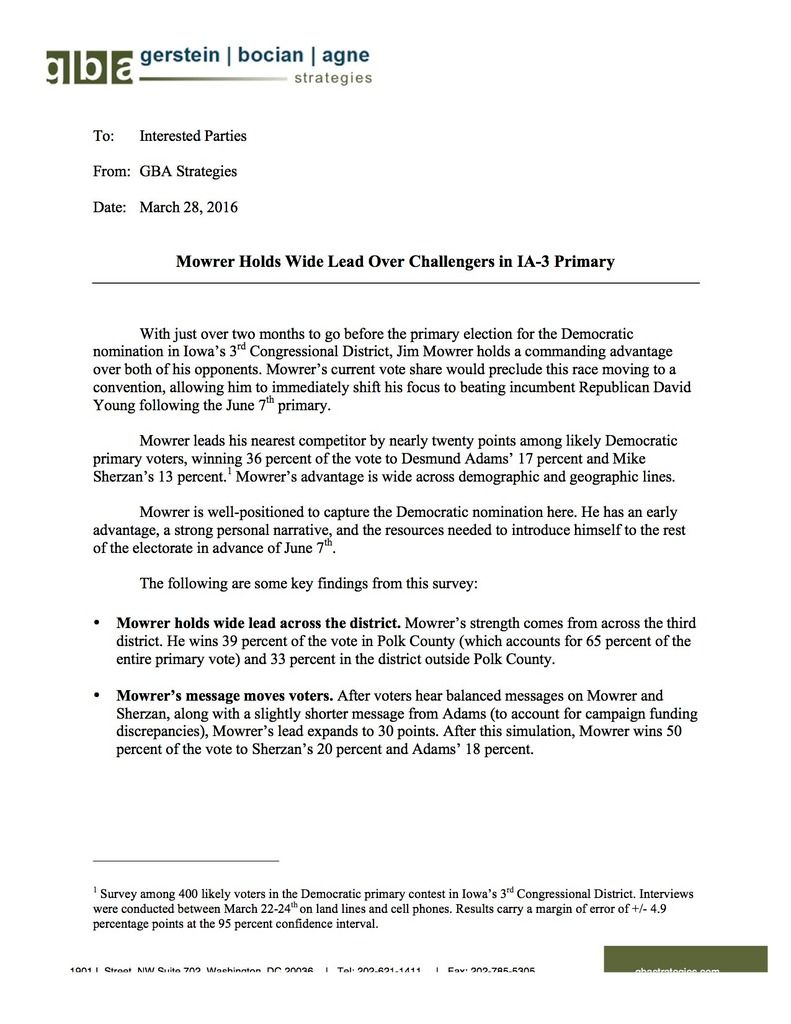 March 29 press release from Adams for Congress:
Adams Responds To Mowrer's Continued Attacks

March 12, 2016, Desmund Adams opened his speech at the Polk County Democratic Convention by honoring Jim Mowrer's military service to our country and by recognizing the success of Mike Sherzan as a businessman. He has done this throughout the campaign season. Jim Mowrer, however, has taken numerous opportunities to attack Adams personally as well as the Adams' campaign. Even in his most recent press release, March 28th, Mowrer takes an unprovoked shot at the Adams campaign.

We must respond:

• Last summer Mowrer took a page out of the Iowa Republican playbook and spread the rumor that Desmund was a criminal. The simple truth is Desmund disciplined his son more than a decade ago. Following a contentious custody battle the mother of Desmund's son convinced a zealous Dallas county attorney to prosecute. Desmund was not only found not guilty the all-white jury questioned the very motive of the trial. Today Desmund's son lives with his father and credits his father's love and discipline into turning him into the man he is today - a successful young actor and model. At the same time the prosecutor who judged Desmund an unfit father has a son in prison for committing armed robbery.

• As for the "alleged financial discrepancies" identified in Mowrer's March 28th press release; this is a false narrative. The Adams campaign employees a compliance officer who is the former Democratic National Committee's Compliance Director. He has served under four DNC Chairmen. He is based out of Colorado, is a well respected industry professional and has credentials above reproach.

• Perhaps Mowrer is speaking to the lack of fundraising from the Adams campaign. Adams made the strategic decision to focus on building a winning coalition rather than the tired formula Democrats have employed in recent federal elections to dismal results. The Mowrer formula is to raise money outside the District, get some nice endorsements and then conduct push polling. This will not defeat David Young.

While we honor Mowrer's service the truth is he doesn't address the key reasons this decade Roxanne Conlin lost, Bruce Braley lost, Leonard Boswell or Staci Appel lost. He brings nothing they didn't bring and lacks the ability to turn out progressives, youth voters, African Americans and Latinos in the numbers necessary to defeat David Young who will be much better resourced than he.

Additionally, Mowrer's lack of roots in the district and his sudden conversion from a Blue Dog Democrat in his race against Steve King to a progressive lacks the sincerity necessary to ignite the base.

Yes, he's secured some establishment endorsements. Desmund's list of endorsers is fairly potent, too, including Fred Hubbell, Tim Urban, Bill Stowe, his campaign chair - Jo Ann Zimmerman, Hon. Ako Abdul Samad, Hon. Marti Anderson, Hon. Ruth Ann Gaines, Mary Campos, Joe Henry, Fred Buie, Jon Neiderbach, Hon. Jack Hatch, Gregg Connell, and Former Supreme Court Chief Justice Louis Lavorato.

Desmund not only has big name Democrats backing him he has re-assembled an Obama like coalition that can defeat David Young. They include Ed Fallon, Wayne Ford, Suzette Jensen, Heather Ryan, Carl Schilling, Julie Stewart, Max Knauer, Calvetta Williams, Hon. Skip Moore, Hon. Josh Hughes and more than 50 Black pastors and a number of Dreamers. He also has secured the support of numerous educators including a majority of the members of the Des Moines School Board.

More important, Desmund is not new to this District. He did not move here as Mowrer did for the sole purpose of running for Congress. Since his days at Drake Law School and as a teacher in Des Moines School District Desmund has been an active Democrat and a leader in this community. His personal story from a Chicago area dropout to a successful businessman is inspirational. Even as he was reading Mowrer's misleading comments on the Bleeding Heartland website he was on his way to downtown Des Moines to receive recognition for his years of service to this community and youth.

No matter how much money Jim Mowrer raises, no matter how many push polls he conducts, he cannot purchase Desmund's legacy of involvement with Central Iowa's Democratic Party nor Desmund's legacy of fighting for our youth and families in Central Iowa.

The Adams' campaign has not subscribed to a losing formula; instead Desmund has built a grassroots organization poised to win. In fact, the Adams campaign has built an organization that will help all Democrats on the 3rd District ballot in November and unite factions still bitter from the Polk County Convention earlier this month.

As for fundraising, we rolled out this month a very potent fundraising team for the remainder of the primary and the general election spearheaded by Tim Urban, Fred Hubbell, Fred Buie and former Chief Justice Lavorato. While Mowrer has stated we will not have resources by June 7th we most certainly will have what we need to win the primary and then to compete against and defeat David Young in November.

We honor Jim's service – he is a patriot. As a businessman we appreciate what Mike has accomplished and that he hasn't gone negative as Mowrer has. But there's only one Democrat who can defeat David Young and the big money he'll bring to the table this fall, including the Koch brothers, and that is Desmund Adams, the Democrat you know.