Polk County has long been dominated by safe Democratic Iowa House seats in the city of Des Moines and safe Republican seats in the suburbs. One of the few truly competitive recent Iowa House races in this county took place in 2008, when Republican Chris Hagenow defeated Windsor Heights Mayor Jerry Sullivan by fewer than 100 votes in what was then House district 59.
Hagenow was easily re-elected in 2010. For a long time I heard nothing about anyone stepping up to challenge him in the new House district 43, where I live. Earlier this month, Susan Judkins declared her candidacy here. Background on both candidates is after the jump, along with a map and details on the district's political makeup.
The new House district 43 covers Windsor Heights, Clive, and part of West Des Moines in Polk County: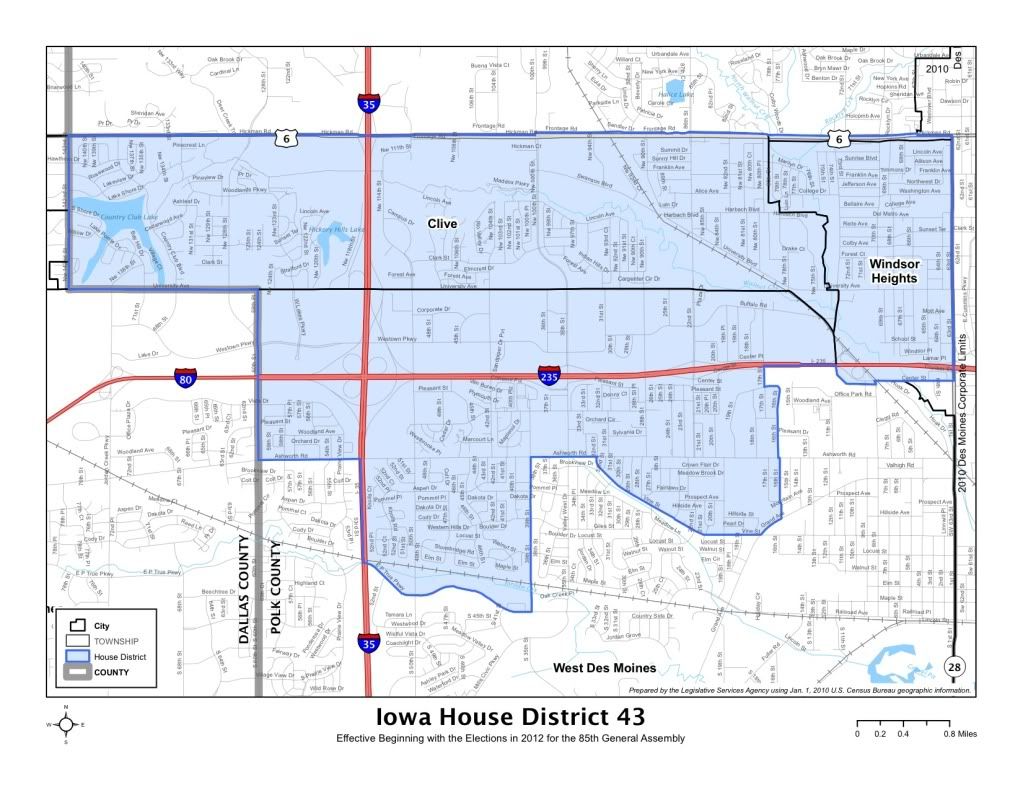 According to the Iowa Secretary of State's Office, House district 43 contained 7,056 registered Democrats, 8,341 Republicans and just 5,361 no-party voters as of March 2012 (pdf). There aren't many Iowa legislative districts where no-party voters are the smallest group.
Hagenow is considered a rising Republican star and became a committee chair during his second term in the Iowa House. From the bio on his campaign website:
Chris serves as the Chairman of the House Committee on Government Oversight for the 2010-2011 legislative session. In addition to his role on Government Oversight, Chris also serves on the House committees for Appropriations, Judiciary and Public Safety.

Chris and his wife, Amanda, were married in 2005 and have two sons, Owen and Noah. The family resides in Windsor Heights. Amanda is a native of Searsboro, IA and is a graduate of Iowa State University. She works part-time with Hy-Vee Food Stores at their corporate offices in West Des Moines. The Hagenow's attend Westkirk Presbyterian Church in Urbandale. Chris sits on the steering committee for the Iowa Federalist Society. Chris serves on Iowa Prayer Breakfast Committee and is a member of the Windsor Heights Lions Club.

Chris was raised in Cedar Falls and graduated from Northern University High School. He went on to receive his BA from the University of Northern Iowa, Magna Cum Laude, in 1994. He earned his JD from the University of Iowa College of Law in 1997 and is a member of the Iowa State Bar Association. Chris practiced law in Waterloo and Des Moines, followed by work for American Airlines at the Des Moines International Airport and also with C Wenger Group of Urbandale as a project manager and data analyst. Chris is currently a partner with the Des Moines law firm Whitaker Hagenow & Gustoff.
The other senior partners in Hagenow's law firm are former U.S. Attorney Matt Whitaker and William Gustoff, whom Governor Terry Branstad tried to appoint to the State Judicial Nominating Commission (Gustoff was not confirmed). Branstad's legal counsel Brenna Findley was affiliated with the law firm during her 2010 campaign for Iowa attorney general.
For decades, moderate, pro-choice Republicans represented most of the Des Moines suburbs in the Iowa legislature. In contrast, Hagenow is not a traditional Windsor Heights/Clive Republican. He may not go out of his way to talk about social issues; his re-election announcement spoke broadly of "putting Iowans back to work and reducing the cost and scope of government." But Hagenow has been a consistent ally of conservative Republicans. As chair of the Government Oversight Committee, he helped salvage the late-term abortion ban that had stalled in a different committee during last year's legislative session. Also in 2011, Hagenow voted to suspend the rules to allow a vote on a "personhood" bill; the entire House Republican leadership team voted against that motion. (His anti-abortion sentiments weren't strong enough to keep Hagenow away from this year's dinner honoring China's vice president in Des Moines, however.)
Hagenow was one of the few state lawmakers to take a public stand against the Stop Online Piracy Act (SOPA) and the Protect Intellectual Property Act (PIPA) earlier this year.
Trivia I learned recently: Hagenow is the only member of the Iowa legislature who graduated from the Price Lab K-12 school, which the University of Northern Iowa plans to close this year to save money.
Like most Democratic statehouse candidates, Judkins leads with economic issues. Her campaign announcement on March 7 emphasized her economic development background:
Judkins has spent her professional career promoting economic opportunity for Iowans and communities. She currently works as a community development specialist with MSA Professional Services, an engineering and consulting firm with offices in Iowa, Minnesota, Wisconsin and Illinois.

Judkins recently served as Intergovernmental Affairs Director for the Rebuild Iowa Office, promoting policies to assist in rebuilding from the weather disasters of 2008. She previously helped to finance community projects as Vice President of Piper Jaffray, advocated for the Iowa League of Cities, launched the Vision Iowa program with the Iowa Department of Economic Development, and was Executive Director of the Warren County Economic Development Corporation.

"I've spent my career working to improve Iowa's economy and build strong communities, from my home town of Vinton where my family owns a small business to Iowa's capital," said Judkins, a Democrat. "I've worked with legislators on both sides of the aisle and I will be a moderate voice in the Iowa House working to build consensus on the important issues our state faces today."

Judkins has been a leader in numerous community organizations, including current board service with the Iowa International Center, Center on Sustainable Communities, StageWest Theater and the Riverfront YMCA. She has promoted education and leadership development for youth and adults through service on the Indianola School Board, chairing the Leadership Iowa Board of Governors, founding the Warren County Leadership Institute, and teaching Junior Achievement. She is active in the Rotary Club of Des Moines and is a member of First United Methodist Church of Des Moines. She has a BA in Business Management from Simpson College and an MBA from the University of Iowa.

Judkins is married to Bob Josten, an attorney at Dorsey & Whitney. Adult children include Erin, a medical doctor; Whitney, an attorney; and Jennifer, a Ph.D. candidate at Yale University.
"I will be a moderate voice in the Iowa House" sounds like code for "the incumbent is too conservative for this district," and that needs to be part of Judkins' message. Still, Hagenow goes into this race as the strong favorite. In his first Iowa House campaign, he lost most of the precincts in the district but beat Jerry Sullivan in the westernmost and wealthiest areas: West Des Moines 212, West Des Moines 311, and especially Clive 3 and Clive 4. Click here for Sullivan's vote totals by precinct and here for Hagenow's.
The new House district 43 looks similar to the old House 59, but the Democratic candidate comes from the opposite side of the district. Sullivan had a big advantage in Windsor Heights, the older, inner-ring suburb where he was mayor. Judkins lives in deep-red Clive 4. She'll need all the help she can get from friends and neighbors, because she won't have the same crossover support Sullivan had in Windsor Heights. Improving her name recognition will be an important task for Judkins, because Hagenow has the advantages of incumbency now.
Because no-party voters make up a relatively small proportion of the electorate in House district 43, Judkins' would have to win that group decisively and/or attract a significant number of crossover Republicans to make up for the deficit of Democrats here.
Any relevant comments are welcome in this thread.
APRIL 16 UPDATE: Judkins launched a campaign website.