Like goldenrod, featured at this blog a couple of weeks ago, wingstem is one of several yellow wildflowers blooming in woodlands, meadows and along streams throughout Iowa in the late summer. Several pictures of this distinctive plant are after the jump.
This is an open thread: all topics welcome.
Verbesina alternifolia is in the aster family and sometimes called yellow ironweed, although it doesn't look anything like the ironweed seen in Iowa prairies and along roadsides in the late summer.
Even before this plant blooms, you can recognize it by what looks like extra flaps of material growing along the length of the stem. The U.S. Wildflowers website uses the correct botanical language to describe the feature.
The lanceolate leaves of Wingstem are on petioles which extend down the stem as wings, giving the plant its Wingstem common name.
I tried to capture these "wings" in the following photos. In the first, white snakeroot is visible in the background.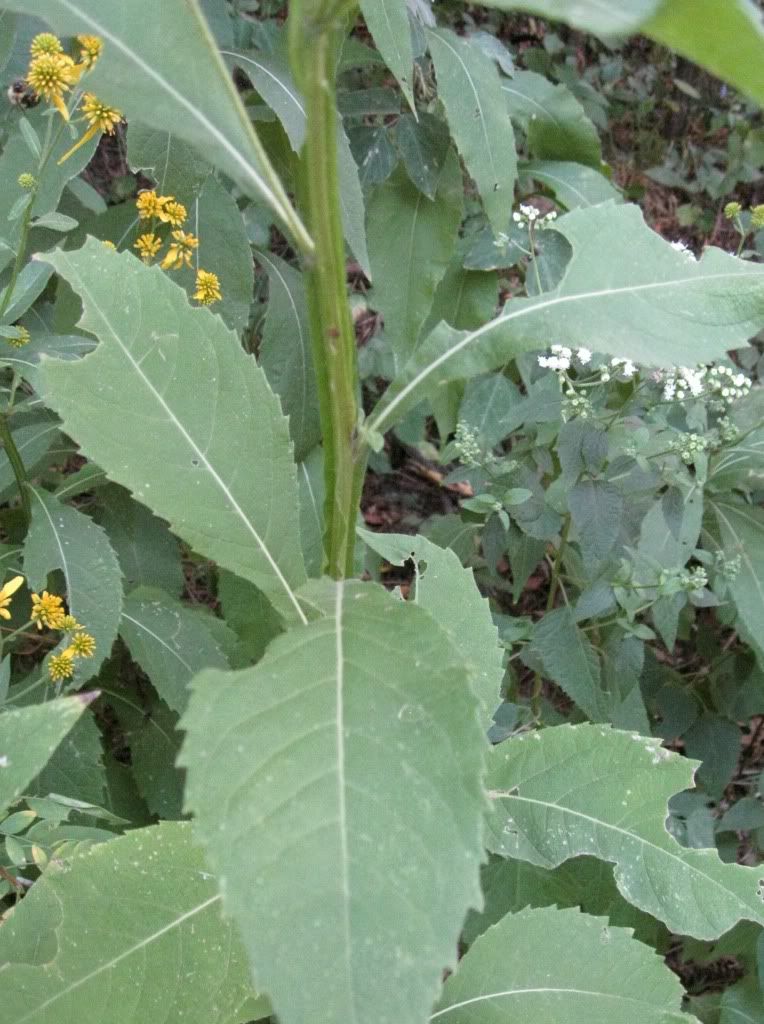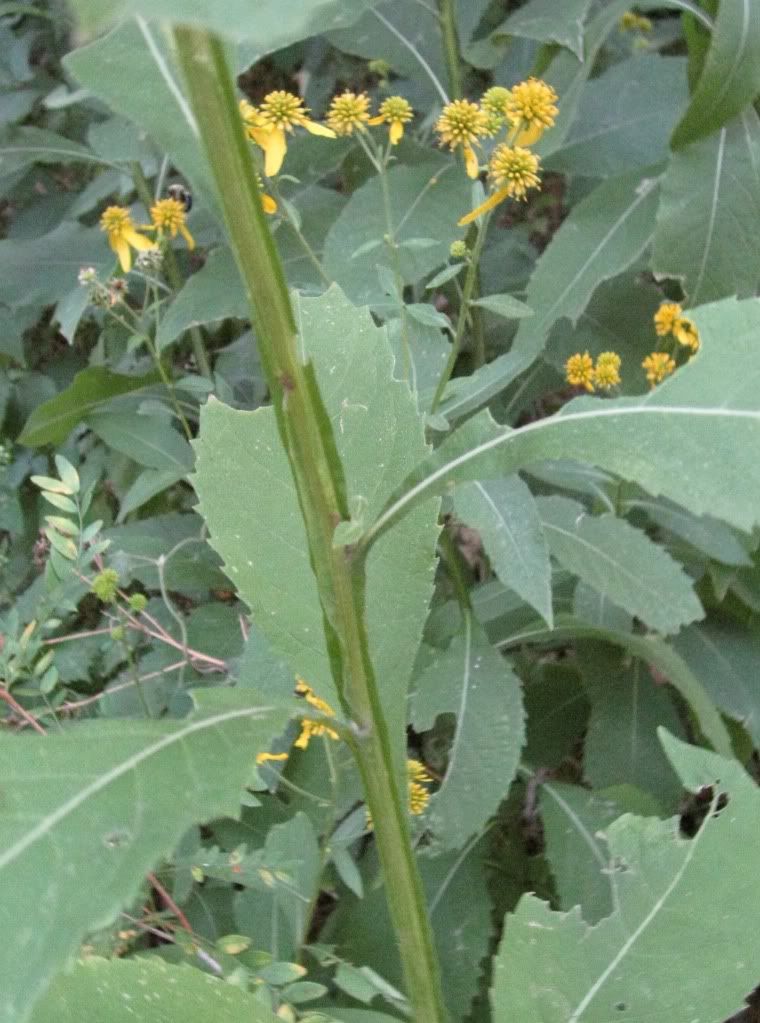 Wingstem can grow to heights of eight to ten feet. Most of the plants I've seen are between four and seven feet tall. The individual flowers are clustered in yellow flowerheads. Before the petals unfold, the flowerheads look like this:
Here's another photo I took in July. That's American bellflower next to the wingstem.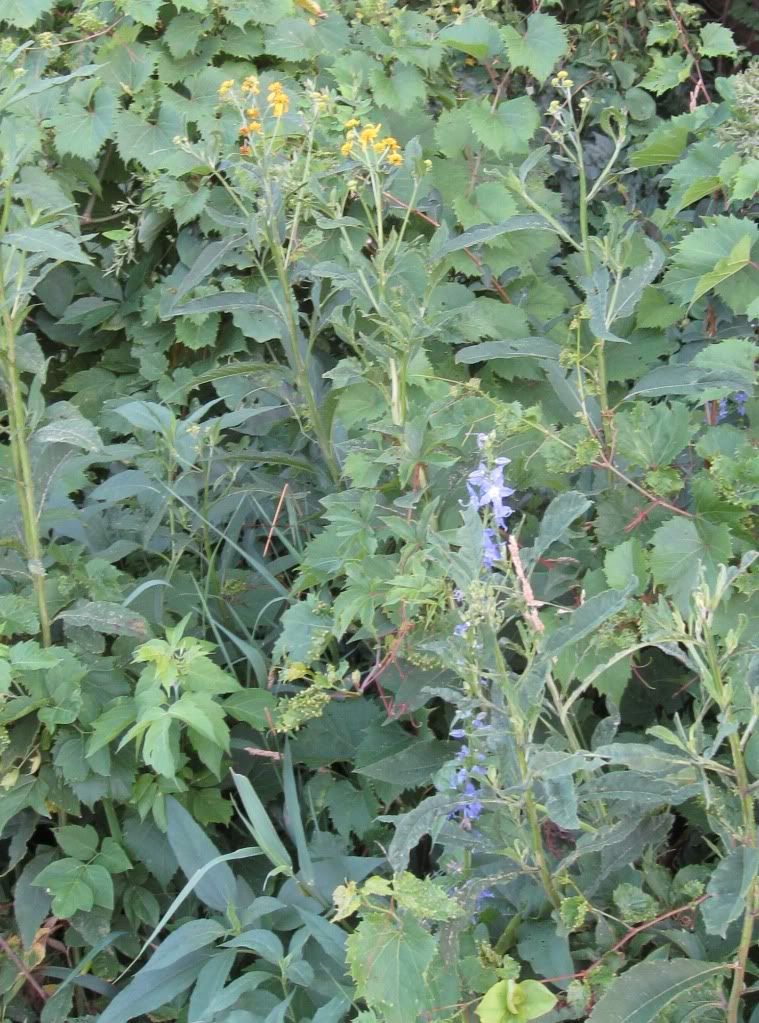 The wildeherb blog did a good job describing the look of this plant in bloom:
Wingstem is a very tall, yellow-flowering composite somewhat like a sunflower. Petals droop and expose the spikey disc flowers. Unlike your standard bird-seed sunflower that has a flat disc of disc flowers surrounded by many ray flowers, Wingstem's disc flowers arch upwards in the middle and the ray flowers are few.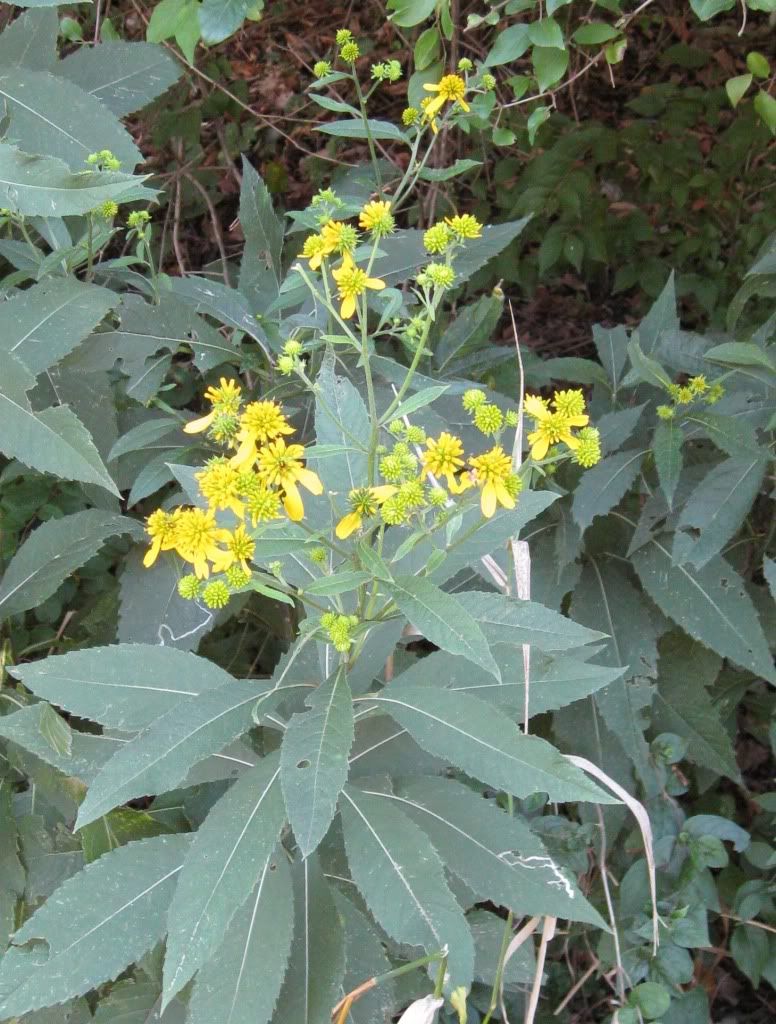 When I asked a knowledgeable acquaintance about wingstem, she described it as "the plant from hell," because when she planted some seeds,
It developed into a forest of gigantic thick stems that shaded all the other stuff out, with bare soil beneath. We have been clipping and pulling and clipping and pulling for several years. Other stuff is coming in below it now. It was a nightmare.
I like seeing these flowers on various bike paths in Polk County, but based on that information, I wouldn't recommend planting wingstem in your yard.
This last photo gives a better sense of the plant's height: