The tallgrass prairies that once dominated the Iowa landscape contained many different milkweed plants. Even now 17 milkweed species can be found in our state, and diverse habitats like the Duke Prairie in Clinton County contain half a dozen or more milkweeds. I rarely see any other than the common milkweed, which grows in countless farm fields and along thousands of roadsides.
I recently visited a prairie restoration area in Dallas County, where I saw whorled milkweed for the first time. Several pictures are after the jump. As a bonus, I included a picture of seed pods on a butterfly milkweed plant from the same prairie patch. Bleeding Heartland featured butterfly milkweed flowers earlier this summer.
Speaking of bright orange blossoms, I also enclose below a picture of an enormous trumpet vine growing in the heart of the Dallas Center business district. I love stumbling on a native plant thriving in an unlikely location.
This is an open thread: all topics welcome.
Whorled milkweed (Asclepias verticillata) is native to much of the eastern U.S. and Canada. Its flowers have a similar shape to other milkweeds, but are very small and white. The leaves of whorled milkweed are quite narrow compared to other milkweeds native to the tallgrass prairie. The website of the Eloise Butler Wildflower Garden in Minnesota describes the plant and its flowers in botanically accurate terms:
Whorled Milkweed is an erect native perennial forb growing to over 24″ high with slender but sturdy stems that are unbranched below the inflorescence. Stems are green, without hair and ridged. Like most milkweeds, they contain a milky juice which is toxic. The leaves develop in whorls of 3 to 6 narrow linear leaves that have pointed tips and bases. These are stalkless, medium green, smooth, about 3″ long. The longer lower stem leaves may droop downward before curving up near the tip. Upper leaves are ascending. The inflorescence is a stalked umbel, rising from the upper leaf nodes, of up to 20 individual flowers. Milkweed flowers, when open, have five erect hood-like nectaries with the five petal parts bent downward. On this species the petal parts and the hoods are white. The hoods each have a small horn on the inner side that curves inward and is longer than the hood in this species. Each flower is about 1/3″ wide and 1/4″ high.
My camera and photography skills couldn't do justice to the detail in these small bunches of flowers. I recommend this picture and other images from the Lady Bird Johnson Wildflower Center's website.
Here were my attempts to capture the whorled milkweed in bloom.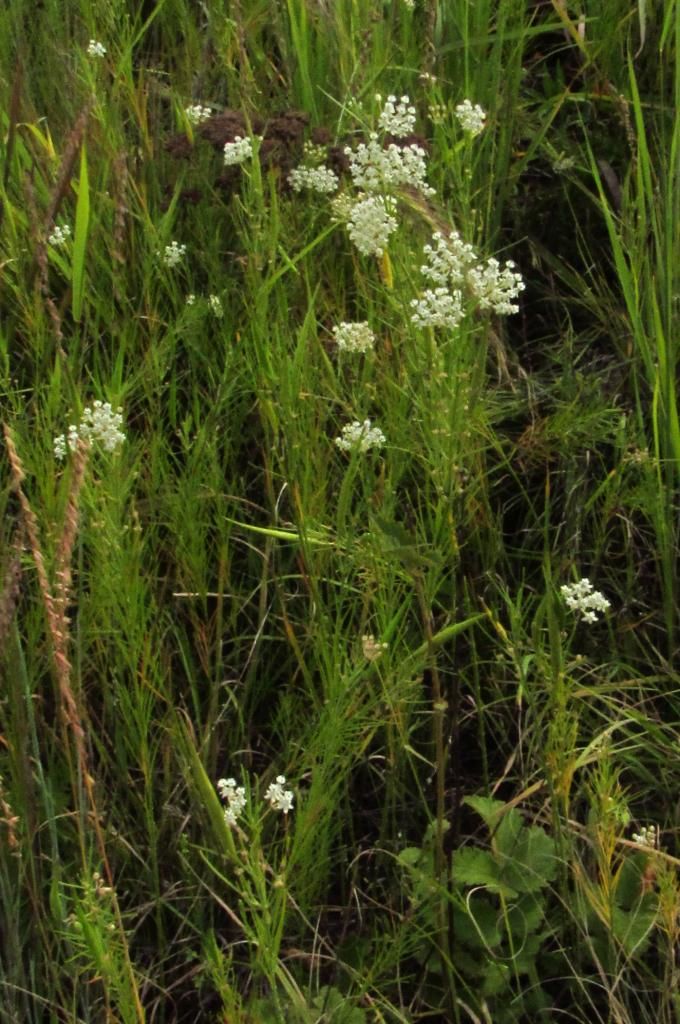 This picture shows whorled milkweed plants with unopened buds, open flowers, and narrow seed pods.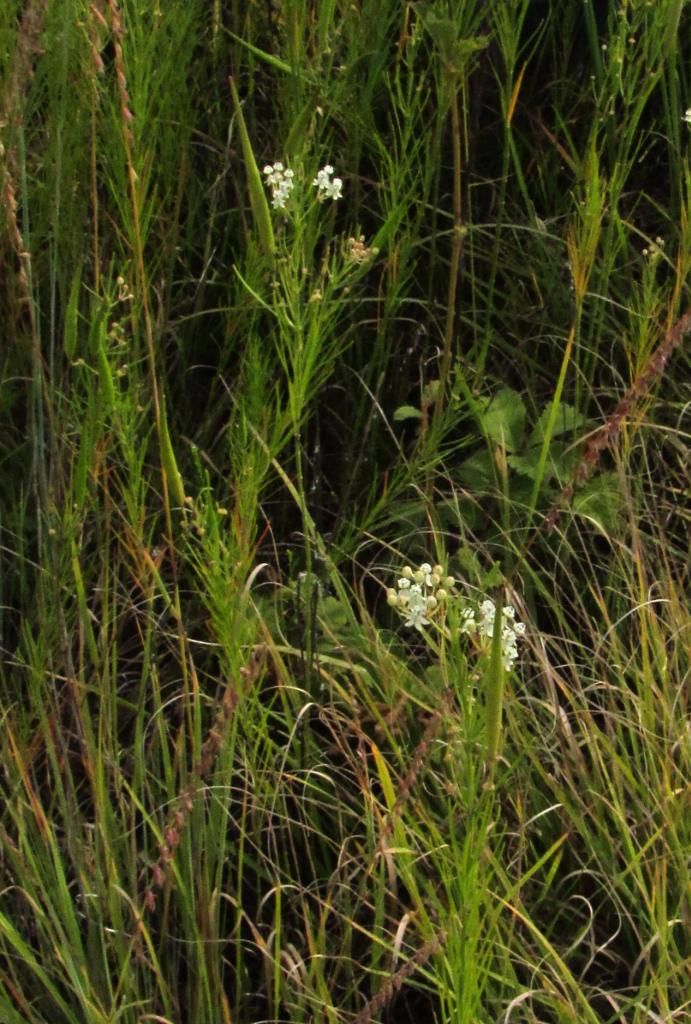 In this shot, the white whorled milkweed flowers look tiny in relation to the gray-headed coneflower.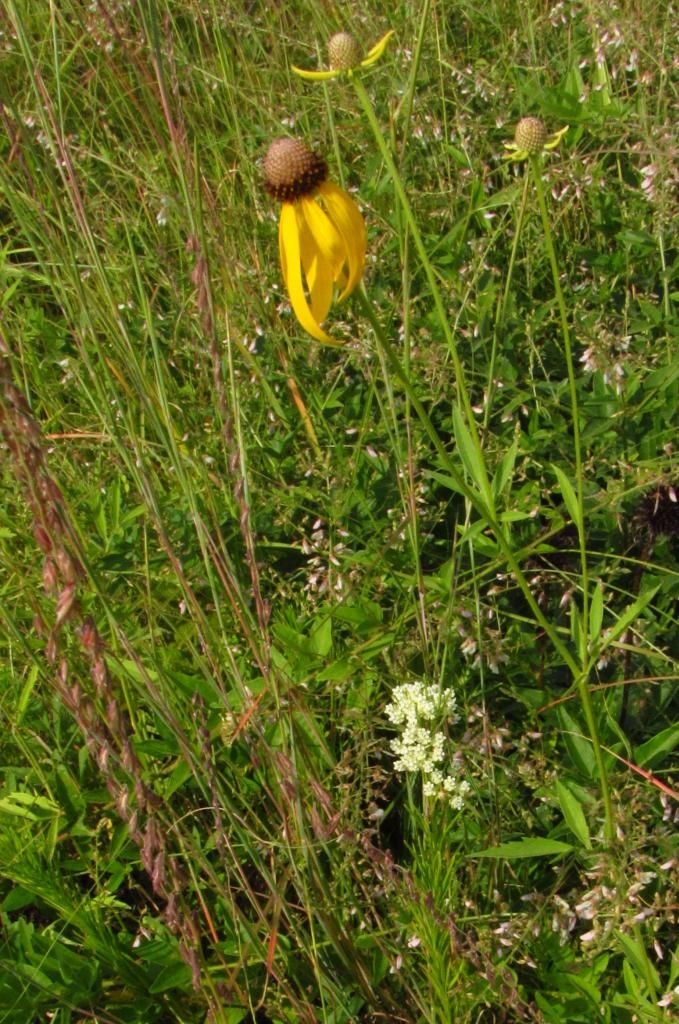 The same restored prairie in Dallas County contained many butterfly milkweed plants. These finished blooming weeks ago, and you can see slender seed pods. Eventually they will burst open, and the wind will spread the feathery seeds.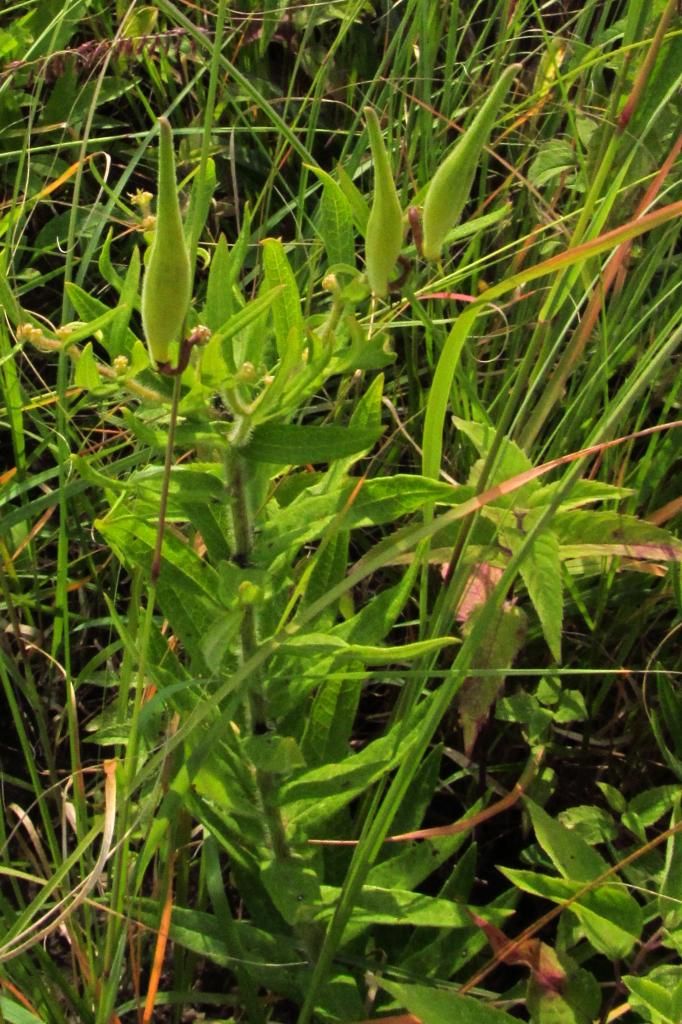 Final bonus picture for this week: one of the largest trumpet vines I've ever seen, growing right up a Dallas Center building. You can't see the blossoms well here, but I wanted to capture the scale of this plant. This Iowa wildflower post from last summer includes close-up views of the trumpet vine, a favorite wildflower of ruby-throated hummingbirds.