Gubernatorial candidate Jonathan Narcisse plans to fight for inclusion on the Democratic primary ballot. The Iowa Secretary of State's Office rejected some of his petitions because the line listing the office he was seeking was left blank. After the jump I've posted a statement from Narcisse blasting what he called a "gross act of political disenfranchisement" to use a "technicality" to keep him off the ballot. I also enclosed the letter Director of Elections Sarah Reisetter sent to Narcisse and an example of one of the invalid signature pages, provided by the Iowa Secretary of State's communications director.
No doubt, some of the people circulating Narcisse's petitions did not fill all of them out correctly. Iowa law on ballot access is clear, and our rules are less restrictive than those in many other states.
One recent event bolster's Narcisse's case, however: two years ago, State Senator Joe Seng was able to get on the Democratic primary ballot in Iowa's second Congressional district despite the exact same problem with his petitions in two counties. Three senior state officials (Iowa Secretary of State Matt Schultz, Attorney General Tom Miller, and Deputy State Auditor Warren Jenkins) reviewed the matter after a voter in IA-02 challenged Seng's petitions. That panel unanimously decided "to count a few pages of petition signatures that had previously been tossed out because the top portion – listing Seng's name, where he was from and what office he was seeking – hadn't been completely filled out." Schultz told the media that while "Senator Seng probably should have been more organized," it was a "close call." Miller cited an Iowa tradition of "being somewhat favorable, deferential to someone having access to the ballot."
If Narcisse manages to get on the ballot, he will face State Senator Jack Hatch in the Democratic primary on June 3. Otherwise Hatch will be unopposed for the Democratic nomination.
UPDATE: To clarify, I understand and support the reasoning behind Iowa's ballot access rules. Senior officials never should have bent the rules to accommodate Seng. Now that they have, Narcisse can claim he deserves the same indulgence. John Deeth notes in the comments that it's not clear exactly what information was missing from some of the Seng petitions. Perhaps scanned copies still exist somewhere, which would show whether the problem was a blank space where he should have indicated the office he was seeking.
Narcisse for Governor press release, March 15:
Narcisse For Governor Campaign 2014 Will Dispute Elections Director Petition Rejections

DES MOINES, IOWA | MARCH 15, 2014 – At 12:31 p.m. today Sarah G. Reisetter, Director of Elections for the Iowa Secretary of State sent an email stating her office was rejecting enough submitted petitions to disqualify Jonathan Ray Narcisse's nomination for the June 3rd Democratic primary race for Iowa Governor.

On Friday Narcisse submitted more than 4,500 signatures from more than 50 counties. The submissions exceeded the minimum 4,113 aggregate signatures and at least 1% of the 2012 voting body in at least ten counties, required by state election code. Based on the signatures requirements Narcisse readily qualified for the ballot.

However, based on a purported technicality, Reisetter tossed out entire counties. For example students on the Ames campus secured Narcisse 386 Story County signatures on Story County nomination petition sheets. Reisetter only counted 79 of those signatures disenfranchising the 307 Story County residents who did sign the petitions.

"Over the years I have gotten used to political tactics to undermine our civic activisim. In 2005 when I made it clear I was going to run for school board polling sites were reduced from 107 precincts to 23 pods. In 2010 after securing signatures to get on the ballot the rules were changed and we had just days to start over and secure the signature required. But we did it," stated Narcisse.

Iowans from at least ten counties in sufficient numbers and well over the 4,113 Iowans required, want Narcisse on the ballot. "Regardless of the motivation, this attempt to invoke a technicality to keep me off the ballot is a gross act of political disenfranchisement and we plan to fight it at every turn. We will fight this on behalf of those Iowans who clearly expressed they want a choice for Democratic governor on the ballot June 3rd."

Example of petition page rejected by Iowa Secretary of State's office: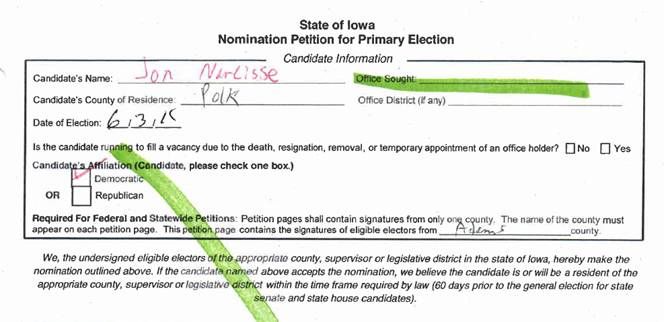 Letter from Director of Elections Sarah Reisetter to Narcisse, March 15: