Eileen Miller has contributed more stunning photos for this week's edition of Iowa wildflower Wednesday. The featured flower is Downy gentian, also known as prairie gentian. I've never seen this flower blooming in real life. It's among several plants in the gentian family that blossom in Iowa prairies during the early autumn.
This post is also a mid-week open thread: all topics welcome.
DOWNY GENTIAN (Gentiana puberlenta)
by Eileen Miller
One of the last flowers to appear on the prairie are the strikingly beautiful, deep blue-violet flowers of Downy Gentian. This native plant of less than 20 inches in height has smooth opposite leaves. The flowers are usually in a cluster at the top of the plant. Each tubular shaped flower divides into 5 small triangular flared lobes. Within the flower is one stigma surrounded by 5 stamens with white anthers. The root is a long, stout taproot. Downy Gentian prefers full to partial sun and mesic to dry soils. It is very drought resistant, and also cold resistant, often surviving hard frosts. It can be found in prairie remnants along old railroad beds, upland woods and gravelly hillside prairies. I have seen it blooming in Tipton Prairie, a four-acre virgin prairie in Greene county near Rippey, IA. I have also seen it blooming in an upland prairie in Dunbar Slough in Greene county.
According to the Illinois Wildflowers website, Downy Gentian is an indicator plant of virgin prairies and high-quality habitats.
Bumblebees are probably the most important pollinators of these flowers.
Individual flower. Stamens are hugging the pistil. An opening flower and a flower bud on the left:
Downy gentian flower–a flower in which the stamens have separated away from the pistil: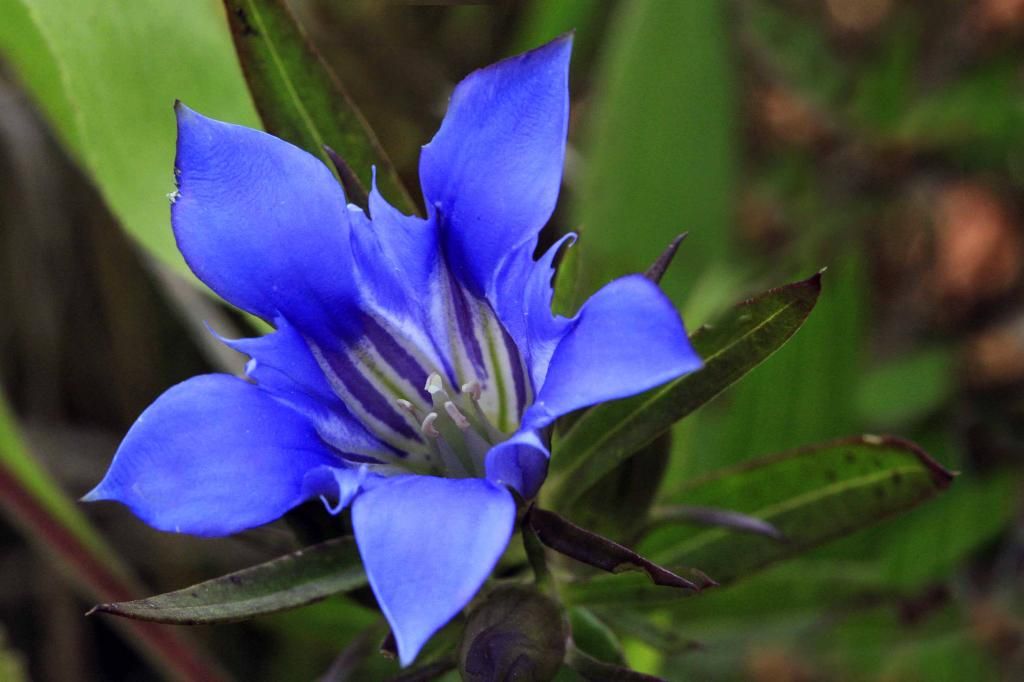 A small flower cluster with a flower bud:
A large flower cluster: