Jennifer Konfrst announced this morning that she will challenge four-term GOP incumbent Chris Hagenow in Iowa House district 43. The swing district covers Windsor Heights, Clive, and part of West Des Moines. A detailed map is after the jump, along with Konfrst's press release and official bio. Her campaign is on the web here as well as on Facebook and Twitter.
As the newly-elected House majority leader, Hagenow will have virtually unlimited financial resources backing his re-election bid. On the other hand, this part of the Des Moines suburbs, solidly Republican for decades, has been trending toward Democrats for some time. President Barack Obama won 50.6 percent of the vote in 2012 in the HD-43 precincts, while Mitt Romney won 48.3 percent. Although Joni Ernst carried the district in the 2014 U.S. Senate race, she beat Bruce Braley by only 2 percent in HD-43--a lot less than her winning margin statewide. The latest figures from the Iowa Secretary of State's office indicate that 6,682 active registered Democrats, 7,493 Republicans, and 5,897 no-party voters live in the district.
Hagenow won his first election to the House in 2008 by 93 votes against then Windsor Heights Mayor Jerry Sullivan. After being re-elected comfortably in the 2010 midterm, Hagenow got a scare in the last presidential year. Despite paying for push-polls and negative tv ads against a challenger who was massively outspent, the incumbent defeated Susan Judkins by only 23 votes in 2012.
Judkins now serves on the Clive City Council. Last week she confirmed to Bleeding Heartland that she will not run for the Iowa House in 2016.
Konfrst may face a competitive primary anyway, because Jon Neiderbach is seriously considering a campaign against Hagenow. He was the Democratic nominee for state auditor in 2014. I think highly of both Konfrst and Neiderbach. The Iowa Democratic establishment sometimes hyperventilates about contested primaries, but assuming the candidates fight fair, I see little downside to two people pounding the pavement to get out the vote in my home district before next June's primary.
Any relevant comments are welcome in this thread.
Bonus political trivia: To my knowledge, HD-43 is one of just two Iowa House seats where voters registered with each major party currently outnumber independents. The other is Democratic State Representative John Forbes' territory in House district 40 (part of Urbandale).
House district 43 covers Windsor Heights, Clive, and part of West Des Moines in Polk County: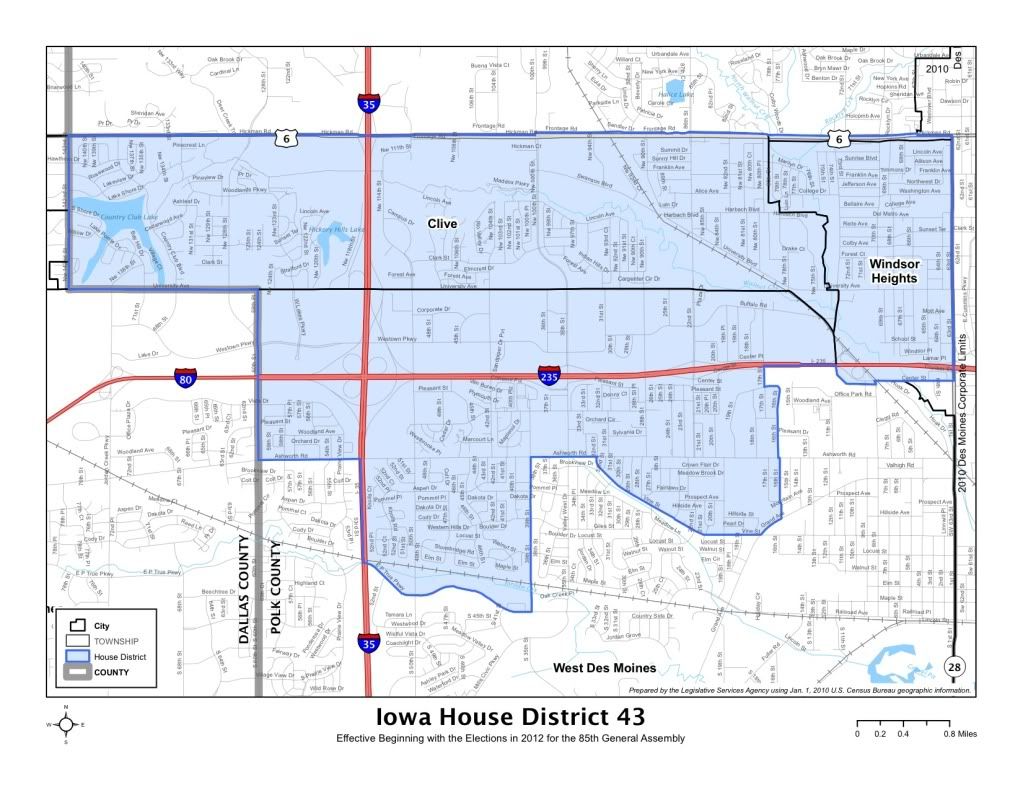 August 28 press release:
Jennifer Konfrst Announces Candidacy for Iowa House

Seeks To Serve Citizens of Clive, West Des Moines, & Windsor Heights

(Windsor Heights, IA) -- Jennifer Konfrst, a mom, educator, and small business owner from Windsor Heights, today announced her candidacy to represent Iowa's 43rd House District, which includes Clive, West Des Moines, and Windsor Heights.

"I'm proud to raise my family in this remarkable community, and I'm running to ensure the voices of all families are represented in the Iowa House," Konfrst said. "Throughout my career working with businesses, starting my own small business, and now as an educator, I've learned that education is the key to growing our economy, creating new opportunities, and keeping our kids in Iowa after graduation."

Jennifer is currently an Assistant Professor in Drake University's School of Journalism and Mass Communication and also runs her own small business. Her business helps those in the private and public sectors improve communication with their own customers and clients. Jennifer has worked with nonprofits and businesses. She spent 12 years at Iowa Public Television, working in communications. In the private sector, she worked with the state's economic development leaders to bring workers and businesses to Iowa.

"I've spent most of my life in Iowa and I'm a proud product of Iowa's public schools - schools that used to be among the best in the nation. I will fight to get public education in Iowa back on top, " said Konfrst, who has been an active parent volunteer from preschool through high school.

After graduating from Johnston High School, Jennifer earned undergraduate and graduate degrees from Drake University. Jennifer and her husband Lee are proud parents to students at Roosevelt High School and Merrill Middle School. Lee works at Nationwide in Des Moines and they are active members of Plymouth Congregational United Church of Christ.

"I believe it's time for a fresh perspective and new leadership in the Iowa House who will put kids instead of politics first. I look forward to this opportunity to listen to my neighbors and work hard to earn their votes," added Konfrst.
From the about page at JenniferKonfrst.com:
Jennifer has lived in Iowa most of her life, and has always considered the Des Moines metro area her home. After living in northern Iowa, then out of state for a short time as a child, she returned to Iowa and went to school in Johnston, where she graduated in 1992.

Jennifer met her husband, Lee, while attending Drake University. They've lived in the area since their marriage in 1996, with a brief stint in Chicago before coming back home to Iowa. They have two children, Ellie (15) and James (13) and live in Windsor Heights. Lee works at Nationwide in Des Moines and they are members of Plymouth Congregational United Church of Christ in Des Moines, where Jennifer grew up. The couple was married at Plymouth, and they are proud to be raising their children there. She earned both her Bachelor's and Master's Degrees from Drake University, and Lee earned his undergraduate and law degrees there.

Jennifer believes there is nothing more important than being a mom and that's why she has been an active volunteer in her kids' education at every step from preschool to high school. She has served as President of the Plymouth Nursery School Board, President of the Downtown School PTA, Mock Trial coach at Merrill Middle School, and now is a member of the PTA and a debate team parent volunteer at Roosevelt High School.

Jennifer is currently an Assistant Professor in Drake University's School of Journalism and Mass Communication and also runs her own small business. Her business helps those in the private and public sectors improve communication with their own customers and clients.

Before teaching at Drake, Jennifer spent 12 years in communications leadership at Iowa Public Television (IPTV). While there, she was responsible for strategy and implementation of communications for the network. She also served as the spokesperson for IPTV, on-air host during fundraising drives, and worked on special programs during the Iowa State Fair.

Konfrst has worked in the private sector at CMF&Z Marketing Communications in Des Moines. As a senior account manager, her primary client was the Iowa Economic Development Authority, where she worked with business development to improve the state's business climate as well as recruit businesses and young people to come to Iowa. Other clients included government agencies, small businesses, and agricultural groups.

Jennifer has also worked for US Senator Tom Harkin, and in college she worked for the Iowa House of Representatives, Meredith Corporation, and Broadlawns Hospital.

Jennifer has been recognized as Outstanding New Member from the Public Relations Society of America (PRSA) Central Iowa Chapter in 2014, as a member of the Des Moines Business Record's 40 Under 40 Class of 2010, and as national PBS Communicator of the Year in 2007.

Konfrst is a member of Plymouth Congregational United Church of Christ, and also served on the boards of the Des Moines Pastoral Counseling Center and Easter Seals Iowa.

Konfrst is fortunate to have her parents in the Des Moines area. Mike Glover is a retired AP reporter, and Betty Glover serves on the Windsor Heights City Council. Penni Guyler is a retired nurse living on Des Moines' south side.
Note: Glover now edits and writes for the Iowa Daily Democrat.