Two Republicans are actively campaigning in Iowa House district 77, a Democratic-leaning seat where State Representative Sally Stutsman recently announced plans to retire this year. Both Royce Phillips and Paula Dreeszen filed documents forming House campaign committees earlier this month.
Dreeszen's campaign Facebook page calls for efficient government, asserting that "Our state wastes too much money."
Phillips is pastor of the Tabernacle Baptist Church in Coralville and the former mayor of Tiffin, the second-largest city in House district 77. He sought the Republican nomination in Iowa Senate district 39 in 2014, finishing third in the three-way primary. His campaign is on Facebook and Twitter, and his pitch is "a consistent conservative with a record of results."
I enclose below excerpts from the Dreeszen and Phillips campaign announcements, as well as a map of House district 77.
The likely Democratic nominee is Amy Nielsen, mayor of North Liberty. That rapidly-growing city is the largest in the district. Click here for background on Nielsen. She's on Twitter and Facebook and has a campaign website dating from her run for mayor.
I have not heard of any other prospective Democratic or Republican candidates for the open seat, though that may change before the March 18 filing deadline. Qualifying for the primary ballot is relatively easy, as candidates for the Iowa House need only 50 valid signatures from residents of the district on their nominating papers.
The Democratic nominee will be favored to succeed Stutsman, who easily defeated a GOP opponent in 2012. According to the latest figures from the Iowa Secretary of State's office, House district 77 contains 7,043 active registered Democrats, 5,213 Republicans, and 7,727 no-party voters. Those numbers do not include people who changed their party registration on February 1 to participate in the Iowa caucuses.
President Barack Obama won more than 58 percent of the vote among House district 77 residents in 2012. Bruce Braley outpolled Joni Ernst by 9 points here in the 2014 U.S. Senate race.

House district 77 covers much of western and southern Johnson County, including the cities of North Liberty, Tiffin, Oxford, Swisher, and Shueyville.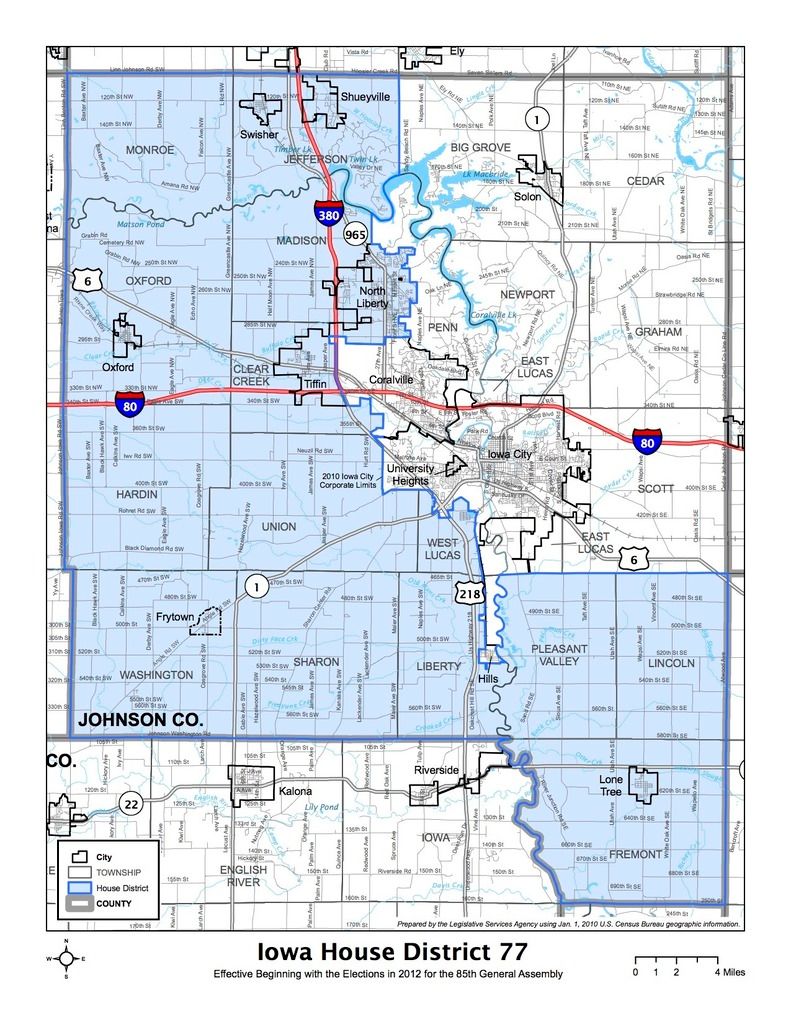 From a February 14 Facebook post by Paula Dreeszen for Iowa:
Our government wastes too much money. For the first time since the founding of our nation we are in a position that our children can not expect to have better opportunities than their parents. As a grandmother, I will not stand for this.

We need leadership that focuses on preserving the wealth of our state and leaves our children with Public Opportunities instead of Public Debt.

Our schools are a worthwhile expense to invest in our children. However, money is not the only answer to fix education. My 3 grandsons along with the rest of our children deserve an education that keeps them competitive nationwide.
From a February 28 press release by Phillips for Iowa:
Royce Phillips of Tiffin has announced his intention to run for the Republican nomination for Iowa House District 77. This is an open seat as Rep. Sally Stutsman has announced her retirement.

Royce Phillips has served as mayor and city council member in Tiffin, on the Municipal Planning Organization (MPO), is a member of the Iowa City Area Chamber of Commerce as well as a past president and member of the North Corridor Rotary Club.

Phillips has been the pastor of Tabernacle Baptist Church in Coralville since 1983. He and his wife, Cindy have four children, 9 grandchildren and 1 great-grandchild. He is a native of Fort Worth, TX.

In a statement, Phillips said, "On caucus night, I visited several of the caucus sites throughout HD77 to announce my candidacy. I was encouraged by the enthusiasm I saw among caucus voters in this district for new leadership in Washington DC and Des Moines. HD 77 is one of the most diverse districts in Iowa, with the growing communities of northern Johnson County as well as the strong agricultural communities in the southern part of the county. I look forward to a campaign that will emphasize the need for fiscal responsibility, small government and common sense leadership".

A campaign committee has been organized. Anyone interesting in helping with the campaign is asked to contact Royce at royce.w.phillips@gmail.com.