A surprise popped up on the Secretary of State's general election candidate list today. Dan Kelley, a three-term state representative from Newton, has filed to run as a third-party candidate in Iowa House district 29. He lost the June Democratic primary to Wes Breckenridge by nearly a two to one margin. That campaign turned nasty and personal, with supporters on both sides calling each other "bullies." In what has no recent precedent in Iowa politics, two major labor unions endorsed a challenger to a Democratic incumbent. Kelley was the only state legislative incumbent in either party to lose his party's nomination this year.
At this writing, Kelley has not responded to my inquiries, nor has he posted anything on Twitter or Facebook to explain why he decided to run as a third-party candidate. The candidate list provides a big clue: Kelley is named as the candidate for the "Stand Up To Bullies" party. UPDATE: Added comments from Kelley below.
House district 29 covers most of Jasper County in central Iowa (scroll down for a map). The seat leans Democratic, but not overwhelmingly so. President Barack Obama won 56 percent of the vote here in 2012. Kelley defeated his Republican opponent that year with more than 62 percent of the vote. The district contains 7,645 active registered Democrats, 5,608 Republicans, and 6,864 no-party voters according to the latest figures from the Secretary of State's office.
Kelley wasn't the most popular member of his caucus, and House Democratic leaders will surely back Breckenridge in the general election. But no one in the party will relish the thought of spending money on this district when there are so many competitive House races around the state. Moreover, even if the party establishment goes all in for Breckenridge, a split in the Democratic vote could give Republican Patrick Payton the opening he needs to take this seat for the GOP. (Republicans haven't represented the Newton area for decades.) Democrats need a net gain of eight House seats to win control of the lower chamber.

Iowa House district 29 covers most of Jasper County, including Newton, Colfax, Prairie City, Mingo, Baxter, and Kellogg.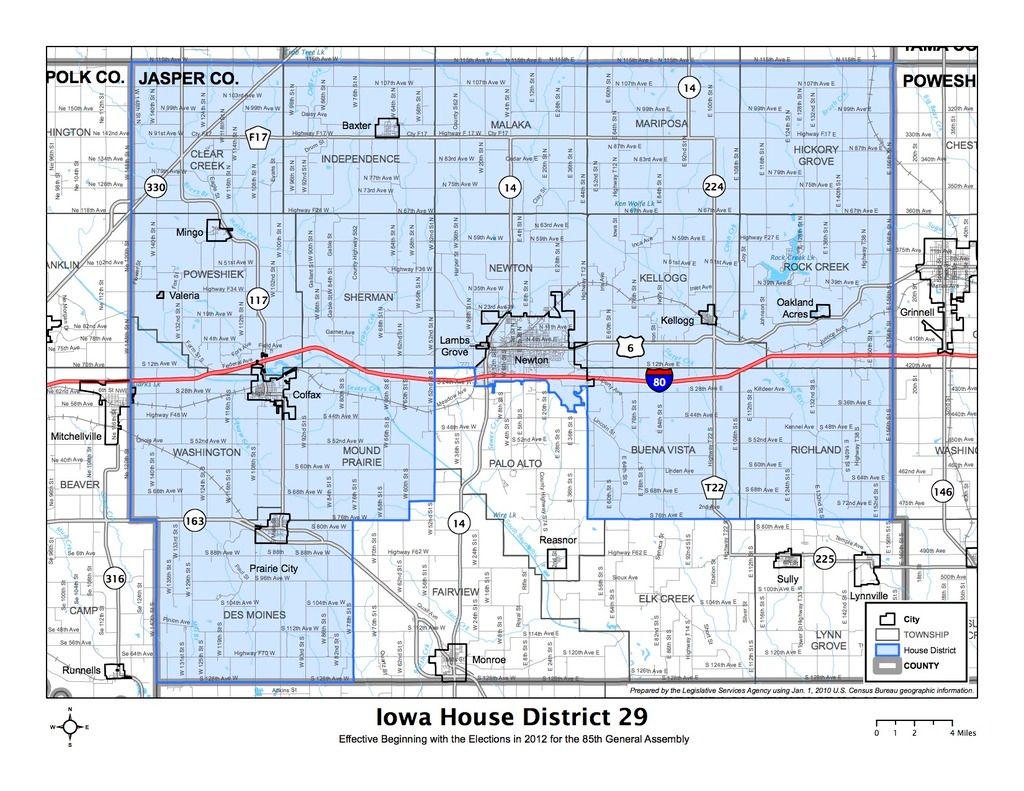 Kelley sent the following statement on August 19:
The Iowa Legislature is going to address some big issues when they come back in January – clean water, jobs, economy, and individual liberties, to name a few. It's vital that there are common-sense, progressive voices in the state legislature, to make sure that our state government really does reflect the best ambitions of all of our people.

I'm a lifelong Democrat, because of what Democrats stand for, and I will vote for Democrats up and down the ticket. We stand up for people. Unfortunately, I have seen local party bosses bully too many people, and push around my neighbors, constituents, and on a personal level, even my own family. What's more, these same people have taken the local party too far to the right. So, on very important issues to people – like equality, and women's health – there is just too much at stake for the people I represent. It's not personal; I know Wes Breckenridge, and I respect Patrick Payton, too. But the future of Jasper County and the state is bigger than all three of us. In terms of the seat itself, I trust the voters of Jasper County; they will make the right choice because they will have a real choice. For years, the voters of Jasper County have always chosen progressives for their State Representative. I believe with a real choice on the ballot, they will do so again. If I am re-elected, I will do as I have always done – proudly serve as a Democrat.

The small group of bullies that has run our local party into the ground can't be just given the keys to the statehouse like having elected office is some trophy – instead, this is serious business for serious people. If they did to the state of Iowa what they've done to Jasper County, then we would be in real trouble. And the Republican candidate – while a decent person – is simply too conservative. People need a choice.

For those reasons, I am running for re-election, to stand up for my constituents, and to stand up against bullies.

I was asked to run by local activists who are very concerned about the actions of the local county party leadership and who know that people deserve a real choice on election day.

The last time the Democrats had a majority in the house, we missed out on important things like prevailing wage, because the party recruited people who were just too conservative.
Payton was Kelley's opponent in 2014, losing by more than 900 votes despite the Republican wave election.
SECOND UPDATE: Brianne Pfannenstiel reported for the Des Moines Register on August 22,
Taylor Van De Krol, chair of the Jasper County Democrats, wrote in an email that local voters "made a statement" by choosing Breckenridge by a nearly two-to-one margin over Kelley in the June 7 primary.

"Democrats are proud to have Wes Breckenridge as our nominee as he fights to create good paying jobs in Jasper County and to make sure that our children receive a quality education that prepares them for the jobs of the future," he said.
John Deeth commented in his review of all 125 state legislative races,
Like I said somewhere back around Sioux City, we all have our process pet peeves. Mine are sore losers; if you buy into a primary process, you buy into the outcome.

Usually sore loser candidates are mere nuisances. This one is a big deal. It's hard to believe anyone could wrest the 2016 award for Most Bitter Loser from Tom Fiegen, but he's done no real damage except to what little remained of his credibility. If this costs the Dems the seat, you have to give that no-prize to Dan Kelley. […]

The beneficiary of this Democratic split is Republican Patrick Payton, who held Kelley to 54% in 2014. Kelley clearly has some negatives, and with a presidential year and without the baggage, Breckenridge would likely have run stronger against Payton in a one on one. But with a split, this one just moved way up the GOP target list.