Iowa's Senators Chuck Grassley and Joni Ernst say they are "continuing to carefully look through the revised health care discussion draft" released by Senate Republican leaders last week. Iowans who have called the senators' offices are likewise hearing from staffers that Grassley and Ernst have not decided whether to support the GOP alternative to the Affordable Care Act.
I suspect Iowa's senators would rubber-stamp any GOP "health care" bill Majority Leader Mitch McConnell brings to the floor, for several reasons:
• None of the Washington-based reporters on this beat include Grassley or Ernst on their lists of Republican senators who may not support the bill.
• Reports speculating about special deals GOP Senate leaders may offer to lock down votes don't refer to any additional spending geared toward Iowa.
• Neither Grassley nor Ernst made time to meet with Iowa hospital leaders who lobbied against the bill on a trip to Washington last week.
• Neither Grassley nor Ernst has bucked the party line on any important Senate vote that I can recall.
For now, let's take Iowa's senators at their word: they are still undecided and seeking input from constituents. If Grassley and Ernst intend to keep promises they've been making on health care policy, they need not spend any more time deliberating. They have ample reasons to vote against the Orwellian-named Better Care Reconciliation Act (BCRA).
Non-partisan analysis indicates that if this bill becomes law, tens of millions of Americans–including hundreds of thousands of Iowans–will have worse health insurance coverage or no coverage at all.

The Congressional Budget Office (CBO) and the staff of the Joint Committee on Taxation (JCT) released the official cost estimate of the BRCA on June 26. Click here to read the whole horror show. Key points:
HIGHER PREMIUMS AND DEDUCTIBLES, ESPECIALLY FOR OLDER IOWANS
Grassley has repeatedly said (most recently in a form letter going out to Iowans this month) that health care policy should provide "more choice for less cost." He told reporters in March that he was especially concerned about projected insurance premium increases for late middle-aged people.
Ernst has similarly told the public, "Iowans deserve affordable health care coverage that meets individuals' and families' needs."
Haeyoun Park and Wilson Anders reported for the New York Times yesterday,
The C.B.O. estimates that average gross premiums would initially rise under the Senate bill, then drop by about 20 percent, compared with what it would be under the current law, in 2026.

This would largely be achieved by offering skimpier plans with higher deductibles, and by pricing the old and the sick out of the insurance market.

The Senate bill would make financial assistance for premiums less generous than under the current law. That means that average deductibles for the plans would be much higher. For many low- and middle-income Americans who currently receive subsidies, their share of premiums would rise.
The CBO score shows particularly large cost increases for people over 50, who (as under the House Republican bill) could be charged five times as much as younger Americans for health insurance. For example, a 64-year-old earning $56,800 a year would go from paying $6,800 per year for health insurance under current law to $20,500 annually under the Senate Republican bill.
A 21-year-old earning $26,500 per year would pay about $500 more annually for a "silver" health insurance plan under the BCRA. A 40-year-old with the same income would pay about $1,300 more per year, but a 64-year-old would pay $4,800 more ($6,500 annually under the Senate bill, compared to $1,700 under the Affordable Care Act).
The AARP is pushing hard against this "age tax" in new television and radio commercials. Iowa is among the states where these ads are running.
The CBO estimated that 22 million fewer Americans would have health insurance in 2026 under the Senate Republican bill, compared to current law. People between the ages of 50 and 64 would represent a large share of the uninsured, but there would be big losses in all age groups.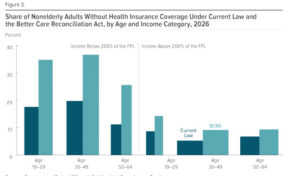 FEWER IOWANS COVERED BY MEDICAID
Like the bill House Republicans approved, the BCRA would fundamentally change Medicaid, with devastating consequences for people with lower incomes, people with disabilities, and those in nursing homes. Dylan Matthews explained at Vox,
The BCRA would effectively end the Medicaid expansion starting in 2021. Under current law, the federal government initially paid 100 percent of costs of Medicaid expansion beneficiaries, a percentage set to wind down to 90 percent in 2020 and stay at that level permanently. Under the Senate bill, the federal government would gradually wind down that percentage to the states' normal matching rates for Medicaid — rates that are as low as 50 percent in certain states. […]

Replacing Medicaid expansion for poor people are new tax credits that are much less generous than those under current law. Under Obamacare, tax credits were tethered to the cost of plans covering 70 percent of medical expenses. The BCRA would reduce that amount to plans that cover 58 percent. That means higher deductibles, copayments, and other means of cost sharing to make up for lower premiums than a more generous plan would have.

That's particularly bad news for the people being kicked off Medicaid, who would get tax credits but would be forced to use them to buy coverage that could cost them thousands of additional dollars per year. Medicaid, by contrast, has minimal or no premiums, deductibles, or copays, depending on the state. […]

Moreover, the changes to credits are also bad news for low-income people already on the exchanges, who would get smaller credits for worse coverage.

The CBO expects that because of these issues, few low-income people will even bother to use the tax credits to buy insurance. "The deductible for a plan with an actuarial value of 58 percent would be a significantly higher percentage of income," the office writes. "As a result, despite being eligible for premium tax credits, few low-income people would purchase any plan, CBO and JCT estimate."
Matt Broaddus and Edwin Park wrote for the Center on Budget and Policy Priorities,
Under the Senate bill, the federal share of expenditures for expansion adults would fall from the current 90 percent to 85 percent in 2021, 80 percent in 2022, 75 percent in 2023, and then to states' standard Medicaid matching rates (which average 57 percent across all states) in 2024. By 2024, states that wanted to continue covering low-income adults in expanded Medicaid coverage would have to pay 2.8 to 5 times their current-law cost for each enrollee. […]

On top of that, the Senate plan — like the House bill — would impose a per capita cap on Medicaid, including the Medicaid expansion, and would limit growth in federal funding per beneficiary even more severely than the House plan, shifting additional expansion costs to states. These two policies combined would starve states of the federal resources needed to continue covering low-income adults. […]

Few states could generate the extra funding needed to keep their expansions going — by raising taxes or cutting other parts of their budgets, like education — since the federal cuts, and required state increases, would rise each year. Thus, even non-trigger states would likely end their expansions in 2021 or soon after. The 11 million low-income adults covered by the Medicaid expansion who would have been ineligible for Medicaid, and likely uninsured, under pre-ACA rules would be in severe jeopardy of once again going without quality, affordable health coverage.
The CBO projects that federal spending on Medicaid would drop by $772 billion over the next decade, compared to $880 billion in the House bill. But paradoxically, the CBO anticipates that coverage losses would be even higher under the Senate bill (15 million fewer covered by Medicaid in 2026) than under the House bill (14 million fewer covered by Medicaid in 2026).
One figure from the CBO report:
Sara Rosenbaum provided a detailed comparison of the Senate and House provisions on Medicaid. This Iowa Fiscal Partnership analysis of the House bill provisions applies equally to the Senate bill:
Probably the most important danger with the AHCA per-capita cap is the "demographic time bomb." The population is aging, in Iowa and throughout the country. As the Baby Boomer bubble works its way through the elderly population, seniors will become older on average. The share of Iowa's seniors who are age 75 or older is expected to rise from 42.6 percent in 2020 to 47.3 percent by 2030, and then 55.7 percent by 2040.[9] This is significant because Medicaid spending per capita is much higher for the "old old" than for the "young old." Average Medicaid spending per recipient for those age 85 or older is 2.5 times the amount spent per recipient age 65 to 74.[10]

Growth in the per capita Medicaid reimbursement for the elderly population will be based forever on Iowa's level of spending for all seniors as of 2016, before the boom in Medicaid's aging population. The rising cost of Medicaid for seniors, as they become on average older and sicker, will not be matched by the federal government. That will stick the state of Iowa with higher costs, cause cuts in benefits to seniors, or both. One program that could very well end up on the chopping block is in-home health care, an important program that allows seniors to receive needed services while remaining at home, rather than in a nursing home, which is more expensive.

None of this is a fluke, or an unintended consequence of the AHCA. To the proponents, it is a measure of the success of that legislation — to shift costs and risk from the federal government to the states, health-care providers, and to the low-income populations served by Medicaid. The states will have to make the hard choices — who gets served, who gets cut. The elderly and the sick will suffer the consequences.
The Center on Budget and Policy Priorities estimates that it would become 53 percent more expensive for Iowa to maintain our state's version of the Medicaid expansion under the Senate bill. Almost certainly, our state budget could not afford that extra expense. Rolling back Medicaid expansion here would leave around 148,000 people without coverage.
Jordan Rau reported for the New York Times on June 24 that the Republican legislation could "force retirees out of nursing homes."
Medicaid pays for most of the 1.4 million people in nursing homes, like Ms. Jacobs. It covers 20 percent of all Americans and 40 percent of poor adults. […]

Under federal law, state Medicaid programs are required to cover nursing home care. But state officials decide how much to pay facilities, and states under budgetary pressure could decrease the amount they are willing to pay or restrict eligibility for coverage.

"The states are going to make it harder to qualify medically for needing nursing home care," predicted Toby S. Edelman, a senior policy attorney at the Center for Medicare Advocacy. "They'd have to be more disabled before they qualify for Medicaid assistance." […]

While most Medicaid enrollees are children, pregnant women and nonelderly adults, long-term services such as nursing homes account for 42 percent of all Medicaid spending — even though only 6 percent of Medicaid enrollees use them.

"Moms and kids aren't where the money is," said Damon Terzaghi, a senior director at the National Association of States United for Aging and Disabilities, a group representing state agencies that manage programs for these populations or advocate on their behalf. "If you're going to cut that much money out, it's going to be coming from older people and people with disabilities."
On June 23, Ernst told Iowa reporters, "I think we do need some changes in Medicaid," adding, "We want to make sure they have access to health care. We want to make sure they have access to quality health care." In a form letter to Iowans who contacted Grassley's office recently about health care, the senator says,
health care reform has to reestablish states as the main regulators of health care. All states have different demographics and healthcare needs and reform must begin with the idea that states know what's best for their constituents. This principle also applies to Medicaid. In general, I prefer allowing states to have the option to manage Medicaid as they know best what the residents of their state need and I will work to preserve Medicaid for the most vulnerable in our society.
If Grassley and Ernst are truly concerned with preserving "access to quality health care" for "the most vulnerable in our society," they should rule out voting for the BCRA.
NO GUARANTEE OF INDIVIDUAL HEALTH INSURANCE OPTIONS
The collapse of Iowa's individual health insurance market has been a recurring theme in rhetoric from Grassley and Ernst on this issue, including during the past few days. Yet the CBO analysis suggests that the Senate bill would not guarantee that all Americans could purchase individual policies. From pages 17 and 18:
Nongroup coverage. On net, CBO and JCT estimate that roughly 7 million fewer people would obtain coverage in 2018 through the nongroup market under this legislation than under current law; that figure would be about 9 million in 2020 and about 7 million in 2026 (see Table 4, at the end of this document). Fewer people would enroll in the nongroup market mainly because the penalty for not having insurance would be eliminated and, starting in 2020, because the average subsidy for coverage in that market would be substantially lower for most people currently eligible for subsidies—and for some people that subsidy would be eliminated.

Market Stability. In CBO and JCT's assessment, a small fraction of the population resides in areas in which—because of this legislation, for at least for some of the years after 2019—no insurers would participate in the nongroup market or insurance would be offered only with very high premiums. In the first case, the elimination of cost-sharing subsidies for low-income people and the greater share of income that older people pay toward premiums would shrink the demand for insurance compared with that under current law, and it would probably not be profitable for insurers to bear the fixed costs of operating in some markets. In the second case, because the total subsidy per person under the legislation would be substantially smaller than under current law, the fraction of purchasers who are subsidized would fall. Among the unsubsidized population, less healthy people are more likely to purchase insurance—and the higher costs for them would put upward pressure on premiums. As unsubsidized people became a greater fraction of the purchasers, that pressure would be greater and could result in very high premiums in some markets—mainly during the second half of the coming decade, when much less federal funding would be provided to reduce premiums.
DIRE CONSEQUENCES FOR HOSPITALS
Kirk Norris of the Iowa Hospital Association has flagged other problems with the Senate health care bill. From the latest Des Moines Register story by Tony Leys:
Norris said rural hospitals tend to be the most dependent on Medicaid, which covers 10 percent to 20 percent of their patients. If Medicaid is cut as much as predicted, he said, small hospitals are likely to drop money-losing services, starting with mental-health and addiction-treatment programs.

"If you think we have a behavioral health service shortage now, just wait," Norris said in an interview.

Norris said he doesn't understand who would benefit from the bill. There has been a dearth of vocal defenders, outside of the members of Congress touting it, he said. "I haven't heard anybody say they support this bill," he said. "Not anybody."
Earlier this month, Chelsea Keenan reported for the Cedar Rapids Gazette on similar concerns expressed by Iowa hospital leaders.
Contact information for all the Grassley and Ernst offices can be found at the end of this post. Although I'm not optimistic they will listen to feedback from constituents, a phone call is still worth a few minutes of your time. Iowa's senators may jump on the bandwagon of opponents if they sense leaders can't get to 50 votes on this terrible bill.
I will update this post as needed.
UPDATE: Senate GOP leaders were unable to get 50 members to support a motion to proceed to debating the bill on June 27, meaning the legislation will not be brought to the Senate floor until after the July 4 recess.
Every delay is good news.
Worth noting: neither Grassley nor Ernst were named in reports listing reluctant GOP senators. They missed an opportunity to be seen standing up for their constituents.
Speaking of which, some Republican governors are speaking out against this bill, including Charlie Baker of Massachusetts, Brian Sandoval of Nevada, and John Kasich of Ohio.
Hours before Senate Republicans delayed a vote on the bill, Mr. Kasich denounced his own party's legislation in biting terms, saying that it would victimize the poor and mentally ill, and redirect tax money "to people who are already very wealthy."

"This bill," Mr. Kasich said, "is unacceptable." […]

John Weaver, Mr. Kasich's chief political adviser, said Mr. Kasich had spoken recently with other Republican governors, including Mr. Snyder, Doug Ducey of Arizona and Larry Hogan of Maryland, who have publicly criticized the Senate proposal. "He has worked it on the phone," Mr. Weaver said of Mr. Kasich. "There are a number of Republican governors who he spoke to and didn't want to sign the letter, but came out on our position."
Kasich had even stronger words today.
"They think that's great? That's good public policy?" an incredulous Kasich said at a news conference in Washington on Tuesday. "What, are you kidding me?" […]

Kasich urged Portman not to support the bill even if McConnell agrees to beef up funding for opioid treatment, because that would not be enough to make up for the GOP bill's proposed cuts to federal Medicaid funding.

"I told him if they hand you a few billion dollars on opioids … that's like spitting in the ocean," Kasich said. "I've talked to Rob a million times. He knows exactly what my concerns are." […]

Kasich said congressional Republicans should try getting their own health care through Medicaid or purchasing insurance with the miserly subsidies the GOP plan offers.

"Why don't we have those folks go and live under … Medicaid for a while?" Kasich said. "Why don't we have them go live on their exchange where they can get two, three, four thousand dollars a year to cover their health care exchange costs."
Too bad Governor Kim Reynolds either lacks political courage or doesn't understand the implications of the policies under consideration.
SEONC UPDATE: Radio Iowa's Matt Kelley reported more of the same posturing by Grassley on June 27.
Grassley says he's getting many hundreds of email, calls and letters from Iowans about the legislation. "I'm still continuing to study this 144-page draft bill over the next few days and I hope we make a decision this week," Grassley says, "but if we don't, then I'm going to have another couple weeks to study the 144-page bill." […]

While many Iowans are pleading with their senators to leave the ACA intact, Grassley says action is needed to correct problems that were created by the earlier health care plan. "Currently, if nothing is passed, 72,000 Iowans on Obamacare will face hardship keeping their insurance this fall," Grassley says. "You know, 94 or 95 counties only have one, Medica. If it stays in Iowa, they're going to have increases in premiums of 43-and-a-half percent."

While Grassley hasn't said how he'd vote on the Senate version of the bill, he is convinced the ACA needs to be repealed and replaced, he's just not sure yet if this is the best way to do it.
As I mentioned near the beginning of this post, no one following this debate closely believes that Grassley or Ernst might not vote for the Republican bill, depending on its provisions. Senate leaders aren't offering concessions to Iowa's senators, nor do any Congressional correspondents consider Grassley or Ernst as a questionable supporter. The latest example: Bloomberg reporter Steven Dennis named fourteen GOP senators–not including Grassley or Ernst–as the "toughest" GOP votes to get for the BCRA.
THIRD UPDATE: Here is the latest version of Grassley's form letter to Iowans who contact his office about the health care bill. Note that he is still referring to the name of the House-approved bill (AHCA) rather than the bill that will come up in the Senate.
Much of the text is identical to what Grassley was telling Iowans earlier this month, but the new version includes several paragraphs underscoring the senator's alleged commitment to Medicare and Medicaid.
Senator Chuck Grassley's response to my concerns on the current version of AHCA (Better Care Reconciliation Act of 2017) (BCRA) under consideration by the U.S. Senate:
June 27, 2017
Dear [name]:
Thank you for taking the time to contact me. As your Senator it is important for me to hear from you.
I appreciate hearing your thoughts about the American Health Care Act (AHCA), legislation proposed to replace the Affordable Care Act, or Obamacare.

The AHCA passed the House of Representatives on May 4, and the bill is now under consideration in the Senate. Under the budget reconciliation process, the House had to act first. The passage of the AHCA in the House now gives the Senate the opportunity to repair the damage that Obamacare has caused. Obamacare, or the Affordable Care Act (ACA), isn't working as time passes and its structural deficiencies are revealed. In Iowa, premiums were 19 percent to 43 percent higher in 2017 than they were in 2016 and many individuals continue to have deductibles and copays so high that it makes their insurance too expensive to use. And now, many Iowans who have Obamacare will have no options for or access to health insurance in 2018. Nationwide, 32 percent of counties in the United States will have just one insurer offering plans on the exchanges. In the Senate, a health care bill will need the support of at least 51 senators to pass. I'd like to see bipartisan support for a bill. I have been talking with patient advocates and insurers in Iowa, as well as the Iowa insurance commissioner and the governor's office, about all of the considerations to take into account. Their insight is important as the Senate works on a bill that helps make health care more affordable and more accessible for Iowans and other Americans.

As the Senate continues its work on health care reform, I believe that there are a few principles that should guide our work.

First, no one should be disqualified from getting insurance for having a pre-existing condition. If you have children under the age of 26, they should be allowed to stay on your insurance.

Second, any health care reform plan has to address the rising cost of healthcare. There is nothing in place to address the underlying causes of the high cost of health care – that is, what it costs for a hospital or doctor to purchase and maintain medical equipment, purchase medicines, carry malpractice insurance, and the like. Lowering the costs of things like those I just listed would drive down the cost of health care, emergency room visits, and health insurance premiums.

Third, health care reform has to reestablish states as the main regulators of health care. All states have different demographics and healthcare needs and reform must begin with the idea that states know what's best for their constituents. This principle also applies to Medicaid. In general, I prefer allowing states to have the option to manage Medicaid as they know best what the residents of their state need and I will work to preserve Medicaid for the most vulnerable in our society.

In 2015, America celebrated the 50th anniversary of Medicare and Medicaid. These programs have served older Americans and those in need admirably for over 50 years. During my time in the Senate, I have worked to preserve and strengthen these programs so that they can continue serving Americans now and in the future.

I worked to strengthen Medicare and Medicaid by providing government the tools to combat waste, fraud, and abuse. I authored the 1986 updates to the False Claims Act as well as an update to the law in 2009. Since 2009, the False Claims Act has recovered $31.3 billion and $19.3 billion of that total has been in Medicare, Medicaid and other health care programs. The law has become the government's most effective tool for fighting health care fraud.

I worked to help families raising children with disabilities when I coauthored bipartisan legislation creating Katie Beckett waivers. These waivers, named for an Iowan, improved the Medicaid program by allowing the families of children with disabilities to buy into Medicaid coverage without having to quit their jobs and impoverish themselves.

Moving forward, I am working to enact legislation that will give Medicaid and the Children's Health Insurance program flexibility to better coordinate the medical care of children with medically complex conditions.

As a strong supporter of Medicare and Medicaid and as someone who cares about those who will count on these programs today and for many years to come, I have a responsibility to ensure the survival of these programs for future generations.

To ensure that we make these programs as strong as ever, we must recognize the current fiscal path of both programs jeopardizes the program for beneficiaries today and in the future, along with their unsustainable impact on the overall federal budget.

In 2016, 77 million will be enrolled in Medicaid. These numbers will continue to grow in the coming years as will the amount of money that the government will spend. Many states are having budget problems due to the growth of their Medicaid programs and mandates from the federal government. If we are serious about saving these programs, we need to have an honest and bipartisan discussion about reform now.

I am willing to engage in serious conversation in the hope that we can build the bipartisan consensus we need to succeed in the 115th Congress.

I believe these are the principles that Congress needs to follow as we reform our health care system. The American people deserve a long-term solution that gives them more choice for less cost, and empowers individuals and states to make their own health care decisions.
Thank you again for contacting me. Please keep in touch.
Sincerely,
Chuck Grassley