Although I was in a hurry to get to the farmers market two Saturdays ago, I had to pull off the bike trail to get a closer look at the bright yellow flowers near the bank of Walnut Creek. They turned out to be Lanceleaf coreopsis (Coreopsis lanceolata), a new find for me. Sometimes known as sand coreopsis or lanceleaf tickseed, this species is native to most of the U.S. and Canada. UPDATE: Bleeding Heartland user Prairie Fan notes in the comments that The Vascular Plants of Iowa, a classic text by Lawrence Eilers and Dean Roosa, identifies lanceleaf coreopsis as a native of the U.S. but not Iowa.
Like other members of the aster family, what looks like one flower is a group of ray flowers (which resemble petals) surrounding a center disc containing many tiny flowers. The ragged tips of the ray flowers set lanceleaf coreopsis apart from most other related species, except for large-flowered coreopsis. I'm grateful to ecological consultant and photographer Leland Searles, who looked at my pictures and confirmed the ID as lanceolata plants, based on the leaves.
Wendie Schneider took the picture at the top of this post in Story County, along with a few other photographs below. The rest of the images are my shots of the colony near the Walnut Creek trail, close to the border between Des Moines and Windsor Heights.

The Illinois Wildflowers website is a good resource for botanically accurate information about this plant's foliage, flowerheads, and seeds. According to the U.S. Department of Agriculture's Forest Service,
Lanceleaf coreopsis has been a long time favorite of both beginning and advanced gardeners. It is easily propagated from seed and as is typical of many native wildflowers, it is often not until the second year when numerous blooms are formed. This wildflower prefers full sun and does best in well-drained soil. Its self-seeding nature makes it a perfect candidate for prairie, meadow, and native wildflower plantings. When conditions are right it will grow into large colonies and produce showy yellow flower carpets. As long as the seed heads are removed it will also do well growing in a border. Lanceleaf coreopsis is a very dependable and prolific flowering native perennial. It has few problems with insects or disease and will thrive in conditions of high heat, drought and humidity.
Here's the scene that drew me in: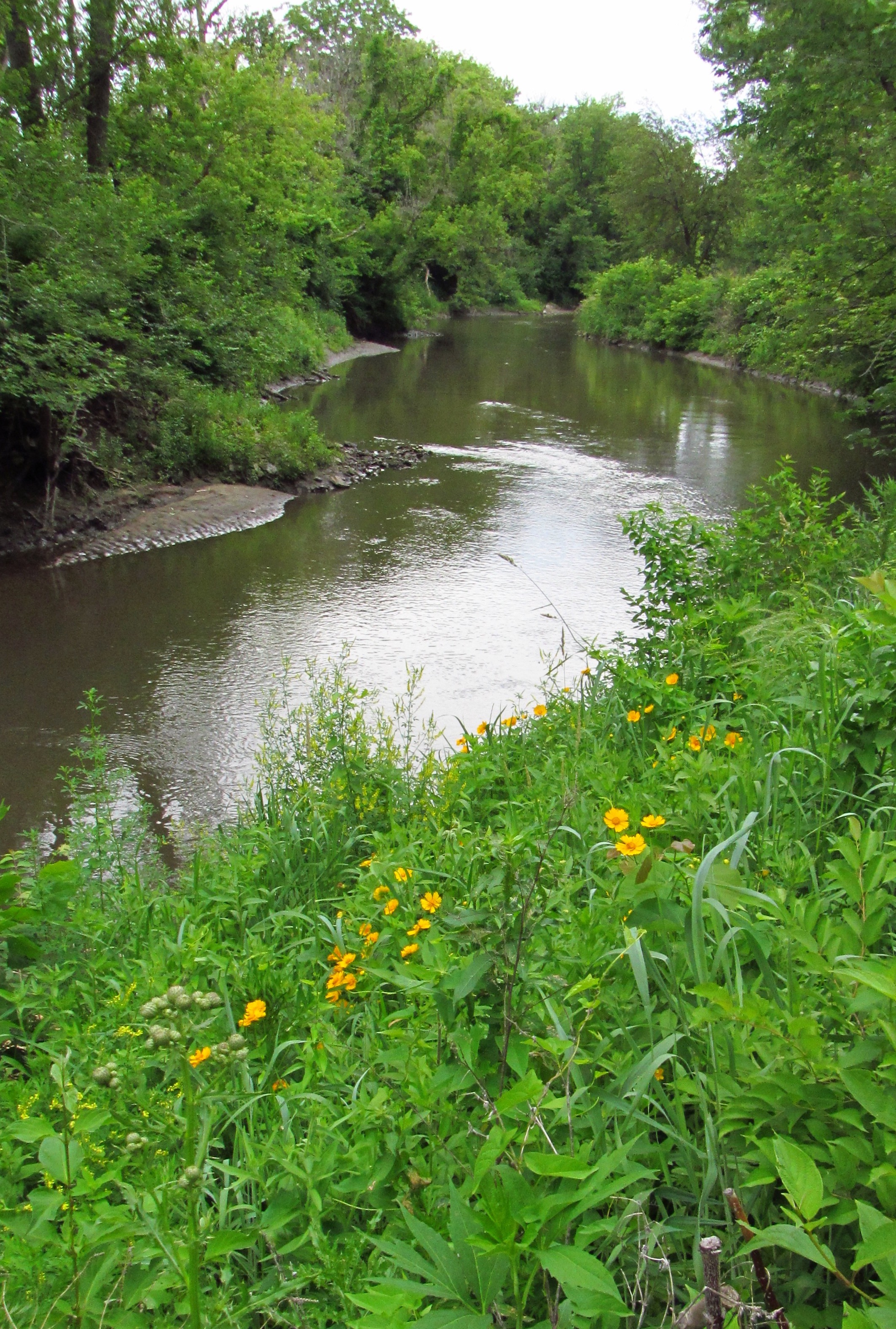 Another view of the setting: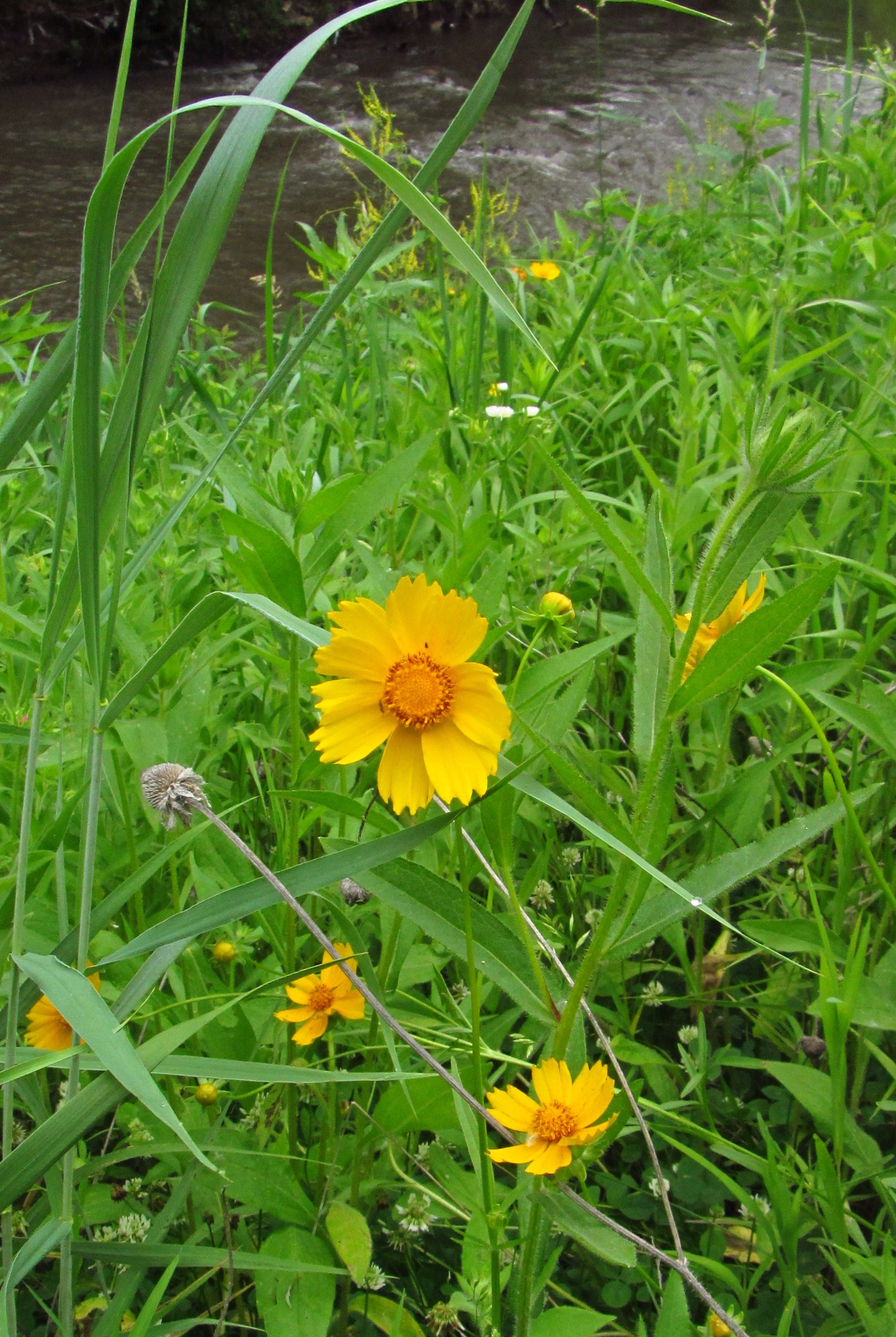 A group of budding lanceleaf coreopsis: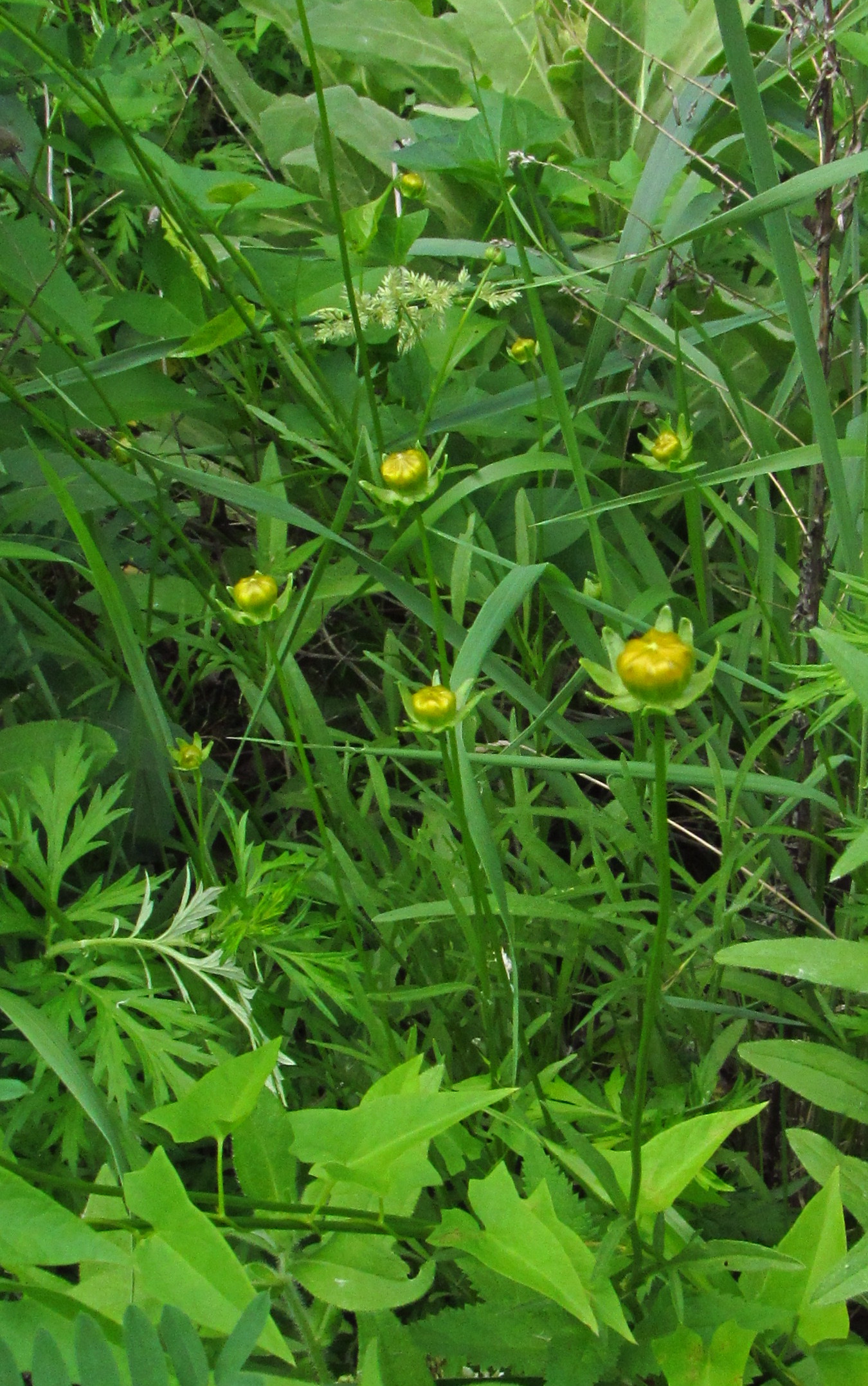 The base leaves blend in with other plants: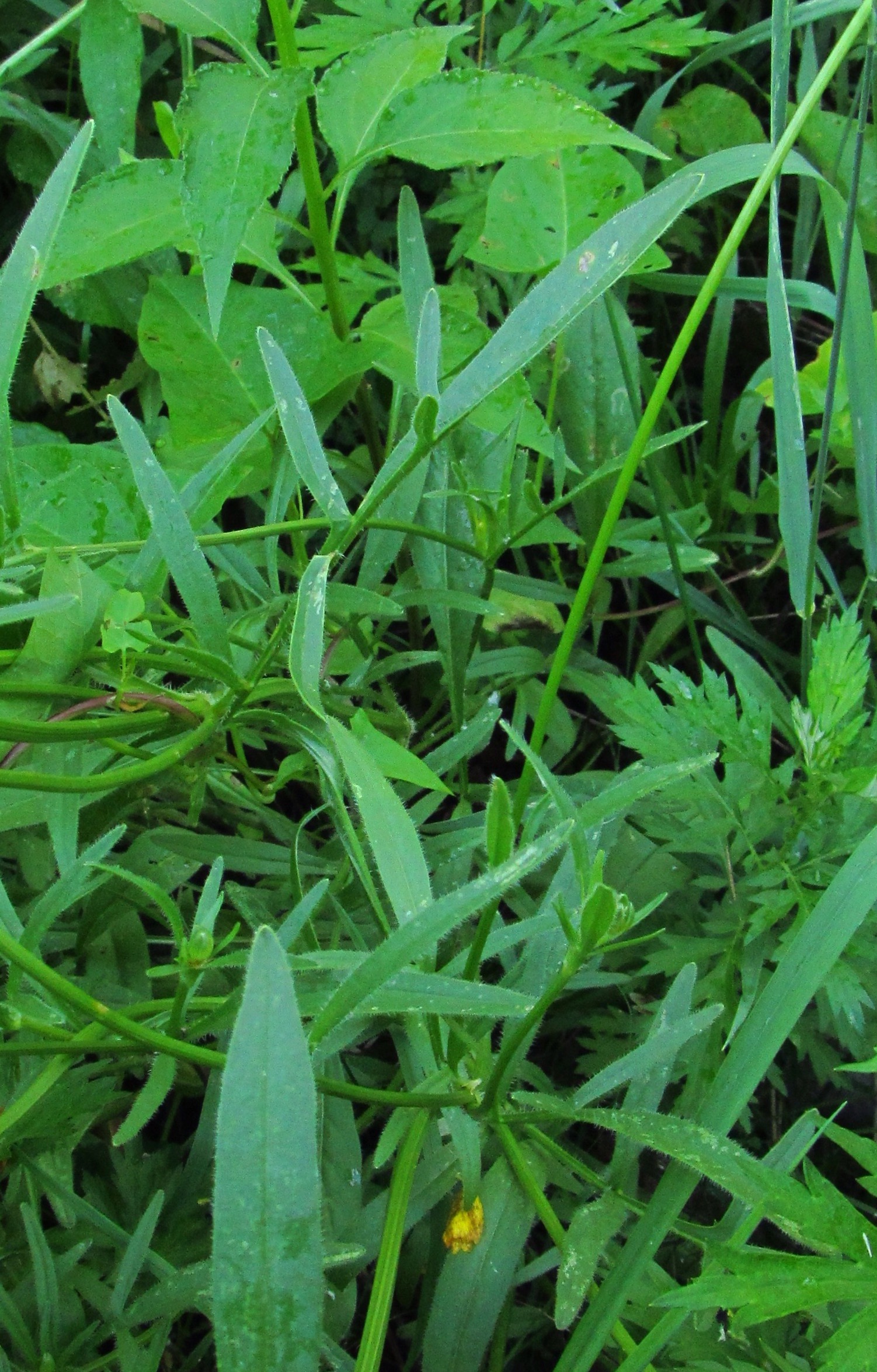 The next four shots are all Wendie Schneider's work: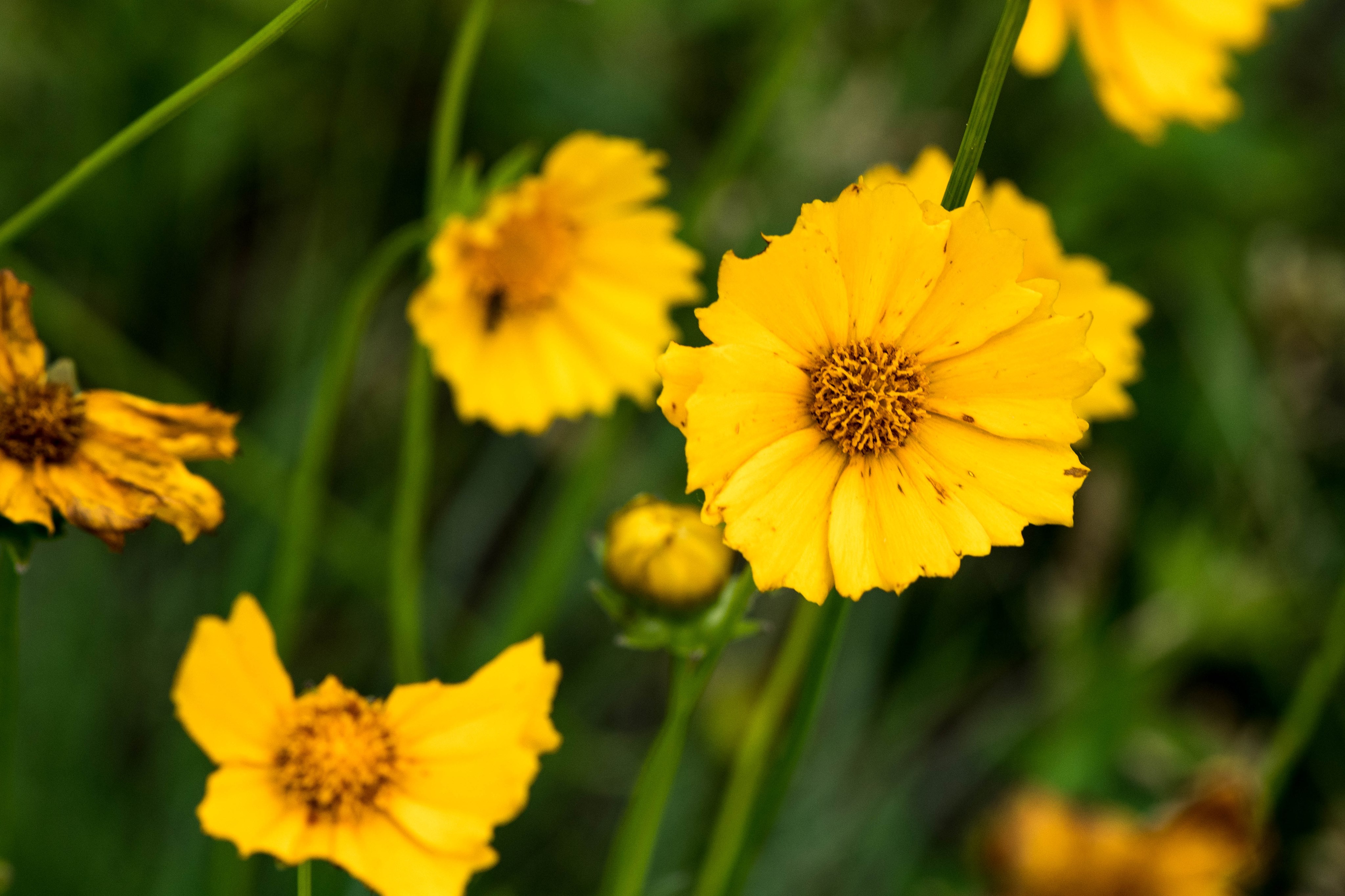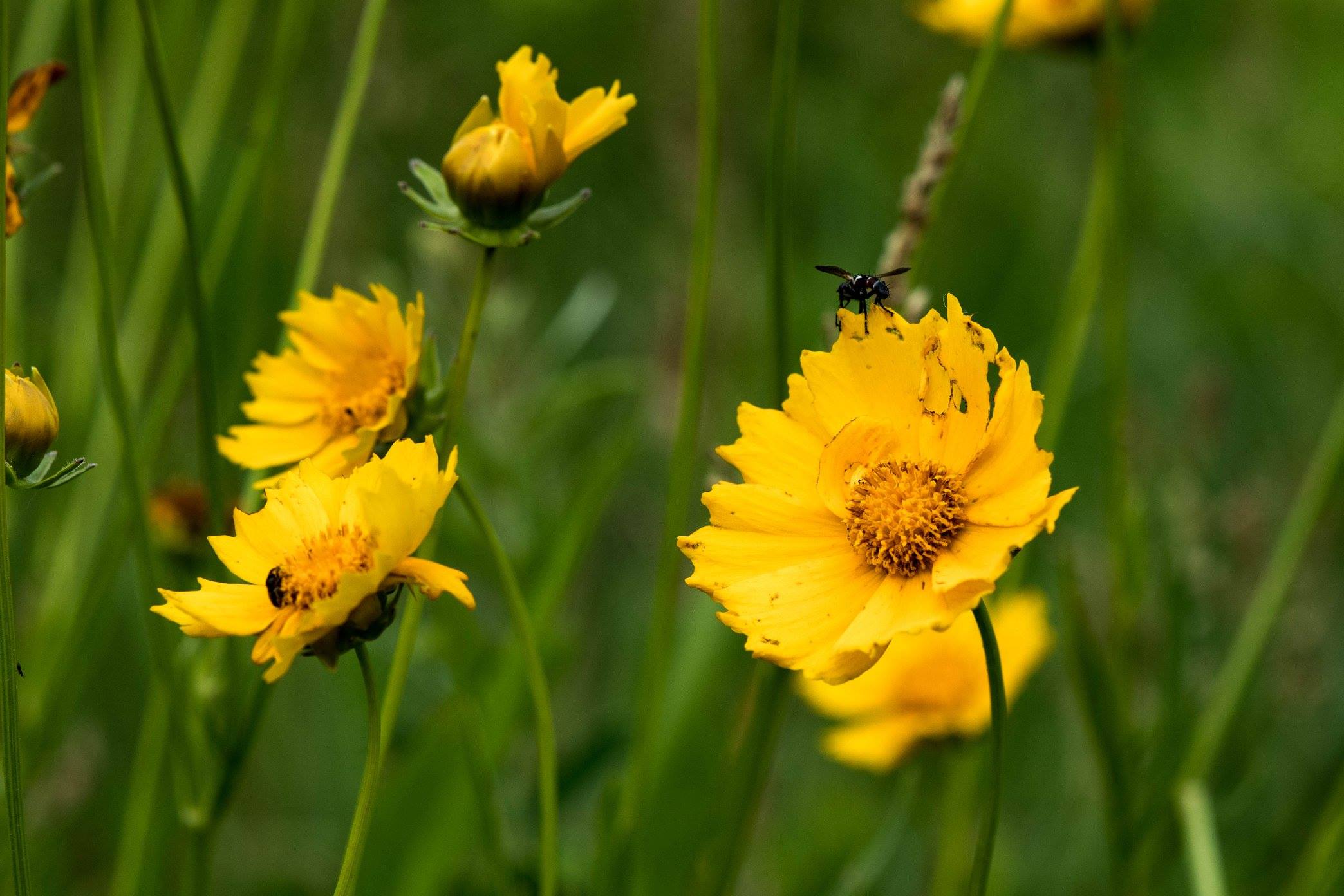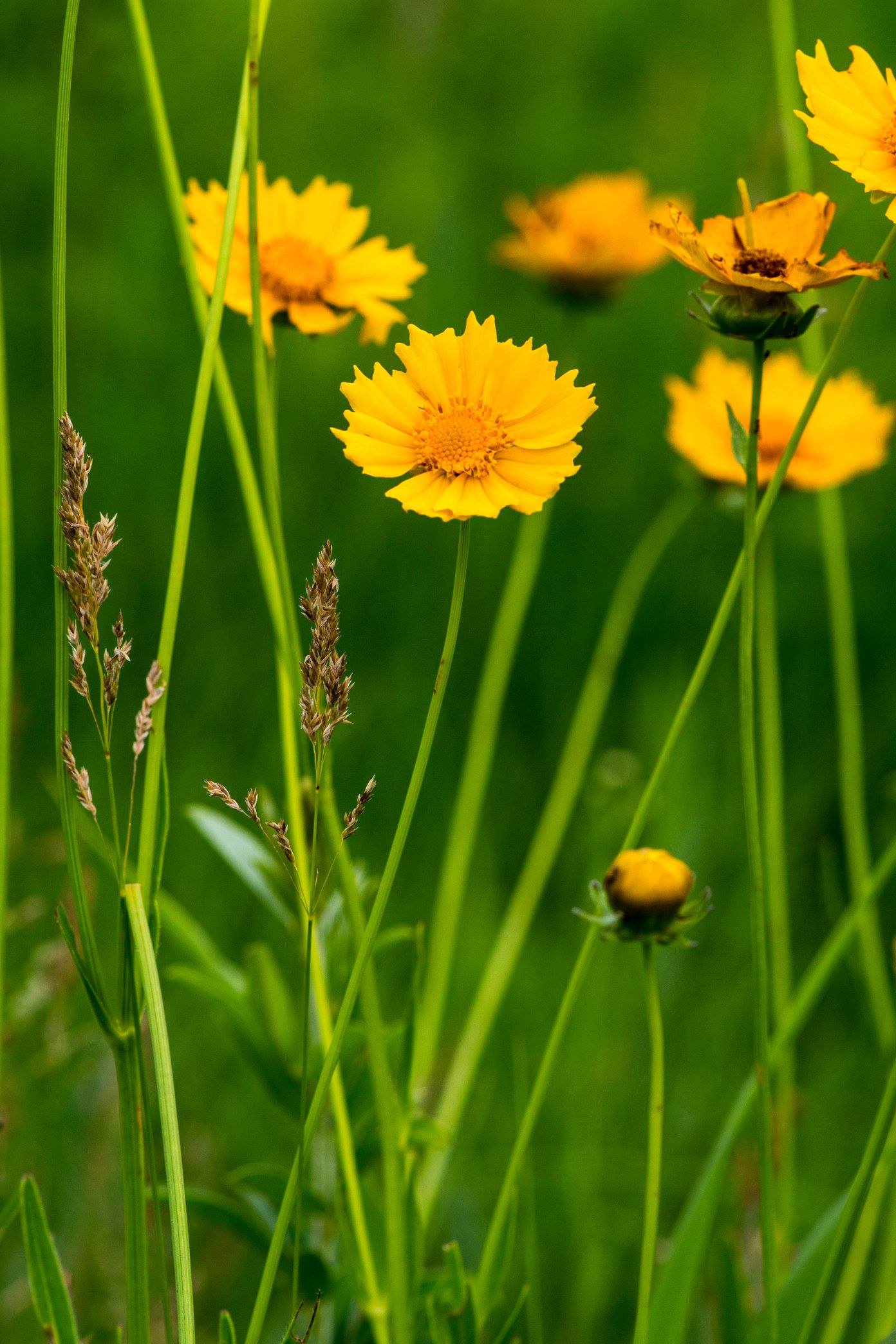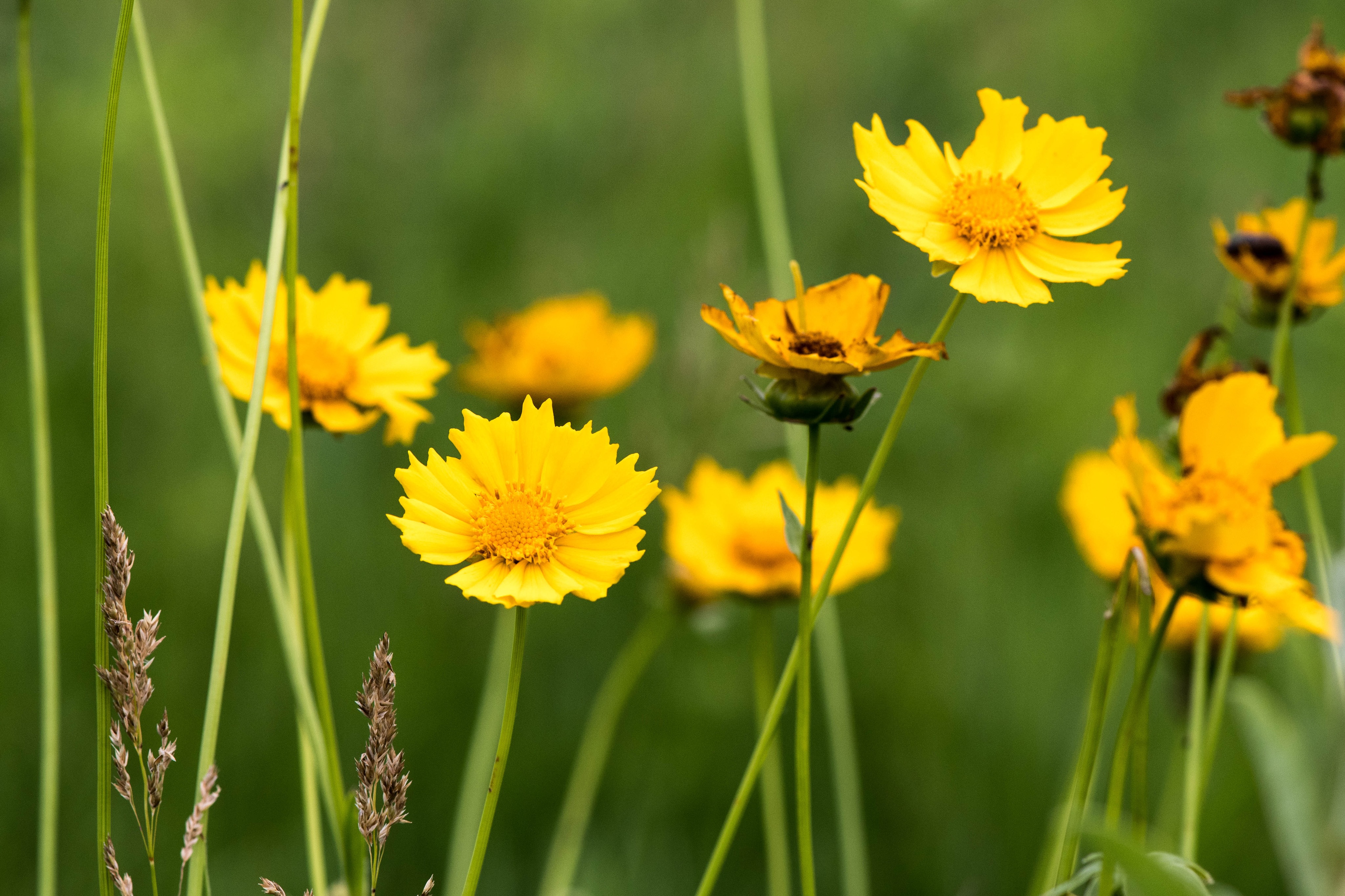 Back to Walnut Creek in Polk County. The flowerhead on the upper left is past its prime: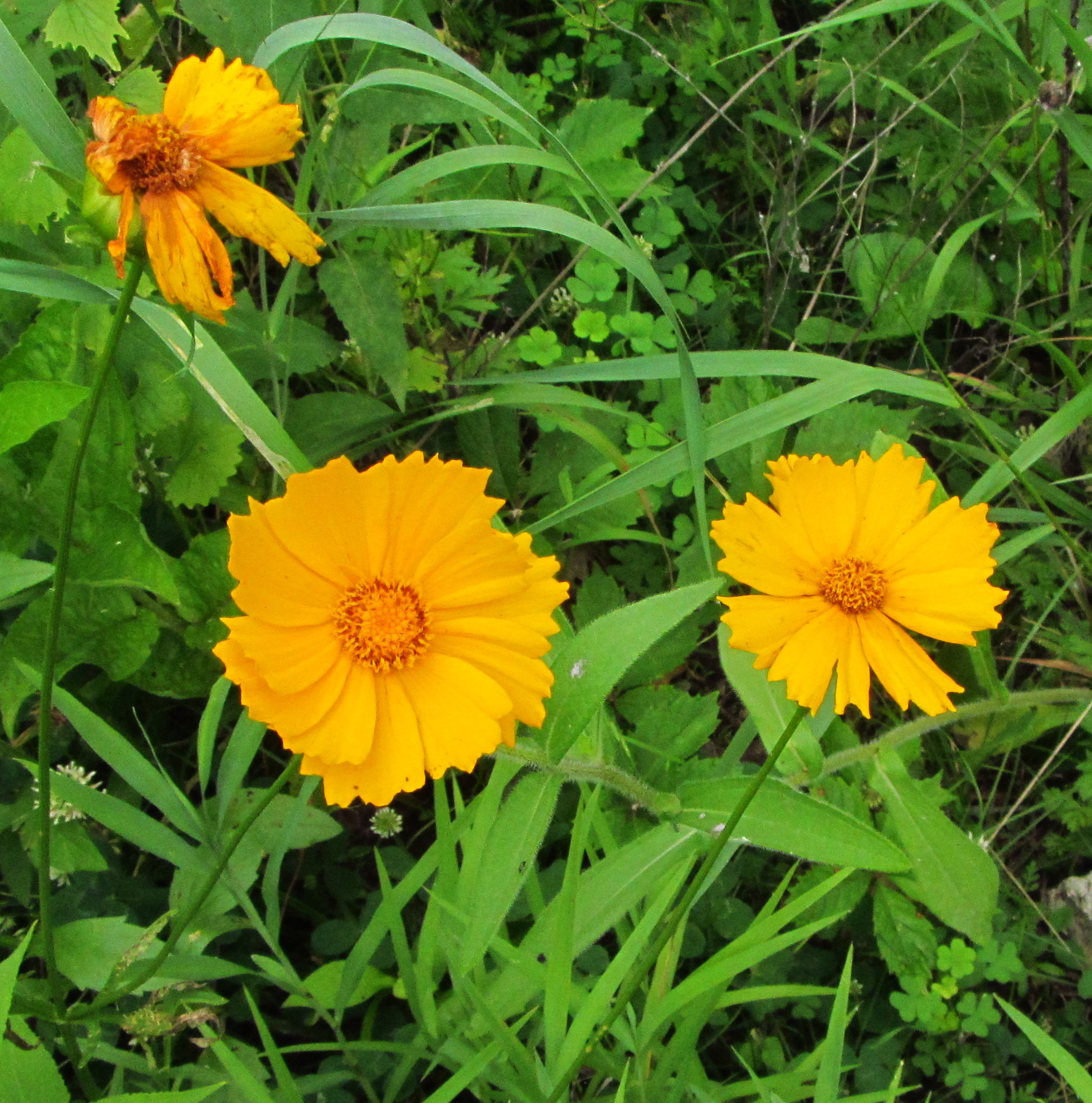 Near the center, fruit is starting to form on one lanceleaf coreopsis plant.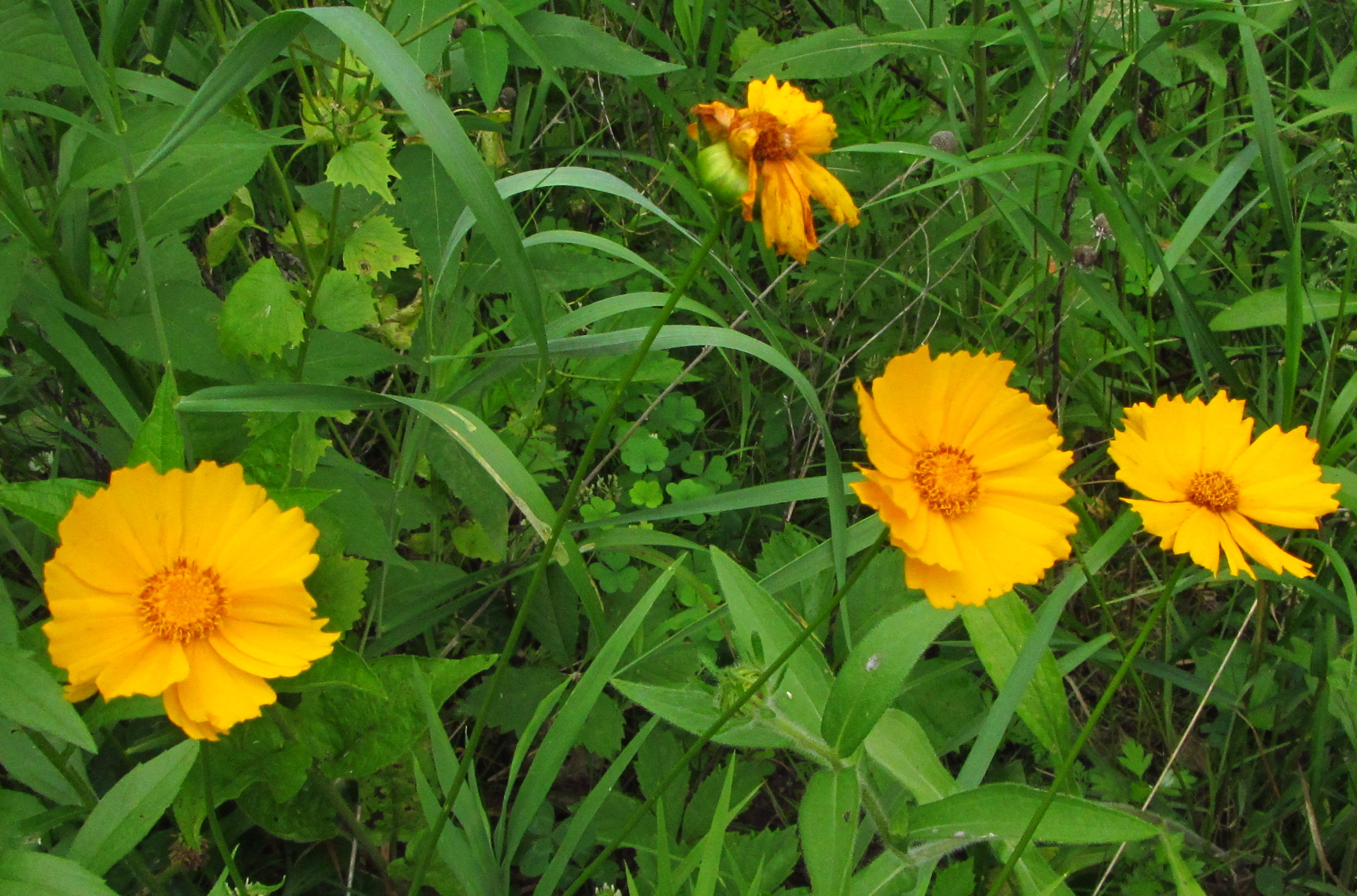 The tiny yellow flowers are a non-native clover, which is prevalent across Iowa.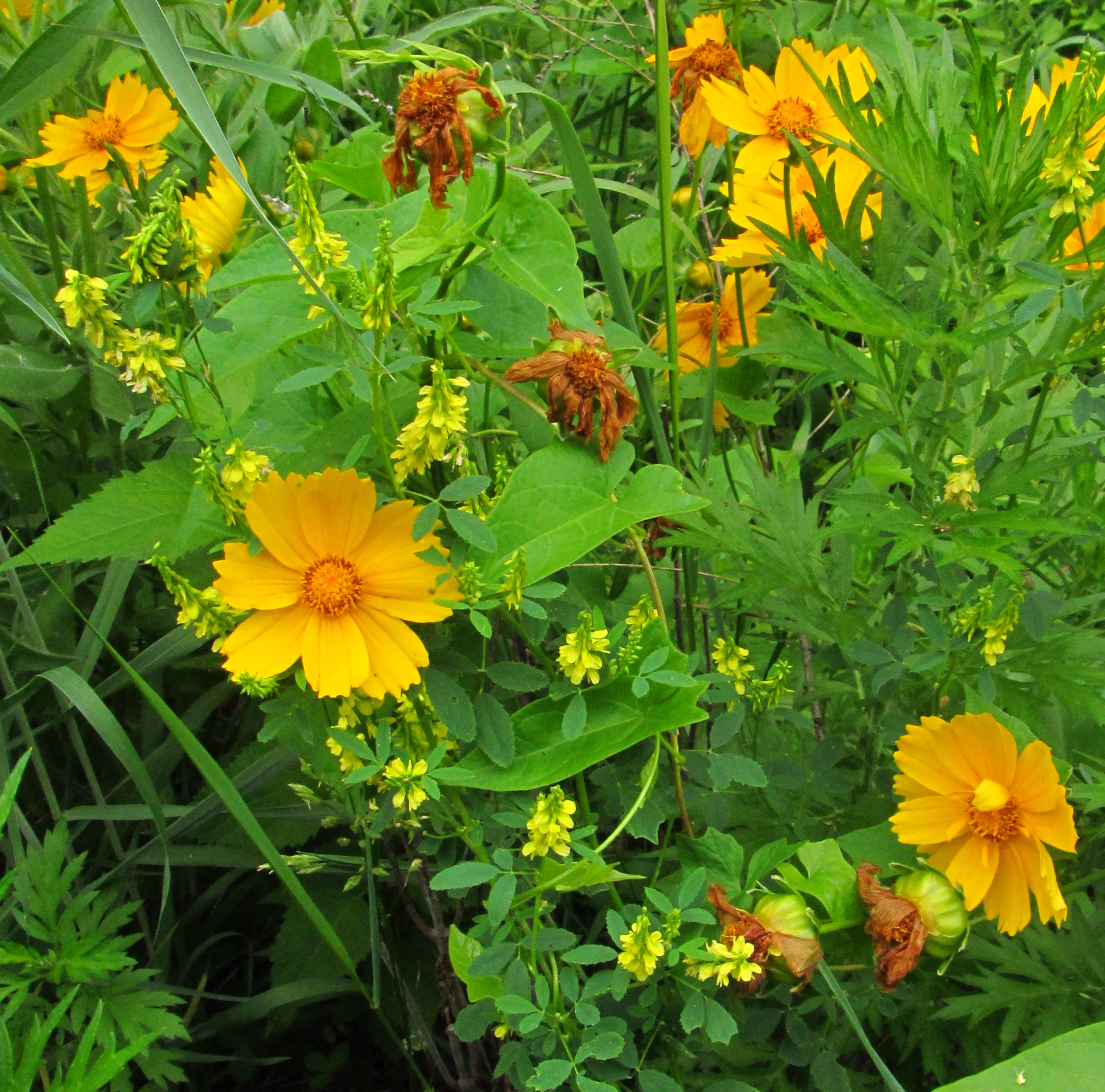 Lanceleaf coreopsis hiding behind other plants on the riverbank:
Fruit forming on a plant that has finished blooming: