Iowa candidates seeking to use campaign funds to cover child care expenses are out of luck unless the state legislature and governor expressly allow the practice. The Iowa Ethics and Campaign Disclosure Board voted 5-1 at a July 13 meeting for an opinion stating, "We do not believe Iowa law clearly allows campaign funds to be used for a candidate's childcare expenses related [to] campaigning. We believe this issue is a policy decision best left to the legislature."
The Federal Election Commission determined in May that Congressional candidates "may use campaign funds" to pay for child care expenses that "would not exist irrespective" of the campaign. Soon after, state House candidate Reyma McCoy McDeid, a single mother of a three-year-old, requested an advisory opinion on the matter from Iowa's campaign regulator.

Iowa Code 68A.302 states that candidates and their committees "shall not use campaign funds for personal expenses or personal benefit." The law allows "payment for personal services directly related to campaign activities" but does not mention child care.
The FEC's decision was unanimous, so I was surprised most Iowa ethics board members reached the opposite conclusion. The board's executive director Megan Tooker prepared two versions of the advisory opinion ahead of today's meeting. (Both are enclosed at the end of this post, along with the relevant Iowa Code language.) One draft was favorable to McCoy McDeid, following the logic of the FEC ruling and subsequent opinions adopted by ethics boards in Alabama and Texas. However, only John Walsh–one of two Democrats on the six-member board–supported that conclusion.
The advisory opinion the board eventually adopted argued,
While we appreciate the steep cost of childcare and sympathize with you and other candidates who have incurred additional childcare expenses related to campaigning for public office, we believe this decision is best left to the legislature.[…] It is not unusual for candidates to make financial sacrifices in order to run for office. Some candidates quit their jobs or reduce their work hours in order to campaign or serve in office. Many candidates incur additional expenses as a result of running for office which are considered "personal expenses" under section 68A.302. We believe the legislature is the most appropriate body to draw the line between campaign purposes and personal expenses with request to childcare given the potential for significant financial output on the part of the campaign and the ongoing nature of the expense.
During the board's discussion in open session, Mary Rueter said that while child care can be costly, "I look at it as the expense of seeking a job. I don't know that there are very many organizations that are interviewing people for positions that would be willing to reimburse them for child care" during the process. Walsh countered that campaigning for public office can be very time-consuming.
Jonathan Roos was persuaded that "the legislature should be setting this by statute," since allowing such use of campaign funds would be "a major change." Board chair James Albert agreed, adding that 150 state lawmakers who have run for office are better positioned to make an informed decision on this subject.
How many of them were primary caregivers to young children when they ran for the statehouse? How many are working-class people, who are most adversely affected under the status quo?
The board's letter to McCoy McDeid pointed out that under a 2008 advisory opinion, candidates could potentially raise money from friends or family for "personal expenses" such as child care. Those funds would be considered gifts rather than political contributions, so would not need to be disclosed on campaign filings. But there's a catch in that 2008 opinion:
In applying the provisions of Iowa Code section 68B.22 [the state's gift law], the Board's jurisdiction is limited to candidates running for statewide office and political subdivision candidates. Candidates for the General Assembly would need to seek guidance from the House and Senate Ethics Committees on the application of Iowa Code section 68B.22 to their conduct.

As such, a candidate who is interested in receiving a donation for personal consumption in this manner needs to obtain guidance on the application of Iowa Code section 68B.22 prior to receiving the donation.
In other words, someone running for the state legislature would need permission from either the Iowa House or Senate Ethics Committee before accepting help from family or friends who were willing to pay for child care.
McCoy McDeid commented on her Facebook page this afternoon, "To say that I'm disappointed would be an understatement- especially since federal candidates for office are allowed to do so."
It's unfortunate the Iowa Ethics and Campaign Disclosure Board did not adopt the FEC's perspective on the issue. Tooker presented a well-written draft taking that path. I'm not optimistic state legislators will amend the law to reduce barriers affecting parents of young children and single parents in particular. Although the Iowa House and Senate have occasionally enacted code changes recommended by the ethics board, they have ignored other suggestions to clarify or strengthen campaign-related regulations. This change would open up the field to more people who otherwise could not afford to challenge incumbents.
Appendix 1: Advisory opinion the Iowa Ethics and Campaign Disclosure Board approved by a 5-1 vote on July 13.

Appendix 2: Text of Iowa Code section governing allowable uses of campaign funds.
68A.302 Uses of campaign funds.

1. A candidate and the candidate's committee shall use campaign funds only for campaign purposes, educational and other expenses associated with the duties of office, or constituency services, and shall not use campaign funds for personal expenses or personal benefit. The purchase of subscriptions to newspapers from or which circulate within the area represented by the office which a candidate is seeking or holds is presumed to be an expense that is associated with the duties of the campaign for and duties of office.
2. Campaign funds shall not be used for any of the following purposes:
a. Payment of civil or criminal penalties. However, payment of civil penalties relating to campaign finance and disclosure requirements is permitted.
b. Satisfaction of personal debts, other than campaign loans.
c. Personal services, including the services of attorneys, accountants, physicians, and other professional persons. However, payment for personal services directly related to campaign activities is permitted.
d. Clothing or laundry expense of a candidate or members of the candidate's family.
e. Purchase of or installment payments for a motor vehicle. However, a candidate may lease a motor vehicle during the duration of the campaign if the vehicle will be used for campaign purposes. If a vehicle is leased, detailed records shall be kept on the use of the vehicle and the cost of noncampaign usage shall not be paid from campaign funds. Candidates and campaign workers may be reimbursed for actual mileage for campaign related travel at a rate not to exceed the current rate of reimbursement allowed under the standard mileage rate method for computation of business expenses pursuant to the Internal Revenue Code.
f. Mortgage payments, rental payments, furnishings, or renovation or improvement expenses for a permanent residence of a candidate or family member, including a residence in the state capital during a term of office or legislative session.
g. Membership in professional organizations.
h. Membership in service organizations, except those organizations which the candidate joins solely for the purpose of enhancing the candidacy.
i. Meals, groceries, or other food expense, except for tickets to meals that the candidate attends solely for the purpose of enhancing the candidacy or the candidacy of another person. However, payment for food and drink purchased for campaign related purposes and for entertainment of campaign volunteers is permitted.
j. Payments clearly in excess of the fair market value of the item or service purchased.
k. Payment to a candidate or the candidate's immediate family member as a salary, gratuity, or other compensation. However, reimbursement of expenses as otherwise authorized in this section is permitted. For purposes of this paragraph, "immediate family member" means the spouse or dependent child of a candidate.
3. The board shall adopt rules which list items that represent proper campaign expenses.
Appendix 3: Alternate draft of advisory opinion, rejected by the Iowa Ethics and Campaign Disclosure Board. This version would have concluded, "A candidate for public office may use campaign funds to pay for the candidate's childcare expenses provided the expenses are directly related to campaign activities and are only incurred because the candidate is running for office. Childcare expenses paid by a campaign must be reasonable in value and must not be for services rendered by a candidate's spouse or dependent child."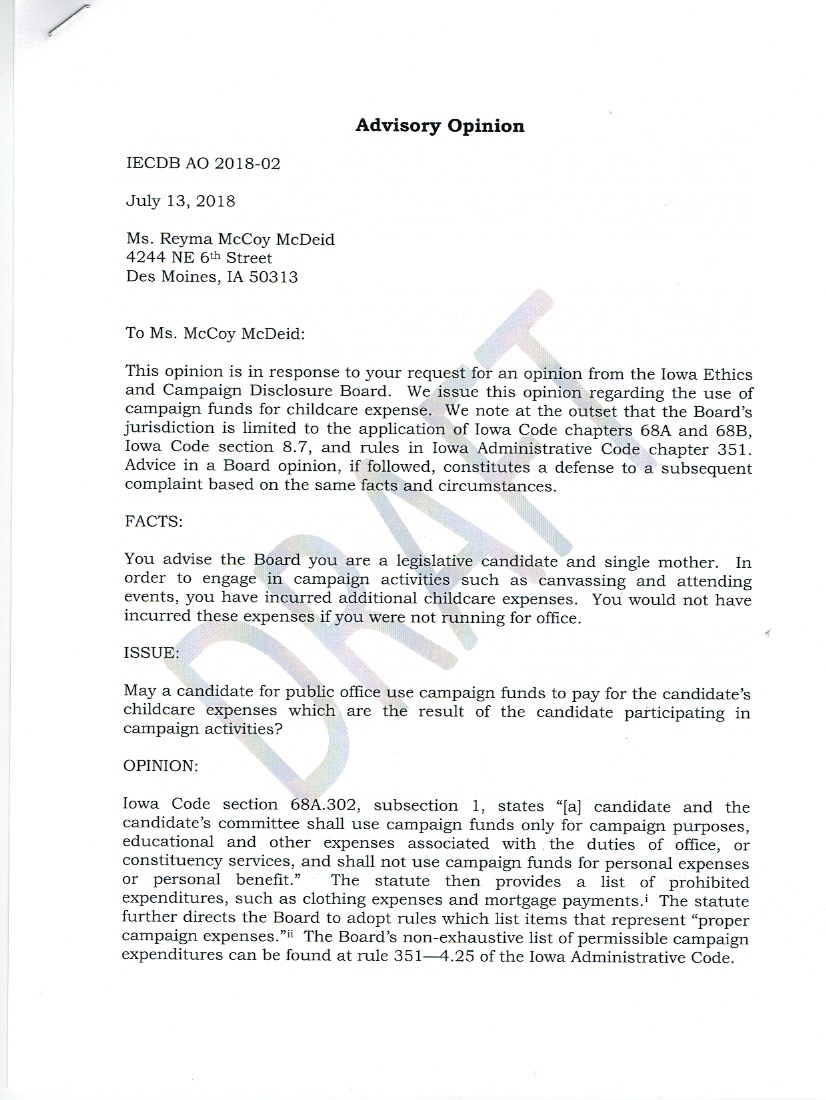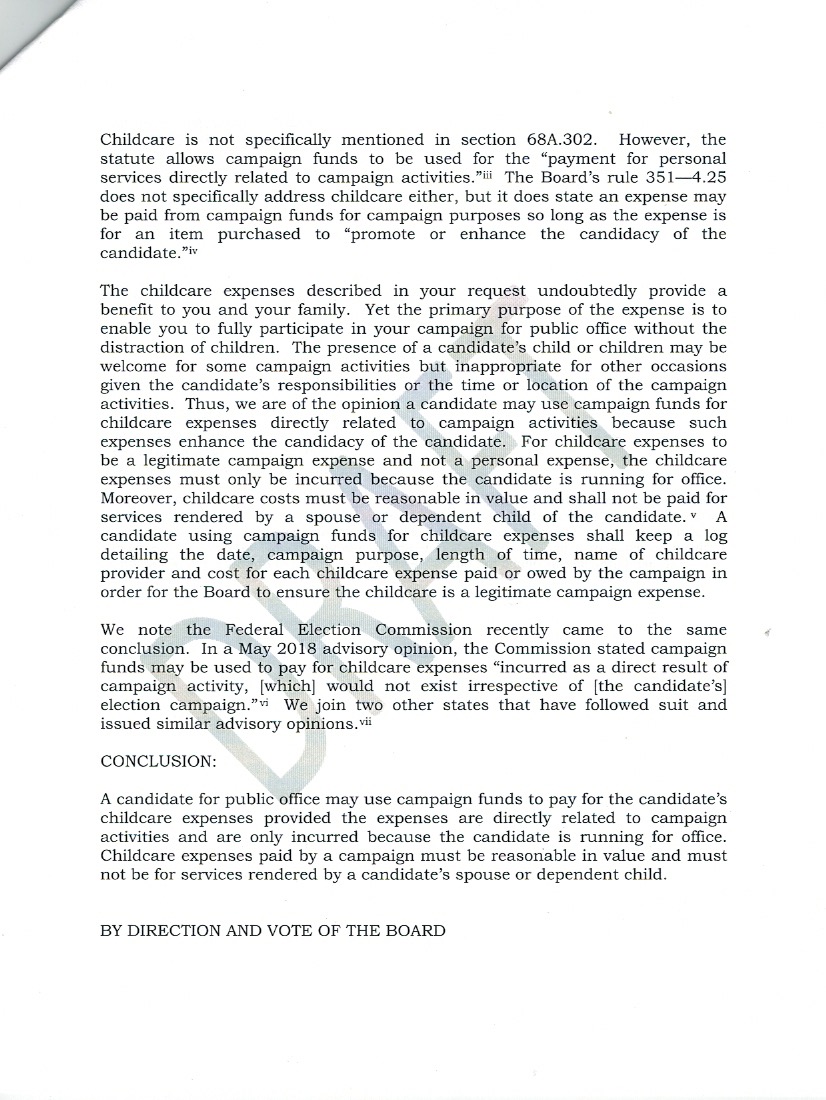 Top image: Photo of former Iowa House candidate Reyma McCoy McDeid with her three-year-old daughter Alsatia, posted to the public on McCoy McDeid's Facebook page.