Stacey Walker is a Linn County supervisor who considered seeking the Democratic nomination for U.S. Senate. -promoted by Laura Belin
I've always said that I never wanted to be one of those politicians who sat on the sidelines, not making my support known until it was absolutely clear who the winner would be. I've also never been comfortable offering my endorsement of a candidate out of sheer political expediency. It's just not me.
Instead, I've chosen to be an elected official who weighs in and helps bring attention to bold, progressive candidates, because that is exactly what our party and our country needs. Luckily, we have a candidate with those qualities and then some. Her name is Kimberly Graham and she is running to be the next U.S. senator from the great state of Iowa.

When I announced my decision to stay out of the race, I promised I would study the platforms of all the candidates carefully before deciding which one I would support. I was pleased to see Eddie Mauro endorse a public option for health insurance and list some solid plans around addressing the climate crisis, among other issues. I've read a bit about Vice Admiral Mike Franken, and it appears as if he will bring a new and necessary perspective to the race as well. However, when it came to the front-runner, outside of the bio, the only information I could access from Theresa Greenfield's campaign website was instructions on how to donate money.
All of this stands in stark contrast to Kimberly Graham, who has tackled fifteen different policy areas on her website and talks about even more on the campaign trail. She endorses the Green New Deal and calls for a universal single payer healthcare system. She talks about racial justice and ways we can support indigenous people. She talks about education, immigration reform, workers rights and unions, rural communities and agriculture policy.
In a political season where candidates are rewarded for having a plan, Kimberly Graham is unmatched in this race.
She also shows up. She's already visited 33 counties across the state, visiting eight of those more than once, stumping for down-ballot candidates at their fundraising events, listening to individuals impacted by the opioid epidemic in my community, and attending NAACP banquets, meeting with constituents who rarely get face time with candidates for federal office.
Kimberly is everywhere, and that kind of energy is what it will take to defeat Joni Ernst.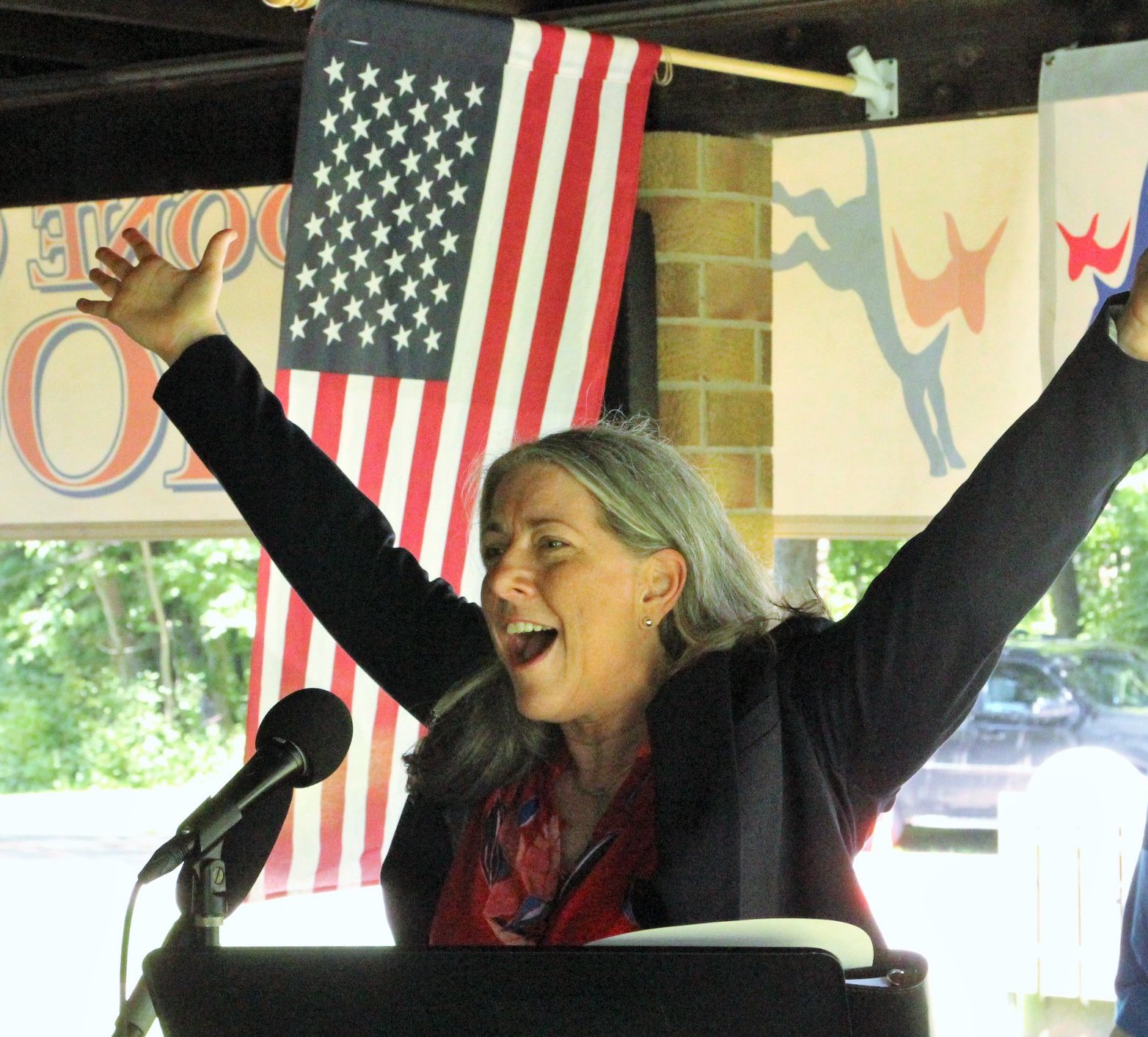 At the Boone County Democrats' Picnic for the People
All of this matters. We need a new way of doing business in the Democratic Party here in Iowa. We must move away from the old model where party elites steer attention and resources to the candidates they deem safe, which from my view means, candidates with lackluster policy goals, who can appeal to Republicans, and raise money from wealthy donors and special interest groups. We cannot accept a process where a few insiders anoint a candidate and decry the devolution of our politics at the same time. The process as it stands now is undemocratic, and has not even proven itself very successful.
Too many of my peers in office will tell me in private that they are aware of the fact that we need universal health care, that the student debt crisis is kneecapping entire generations, and that the climate crisis is marching our planet off of a cliff. They are aware that addressing these issues take bold, ambitious policies, but getting them to talk about those policies publicly is impossible. They're afraid that the electorate isn't ready yet, or the stakes are too high to risk losing an election by going big. Or my favorite: the policies just don't poll well.
All of this may be true, but only because we've allowed Republicans to demonize the very things we all know will help the most vulnerable people in our state and country. They've done it because we've been afraid to talk about the merits of our positions, and so the other side has defined them for us.
We've been afraid to make the case, and we must do better. We must straighten our backs and decide that we're going to stand up for the people who are counting on us. We must rebuke incrementalism, because it does not work and it imperils this planet and the very idea of a good society. Now is the time for bold progressivism.
The candidates winning across this country and changing this party for the better are candidates who are bold and who have a clear vision for the future. This is the stuff of great leaders, and we're in a time where we desperately need them. So I implore my fellow Democrats, do not be afraid in this moment, and trust that if we all stand together and support a progressive candidate for high office, that progressive candidate can win.
We need to repeal and replace Joni Ernst. The best person to do it is Kimberly Graham, a candidate for the people.
I would encourage you to check out her website (kimberlyforiowa.com), and consider giving her a donation if you like what you see.
Top image: U.S. Senate candidate Kimberly Graham (left) and Linn County Supervisor Stacey Walker.
Editor's note: Bleeding Heartland welcomes guest posts endorsing Democratic candidates in competitive primaries for state or federal offices. Please contact Laura Belin if you are interested in writing.