This morning as you read this there are many so called godly Iowans sitting in the pews of their respective churches listening, and participating in, blame and judgment. Compounding fears of the demise of our state, country, and families, because the Iowa Supreme Court upheld rights for all Iowans, not just the ones that meet their criteria.
Hypocrite : a person who puts on a false appearance of virtue or religion
Pharisee:a self-righteous or sanctimonious person
According to the Holy Bible they use to interpret the laws of our country Jesus would have deemed them Pharisees.
There are many Iowans who are religious and their actions convey their deep level of spirtuality.
Sadly, there were many Iowans this week who showed their hypocrisy and fear based drive to discriminate against one group of people.
Friday's Iowa House ruling was written about here on Friday by desmoinesdem. Reading it gives a clear picture of what actually transpired on the floor of the Iowa House. At the end of the day it was defeated thanks to 54 House members who deserve our thanks and support.
oneiowa,the state's largest LGBT advocacy organization, organized a large number of supporters to get across the message that really matters:
"We're proud of our state, want our legislators to focus on issues of common concern, and oppose a divisive amendment to the Constitution!"
What issues of concern?
Health care is a major one. The Des Moines Register reported what these moral pillars of our state were willing to trash to get their resolution through, health care and human services for the people of Iowa.
The latest effort would have gutted a $1.25 billion health and human services bill, House File 811, and replaced it with a proposed constitutional amendment to define marriage as between a man and a woman.
In a Des Moines Register Guest column titled, Man's laws invalid if they clash with God's, Reverend Ratliff, who was granted exclusive access to the House Floor on Thursday, had this to say along with a long list of other clergy about compromising the Bible:
To anyone who reads and believes the Bible, there is no room for compromise on the issue of homosexuality.
Ignorance of the court ruling is blatantly shown in the fact that this is not about homosexuality, it is about every human being having the same rights under the law of the State of Iowa.

No room for compromise? These same supporters of HJR6 don't hesitate to compromise on other biblical teachings.
Let's examine a few verses of a well known biblical teaching of Jesus, Matthew 5:3-10 (New International Version)
3″Blessed are the poor in spirit,
for theirs is the kingdom of heaven.
4Blessed are those who mourn,
for they will be comforted.
5Blessed are the meek,
for they will inherit the earth.
6Blessed are those who hunger and thirst for righteousness,
for they will be filled.
7Blessed are the merciful,
for they will be shown mercy.
8Blessed are the pure in heart,
for they will see God.
9Blessed are the peacemakers,
for they will be called sons of God.
10Blessed are those who are persecuted because of righteousness,
for theirs is the kingdom of heaven.
Let's begin with "blessed is the poor in spirit" Those who are elderly, ill, and disabled would fall into that category, yet every member of the Iowa House who voted for HJR6 and the Iowa Family Policy Center (IFPC) was willing to throw healthcare aside on Thursday for their own interest.
You think they figure denying health care would give them the "kingdom of Heaven" sooner?
Actually, it scares me the way these people do think.
Thursday while health care was in danger of being tossed aside our Republican U.S. Senator Charles Grassley was in northern Iowa attending a health care forum.

Des Moines Register Photo
Psst..someone forgot to tell Grassley he isn't suppose to give a damn at all about his constituents, not when gay people are going to destroy the state.
On Thursday these Iowans were rightfully worried about survival, not ways to deny certain groups of Iowans their rights under law. 44 of their state Representatives cared more about pleasing a particular group for their own political advantage than about the health of our elders.
Blessed are those who mourn
There has been a lot of mourning in Iowa this last year over
lost neighborhoods, businesses, and landmarks and it continues to this very day.
This is a middle class neighborhood in Cedar Rapids last June, the week after the flood. These neighborhoods are several square miles of empty, destroyed shells that people used to call home. Each empty house stands as a symbol of over a thousand lives that were forever changed, including mine.
Cedar Rapids being my town for several decades is not why I included it in this piece.
It is because Cedar Rapids is in Linn County, but for House Republican Leader Kraig Paulsen flood recovery and the citizens devastated by the flooding in Linn County are not a priority although that is who he was elected to represent. Thursday morning Paulsen tried to force debate on HJR6 using the moment for glory and political posturing.
Thursday cutting health care and human services was more important to Kraig Paulsen than the fact that that a good chunk of Linn County is becoming a health hazard as the hundreds of abandoned homes and buildings thaw out and the black mold and stench of the muck left behind permeate the air once again.
Don't count on Paulsen to leave this behind and start caring about his constituents in Linn County. He made that clear in this statement:
"We'll just let the day unfold," said House Republican Leader Kraig Paulsen of Hiawatha. He later added. "The Legislature has a whole mass of rules and while you can use them sometimes to hide behind, sometimes they work to your advantage in other situations."
Not only will Paulsen continue to fight to make discrimination legal he is going to manipulate rules to do it. Now there are some morals and values for you.
Could that hypocrisy be outdone? You bet.
CR Pastor Says Gay Marriage More Damaging than the Flood
By Mark Geary, Reporter
Apr 9, 2009
CEDAR RAPIDS – One Cedar Rapids pastor says the gay marriage ruling is a bigger disaster than last June's flood.

Northbrook Baptist Church Pastor Eric Schumacher wrote an article saying Iowa's decision to allow gay marriage will cause "irrevocable damage" to society.
Anyone who could say this after the tragedy and heartache that his own community suffered does not have the morals to lead a church, let alone pass moral judgment on the issue of marriage rights.
Pastor Shumacher might benefit from some feedback there at Northbrook Baptist Church.
On the subject of compassion for those who mourn let's look at the Iowa Family Policy Center (IFPC) hypocrisy.
This is their mission statement:
Iowa Family Policy Center is a non-profit organization dedicated to equipping, empowering and encouraging Iowans to build communities where families are valued and strengthened.

Nowhere on their website do I see anything about them stepping up to keep families together after any of our states disasters this last year, or assist them in any way. The Iowa Family Policy Center website looks more like a cloak for homophobes, not godly people trying to strengthen families.
The Iowa Family Policy Center was willing to have a bill thrown out that contained essential services for families. Here are just a few items that would have been denied Iowa families if they had gotten their way.
Healthy Children & Families
• Oral Health program funded at FY 09 level, $221,000
• Child Health funded at FY 09 level, $431,000
• Maternal Health funded at FY 09 level, $286,000
• Early Periodic Screening, Diagnosis, & Treatment funded at FY 09 level, $193,000
• Perinatal Program funded at FY 09 level, $52,000
• Mothers Milk Bank funding eliminated, -$98,500
• Child Death Review funding eliminated, but policy moved to Iowa State Medical Examiners duties,
-$36,928
• Sudden Infant Death Syndrome Autopsies funding eliminated, -$3,546
• Total Healthy Children & Families funding reduced by -$335,669, to $2.25 million
Summary of Health and Human Services Bill HF811

Blessed are the meek
Doing everything right your entire life and working your tail off only to have your employer go broke or get laid off and then lose your home leaves one meek.
Iowa jobless rate rose to 4.9 percent. link pdf
Home foreclosures:
Iowa's foreclosure rate hit a 10-year high in the fourth quarter as a statewide recession dragged more homeowners into default, a new report showed Thursday.
Monday morning those ministers who signed onto the guest column and the 44 House members who voted for HR6 need to go to the food banks and unemployment offices and ask those Iowans if they really give a damn about who has a right to be married.
Now true Christians who weren't hypocrites would be putting their time and effort into stocking those food banks and providing encouragement to those facing loss due to factors beyond their control.
A true Iowa Family Council would be putting their volunteers and resources into making sure these tough economic times don't tear families apart.
Those examples cover just the first three verses of Matthew 5: 3-10 but are enough to demonstrate that the ones so worried about compromising the bible have been living examples of comprise by their own actions and words.
That brings me to another fact I witnessed on Thursday. These people pick and choose what they do or don't have to adhere to.
Polar opposites between the two groups were glaringly evident.
The behavior of the "godless" was principled and disciplined.
The behavior of the "godly" broke rules and disrespected house decorum.
Allow me to share my observances.
Thursday as I approached the south side of the Iowa State Capitol building.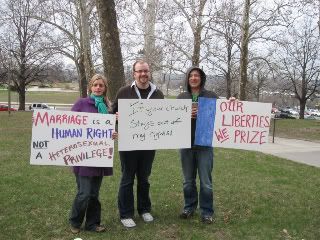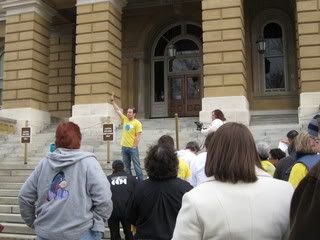 The oneiowa staff and organizers exemplified core Iowa values of dignity and self-respect. They stressed to the participants that no matter our personal feelings we needed to respect the House and its members, no signs in the balcony of the House chambers, no shouting no matter what the outcome or how we felt about it.
We made our way respectfully and with dignity (got turned around a few times but that added to the camaraderie) to the balcony behind the Speaker. Our signs were left in the hall as requested.
Different story on the other side of the balcony


An Iowa State Trooper takes a sign from soneone in the crowd as he worked security in the House Chamber. Des Moines Register Thursday April 9
The debate ensued and Senate leader Mike Gronstal was in on it.

Remember the request for respect and decorum in the House chamber? Well it seems they pick and choose what bible verses, and what rules, to compromise. When the resolution was ruled out of order by Speaker Murphy I literally jumped with thunderous shouts of "Let us vote" from the Iowa Family Council supporters and others in that group. The split second spontaneity was a dead giveaway that it was planned in advance. Their collective action was total disregard, and disrespect, violating visitors rules in the House chamber.


An Iowa State Trooper escorts some of the crowd out as they begin to chant "Let Us Vote". Des Moines Register
Speaker of the House, Pat Murphy, had this to say in regards to the reaction to his ruling, he also put clarity into the issue.
"We're not going to let mob rule rule this state," Murphy said as people exited the chambers, noting his frustration with the chanting.

Murphy is a longtime supporter of civil rights and believes same-sex couples should have the legal right to marry.

"If you take a look at history, the court's job has always been to protect the minority. Whether it was women's right to vote, whether it was an African American doesn't have to be a slave. An African American has the right to marry a white person. That's what this is about."
link


Speaker of the House, Pat Murphy
The Jesus I have read about in the Bible would be ashamed, and saddened, at the words and actions of some of his so called followers.
Jesus, as portrayed in the Bible, did not tolerate the hypocrites and Pharisees.
If Jesus had been around Thursday he would have thrown their asses out of the House chamber before it ever started.
Then on the 21st he would start marrying any of you who desired to be married by him.
In the spirit of the words of Matthew 5:3-10 that is what Jesus would do.