You don't have to be a "friend and former adviser on three of Bob Vander Plaats' campaigns" for governor to know what Dan Moore writes in a Des Moines Register guest editorial today. But the assessment packs more of a punch coming from a former close associate:
Bob is obsessed with the gay-marriage issue. He is so obsessed that he would rather see the Iowa judicial system destroyed, instead of pursuing a change in the law within the channels provided (a constitutional amendment).
This post continues below.
In addition to being a former Vander Plaats campaign secretary and treasurer, Moore is a Sioux City attorney and past president of the Iowa State Bar Association. He was active in the Fair Courts for Us coalition that urged Iowans to vote yes on retaining three Supreme Court justices this year. From his Des Moines Register column:
I would like to ask all Iowans to step back and consider the gravity of what is now being proposed by Bob and other anti-court persons. They are suggesting that the four remaining Supreme Court justices be impeached. No justice in the state of Iowa has ever been impeached. Only 13 federal judges have been impeached in the history of the nation, and the impeachment proceedings were all based upon the commission of criminal acts.

The Iowa Supreme Court justices who wrote a unanimous opinion in Varnum committed no crime. [...]

The Iowa judicial branch has been recognized throughout the country as being one of the finest judiciaries in the United States. It has issued thousands of opinions that have been widely regarded as some of the best reasoned and well-thought-out opinions by any state court in the country. Yet because of one man's obsession and desire to remain in the limelight, we are being asked to totally destroy one of the most highly regarded courts in the country on the basis of one politically unpopular decision. [...]

Bob Vander Plaats, who is highly regarded by many conservatives in Iowa, is quite simply wrong to encourage Iowans to support the resignation or impeachment of the remaining four justices of the Iowa Supreme Court. He is grasping at political relevance using daily sound bites of misinformation to intentionally mislead.
I suspect that for Vander Plaats, talk of impeaching the justices is mostly about raising money and staying in the limelight. In 2009 Vander Plaats seemed just as "obsessed" with overturning the Varnum v Brien decision, to the point of advocating an (unconstitutional) executive order to halt same-sex marriages. But even then he stopped short of advocating for impeachment. Now he's got to make a living as the head of the Iowa Family Policy Center's new umbrella organization The Family Leader (or, as he prefers to write, The FAMiLY LEADER). It's too early to raise money on the next set of retention elections, nearly two years away, and the Iowa Family Policy Center will no longer be drawing large federal grants. Vander Plaats' Twitter feed is full of fundraising appeals pegged to ousting the remaining Supreme Court justices. For instance,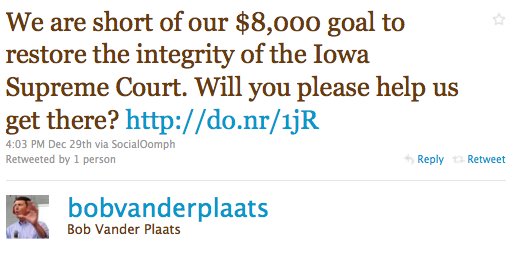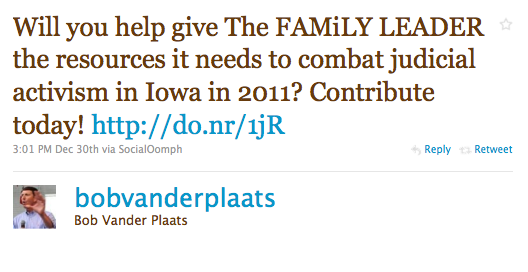 I love the wording of that first one: "We are short of our $8,000 goal to restore the integrity of the Iowa Supreme Court. Will you please help us get there?" Only in bizarro world can you "restore the integrity of the Iowa Supreme Court" by criminalizing a disagreement over how to interpret the equal protection clause of the state constitution. Judicial review has been part of American political life for more than 200 years. Now Vander Plaats wants to make a wrongly decided (in his view) unanimous opinion an impeachable offense.
People like Moore wouldn't have to write newspaper editorials if Iowa political leaders ruled out going down this road. Instead, we have a governor-elect who refuses to comment on the proposed impeachment proceedings ("The governor doesn't have a role in that") and Iowa House Republican leaders who sound open to the idea.
There is zero chance the Iowa Senate will convict the Supreme Court justices, even if the Iowa House does pass the impeachment bill three newly-elected representatives are drafting. So Vander Plaats will be able to milk the angry Republican base over this issue for some time.
What do you think, Bleeding Heartland readers? Is Vander Plaats "obsessed" with gay marriage, just looking for a fundraising hook, or a little of both?
UPDATE: On January 3 Branstad finally spoke out against impeaching the remaining Supreme Court justices:
In a wide-ranging interview, Branstad said he disagreed with the court's marriage ruling but he also disagrees with a band of House Republicans who have indicated they are drafting articles of impeachment against Justices Brent Appel, Mark Cady, Daryl Hecht and David Wiggins. Three other members of court - Chief Justice Marsha Ternus and Justices David Baker and Michael Streit - ended their terms Dec. 31 after they lost their retention votes in the Nov. 2 general election.

Branstad said he believes the unanimous court "over-reached" when the justices struck down as unconstitutional the Defense of Marriage Act he signed in 1998 that defined marriage in Iowa as only between one man and one woman. The 7-0 ruling in April 2009 had the effect of legalizing civil marriages between couples of the same gender.

"I think if you look and read the Constitution, which I have, I think it's pretty obvious. The Constitution says what the grounds for impeachment are. My reading is it's not there," Branstad said. "There's a difference between malfeasance and over-reaching, I think. I really think that if people look at the Constitution, I think the remedy is that when they come up for retention that people have a chance to vote them out. I think that's the appropriate remedy. I don't think that impeachment is the appropriate remedy."