Republican Andrew Naeve announced today that he will run in the new Iowa Senate district 49 in 2012. He is a sixth-generation farmer in his mid-20s who serves on the East Central School Board. District 49 covers all of Clinton County and parts of northern Scott County, including the towns of Princeton and Le Claire. Democrats outnumber Republicans in the district, but no-party voters have a plurality. As of April 2011, the new district 49 contained 13,524 registered Democrats, 10,139 Republicans and 16,918 no-party voters. After the jump I've posted Naeve's press release and a district map.
Naeve ran for Iowa Senate district 13 last year, losing to Tod Bowman by a 70-vote margin after a recount. The open seat should have been an easy hold for Democrats, who had a strong registration advantage in the district. Notably, Naeve carried Clinton County by more than 500 votes in that race, even though there were nearly 4,000 more registered Democrats than Republicans in the county at the time. Granted, 2010 was a poor year for Democratic turnout in Iowa, but the number of Democrats who cast ballots in Clinton County last November exceeded the number of Republican voters there by more than 1,000. Naeve must have done well with no-party voters.
No current state senator lives in the new district 49, which is why it will be among the odd-numbered Iowa Senate seats up for election in 2012. To my knowledge, no Democrat has announced plans to run in the district. Some have speculated that Bowman, an educator in Maquoketa (Jackson County), may move to district 49 to resolve being paired with fellow Democrat Tom Hancock in the new Senate district 29. I think it would be wiser for Democrats to recruit someone from Clinton County for this race. Presidential election year turnout should favor a Democratic candidate in district 49, but Naeve has shown he has crossover appeal.
UPDATE: John Deeth writes,
If Bowman were to move within his old Senate district, say, into Clinton County, he would be considered a holdover senator and his four-year term would continue till 2014. However, recent speculation points another direction: Bowman could also stay put in Maquoketa and hold over in District 29 if Hancock, age 63, retires. (Hancock was elected in 2008 so he would have to run no matter what.) District 29 is better for a Democrat by about 3,000 voters.
Hancock retiring would be fine by me. He has signed discharge petitions seeking to bring both the constitutional amendment on marriage and the 20-week abortion ban to votes on the Senate floor.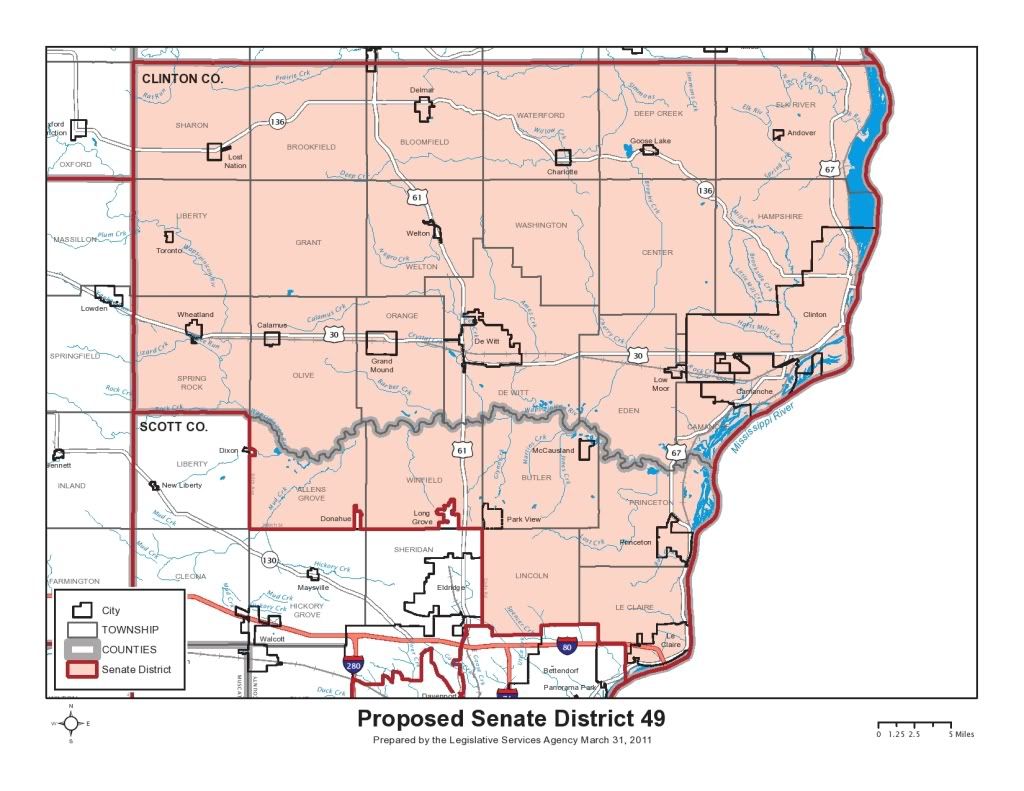 ANDREW NAEVE ANNOUNCES INTENTIONS TO RUN FOR SENATE DISTRICT 49

CLINTON – Andrew Naeve, a sixth generation family farmer from Clinton, has announced his intent to run for the newly created Senate District 49, a seat which includes all of Clinton County and portions of northern Scott County. Naeve, a Republican, came just 71 votes shy of being elected to the Senate in 2010 in a heavily Democratic district.

A lifelong Iowan raised on a family farm, Naeve, 26, graduated from Cornell University in Ithaca, NY, with a degree in Farm Business Management and Finance. Upon graduation, Naeve returned to Iowa to join his father and grandfather on the family's corn, soybean and cattle farm in rural Clinton County.

As a recent college graduate who returned home to Iowa to pursue his career, Naeve is running because he wants to see his generation and future generations be afforded the chance to stay in Iowa or come to Iowa to obtain a good job and raise their families in safe communities and good schools.

"I came back home to Iowa because I believe in Iowa and the opportunities and values that thrive here," said Naeve. "I am running because I want to focus on finding new ways to create private sector jobs so we can grow our state again. I want my generation and future generations of Iowans to be able to pursue their dreams in Iowa, find a rewarding career and raise their family," he continued.

Besides focusing on job creation and educational excellence, Naeve says he wants to cut the overall cost of government, better prioritize the state's spending and work to reduce Iowa's high property tax rates. As a family farmer, Naeve understands the burdens placed on small businesses by excessive government and says he looks forward to continuing to meet with the citizens of Clinton and Scott Counties and continue the conversation about the future of Iowa.

Andrew is married to Kristin Naeve. In addition to his work on his family farm, Naeve is Vice President of the East Central School Community School Board and a member of Faith Lutheran Church in Andover.

A more formal campaign announcement is expected to occur later this fall.