Former Democratic State Senator Frank Wood announced on June 15 that he will run for the Iowa House in district 92 next year. That district covers several rural townships in western Scott County, the towns Eldridge, Blue Grass, and Walcott, and part of Davenport. Democrats slightly outnumber Republicans in the district, but a plurality of voters there are independents. As of April 2011, the new House district 92 contained 6,091 registered Democrats, 5,518 Republicans and 8,941 no-party voters.
Wood is a former mayor of Eldridge and a former associate principal at North Scott Senior High School in Eldridge. He served one term in the Iowa Senate, representing the current district 42 (covering parts of western Scott and Clinton counties). He defeated Republican incumbent Bryan Sievers by a small margin in 2004, but narrowly lost his 2008 re-election bid to Republican Shawn Hamerlinck.
Wood's likely opponent in 2012 is State Representative Ross Paustian, a farmer from Walcott who lost a 2008 race in House district 84 to Elesha Gayman. Paustian easily won the same district in a 2010 open-seat race.
After the jump I've posted a map of the new House district 92 as well as Wood's official campaign announcement and bio. Two other former Democratic state senators are also running for the Iowa House in 2012. Bill Heckroth and Rich Olive, who both lost re-election bids in 2010, are competing in House districts 63 and 48, respectively.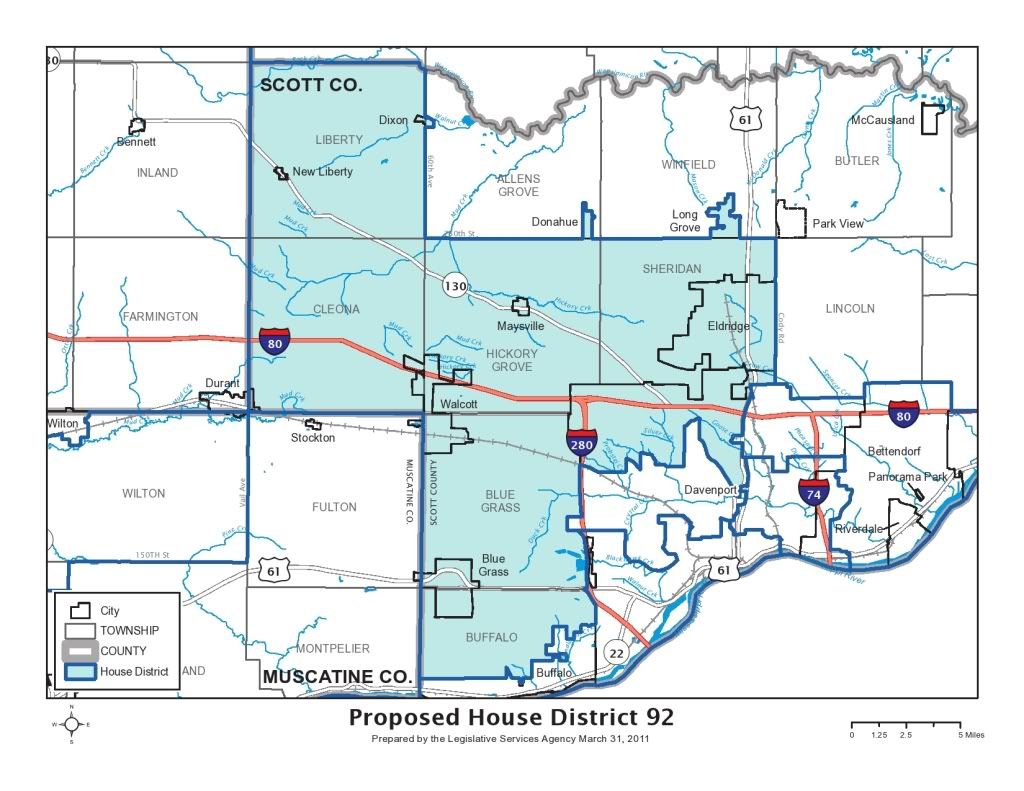 Wednesday, June 15, 2011

For More Information, Contact:

Frank Wood, 563-210-4910

Wood Announces Bid for State Representative

Eldridge, Iowa -- North Scott educator Frank Wood announced today that he will run for the Iowa House in the new District 92 seat, which includes Eldridge, Blue Grass, Walcott, and the western part of Davenport. Wood has already served many of those citizens as Mayor of Eldridge and State Senator from Scott County.

"My top priority in the Iowa House will be to listen to the people of Scott County, put partisan politics aside, and use common sense to do what's best for our local communities. As an educator in North Scott, I know how essential a quality education is to strengthening the middle class and growing our economy for the next generation," said Wood.

While serving in the Iowa Senate, Wood was Chair of Education Appropriations and led efforts to boost teacher pay from 42nd to 25th in the country. He also helped launch Iowa's successful statewide preschool initiative currently serving 20,000 Iowa kids. He also served on Education, Human Resources, State Government, and Natural Resources & Environment.

"If we are going to create good-paying jobs and keep our young people here, we need to continue to build on key industries like renewable energy and advanced manufacturing that will help both small and large Iowa communities," added Wood. "I will balance the state budget without raising taxes while keeping our commitments in jobs and education."

Wood is the former Mayor of Eldridge, and the Associate Principal at North Scott High School. Wood is involved in a variety of civic organizations, including the North Scott Kiwanis. He is currently the District Director of the Southeast District Athletic Directors for the Iowa High School Athletic Directors Association and was named the Athletic Director of the Year for the Mississippi Athletic Conference.

Frank and his wife, Peggy, have been married for 35 years. They have a son, Brian, who is a Davenport firefighter, and a daughter, Lindsay, who teaches 1st grade in the ADM School District. He also has five grandchildren.