UPDATE: Rich Olive withdrew from this race in October 2011.
One of last year's competitive Iowa Senate races will be replayed in the new Iowa House district 48 in 2012. The swing district is located in the central part of the state, covering part of the area where Republican State Senator Rob Bacon defeated Democrat Rich Olive in 2010.
Olive announced plans to compete in the new House district 48 in June. Bacon made his plans official at a September 8 campaign kickoff event in Webster City.
The new House District 48 covers Gilbert and rural areas in northwest Story County, Madrid and several townships in eastern Boone County, much of eastern Webster County and all of Hamilton County. Here's a map of the area: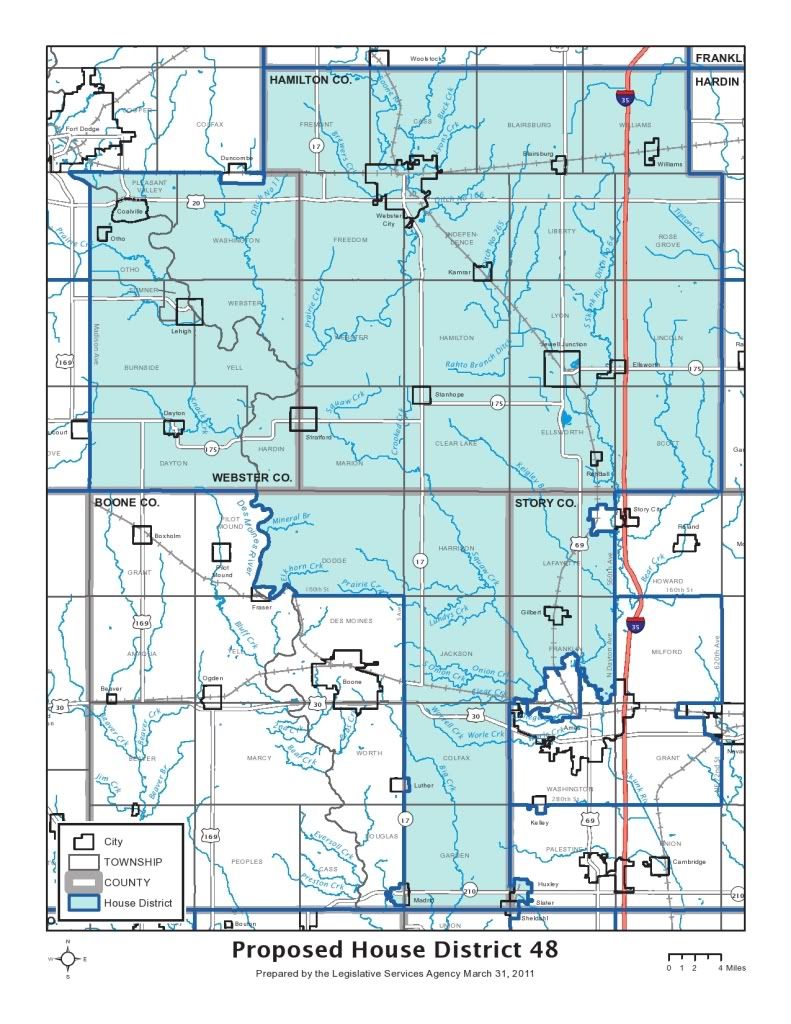 Voter registration numbers give Republicans a slight edge here. As of April 2011, House district 48 contained 5,991 registered Democrats, 6,445 registered Republicans and 7,300 no-party voters. But the old Iowa Senate district 5, where Bacon beat Olive, had about 3,000 more registered Republicans than Democrats.
Neither candidate's home town is in the new House district 48. Story City, where Olive has been an active in business and civic organizations for decades, lies just outside the district lines. Bacon has long lived in Maxwell and operates funeral homes there and in Nevada, but those towns are not in the district either. He plans to move to Slater, on the southern edge of House district 48.
This pdf file shows the 2010 Iowa Senate election results by county. Bacon defeated Olive by 1,858 votes in Senate district 5 as a whole. The two candidates were nearly deadlocked in Hamilton County and the part of Webster County that was in in the district. Bacon's winning margin came mostly from Story County and Wright County. But Wright County isn't in the new Iowa House district 48, and neither are Bacon's strongest areas in Story (Maxwell and Nevada).
You might wonder why Bacon would move into less favorable territory. Most state senators don't run for the Iowa House unless redistricting put them in a jam, and Bacon is no exception to that rule. Iowa's new map of political boundaries paired him with fellow GOP State Senator Bill Dix in the new Senate district 25. Dix has much more legislative experience than Bacon and is widely expected to be the next Iowa Senate Republican leader. Thanks in part to strong support from the advocacy group Iowans for Tax Relief, Dix raised a ton of money for other Republican candidates in 2010 while Bacon sat around doing little. Most of the odd-numbered Senate districts will not be on the ballot in 2012, so Dix gets to hold the new Senate district 25 until 2014.
Bacon can't run in the new House district 49, which includes Maxwell and Nevada, because he'd be paired up with State Representative Dave Deyoe, a member of the Iowa House Republican leadership team.
Olive will need strong Democratic turnout and a good showing among no-party voters to carry the new House district 48. Usually presidential election years feature better Democratic turnout than midterms, but I do not expect a lot of enthusiasm among Iowa Democrats in 2012.
One key question is how intensely will Iowa Republicans target this race? The GOP did not appear to be focused on Olive in Iowa Senate district 5 for much of 2010. Partly for that reason, Olive was one of the few token Democrats endorsed by conservative groups like the Iowa Farm Bureau and the Iowa Association for Business and Industry. I have a hard time seeing those groups backing Olive over a Republican candidate in an open House race, though.
Share any relevant thoughts in this thread.