Two-term State Senator Pat Ward will face at least one Republican primary challenger in the new Iowa Senate district 22, covering Waukee, Clive, Windsor Heights and part of West Des Moines. The lead pastor at a large Waukee church announced his candidacy yesterday.
Senate district 22 looks like this: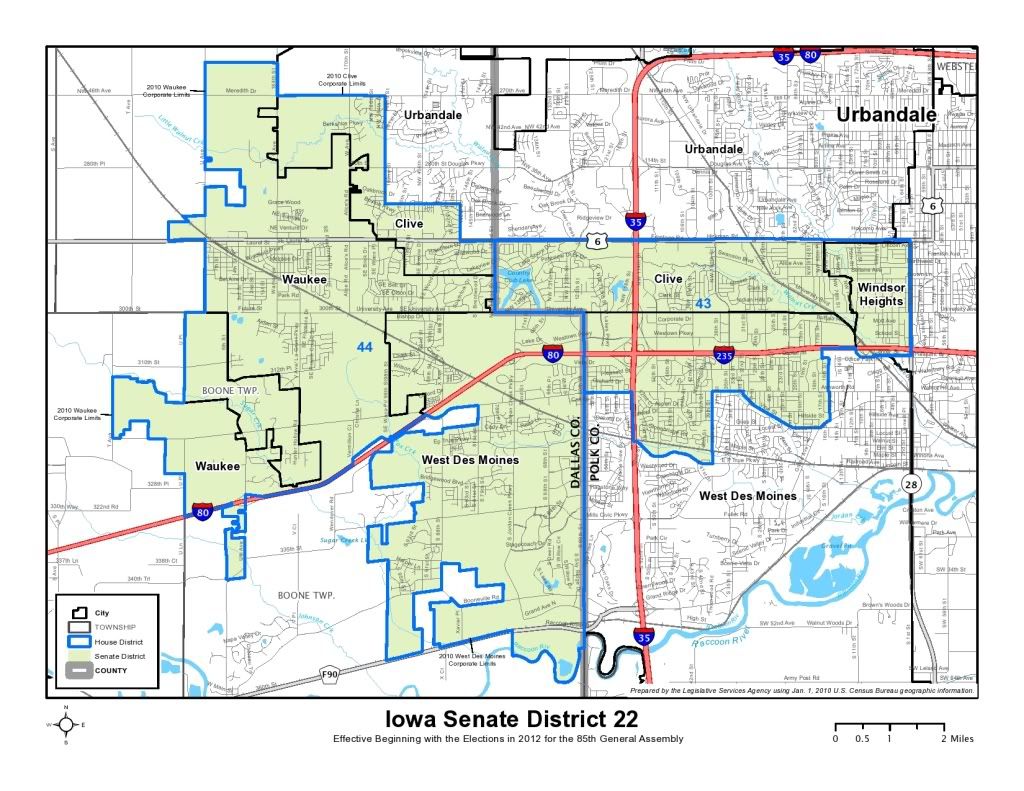 As of April 2011, Senate district 22 contained 11,450 registered Democrats, 14,839 Republicans and 12,804 no-party voters. Moving into this district was a no-brainer for Ward, who has represented Clive, Windsor Heights and part of West Des Moines since 2004. The new map of political boundaries put Ward's West Des Moines home in Senate district 21, where she would have had to run against five-term Democrat Matt McCoy. District 21 has a significant Democratic voter registration advantage.
Ward is not an old-fashioned moderate like the pro-choice Republicans who used to represent the western suburbs of Des Moines, but she isn't on the right wing of her Senate caucus either. In 2007, she was one of four Senate Republicans to vote for a bill adding language on sexual orientation to the Iowa Civil Rights Act. She was also one of six Senate Republicans to vote for an anti-bullying bill. Since 2009, Ward has repeatedly voted to bring a constitutional amendment banning same-sex marriage to the Senate floor, but she hasn't pounded the table on the marriage issue. To my knowledge, she didn't call for ousting the Iowa Supreme Court justices who concurred in the Varnum v Brien decision.
For those reasons, I assumed that at least one social conservative would challenge Ward in the primary. Yesterday senior Pastor Jeff Mullen of the Point of Grace church in Waukee made his candidacy official, saying the people "are looking for a fiscal and social conservative leader":
Mullen firmly supports individual rights and responsibility, the respect for the Constitutional rule of law, free enterprise, restraints on taxing and government spending, limited government, inalienable human rights for the born and unborn, the integrity of the traditional family as the basic unit of society, and the freedom of religion.
Mullen founded Point of Grace, a non-denominational congregation, sixteen years ago. He made the news in 2010 by launching Iowa Pastors, a site "designed to encourage and equip pastors to communicate effectively to their congregation and community the importance and biblical mandate for involvement in local and national elections." The website was clearly designed to assist the campaign against retaining three Iowa Supreme Court justices.
Last month, presidential candidate Michele Bachmann addressed a Sunday service at Point of Grace. Afterwards, Mullen gave a sermon denouncing homosexuality as "immoral and unnatural.
Mullen's campaign website is slicker than what I've seen promoting most Iowa state legislators. He's already got lots of information for voters and volunteers. In contrast, Ward doesn't appear to have a campaign website--only a generic Facebook page and this page on the Iowa Senate Republicans' site.
Ward didn't need to work hard in her first Iowa Senate race in 2004, and Democrats failed to field a candidate against her in 2008. She hasn't had to raise a lot of money either. Ward started 2011 with $11,735.92 cash on hand. Most of the money she raised came from political action committees that give to all Republican lawmakers. Ward's 2010 campaign finance reports tell the same story. She will have to step up her fundraising and campaigning if she wants to beat a more conservative Republican in 2012. The June primary will be a low-turnout affair with no statewide offices on the ballot and no contested GOP primaries for Congress. Ward's chances will improve if two or more candidates challenge her from the right.
Conservative talk radio host Steve Deace lives in Senate district 22 and sounded interested in competing there soon after the redistricting plan came out. When Deace quit his job at WHO radio in February, he indicated that he might run for the Iowa Senate in the future. But Deace launched a new syndicated radio program last month. He may still be considering a Senate bid, but I wouldn't be surprised to see him endorse Mullen. The two seem to be on the same page on the important issues.
The Democratic candidate in Senate district 22 is Desmund Adams. His campaign website is here, and his July 26 campaign announcement indicated that he will run as a pro-business Democrat:
"Working to create a climate where businesses can thrive as well as furthering innovation in education to meet the needs of Senate District 22 is my number one goal," Adams said. "I believe my experience as an educator, entrepreneur, and businessman add value to the discussion at the State Capitol."

Adams owns and operates ADAMSDOUGLAS, a national executive search and intern search leader. His success in business innovation and investment in the local community earned him the 2009 State of Iowa House of Representative Certificate of Achievement for business and civic leadership. [...]

Adams earned a bachelor's degree in Education from Drake University in 1996 and earned his law degree from Drake Law School in 1999. Desmund is also a former teacher for the Des Moines Public School System. Adams is active in his church Elim Christian Fellowship. His wife Dr. Shondalette Adams is a clinical pharmacist at Critical Care Systems in Urbandale and together they are raising two sons, Khalil, 16 and Solomon, 2.

Adams added, "Moderation needs a voice in Iowa Senate district 22. We need a willingness to communicate and compromise in order to move forward together. I'm looking forward to meeting as many people in the district as possible to hear your concerns, questions and suggestions."
Regardless of resume or ideology, a Democrat faces long odds in this district. Adams has to hope that Mullen or some equally strident social conservative beats Ward in the primary. That would give Adams a shot at crossover votes from Republican moderates and GOP-leaning independents.
Any comments about the Senate district 22 race are welcome in this thread.
UPDATE: According to John Deeth in the comments, Deace lives just outside this district. On March 31 the radio personality tweeted, "Proposed new redistricting plan leaves my district without a state senator...hmm..." I don't know whether that means Deace misread the map at first, or that he would have been willing to move a few blocks into what he considered "my district."