Democratic State Senator Tom Hancock announced on Monday that he will not seek re-election to the Iowa Senate in 2012. His decision means that fellow Democratic incumbent Tod Bowman can hold over in the new Senate district 29 until 2014, but it also means that Democrats must field a candidate in the new Senate district 49 next year.
District maps and background on Hancock and Bowman are after the jump.
Two-term incumbent Hancock is one of the most conservative Democrats in the Iowa legislature. He opposes abortion rights and has signed a Republican discharge petition supporting a Senate floor vote on a constitutional amendment to ban same-sex marriage. However, the October 17 press release announcing his retirement emphasized work and achievements that align with other members of his caucus (excerpt):
As part of his tireless effort to reach out and listen to his constituents, Senator Hancock has traveled more than 50,000 miles in the district and attended more than 1,500 meetings and events in the district since he was elected to the Iowa Senate.

Senator Hancock served in the Senate for two years while Republicans were in the majority, two years under a historic 25-25 tie in the Senate, and for the past five years while Democrats controlled the Senate.

"During my time in the Senate, I was pleased to serve as chairman of the Justice System Appropriations Subcommittee, which provides funding for our state's prison system, State Patrol and other public safety services," he said. "I am also proud of our efforts to expand job creation and educational opportunities in our part of the state."

Senator Hancock pointed to other recent accomplishments by the Legislature, including:

· Balancing the state's budget without raising taxes

· Initiating emergency responder regional training centers

· Expanding drug courts

· Protecting children from sexual predators - online and in their homes, schools and neighborhood - with smarter, tougher and safer reforms.

· Increasing the state's minimum wage for thousands of working Iowans

· Making health care affordable and accessible for more Iowa families

· Increasing basic funding for local public schools and teachers

· Making tuition more affordable at our community colleges and universities

· Strengthening Iowa's anti-sex offender laws

· Providing incentives to boost production of renewable energy and to make Iowa less dependent on foreign oil

Besides being chairman of the Justice System Appropriations Subcommittee, Senator Hancock also serves on the Appropriations, Agriculture, Judiciary, Natural Resources & Environment, and Transportation committees.

Senator Hancock is past president of the Iowa Fireman's Association, a 15,000-member statewide organization. He joined the Epworth fire department in 1968 and worked his way up through the ranks to become fire chief in 1987. As chief, Hancock led successful fundraising efforts to upgrade the department's emergency and life-saving equipment. He has been a state-certified paramedic and a certified fire service instructor for many years. He retired from his post as fire chief in 2003.

Senator Hancock and his wife, Coleen, have been married for more than 40 years and have one son, Steve. They are members of St. Patrick's Church in Epworth.
Hancock was first elected in 2004 to represent the current Senate District 16, which covers all of Jones County, most of Dubuque County, and part of Delaware County.
Iowa's new map of political boundaries put Hancock and Bowman into the new Senate district 29, covering all of Jackson County, part of Jones County and most of Dubuque County outside the city of Dubuque. Here's a closer view:
Bowman could have avoided a primary battle against Hancock by moving south from Jackson County into the new Senate district 49. That would have set up a rematch against Andrew Naeve, Bowman's 2010 Republican opponent in the old Senate district 13. Although that district had a huge Democratic voter registration advantage, Bowman defeated Naeve by just 70 votes. Naeve announced his 2012 candidacy in the new Senate district 49 soon after Governor Terry Branstad signed the Iowa redistricting plan into law.
Hancock's decision to retire means that Bowman can stay in Maquoketa, the Jackson County seat and the largest town in the new district 29. Bowman is a teacher and coach who grew up in Maquoketa and came back after college to raise a family. An October 18 Senate Democrats press release confirmed that Bowman will "formally announce his re-election plans" at a campaign kickoff event on November 4. Because district 29 is odd-numbered and Bowman is now the only Senate incumbent seeking to run there, he will not be on the ballot again until 2014. While a lot can change politically in three years, holding Senate district 29 should not be a problem for Bowman. As of April 2011, the district contained 16,109 registered Democrats and just 9,681 Republicans, with 15,915 no-party voters.
As I mentioned earlier, Bowman's decision to stay in Jackson County means that the new Senate district 49 lacks an incumbent. It will therefore be on the ballot in 2012 despite its odd number. The winner of the 2012 election will serve a half-term and face re-election along with other Senate incumbents in odd-numbered districts in 2014.
The new Senate district 49 covers all of Clinton County and parts of Scott County: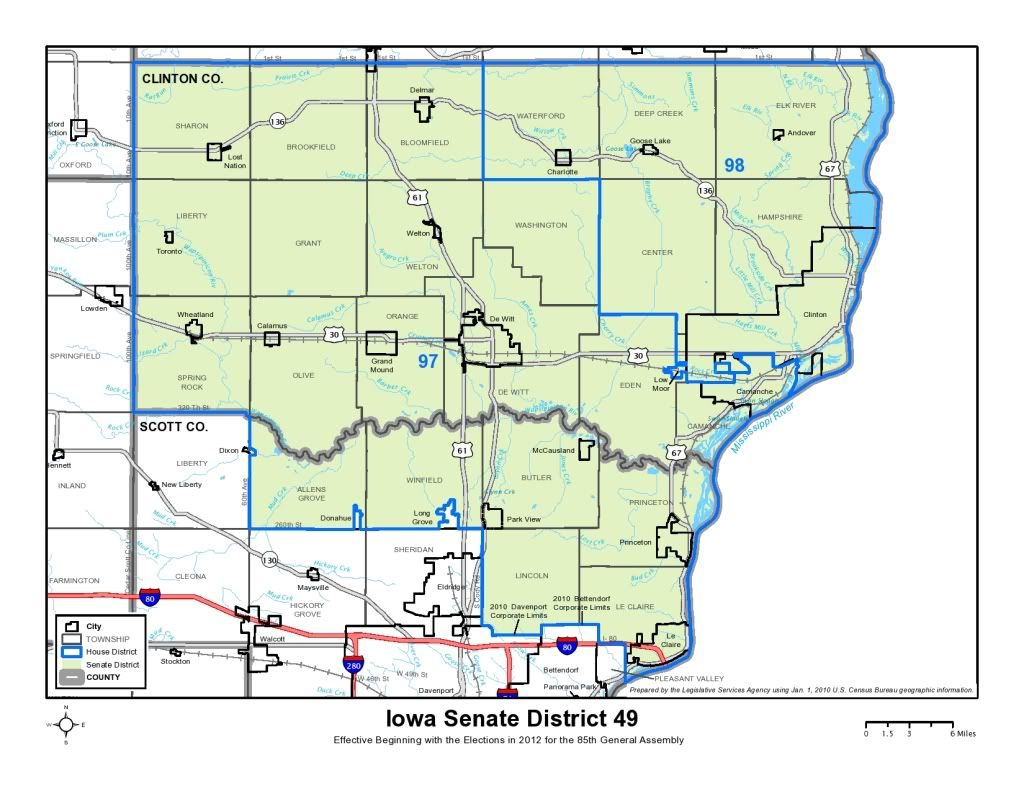 As of April 2011, the new district 49 contained 13,524 registered Democrats, 10,139 Republicans and 16,918 no-party voters. Naeve already demonstrated in 2010 that he can perform well in a Democratic district. He is a sixth-generation family farmer from the Clinton area and a former high school basketball star. He was also a strong basketball player for Cornell University in New York.
It shouldn't be hard to find one or more strong Democratic candidates in Clinton County. A competitive primary could be helpful. Bowman might not have beaten Naeve in 2010 if he hadn't had to do the legwork to win a four-way Democratic primary earlier in the year.
Share any relevant thoughts in this thread.