Two men from Delaware County, Dan Zumbach and Brian Cook, have declared their intention to seek the Republican nomination in the new Iowa Senate district 48. Their plans indicate that a competitive GOP primary will determine Democrat Nate Willems' opponent whether or not Cindy Golding of Linn County follows through on her plans to run in Senate district 48 next year as well. Golding is the GOP nominee for the November 8 special election in Iowa Senate district 18.
A district map and background on Zumbach and Cook are after the jump.
Senate district 48 covers all of Delaware County, most of Linn County outside Cedar Rapids and its suburbs, part of Jones County (including the towns of Anamosa and Monticello), and a small area in Buchanan County.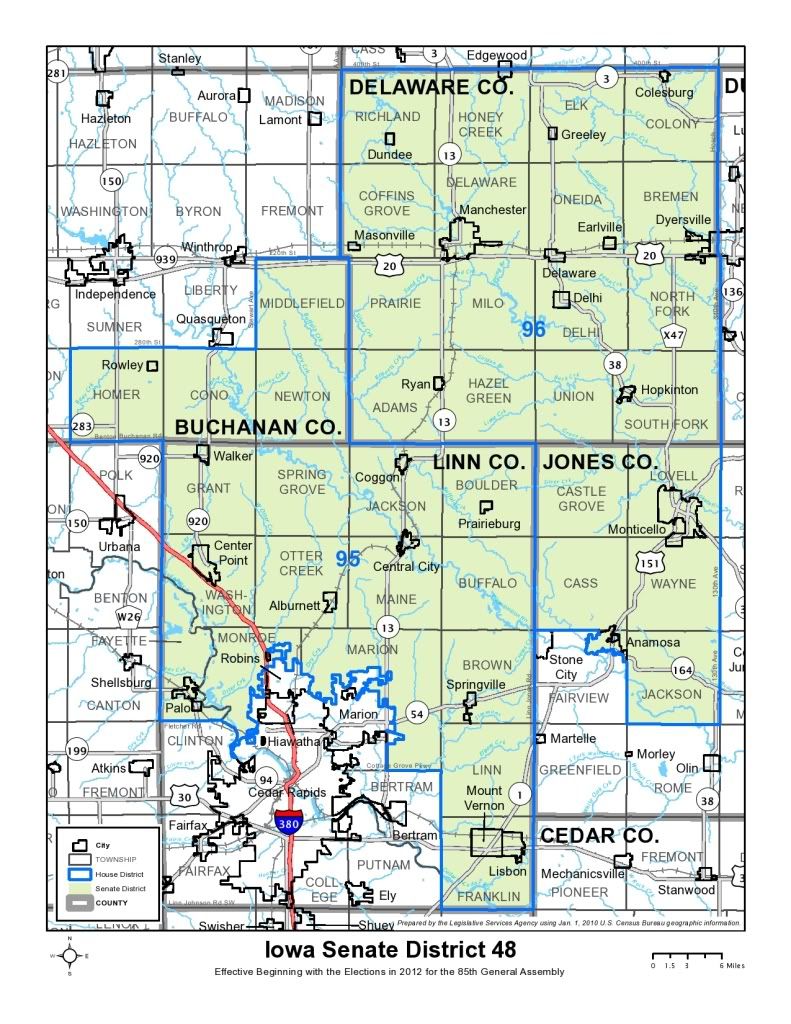 Independents are the largest voter group in Senate district 48, and neither major party has a registration advantage. The district contained 11,553 Democrats, 11,552 Republicans and 15,559 no-party voters as of April 2011.
No current state senator lives in the new district 48. Two-term Democratic State Representative Nate Willems announced his candidacy almost immediately after Iowa's redistricting plan was finalized. Willems lives in Lisbon, one of the Linn County communities in the new district.
Dan Zumbach told the Delaware County Republican Central Committee in July that he planned to run in Senate district 48. He filed a statement of organization with the Iowa Ethics and Campaign Disclosure Board in August. This week he launched his campaign website and sent out a press release outlining his background and philosophy:
Zumbach said today, "I have been out meeting with voters and listening to their concerns. They are wanting to see the size of the state budget be reduced, remove burdensome business regulations, and work to improve and enhance our education system. I will take these ideas and concerns to Des Moines if the voters decide to elect me."

Zumbach and his family farm in the Ryan area. Dan served on the West Delaware School Board, the Delaware County Fair Board, and several terms on the church council. Dan is currently a 4-H leader and also an official for the Iowa High School Athletic Association. Dan and his wife Michelle have four children and have been married for 27 years. They are members of Peace Lutheran Church in Ryan.

"I live and work in this district every day and have all my life. I passionately care for the concerns and the people in my district."

"I am a fiscal conservative and understand the importance of working within our means. We must allow more creativity in the process so we can spend smarter and more efficiently. Iowans are intelligent and creative people. We need to get back to work together again to provide real solutions which every Iowan will feel in each of their lives," Zumbach continued.
Brian Cook announced his candidacy in Senate district 48 nearly a month ago at the Delaware County GOP fall dinner. Some weekly newspapers in the district picked up on his announcement, but unfortunately none of those papers post their archives online. The Monticello Express on October 12 covered Cook's remarks to the Delaware County Republicans and described his occupation as selling insurance from his home-based business in Manchester. I don't have a detailed bio for Cook, but he reportedly has worked as a newspaper editor in the past as well.
Cook's commitment to the race may not be as solid as Zumbach's. At this writing, he has not filed a statement of campaign organization with the Iowa Ethics and Campaign Disclosure Board. I couldn't find a campaign website either, and my attempts to reach the candidate by phone were unsuccessful. Cook announced plans to run against Representative Bruce Braley in Iowa's first Congressional district in February 2010. However, the following month he didn't file papers to qualify for the GOP primary ballot in IA-01 (pdf).
As I mentioned above, Cindy Golding is running for Senate district 18 now but told local Republicans that in 2012 she plans to run in Senate district 48. Her home lies in the district 48 part of Linn County as opposed to district 34, where Iowa's redistricting plan put most of the current Senate district 18.
John Deeth asserted that the timing of Zumbach's press release shortly before the special election "suggests both a lack of solid party support for Golding and a lowering of victory expectations." I think the timing makes more sense if Zumbach and Cook expect Golding to win the special election. Helping to deadlock the state Senate would make her a hero to Republicans across Iowa. I would think Zumbach and Cook want to undercut any sense of inevitability should Golding be successful in Linn County.
If Golding loses to Democrat Liz Mathis on November 8, her chances of becoming the 2012 nominee in Senate district 48 diminish significantly. But if she spends the early months of 2012 representing district 18 in the legislature, I believe she would be a strong primary candidate in district 48--particularly if she's the only woman in the race, and two men split the Delaware County primary vote. Senate district 48 lacks a dominant population center. According to the Iowa Secretary of State's office (pdf), Delaware County had 3,846 active registered GOP voters as of October 2011.
Any comments about the Senate district 48 campaign are welcome in this thread.