Democrats finally have an announced candidate in Iowa Senate district 46, one of their best pickup opportunities in the legislature's upper chamber. A district map is after the jump, along with background on Muscatine firefighter Chris Brase and the two incumbent senators who are potential GOP nominees.
Senate district 46 covers part of Muscatine County, including the city of Muscatine, and part of Scott County, including Eldridge, Blue Grass, Walcott, and some neighborhoods in Davenport. Here's a close-up view, with an inset showing the district lines within the Davenport city limits: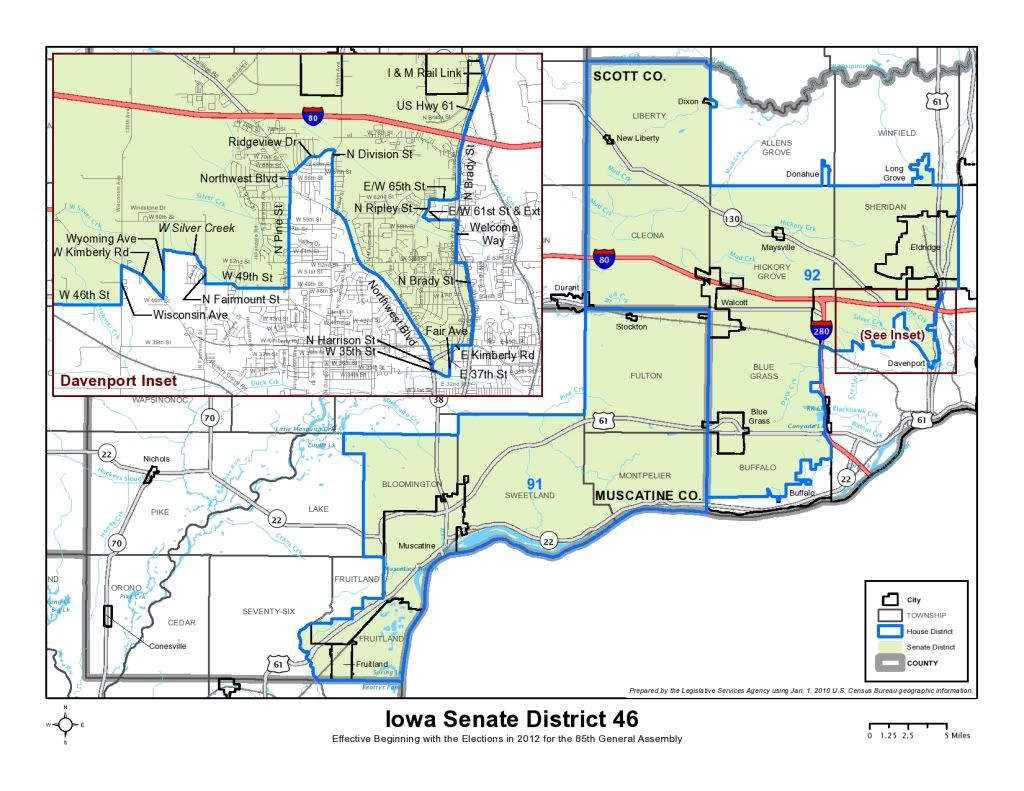 Like many statehouse districts, no-party voters have a plurality, and neither the major party has a clear advantage among the remaining voters. As of April 2011, the new Senate district 46 contained 12,145 registered Democrats, 11,684 Republicans, and 16,335 no-party voters.
Two Republican state senators reside in this district. Jim Hahn's official bio describes him as a "lifelong resident of Muscatine." He represented the Muscatine area in the Iowa House for 14 years, winning his first election in 1990. He moved to the Iowa Senate in 2004.
First-term Senator Shawn Hamerlinck is from the Scott County side of the new district 46. He grew up on a farm near Davenport and served two terms on the Davenport City Council before beating Democrat Frank Wood in 2008. Hamerlinck's current district includes large areas of Scott and Clinton counties.
Soon after the Iowa redistricting plan came out, Hahn said he would vote against it in the Senate. I assumed he didn't like being paired with a fellow GOP incumbent. However, Hahn ended up voting for the new map, so I figured he and Hamerlinck had worked something out. Since Hamerlinck is a rising star for Iowa Republicans, while Hahn is in his mid-70s, I thought Hahn would retire in 2012. He proved me wrong in August:
"Shawn's a good friend, and I hate to do it, but I guess this is something we've got to go through," he said.

[...]

Hahn said he hoped the race would remain on friendly terms.

"I would hope so. Shawn and I are out of the same school," Hahn said. "We're both conservatives, and we're both willing to stay within our budget."

Some had thought Hahn might retire. He has been in the Legislature for 20 years, having first been elected to the Iowa House in 1990. Voters sent him to the state Senate in 2004. Hahn said, however, that he was hearing lots of support from people in his district and in Des Moines.
Hamerlinck did not respond to my request for comment this fall about his plans or a timetable for announcing them. Ed Tibbetts reported in August that Hamerlinck
previously said he planned to run for re-election in the 46th, and he's been raising money. Former New York Gov. George Pataki appeared at a fundraiser for him last month.

Hamerlinck left himself some wiggle room Friday [August 19], when he said he hadn't guaranteed he'll run in the district, but added, "It's my intention that I will." [...]

"Primaries are never a bad thing," Hamerlinck said. "It's an opportunity for all candidates who find interest in a position to showcase what they believe in and the work they're able to put in once they get up to the Statehouse."
The Des Moines rumor mill thinks Hamerlinck might choose to run for Scott County supervisor or auditor rather than for a second term in the Iowa Senate. An elective office closer to home would allow him to spend more time with his wife and three young children. The potential matchup with Hahn means he would have to campaign extensively before next June's primary. If he won the primary, he'd have to work hard in a swing district where few Muscatine residents are familiar with him.
Bleeding Heartland readers may remember Hamerlinck's insulting remarks to some college students who testified before the Iowa Senate Education Appropriations Subcommittee in June. When they advocated against higher education budget cuts, Hamerlinck criticized them for engaging in "political theater" and told them to "Go home and enjoy yourselves." The Senate Democrats fundraised off Hamerlinck's comments and spread the YouTube around through e-mail and social media. If Hamerlinck is the GOP nominee in Senate district 46, I'm sure some Democratic college students will make time to GOTV against him next fall.
Early speculation about a Democratic challenger in the new Senate district 46 centered on Pete DeKock, director of Representative Bruce Braley's Davenport office. He he ruled out a bid during the summer.
Muscatine firefighter Chris Brase joined the race last week. His November 17 campaign announcement stressed common Democratic talking points: jobs, Main Street businesses, and education funding:
"The people of Muscatine and Scott counties are trying hard to get back on their feet. Middle-class families want stability and new opportunities," said Brase. "Iowans want less gridlock and bickering in Des Moines. I'm tired of politicians who have stopped listening to their constituents. That's why I'm running for the Iowa Senate."

Brase said he supports bipartisan efforts that will help our Main Street businesses thrive and spark growth in local communities.

"Our efforts to boost job creation must include boosting state support for our local schools and community colleges," Brase said. "There's no excuse for politicians who cut funding to our local schools budgets to balance the state budget."

A Democrat, Brase promised to campaign by talking personally with as many voters as possible across the district.

"I believe that listening is one of the best ways to learn," said Brase. "People are welcome to call me at (563) 260-5416, or email me at cbrase27@gmail.com."

Chris Brase has been a firefighter for twenty-one years with the Muscatine Fire Department. Chris and his wife, Donna, have been married for 18 years.

Brase is a graduate of North Scott High School and he attended Scott Community College, where he received his EMT Certificate. Brase also holds a Paramedics Certificate which he earned at the University of Iowa.
North Scott High School is in Eldridge, so Brase has plenty of friends and contacts on the Scott County side of this district as well as the Muscatine side.
Democrats have had good luck with firefighters as legislative candidates before. State Senator Tom Hancock is a former fire chief in Epworth and a past president of the Iowa Firefighters Association. State Senator Jeff Danielson is a professional firefighter in Cedar Falls.
I don't know which Republican would be a tougher opponent for Brase. Hahn has a strong base in the Muscatine area but may be viewed as a bit past his prime. Hamerlinck has a stronger base in the Davenport area but isn't well-known in Muscatine, where Brase has lived and worked for two decades.
Republicans represent both Iowa House districts that make up the new Senate district 46. A strong effort by Democratic candidates in those districts would help Brase's chances against either Hahn or Hamerlinck.
Democrats have a candidate in Iowa House district 92, which covers the Scott County portion of Senate district 46. Frank Wood, a former mayor of Eldridge, announced plans to run here in June. Wood served a term in the Iowa Senate before losing to Hamerlinck in 2008.
No Democrat has declared in the new House district 91, covering the Muscatine portion of Senate district 46. Democrat Nathan Reichert represented that area in the Iowa House for three terms but lost to Republican Mark Lofgren in 2010. He has shown no interest in a political comeback so far.
Iowa Republicans and their conservative allies will probably spend heavily to keep the Muscatine-based House and Senate seats in the GOP column. The political advocacy group Iowans for Tax Relief has long been based in Muscatine. One of its founders, David Stanley, is a former GOP state senator and candidate for the U.S. Senate, as well as a past chairman of the National Taxpayers Union.
Any comments about the Senate district 46 race are welcome in this thread.