Democrat John Beard announced today that he will run for the Iowa Senate in the new district 28.
The new Senate district 28 covers all of Allamakee and Clayton Counties, the northern half of Fayette County, and most of Winneshiek County (including Decorah).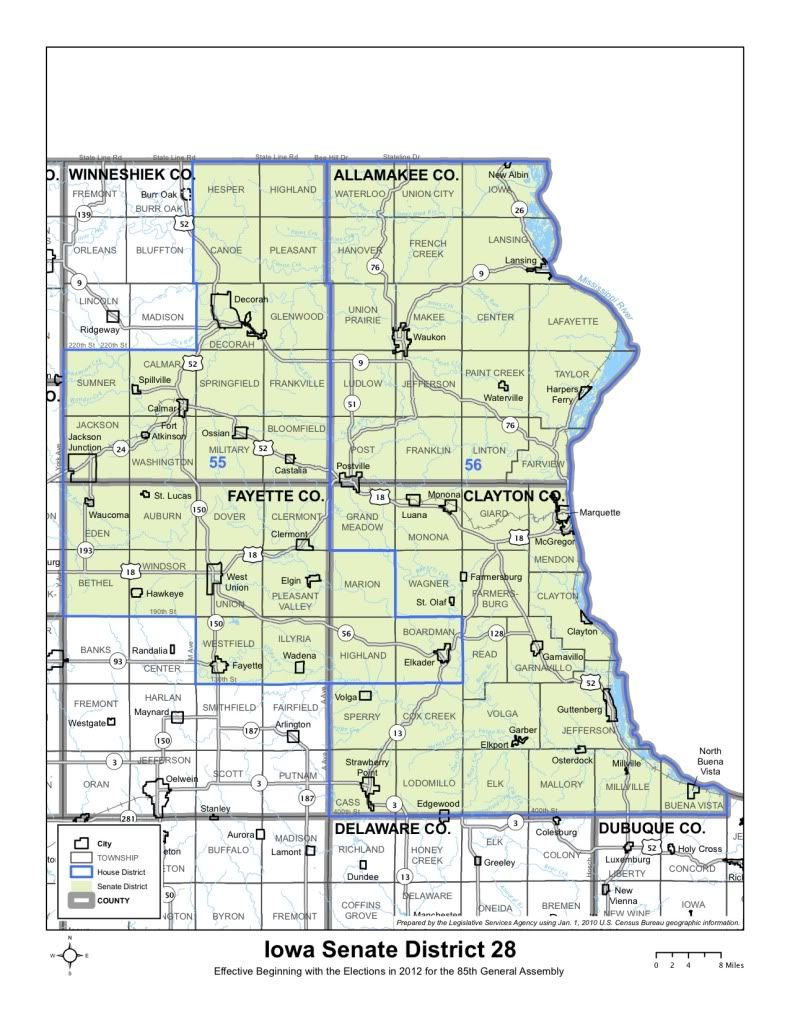 No current state senator lives in this district, which leans Republican in terms of voter registration. As of April 2011 the new Senate district 28 contained 11,590 registered Democrats, 13,174 registered Republicans and 15,205 no-party voters.
John Beard lives in Winneshiek County, not far from Decorah, where he has run a business for three decades. His campaign website is here; this page lists his priority issues, which include job creation, balancing the budget, investing in education from preschool to college, improving infrastructure, protecting "soil, air, water and natural beauty," and "serious campaign finance reform." Excerpt from his official campaign announcement on December 19:
"We need to put the focus of the legislature back on economic issues," said Beard. "Families need jobs, communities need Main Street business growth and to get these things done, Iowa needs leadership from their legislature, not more gridlock on divisive social issues. I will work to find solutions to the economic challenges facing middle class Iowa families so that together we can get our great state back on course."

For the last 30 years, John has operated J.W. Beard Welding and Machine in Decorah. He is also a partner in the family beef operation, on a farm that has been in the family for more than 150 years.

A community leader, John helped start a Pheasants Forever chapter over 20 years ago. He is proud that the chapter has consistently achieved high national rankings in money raised and habitat developed. The Trout Unlimited chapter that John helped create and the County Conservation Board he served on also contribute to improving the quality of life in the communities of Senate District 28.

John believes that his life experiences as a business owner, beef producer, conservationist and civic leader give him a depth of understanding and demonstrate his commitment to Northeast Iowa. He intends to earn the job of state senator though hard work and careful listening.

"I believe that to properly represent your constituents, you need to listen to them. That's why I encourage anyone to call me anytime at my home, (563) 382-4993 or email me at rjbeard@hughes.net."

John Beard resides in Pleasant Township with his wife, RoJene, who is a teacher in Decorah schools. They have a 19-year-old son, Chance who is a freshman in college. John's brother, Daniel, is a full-time organic dairy/beef producer, and his family lives on an adjoining farm. His sister, Barbara Kraus, is a veterinarian and produce farmer, and her family also lives close by. Beard previously served one term in the Iowa House, from 2009-2011.
Beard won the open House district 16 in Iowa's far northeast corner in 2008. He was the first Democrat to represent the Decorah area in decades, and he seemed on track for a second term when Republicans failed to recruit a candidate against him by the March 2010 filing deadline. Unfortunately for Beard, Bob Hager decided to run in June 2010 and was nominated via a special GOP district convention. Hager defeated Beard in the general by 259 votes (pdf).
Beard has to hope for strong presidential-year Democratic turnout. I don't think northeast Iowans will be as "fired up and ready to go" for Barack Obama as they were in 2008, but if Beard works hard he certainly has a shot in this district. He may benefit from Representative Bruce Braley's GOTV in the new first Congressional district. Braley has represented Fayette and Clayton Counties since his first election to Congress in 2006, but redistricting added Allamakee and Winneshiek to IA-01.
Beard's likely opponent in the new Senate district 28 is Mike Breitbach, a partner in an insurance agency and in Swales Precast, a company selling precast concrete products. Breitbach is also a volunteer firefighter in Strawberry Point (Clayton County). He has not formally announced his candidacy but launched a campaign website.
Democrats have not recruited a challenger against Hager in the new Iowa House district 56, which covers Allamakee and most of Clayton County (but not Elkader, home to Democratic State Representative Roger Thomas).
I am not aware of a Republican candidate in the new Iowa House district 55, which covers most of Winneshiek, part of Fayette, and the Elkader area of Clayton County. Two current House Democrats live in that district: Roger Thomas, who carried the old House district 24 against Breitbach by just 122 votes in 2010 (pdf) and Andrew Wenthe, who squeaked by in the old House district 18 with a 36-vote margin of victory. Wenthe chairs the Iowa House Democrats' Rural Caucus. It's not yet clear whether Thomas or Wenthe will retire. The rumor mill suggests Wenthe plans not to run for re-election in 2012; I am seeking confirmation.
Beard is the first former Democratic state representative to announce a bid for the Iowa Senate in 2012. Two former state senators are running for the Iowa House next year as Democrats: Frank Wood in House district 92 and Bill Heckroth in House district 63.
Share any relevant thoughts in this thread.
UPDATE: Wenthe announced on December 21 that he will not seek re-election to the Iowa House:
"It has been a great privilege and sincere honor to serve the people of Fayette, Black Hawk, and Bremer Counties in the Iowa House. I am proud of the work we have done over the last several years and I look forward to continuing this work during the 2012 session. While I have decided not to seek election to the new House District 55 next year, my passion for public service remains and I will continue to be involved in our community," said Wenthe, who served three terms in the Iowa House.

Wenthe is the Vice President for External Affairs at Upper Iowa University, where he is responsible for community and economic development and administration of the Upper Iowa Businesses Development grant, which provides financial assistance to new and expanding small businesses in Fayette. He grew up on the family farm outside Hawkeye and currently resides in West Union. He and his wife, Elissa, are expecting their first child next year.

"I grew up in Fayette County and I've chosen to raise my own family here. I'm excited to take on new challenges at Upper Iowa University where my focus will continue to be working with others to improve the quality of life for northeast Iowans," added Wenthe.

"I know the people of Fayette County will be well-served by State Representative Roger Thomas who shares my passion for helping rural communities thrive and grow. He has my full support and we can trust him to work for us in the Iowa House," said Wenthe, who was paired with Rep. Thomas, D-Elkader, in the same district due to redistricting.
SECOND UPDATE: Thomas announced his re-election bid on December 21:
THOMAS ANNOUNCES RE-ELECTION BID FOR IOWA HOUSE

Elkader, Iowa -- State Representative Roger Thomas, D-Elkader, announced today that he will seek re-election in the new House District 55 which includes Fayette, Winneshiek, and Clayton Counties in 2012.

"It is a great honor to serve the people of Clayton, Fayette and Delaware Counties and I look forward to meeting the people of my new district. My top priority is to help middle class families and small businesses by creating jobs and balancing the budget without raising taxes on homeowners," said Thomas.

Thomas is currently serving his seventh term in the Iowa House. He serves as the Ranking Member of Economic Growth and Rebuild Iowa committee, and holds positions on Agriculture, Veterans Affairs, and Ways and Means committees, as well as the Transportation Committees and Infrastructure and Capitals Appropriations Budget Subcommittee.

"During my time in the legislature I have worked hard to listen to the people of my district and keep focused on the issues important to them. I will continue to be an advocate for rural Iowa by promoting a prosperous agricultural climate and expanding new ways to improve economic development opportunities," added Thomas who works with small businesses in Elkader as the Elkader Economic Development/Main Street Elkader Director.

Thomas graduated from Valley Community School in Elgin and entered the United States Air Force. After serving our country, Thomas returned his family to Iowa and to start a small business in Wadena. Thomas and his wife, Rosemary now live on the family farm west of Elkader. They have three grown children and four grandchildren. Thomas attended Upper Iowa University in Fayette with a Bachelor of Science in Public Administration. In recent years, Roger was a business consultant for Iowa Workforce Development in Decorah.

Due to redistricting required every ten years by the United States Census, Representative Roger Thomas and Representative Andrew Wenthe were placed in the same legislative house district. Representative Wenthe has decided not to see re-election. Thomas is familiar to the new district having already previously served the people of Fayette for two terms.

LATE JANUARY UPDATE: Breitbach formally declared his candidacy.
Breitbach is a 1974 graduate of Edgewood-Colesburg Community Schools and holds a degree in accounting and business from Loras College. He co-founded Trans Star Trucking and is a partner of Smith Insurance in Strawberry Point and Swales Precast Inc.

"My wife and I have been very blessed by being able to raise our family and grow our businesses in Northeast Iowa," said Breitbach. "I firmly believe there is no better place to live, grow or achieve than right here in Iowa and that is why I'm running for the Iowa Senate - to work hard to ensure our children and grandchildren have access to the same opportunities to be successful and prosperous."

Breitbach served four years on the Strawberry Point City Council and is a past board member of the Strawberry Point Chamber of Commerce, the Backbone Golf and Country Club and is past president of the Strawberry Point Jaycees. He served 26 years on the Strawberry Point Fire Department, including five years as chief.

Combining his business experience and community involvement, Breitbach said he has the familiarity and knowledge to bring about measurable results for taxpayers of Iowa. He aims to help balance the budget without raising taxes and promote a business climate where small business job creation can flourish.

"It is easy to point out the problems in our government," said Breitbach. "However, what we really need are leaders in office who can pinpoint those problems and, more importantly, find the solutions. I have a proven record of solving problems in business and I want to bring that approach to state government."

Breitbach's wife of 35 years, Teresa, is a registered nurse at Covenant Medical Center in Waterloo and Oelwein. They have four adult children and are members of St. Mary Catholic Church.