A third Democratic candidate has filed nominating papers in the new Iowa Senate district 38. Nick Volk, a bank vice president from Walford (Benton County), will face LaForest Sherman and Shelley Parbs in the June primary. The winner will take on first-term Republican State Senator Tim Kapucian in a swing district. A map is after the jump, along with more background on Volk.
The new Senate district 38 covers all of Benton, Iowa, and Poweshiek counties: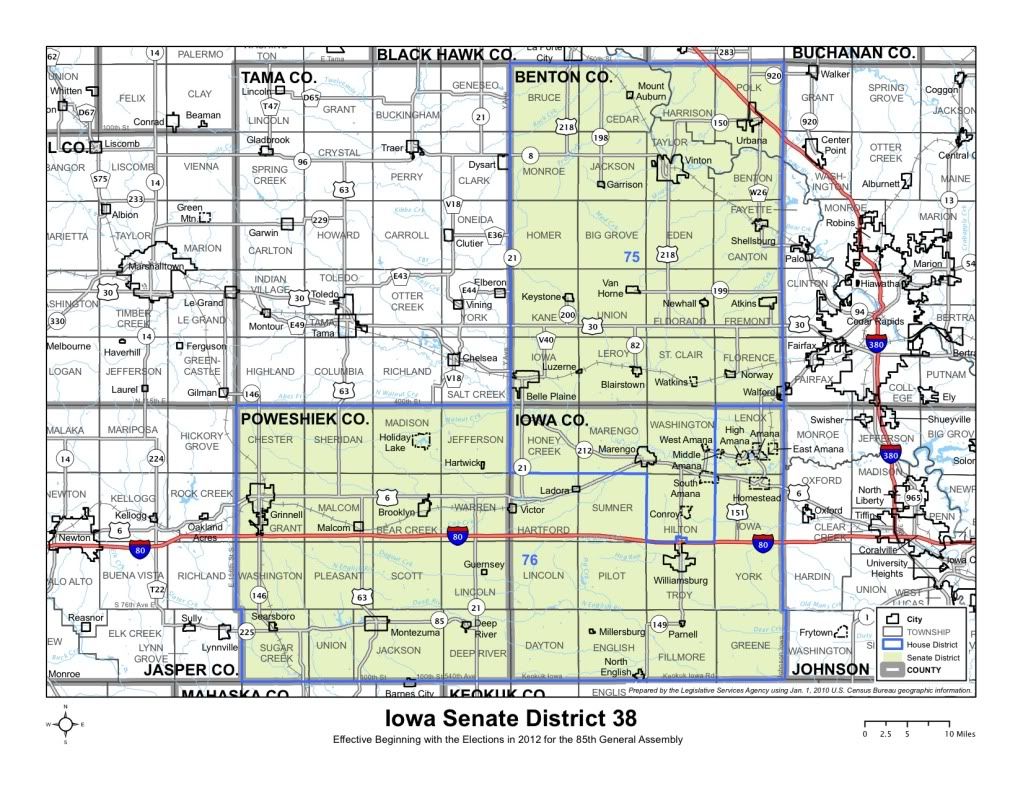 Iowa Senate Democrats press release of March 15:
Small town banker Nick Volk announces bid for

Iowa State Senate

Nick Volk of Walford has announced his candidacy for the Iowa Senate in District 38. District 38 includes Benton, Iowa and Poweshiek counties.

"My wife, Carol, and I raised five children in Walford and just like the residents of a lot of the other small and mid-sized communities that make up Senate 38, we want good schools, safe streets and good jobs," Volk said. "Most of this is locally-driven, but the state can really hinder a community's progress toward achieving these goals with bad policy and bad funding decisions on things like education and property taxes.

"Over the past few years, the Legislature and other politicians have made a lot of bad decisions regarding education policy, from proposing to eliminate preschools, to cutting the budgets of K-12 schools, to cutting funds for our community colleges and state universities. These decisions have forced schools to lay off teachers and driven up college tuition to the point that it's hard for middle class families to afford it anymore.

"Right now, we have the opportunity to invest in our schools and cut property taxes for small businesses and working families," Volk added. "But politicians are instead focused on scoring political points rather than improving the business climate and quality of life in our state. The priorities at the Capitol need to change and that's why I'm running for the Iowa Senate."

Nick Volk is currently Vice President of Fairfax State Savings Bank and lives in Walford, Iowa with Carol, his wife of 37 years. Nick and Carol have five children, Wes, Matt, Nick, Tim & Gina.

Nick is the former President of The Benton/Iowa County Banker's Association. He's a member of the Knights of Columbus and has served on the School Board of LaSalle Catholic High School (now Cedar Rapids Xavier). He is a member of Blessed John XXIII Parish, Cedar Rapids.

"We're going to campaign by knocking doors and visiting communities in Benton, Iowa and Poweshiek counties," Volk said. "I believe anyone running for public office needs to listen to what the people in the district are concerned about. That's what we plan to do. And I'd encourage anyone with a concern or idea about Senate District 38 to call me at home at (319) 846-2633 or email me at votenickvolk@gmail.com."