American bellflower has been blooming in Iowa for almost two months already, but you may still find some flowering in wooded areas or near streams up to the first frost. Several photos of this star-shaped flower are after the jump. Today's bonus native plant is cattail, a common sight in wet ditches or near Iowa ponds and lakes.
This is an open thread: all topics welcome.
According to Wildflowers of Iowa Woodlands by Sylvan Runkel and Alvin Bull, American bellflower is also known as tall bellflower or bluebell. It looks nothing like the Virginia bluebells that bloom in Iowa woods and gardens during the spring. Runkel and Bull write,
The unusual flowers are not truly bell shaped. Five deeply-cut lobes join at the base. The resulting appearance is more as a five-pointed star measuring perhaps an inch across. The delicate blue of the flower shades abruptly to a pale ring at the throat from which emerges a long style (slender tube extending from the ovary). This style curves gently downward with a pronounced up-turn at the tip. Flower buds may bloom at random along the spike-like flower stem.
American bellflower plants usually grow to a height of three to six feet. Sometimes flowers bloom along a large part of the stem, as in the first picture below. Sometimes they cluster near the top, as in the second picture.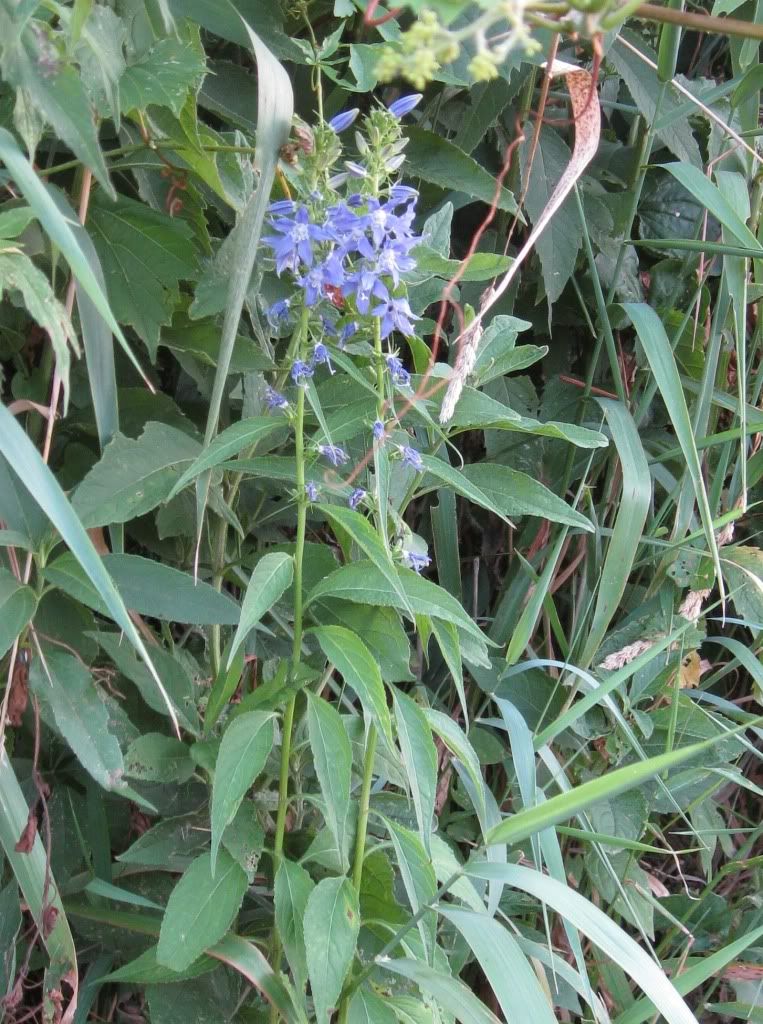 Bellflower doesn't always grow tall. The plant in this next photo was well under three feet. Although the sun created a bit of a glare, you can see that pale ring well at the base of the lobes.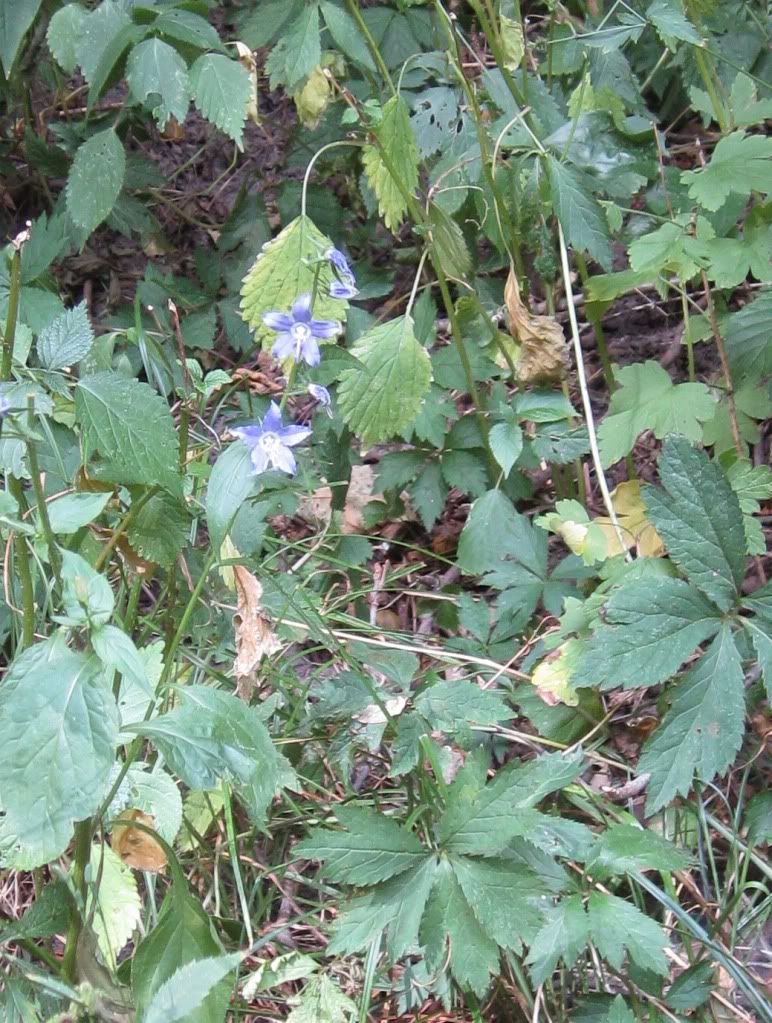 Today's bonus native plant is cattail, known as broadleaf cattail and by many common names. This wetland plant grows throughout North America and on most other continents. Native Americans ate various parts of the cattail plant either raw or cooked. They also wove its long leaves into mats or twisted the leaves to make rope. Cattails typically bloom between May and July in Iowa. Runkel and Bull describe the flowers:
Each rod-like flower stalk ends in two flowering spikes, one above the other on the same stalk. The upper has male flowers; the lower, female. […] After pollen has been shed, the upper spike dries up and disappears, leaving the familiar cigar-like seed head.
You don't have to get into nature to see this plant. These cattails are growing in a drainage ditch next to an I-235 off-ramp. I didn't catch them flowering, but you can see the seed heads well. The upper spike hasn't broken off yet from the cattail on the right.