I'll post a presidential debate discussion thread this evening. Meanwhile, here's a mid-week open thread: all topics welcome.
Today's featured wildflower is cutleaf coneflower, which has floppy yellow flowerheads resembling wingstem but very different stems and leaves. Some photos are after the jump, along with a picture of ripe elderberries, a treat for Iowa wildlife in the late summer and early fall.
I saw lots of these flowers blooming in late August and September. They are mostly finished now, but I saw a few in bloom over the weekend. When I first noticed this plant from a distance, I thought it was wingstem because of the flowerheads. However, the leaves didn't look anything like wingstem. I had to ask a few friends before someone identified this plant as cutleaf coneflower (Rudbeckia laciniata).
According to Wildflowers of the Tallgrass Prairie by Sylvan Runkel and Dean Roosa, plants in the Rudbeckia group are "named in honor of two Rudbecks, father and son botanists, who preceded Linnaeus at the University in Upsala, Sweden." The most famous of these wildflowers is the black-eyed Susan (Rudbeckia serotina), a common sight in Iowa gardens as well as wild areas. Runkel and Roosa write that the Forest Potawatomi native Americans used Rudbekia laciniata "as a diuretic and a tonic. The disk flowers were boiled with rushes to give them a yellow color."
The cutleaf coneflower, also called green-headed coneflower, is found in 45 states, "missing only in Alaska, Hawaii, Oregon, Nevada, and California." The US Wildflower website explains,
Cutleaf Coneflower will have 6 to 17 yellow ray flowers surrounding a yellowish-green cone- or thimble-shaped disk. The rays usually droop to an extent, becoming more pronounced as the blossom matures. […]

The yellow ray flowers of Rudbeckia laciniata appear as curved yellow spikes surrounding the green central cone before they open. […]

Rudbeckia laciniata can be a tall plant, up to 9 feet, and will usually have many blossoms on a number of long stalks.
US Wildflowers also notes, "The species epithet laciniata comes from the torn appearance of the deeply lobed and coarsely serrated lower leaves." Here's a close-up of the leaves and the smooth stem.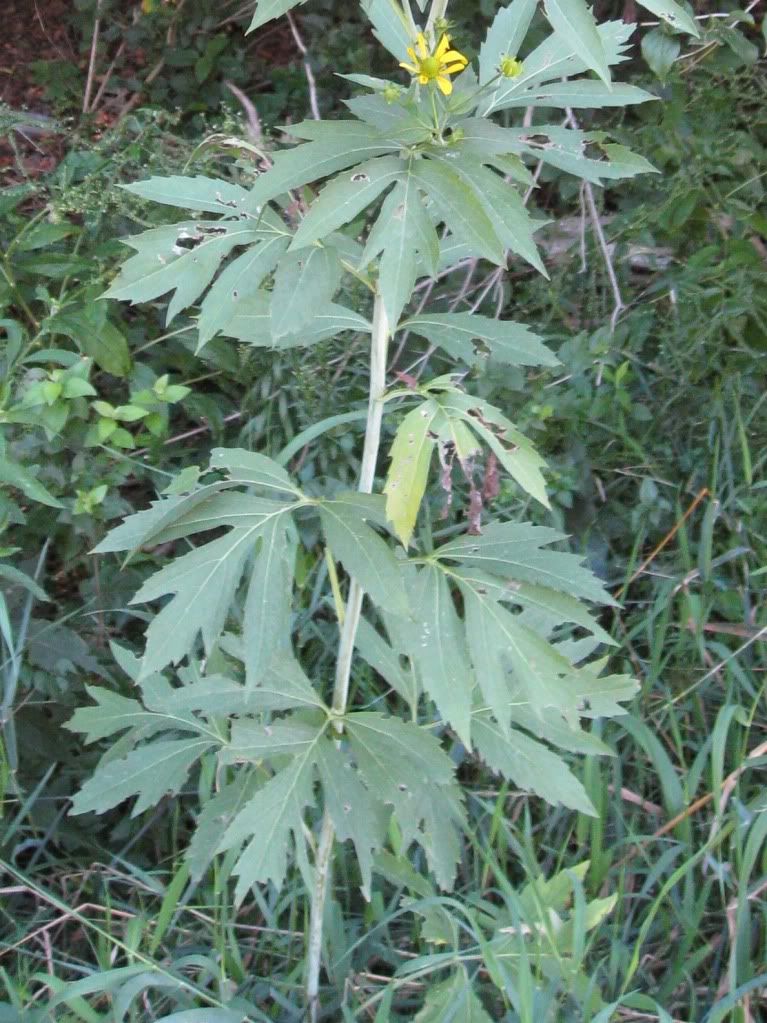 For comparison, here's a close view of the wingstem leaves and stem: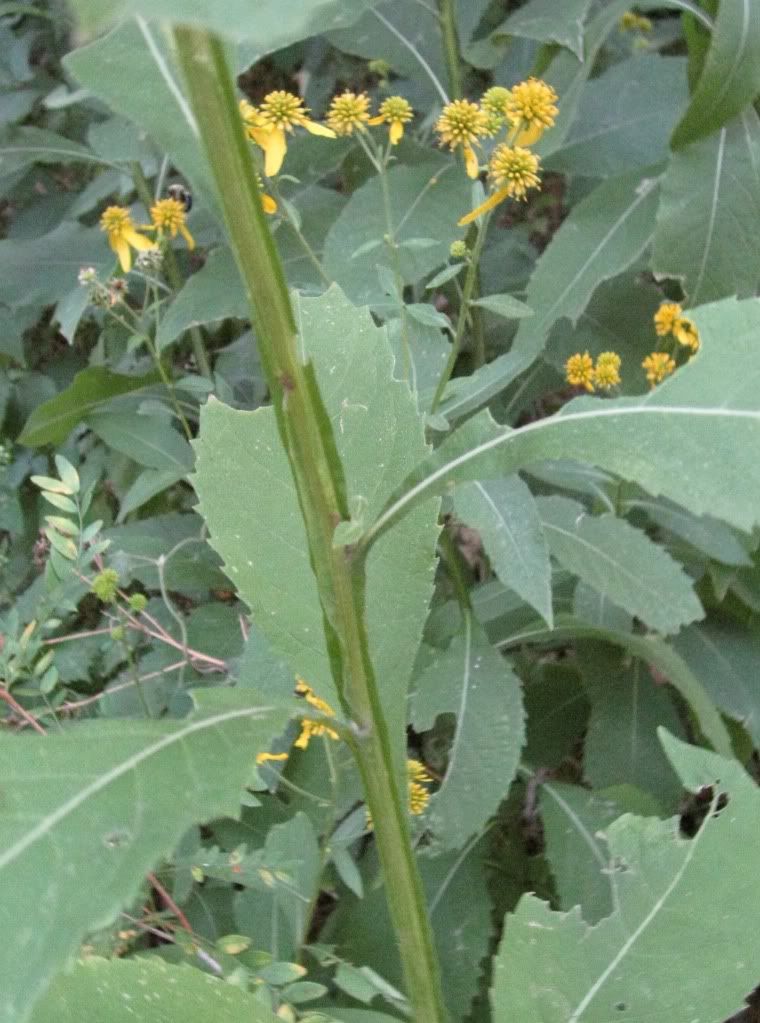 Finally, I enclose a picture of ripe elderberries, which I took a few weeks ago. When I went back to the same place over the weekend, birds had apparently picked it clean. Planting elderberry is a good way to attract various kinds of birds to a yard. Alternatively, some people pick and can elderberries. To my knowledge, I've never eaten this fruit.