Repeat Democratic candidate Scott Ourth appears well-positioned to win Iowa House district 26, a seat left open by freshman State Representative Glen Massie's retirement. Ourth takes a fundraising lead into the home stretch and has gained the support of one of Warren County's best-known GOP activists. Meanwhile, the Iowa House Republican advertising machine seems to have left Steve McCoy behind.
House district 26 covers most of Warren County, including the cities of Indianola and Carlisle: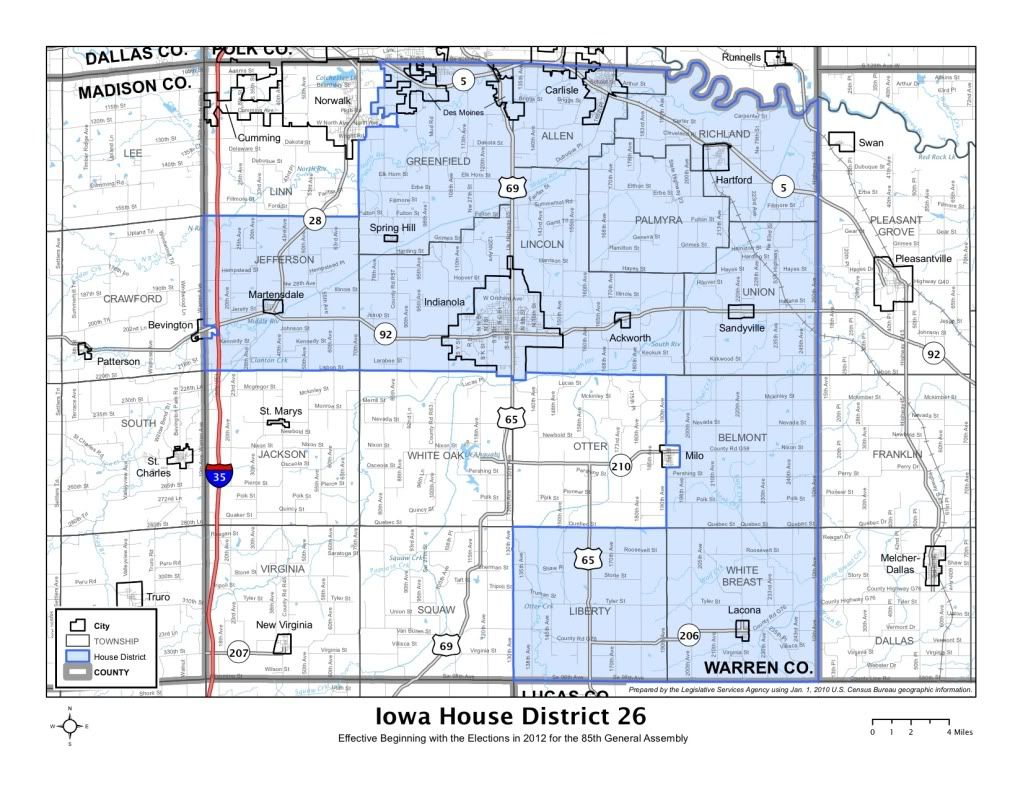 This is one of central Iowa's most politically balanced House districts. As of October 2012, House district 26 contained 7,126 registered Democrats, 7,106 Republicans, and 7,344 no-party voters.
Ourth lost to tea party favorite Massie in the 2010 race to represent the old House district 74 by 952 votes (pdf). However, Massie soon clashed with House Republican leaders over various issues and declined to seek a second term.
The new district 26 includes most of the population Massie has represented, but excludes the Republican-leaning Norwalk area in the northwest corner of Warren County. Democratic turnout was poor in Warren County in 2010 but should be higher in a presidential year, especially since Representative Leonard Boswell's campaign is doing extensive GOTV in central Iowa. Boswell represented Warren County from 1997 through 2002, and redistricting put the county back in IA-03. Ourth and Boswell have worked together on the Congressman's 1998, 2000, and 2008 re-election campaigns.
Excerpt from Ourth's official bio:
Scott returned to his Iowa roots as a freshman at Graceland College. His generation represents the third of his family to study on the Graceland campus. Scott framed houses and worked as a lifeguard to pay his way through school. He graduated as a Dean's List honoree and student body president in 1981.

After college Scott worked on the line in an automotive production plant while taking graduate courses at Central Michigan University. In 1986, Ourth moved to Washington, DC, where he worked for several years as a congressional press secretary and policy analyst. He was soon invited to serve as senior advisor to a number of national congressional and gubernatorial candidates. After gaining valuable experience on Capitol Hill and the national campaign trail, Scott went back to work in construction, this time as a heavy equipment operator and maintenance specialist. He recalls his years building highways, bridges, and airports as among the most informative and rewarding of his life. During this time, he gained valuable insight into the struggles, hardships, and values of working families.

In 1997, Scott returned to Iowa to work as an advisor to several elected officials in a number of capacities. A long-time advocate for persons with disabilities, Scott went back to Michigan from 2001 to 2004 to help expand and improve supports and services for persons living with disabilities. It was there he met his wife, Heather. They married in 2002, and Scott brought his bride back to her native Iowa.

Ourth spent 2005 and 2006 as assistant secretary of state for operations for the State of Iowa. His primary responsibility was to foster partnerships with county officials throughout Iowa, making certain all 1,788 federal polling places were accessible to persons with disabilities. Today, every person in Iowa living with a disability, including blindness and hearing impairments, can cast their vote independently with their privacy preserved.

Scott served as Warren County public affairs director from 2007 until 2011. He has written over $1 million in successful grants for the county. His work has resulted in community improvements such as the geothermal retrofit at the Annett Nature Center and the one hundred-foot, 20 kilowatt wind turbine that now powers that entire facility. He secured $100,000 to underwrite the renovation of the old People's Bank building on the Indianola Square. This wonderfully restored building is now the Warren County Courthouse Annex.

Scott is currently heading up a three-year, multi-phase effort to pave the pedestrian walking areas at the Warren County fairgrounds, financed entirely by grants and contributions. Upon completion, this project will allow every Warren County resident to easily access and move about the fairgrounds. He worked with the DNR and the Iowa legislature to secure $750,000 to rebuild four cabins at Ahquabi State Park, originally built by the Civilian Conservation Corp. Scott and his multiple community partners have many other innovative improvement projects in the works.

Scott is a past vice-president of the Disability Rights Iowa Board of Directors (formerly known as Iowa Protection & Advocacy Services, Inc.), which is the only disability advocacy agency mandated by Congress. He served on the Graceland University Alumni Board of Directors from 2003 until 2011, and is the recipient of the American Cancer Society Distinguished Service Award and the American Heart Association Director's Award. He has served on the Warren County Leadership Institute Board of Directors, and is a member of the Indianola Noon Lion's Club. Scott has served as the Americans with Disabilities Act coordinator for Warren County. Scott currently owns and operates a professional writing and communications company.

In 2002, Ourth hiked the 2,300 mile Appalachian Trail – nonstop – to benefit children with developmental disabilities. He twice swam an eleven-mile section of Lake Huron – again nonstop – to benefit the American Cancer Society.
The issues page of Ourth's campaign website emphasizes many standard Democratic priorities (job creation, education from pre-school through K-12 through college or vocational training, supporting veterans and agriculture), with a nod to conservative political rhetoric ("Ending Wasteful Government Spending," protecting Second Amendment rights, and ending illegal immigration by "Protecting Iowa Jobs for Iowa Workers).
Ourth's opponent is Warren County GOP Co-Chairman Steve McCoy, who beat Carlisle Mayor Ruth Randleman in this year's Republican primary for House district 26 by 56 percent to 44 percent. The more moderate Republican Randleman had support from Governor Terry Branstad and Lieutenant Governor Kim Reynolds, but Warren County has a strong tea party presence. In fact, it was one of Bob Vander Plaats' strongest counties in the 2010 Republican gubernatorial primary.
McCoy is textbook tea party:
I would like to thank Barack Hussein Obama for making it possible for me to serve you. Yes, Barack Hussein Obama, for waking me up. You see I had been guilty of belonging to the Rip Van Winkle Fan Club. Like some of you, I had been busy working, paying taxes, raising a family, being a responsible citizen, yet asleep to what was happening to our country. And then the wake up call came on January 20, 2009. Well, I am awake now! Are you?
McCoy plays up his non-political background in the bio on his campaign website:
Along with hard work and responsibility, Steve learned the importance of determination. Once he sets his mind to accomplish something he does it. He put himself through school by working summers and weekends sanding and finishing hardwood floors. He served his country during the Viet Nam War. He was married 24 years to his first wife and currently 20 years with his second wife Evelyn. He has raised a family and he is the proud grandfather of sixteen grand children.

He has worked for the federal government, the state government, corporate America, small business and he had his own business. He has worked with everyday people, doctors, lawyers and journalists. He has been a laborer, an artist, a teacher, a Deacon, a manager and a business man. He graduated from high school, attended college and graduated from a trade school. His father suffered from Alzheimer before his death. His mother died from heart problems, his oldest brother died from aids, another brother from diabetes and another from prostate cancer. There is no segment of society that he can't identify with.

He is concerned with the direction our country is headed. He believes the government has grown too large and too intrusive; that hard work and individual responsibility have been replaced with an entitlement mentality and escapism. He believes that the answer lies not in individuals who have spent most of their life in politics but with individuals who have lived in the real world. He believes, like our Founding fathers, that the answer lies in "We the People".

Therefore, instead of retiring to the sunset, he is stepping forward to offer himself to be part of the solution. Steve is a man of principle, passion and courage. He is not a politician, just an average taxpayer who has had enough, just like you.
The issues page of his website refers only to business and economic development, but McCoy also holds the standard conservative positions on social issues like abortion and marriage equality. In this 2011 open letter to Iowa Senate Majority Leader Mike Gronstal, McCoy wrote,
There is no homosexual gene in the DNA code of man, so the scientific evidence reveals that homosexuality is a behavior. You are correct when you state peoples rights should not be put to a vote; however, rights are not the issue. Behavior is. So your whole premise of protecting the rights of a special interest group who struggles with their own identity, is erroneous and reflects either your refusal to consider the scientific evidence of the International Human Genome Consortium or it reflects your biases toward homosexuals.
McCoy isn't universally admired among Warren County conservatives. I was shocked to hear last week that Republican activist Susan Geddes has a large yard sign for Ourth next to signs for Mitt Romney and Tom Latham outside her home along Highway 92. Geddes is well-known in central Iowa Republican circles, having run Kent Sorenson's successful 2008 Iowa House and 2010 Iowa Senate campaigns. (Geddes and Sorenson later had a falling-out over Sorenson's last-minute desertion of Michele Bachmann for Ron Paul before the Iowa caucuses.)
I contacted Geddes to clarify whether she is backing Ourth rather than McCoy. After joking that she thought I was another person calling to yell at her, Geddes confirmed that she is supporting Ourth. In her opinion, he "would be the better representative for Warren County" because he is prepared to "actually represent the district and listen" to people. Geddes added that Ourth has a "good working knowledge of how city and county governments work with state government."
Most of the Republican establishment is supporting McCoy, naturally. But they're not putting the kind of resources into his campaign that other GOP candidates are getting in competitive House races. McCoy's fundraising before the June primary was underwhelming, and his latest disclosure form showed only $12,436.12 in cash contributions since July. Most telling, McCoy reported just $803.74 in in-kind contributions. Many GOP candidates are getting tens of thousands of dollars in in-kind contributions to support broadcast advertising or direct mail expenses.
Ourth is among the best fundraisers of the Democrats running for the Iowa House. His latest disclosure showed $44,164.43 in cash contributions and $29,191.71 in in-kind contributions since July, when he already had more than $37,000 in cash on hand.
I haven't seen any television commercials or radio ads for McCoy or against Ourth. In contrast, attack ads against several other Democratic candidates for the Iowa House are on heavy rotation during local newscasts in Des Moines. Targets include Joe Riding (House district 30), John Forbes (House district 40), Susan Judkins (House district 43), Donovan Olson (House district 47), and Mark Smith (House district 71).
I also haven't seen or heard any television or radio commercials for Ourth, but that is consistent with the Iowa House Democrats' campaign strategy.
For Democrats, it's a ground war, dependent on face-to-face voter contacts and cheap direct mail. They're also deploying a vertically integrated field operation, sharing a statewide network of campaign offices housing campaigns for the Statehouse up to the presidential race. For Republicans, it's an air war, leveraging a big fundraising lead to push messages out over television in the final weeks before Election Day.

"We're continuing to do handwritten postcards and door-knocking, and they're up on TV like it's a congressional campaign," said House Democratic Leader Kevin McCarthy of Des Moines. "They certainly have more money."
Anything can happen on election day, but House district 26 looks like one of the Democrats' strong pickup opportunities.