Iowa Supreme Court Justice David Wiggins kept his job Tuesday by a surprisingly large margin of 670,013 votes to 556,782. The percentage of yes and no votes on Wiggins (54.61 percent to 45.39 percent) was a mirror image of the 2010 votes on Chief Justice Marsha Ternus (55 percent no), Justice Michael Streit (54.4 percent no), and Justice David Baker (54.2 percent no). Whereas only ten of Iowa's 99 counties voted to retain three Supreme Court justices in 2010, 36 counties recorded more "yes" than "no" votes this year.
Maps are after the jump, along with some clips on the retention vote. I also list which pro-retention counties produced a plurality of votes for President Barack Obama, which "yes" counties went for Mitt Romney, and which "no Wiggins" counties went for Obama.
Full results from the 2010 retention votes by county are available here. Despite slight variance in "yes" votes tallied for each Supreme Court justice, the same ten counties voted to retain all three: Black Hawk, Clinton, Jefferson, Johnson, Linn, Muscatine, Polk, Scott, Story and Winneshiek. Most of those are counties with large (by Iowa standards) urban areas, or college campuses. Jefferson contains a large progressive community around Fairfield, and Winneshiek includes the college town of Decorah.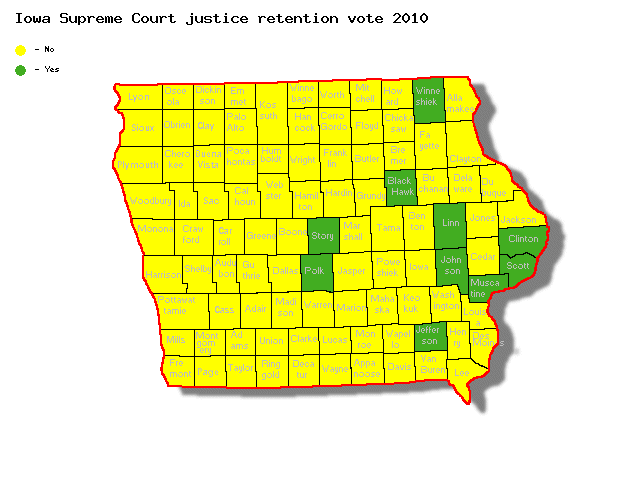 A relatively large proportion of Iowans who cast ballots in the 2010 general election voted yes or no on retention. According to the statewide statistical report, 1,125,386 Iowans voted in the 2010 general election. Ternus received 443,451 yes and 541,565 no votes. The 985,016 people who chose to retain her or not comprised about 87.5 percent of all voters.
By comparison, when there was no publicity campaign surrounding the retention votes in 2008, a total of 950,050 Iowans voted on whether to retain Iowa Supreme Court Justice Mark Cady (693,233 yes, 256,817 no). That's just 62 percent of the 1,528,715 who cast ballots in the 2008 general election.
This year, many more Iowans were aware of the retention vote. Preliminary results show 1,226,795 votes either for or against retaining Wiggins. That's nearly 79 percent of the 1,555,570 Iowans who cast ballots for a presidential candidate.
To compile this map, I used county results available on this page of the Iowa Secretary of State's website.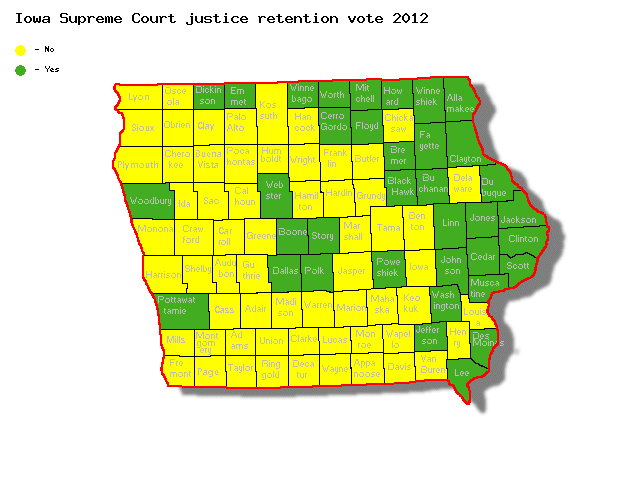 Wiggins received a majority of yes votes in 36 counties, including many without a major metro area or college campus. Even in the 63 counties that voted no on Wiggins, he wasn't rejected by as large a margin as the justices who were ousted in 2010. Jeff Eckhoff reported for the Des Moines Register,
In 2010, voters in 55 counties voted to oust the judges by margins of 60-40 or greater. On Tuesday, only 14 counties saw more than 60 percent of voters cast ballots in favor of ousting Wiggins, election data shows.

Wiggins' supporters mostly came from Iowa's urban areas, and many were likely younger voters. The Register's Iowa Polls since 2009 have shown that younger voters, those under 35, are more likely to be unopposed to same-sex marriage than those 35 and over.
There's a lot of overlap between the 36 counties voting yes on Wiggins and the 38 counties where Obama won a plurality of the presidential vote, but also some differences.
Obama carried these 30 pro-retention counties:
Allamakee

Black Hawk

Boone

Bremer

Buchanan

Cedar

Cerro Gordo

Clayton

Clinton

Des Moines

Dubuque

Fayette

Floyd

Howard

Jackson

Jefferson

Johnson

Jones

Lee

Linn

Mitchell

Muscatine

Polk

Poweshiek

Scott

Story

Webster

Winneshiek

Woodbury

Worth
Romney carried these six pro-retention counties:
Dallas

Dickinson

Emmet

Pottawattamie

Washington

Winnebago (by just two votes, so that one could flip to Obama after the official canvass)
These eight counties recorded a plurality for Obama and a majority of "no Wiggins" votes:
Chickasaw

Clarke

Jasper

Louisa

Marshall

Tama

Union

Wapello
Trish Mehaffey noted in this Cedar Rapids Gazette report that observers don't agree on why Wiggins received so many more yes votes.
Does the 670,013 to 556,782 vote in Wiggins' favor indicate Iowans are more accepting of same-sex marriage? Did the special interest groups behind both drives against retention err when they altered their message? Or did the pro-retention supporters just do a better job getting their message across?

One area of agreement is that the results are difficult to explain because the county-by-county voting was similar to 2010 – mostly urban areas in the eastern and central parts of the state voted "yes" and more rural areas voted "no."

"One thing I think you can say with a high degree of certainty is the (Iowa State) Bar Association's efforts made a big difference (this year)," Todd Pettys, University of Iowa School of Law professor, said Wednesday. "The bar was flat-footed in 2010 with a feeble effort to educate the public of its views on politicizing the courts."
I'm surprised that so many non-midterm election voters did turn their ballots over. The "yes" campaign spent a lot of money on direct mail and phone calls rather than broadcast advertising. It appears that they got their message out effectively.
I got a kick out of this Bob Vander Plaats ally making noise about another retention campaign in 2016.
Greg Baker, executive director of Iowans for Freedom, one of the groups that led the unsuccessful campaign against Wiggins, said he didn't know what the group's plans would be but there would likely be "some form of retention effort" in 2016.

"It will be dependent on what the judges do," Baker said. "One thing that is obvious is that a lot of Iowans are not confident in the courts. The courts have a credibility issue and they need to restore impartiality."

Baker said the anti-Wiggins groups expected a tight race and knew it would be more difficult during a presidential election year. The county-by-county votes were similar to 2010 but there was a "wave of democratic support" for President Barack Obama and more people voted, he said.
I doubt there will be much money to be made driving a bus around Iowa in 2016 to oust the three remaining so-called "activist" justices. Like Todd Dorman said here, Tuesday feels like a turning point in the political battle over marriage equality.