Talk about a bolt from the blue: State Representative Brian Quirk announced today that he is resigning from the Iowa House. His decision forces a special election in House district 52, where voters just elected the Democrat to his seventh term.
UPDATE: Added details on Quirk's new job below.
When Democrats controlled the Iowa House, Quirk was part of the so-called "six pack" of conservatives who blocked labor-friendly legislation and some other bills opposed by business interests. He was the only member of the "six pack" still serving in the House following the 2010 elections, as Dolores Mertz retired and the other four members lost to Republican challengers. Mertz's departure left Quirk with the dubious distinction of being the only Iowa House Democrat to belong to the right-wing American Legislative Exchange Council (ALEC). Quirk canceled his membership in ALEC this May.
No Republican filed to run against Quirk in 2012. He won about 70 percent of the vote on November 6 against independent candidate Craig Clark.
Quirk hasn't explained yet why he is stepping down. Reading between the lines of today's Iowa House Democrats press release, it sounds like someone offered him a good job.
"It's been a great honor serving the people of Chickasaw County and surrounding counties over the last decade. I am extremely grateful for their trust and support over the years in the Iowa House. While it was a difficult decision, I'm excited about the new opportunities that lie ahead. I'll be sharing my future plans soon," said Quirk.
I will update this post when Quirk shares his plans. I wouldn't be surprised if Governor Terry Branstad offered him a job, the way he appointed former Democratic State Senator Swati Dandekar to the Iowa Utilities Board in 2011. Quirk is the kind of business-friendly Democrat who would appeal to the governor.
A special election to replace Quirk will take place in early 2013. Branstad has to set the date within the next five days, and the special election campaign must be at least 40 days long.
House district 52 covers all of Floyd and Chickasaw Counties, plus rural areas in eastern Cerro Gordo County. Here's a closer look: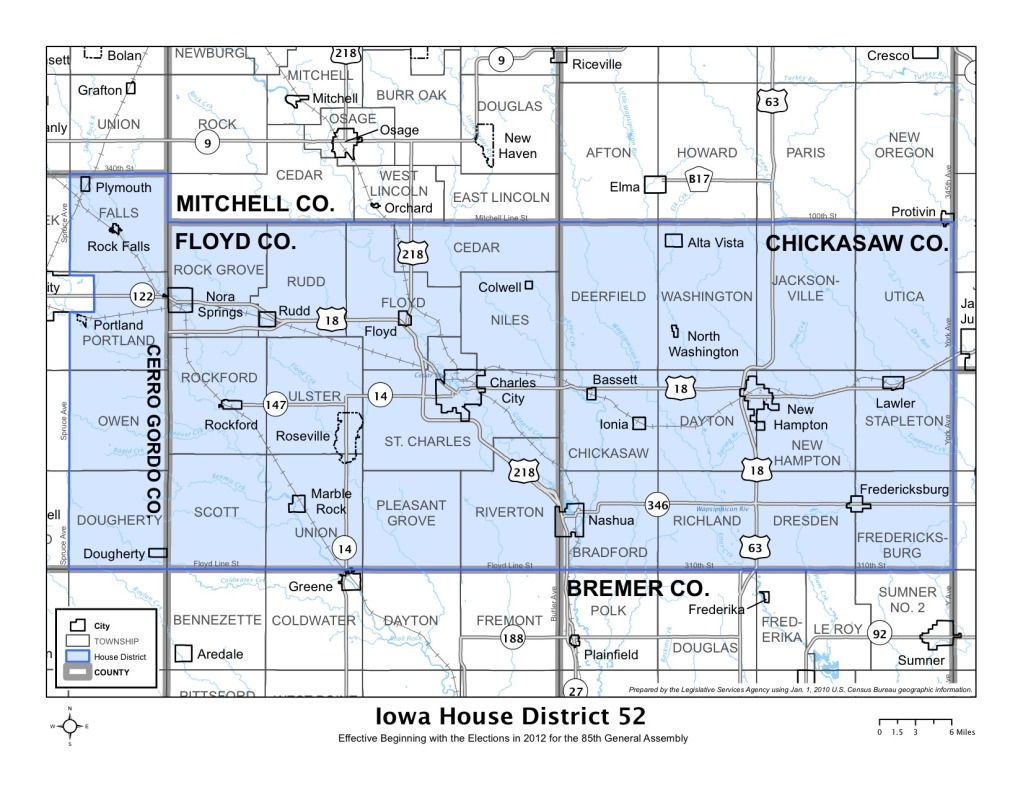 As of November 1, House district 52 contained 6,798 registered Democrats, 5,475 Republicans, and 9,363 no-party voters according to the Secretary of State's office (pdf). Those numbers do not include Iowans who registered to vote on election day.
The slight Democratic voter registration advantage in district 52 means little in a low-turnout special election. Most of the campaign will overlap with the holiday season, so hardly anyone will be paying attention.
Democrats won't be happy to have an Iowa House seat to defend already. It would have been easier to win this district with a new candidate on November 6. Unofficial results indicate that President Barack Obama defeated Mitt Romney by 56.7 percent to 42 percent in Floyd County and by 54.8 percent to 43.7 percent in Chickasaw County.
UPDATE: The New Hampton Tribune reported on November 29 that Quirk is about to be hired as general manager of the New Hampton Municipal Light Plant. The previous general manager resigned not long before a state audit revealed "identified $64,926.73 of undeposited collections and improper disbursements" between Jan. 1, 2001 and May 31, 2012.
Quirk told Darin Svenson of KDEC radio "that the Board of Directors for the New Hampton Municipal Light Plant asked that he resign from the legislature."