Voters in Iowa House district 52 elect a new state representative today to replace Democrat Brian Quirk, who announced his resignation in November. The Democratic candidate is Todd Prichard, who sounds like he'd be an improvement on Quirk. The Republican candidate is Dennis Litterer. Last-minute GOTV must have been terrible for both sides, with the coldest weather of the winter so far hitting Iowa over the weekend.
Prichard took an early vote advantage into election day. A district map, voter registration figures, and absentee ballot numbers are after the jump. I will update this post with election results after polls close at 9 pm.
9:30 UPDATE: Early returns show Prichard leading by about 600 votes, but none of the results are in for Chickasaw County, where Litterer lives.
10:00 UPDATE: Prichard wins, giving Democrats 47 seats in the Iowa House to 53 Republicans. Unofficial returns show that Prichard carried Floyd County by 1,541 votes to 1,006, Chickasaw County by 1,254 votes to 1,222, and the three Cerro Gordo precincts by 129 votes to 111. Total: 2,924 votes for Prichard, 2,339 votes for Litterer, 83 votes for independent candidate Craig Clark, and 5 write-in votes. I always wonder, who goes to the trouble of casting a ballot for a write-in candidate in a special election like this?
House district 52 covers all of Floyd and Chickasaw Counties, plus rural areas in eastern Cerro Gordo County.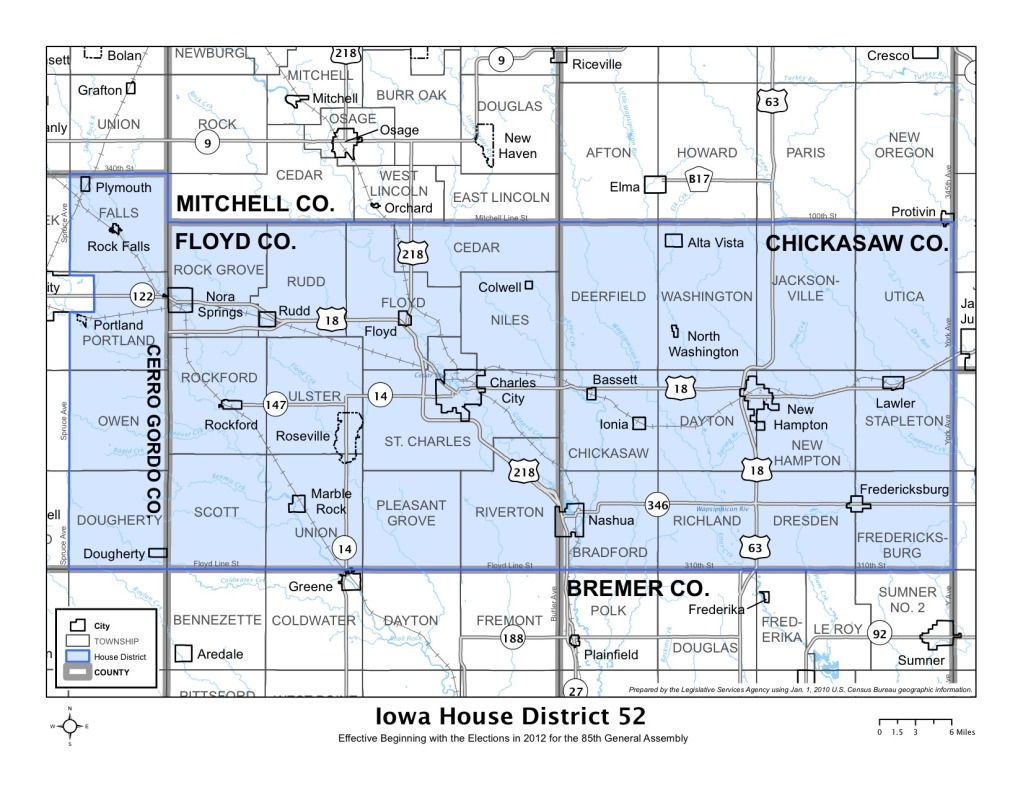 As of January 1, House district 52 contained 6,850 registered Democrats, 5,452 Republicans, and 9,490 no-party voters according to the Secretary of State's office (pdf).
This afternoon I received the following absentee ballot numbers from staff in the three county auditors' offices.
Floyd County:
786 Democrats requested absentee ballots, 710 returned ballots

355 Republicans requested absentee ballots, 330 returned ballots

223 no-party voters requested absentee ballots, 202 returned ballots
Chickasaw County:
678 Democrats requested absentee ballots, 649 returned ballots

347 Republicans requested absentee ballots, 334 returned ballots

178 no-party voters requested absentee ballots, 165 returned ballots
Cerro Gordo County:
54 Democrats requested absentee ballots, 50 returned ballots were counted

31 Republicans requested absentee ballots, 29 returned ballots were counted

9 no-party voters requested absentee ballots, 8 returned ballots were counted
The Cerro Gordo numbers are for counted ballots only, because the elections office rejected four of the returned ballots.
Absentee ballots can still be hand-delivered to county auditors until 9 pm today. Late-arriving mailed absentee ballots can be counted if they were postmarked before January 22.
Assuming the no-party voters split evenly, Prichard takes at least a 700-vote advantage into election day. His lead is even larger if the no-party absentee voters lean Democratic, as they did statewide in the 2012 general election.
Special election turnout tends to be low, and this week's cold weather may have kept some people from making an extra trip to a polling place today.
JANUARY 23 UPDATE: Before Prichard can be sworn in as a state representative, the three counties have to certify the results and forward them to the Iowa Secretary of State's office. The state's Executive Council, which includes Secretary of State Matt Schultz, will then certify the results. According to the Iowa House Democratic staff, this process will take at least a week.
Here's biographical information from Prichard's campaign website.
Todd works as the lead drug prosecutor in the Floyd County Attorney's office, and owns his own law firm, Learned, Prichard and Associates P.C. on Main Street in Charles City. […]

In addition to serving as an assistant county attorney, Prichard is a member of the Iowa National Guard. He started his service in the Army in 1996 and has been deployed four times, including a tour in Iraq. Prichard attended the University of Iowa for his undergraduate degree and law school.

"My top priority will be growing Iowa's middle class and making sure our kids get the best education in the world," said Prichard, who has three children of his own. "We need to guarantee that every child in Iowa will get a quality education and graduates with the skills necessary to land a good-paying job and support their own family."

"As a National Guard member, I'm also committed to helping veterans and members of our military return to their community and be successful. Whether it's help matching their military skills with a job or supporting military families during deployment, I will do all I can to make the lives of our veterans a bit easier," added Prichard. Prichard and his wife, Ann, have three children and attend St. John Lutheran Church in Charles City. He serves on the YMCA Board of Directors and is also a member of the Charles City Lions Club.
Radio Iowa's O.Kay Henderson thinks Prichard strongly resembles former Minnesota Governor Tim Pawlenty.