I had planned to relaunch Bleeding Heartland's weekly wildflower posts in late March, but Iowa's native plants are way behind schedule during this year's ridiculously cold spring. Even a week ago, the only wildflowers blooming in my corner of the word were bloodroot and dandelions. Just in the past few days, we've noticed the first spring beauties, Dutchman's breeches, and dogtooth violets. My goal for this year is to focus on species I didn't feature in 2012.
This week's installment is rue anemone, an early spring woodland flower with unusual features. Its leaves start out brown before turning green, its blossoms have no petals, and it blooms for quite a long time. Photos are after the jump.
This is an open thread: all topics welcome.
MAY 2 UPDATE: Much of Iowa is under a winter storm warning today. I'm concerned about how the snow and freezing rain might affect the spring wildflowers. I hope I'll have bluebells to feature in a week or two!
Rue anemone (Thalictrum thalictroides) is native to the eastern half of the U.S. and parts of Canada. According to the book Wildflowers of Iowa Woodlands by Sylvan Runkel and Alvin Bull, the plant is "found throughout the state in dry open woodlands, especially on slopes." It typically begins blooming in late March (not this year) and can bloom through June.
When rue anemone first appears, its leaves are reddish brown. Here's a close-up view. The flowers are just starting to open. The green arrow-shaped leaves around the rue anemone will be violets soon.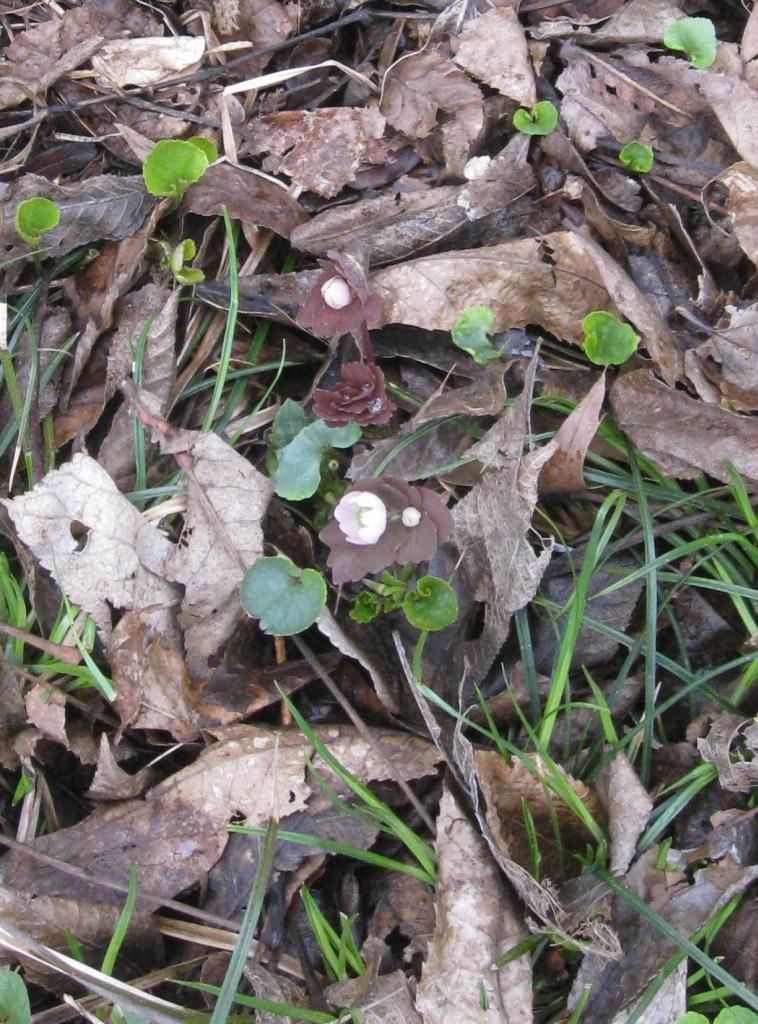 Here's another view of the first rue anemone blossoms, with violet leaves near the top of the frame.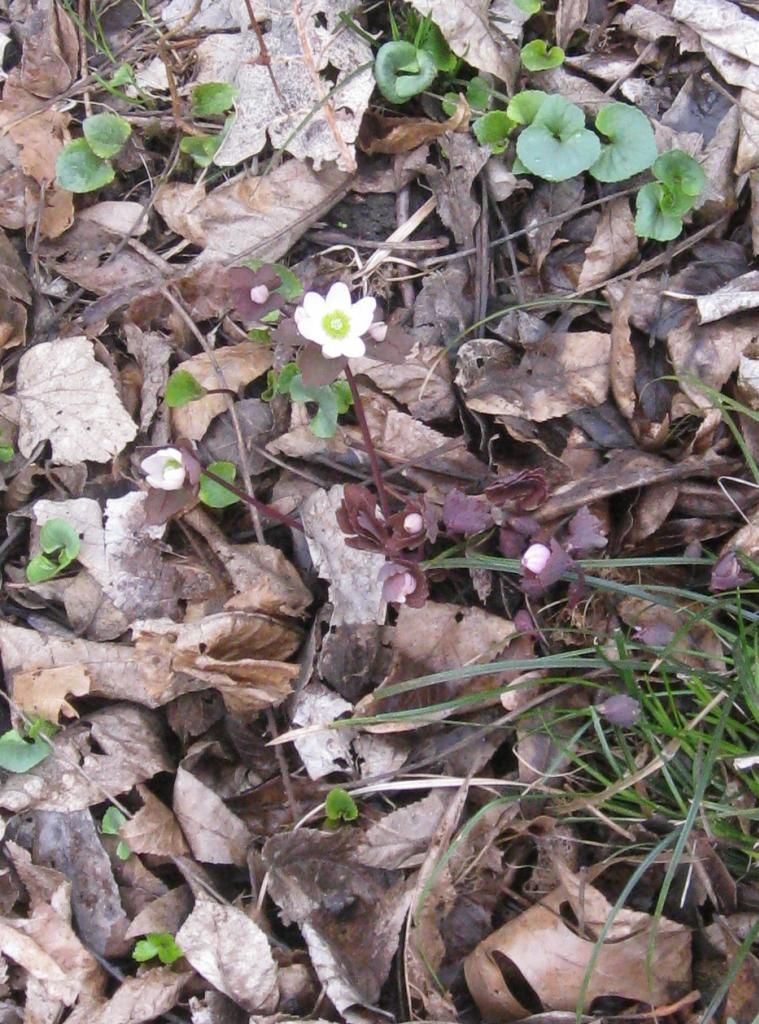 Rue anemone flowers can be white or pink. What appear to be petals are actually sepals forming a "shallow saucer" with "numerous yellow-green stamens in the center," Runkel and Bull write.
As rue anemone plants grow, the leaves eventually become green, as pictured on this page of the U.S. Wildflowers site.
Large clusters of rue anemone flowers can grow. The blossoms are a bit overexposed in this photo, but you can see that the leaves are transitioning from brown to green. Near the top center of the frame you can see large leaves from bloodroot that already finished blooming. Near the upper left and the lower right, you can see notched leaves with lighter splotches, which will develop Virginia waterleaf flowers in a month or so.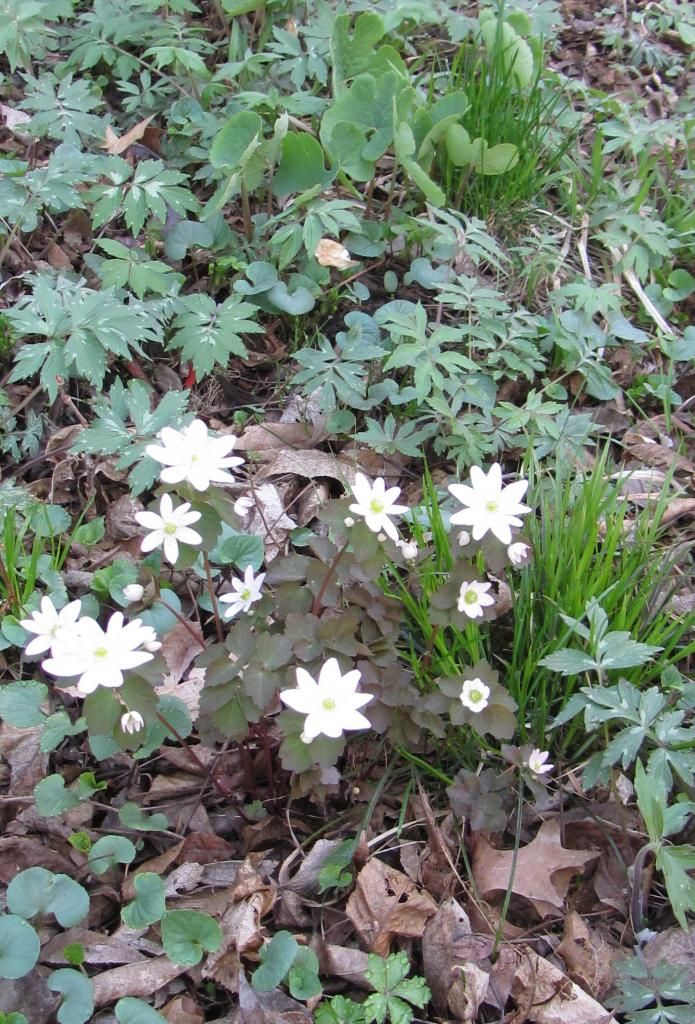 Here's a closer view of those bloodroot leaves, which continue to grow long after the early spring flowers have gone. Around the bloodroot leaves, you can see the rounded arrow-shaped leaves of violets and the splotchy leaves of Virginia waterleaf.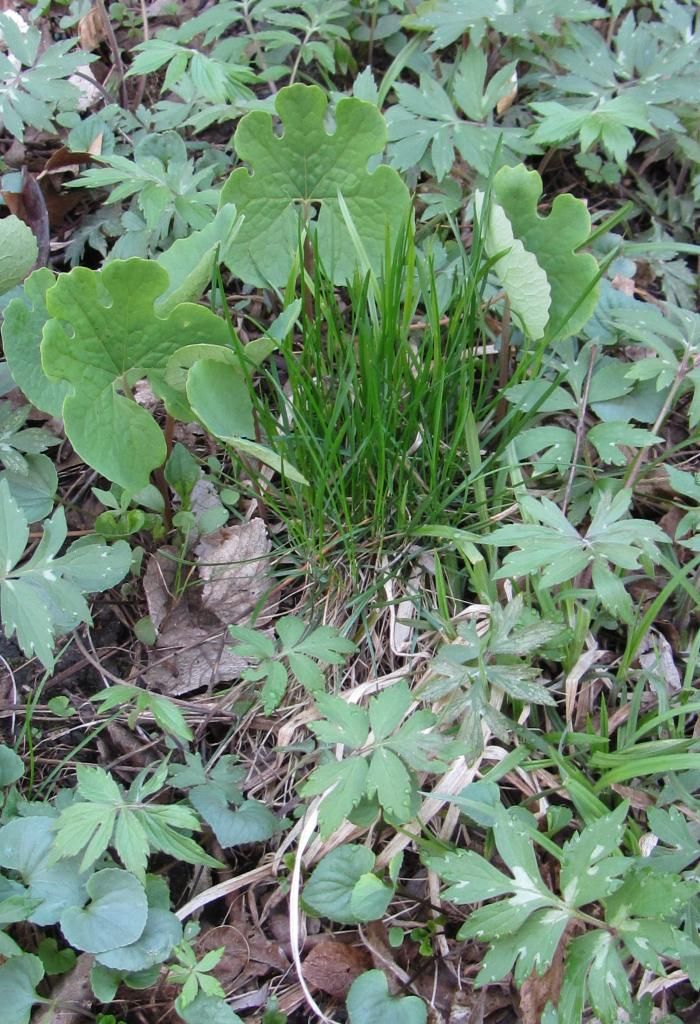 LATE MAY UPDATE: Here's how some of the rue anemone looked several weeks later. You can see that the leaves have turned completely green, and there's a large group of blossoms. Some yellow and purple violets are scattered around the rue anemone, as well as a dandelion (yes, it's an Iowa wildflower) and a bellwort blooming in the upper left corner. Bleeding Heartland covered bellwort last year; that link includes more close-ups.