The Iowa legislature's 2013 session is already in overtime, and the standoff over whether to expand Medicaid is one of the last obstacles to adjournment. A conference committee including five lawmakers from each party has been seeking middle ground between Medicaid expansion, a priority for the 26 Senate Democrats, and the "Healthy Iowa Plan" that barely cleared the Iowa House but failed in the Senate.
This week Senate Democrats offered another gesture toward the Republican desire for low-income Iowans to have more "skin in the game" when they obtain health insurance coverage.
Meanwhile, three major advocacy groups stepped up their efforts to persuade lawmakers that the Healthy Iowa Plan offers inferior access for patients while incurring substantially higher property tax costs.
Finally, a coalition of progressive organizations announced that it will run a television commercial this Sunday targeting GOP State Representative Dave Heaton, the weakest link among House Republicans trying to pass Governor Terry Branstad's alternative plan. Details on all those developments are after the jump.
These ten lawmakers serve on conference committee working on the Medicaid issue:
Senate President Pam Jochum (D)

Senator Amanda Ragan (D)

Senator Jack Hatch (D)

Senator Nancy Boettger (R)

Senator David Johnson (R)

State Representative Dave Heaton (R)

State Representative Walt Rogers (R)

State Representative Joel Fry (R)

State Representative Tyler Olson (D)

State Representative Mark Smith (D)
Yesterday, Senate Democrats announced a new compromise to make Medicaid expansion more acceptable to Republicans. From a May 9 press release (emphasis in original, click the link to view a video):
During a meeting today with House negotiators, negotiators for the Iowa Senate today proposed a compromise plan designed to increase access to affordable health care for Iowans.

1) In response to Republican concerns, the Senate Democratic compromise waives copays if participants participate in annual physical exams and make other healthy choices.

2) In response to Republican concerns, the Senate Democratic compromise strengthens language on improving the health of Iowans.

3) Senate Democrats still support the "opt-out" compromise included in the Senate's original bill.

"We have compromised on the top concerns of Governor Branstad and House Republicans," said Senate President Pam Jochum. "However, we continue to strongly oppose the Republican approach which spends MORE in federal, state and local property tax dollars to provide LESS help to Iowans."

Jochum said negotiations had reached a delicate point.

"This weekend, legislators will be at home in their districts," Jochum said. "Now's the time for Iowans to speak up in support of affordable health care for low paid, working Iowans. We can help bring these working Iowa families better health and improved financial security."
Radio Iowa's O.Kay Henderson reported,
Democrats in the legislature who simply want to expand the existing Medicaid program to cover 150,000 more Iowans are offering to link co-pays for all current and future Medicaid recipients to health and wellness initiatives. Senator Jack Hatch, a Democrat from Des Moines, says Democrats would waive those co-pays for those who get regular check-ups and take steps to improve their health, like quitting smoking or losing weight, but a trip to the emergency room for a minor health issue would require a co-pay.

"We're going to ask patients to participate in their own health care," Hatch says. "…The Republicans have talked about 'skin in the game.' We're going to include that in our proposal."

Republican Governor Terry Branstad's "Healthy Iowa Plan" requires a monthly premium payment of $10, but premiums could be reduced for those who take steps to improve their health. Senator David Johnson, a Republican from Ocheyedan, says there's "still a long way to go" before the gap between Democrats and Republicans is bridged.

"It's opened the door a crack, I would say," Johnson says of this latest offer from Democrats.
Rogers, the Iowa House floor manager of the alternative bill, called the compromise "a slight move" in the right direction, while Governor Terry Branstad's spokesman Tim Albrecht commented,
"We are pleased to see this issue moving forward and see this as a positive development," he wrote in an email. "We view this proposal as a thoughtful, good faith compromise effort and will continue to carefully review it."
I hope Republicans will take this opportunity to declare victory on "personal responsibility," while accepting that Medicaid expansion makes more sense for Iowans.
On Wednesday, the AARP, Iowa State Association of Counties, and American Cancer Society's Cancer Action Network held a press conference at the capitol to underscore the benefits of expanding Medicaid, rather than going the Branstad route.
The governor's plan is financed with $85 million in local property taxes. Anthony Carroll, AARP's Iowa associate state director, said AARP members are being shown another map which indicates only a handful of Iowa hospitals would qualify to provide the care – so uninsured Iowans in far southwest Iowa's Fremont County, for example, would have to go to Des Moines to visit a doctor under the governor's plan.

"Really now it's about showing the differences to people who aren't maybe directly impacted by low income Iowans. They don't have a family or a friend member (who is uninsured) and when you talk about especially your local dollars being used for something that may not provide local coverage, that's a sharp difference," Carroll said. "That's what's new here."

Dr. Richard Deming, an oncologist in Des Moines, is part of the American Cancer Society's Cancer Action Network.

He says a major flaw in the governor's plan is that only a handful of health care systems that win a special "accountable care organization" designation will provide the care to Iowans enrolled in the "Healthy Iowa Plan."

"I'm all about personal responsibility and accountability, but if you don't have access to health care, accountability and responsibility is really a moot point," Deming said.
Since a picture is worth a thousand words, I enclose the graphics prepared by the AARP. This one shows how much more the Healthy Iowa Plan will cost in county property taxes alone.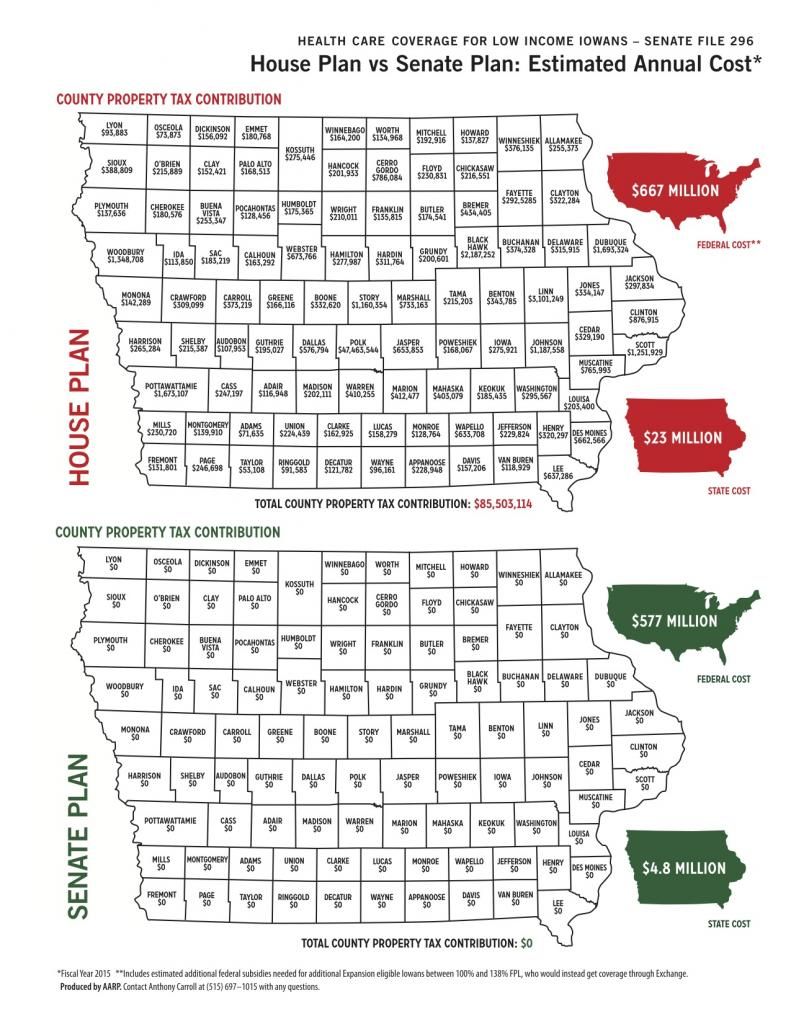 This graphic shows how much broader access will be if low-income Iowans are able to enroll in Medicaid, rather than in the Healthy Iowa Plan: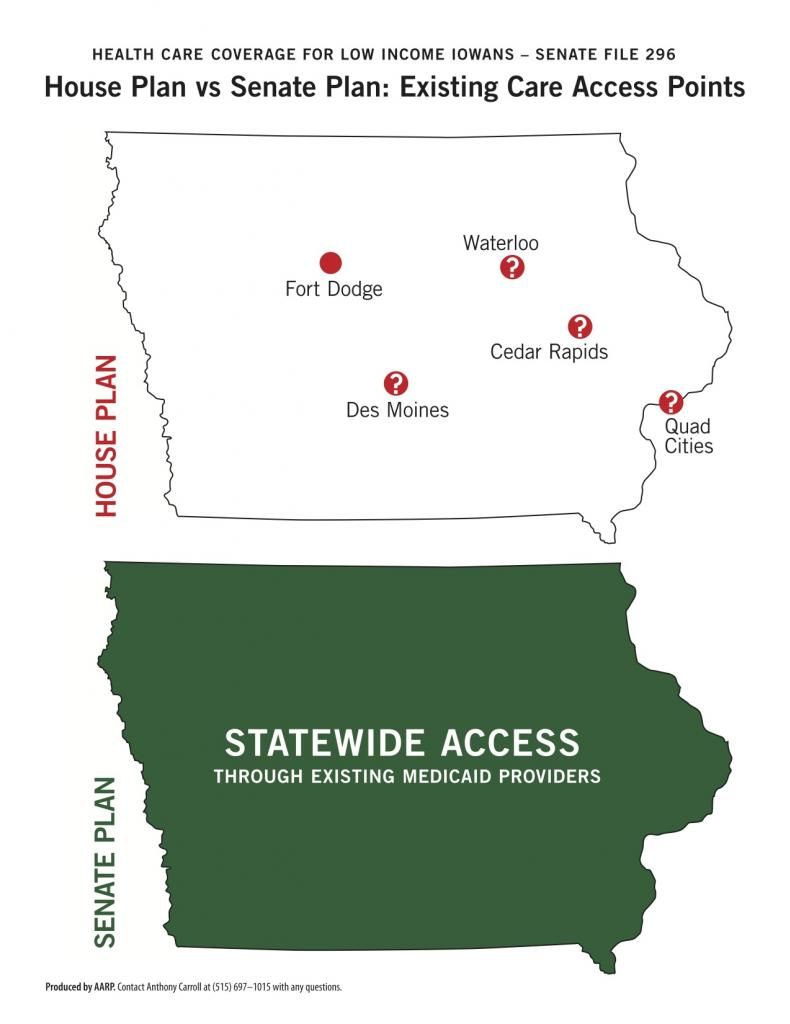 Among the five Republicans on the conference committee, Heaton is the weakest link. He understands the major flaws in Branstad's plan and only reluctantly provided the 51st vote for it in the Iowa House.
The Healthiest Iowa Initiative coalition of many groups is urging Iowans to call Representative Heaton about this issue. This commercial started running online on May 9 and will run on Des Moines and Quad Cities television on Sunday, May 12.
From a press release by Progress Iowa:
"We encourage all Iowans, and particularly those in Representative Heaton's district, to contact him and tell him to support full Medicaid expansion," said Matt Sinovic, executive director of Progress Iowa. "Representative Heaton will cast a key vote on the conference committee that is split down party lines, as well as a key vote when the bill returns to the Iowa House. It's crucial for Iowans to express their concerns to him by calling and emailing in these final days of the legislative session."

The ad released today highlights the benefits of full Medicaid expansion: covering an additional 150,000 Iowans at limited cost to the taxpayers, in comparison to Governor Branstad's Healthy Iowa Plan, which will cover 60,000 fewer Iowans and cost the state an estimated $163 million more every year.

Uninsured young adults, veterans, the working poor, and the mentally ill would all benefit from full Medicaid expansion. In addition, expansion would create more than 2,000 jobs, according to a report released by the Iowa Hospital Association.

Throughout the legislative session, Progress Iowa has worked in coalition with 27 organizations, who formed the Healthiest Iowa Initiative, to educate Iowans and call them to action in support of Medicaid expansion.
UPDATE: The Des Moines Register's Jason Noble tweeted on May 9, "I just asked Rep. Dave Heaton if he's been getting calls on Medicaid expansion. Then his phone rang & he took a call on Medicaid expansion."