If you've walked in the Iowa woods lately, chances are you've seen some spring beauties in bloom. Over the weekend I saw hundreds of them along the Bill Riley bike trail in Des Moines and in the oak savanna area of the Neal Smith National Wildlife Refuge near Prairie City.
Several pictures of this lovely flower are after the jump, along with a couple of mystery wildflowers I need help identifying. If you know what they are, please post a comment in this thread or e-mail desmoinesdem AT yahoo.com.
This is an open thread: all topics welcome.
Spring beauty (Claytonia virginica), also known as Virginia spring beauty, is found throughout most of the eastern U.S. and Canada. It can bloom from March through May in Iowa. With this year's cold spring, I didn't see any spring beauties blooming in central Iowa until well into April.
Spring beauty flowers remain closed in the morning and evening, and sometimes in the middle of the day if it's cloudy. By mid to late morning, flowers open up. In this photo, you can see closed spring beauties near the bottom of the frame and open blossoms near the center. The leaves of spring beauties are long and thin, almost like grass. The large, rounded arrow-shaped leaves in this photo are violets.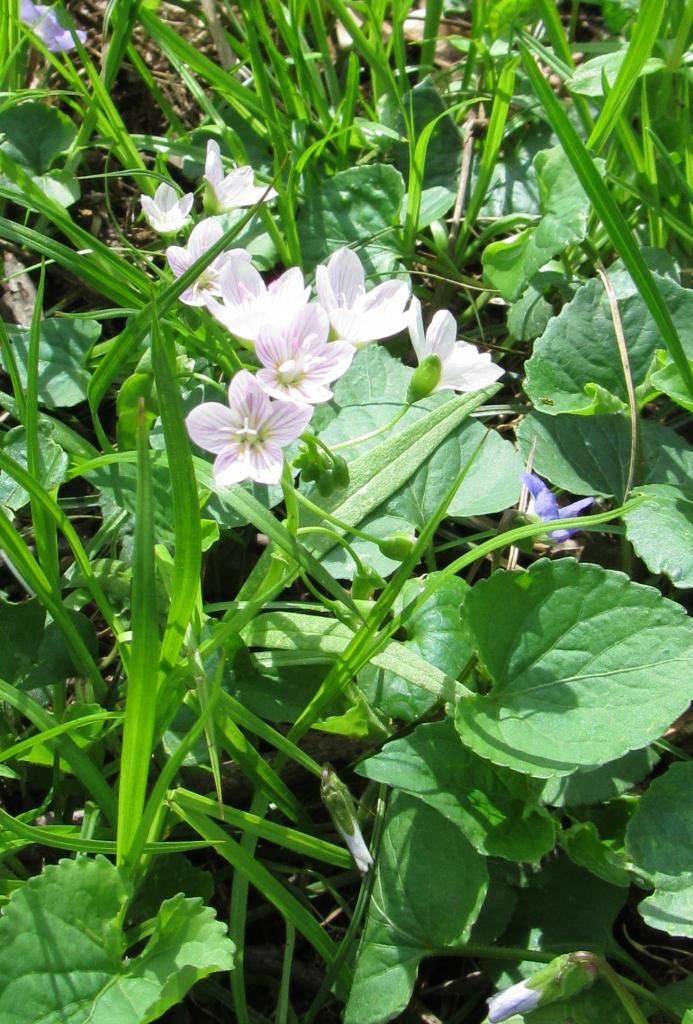 In Wildflowers of Iowa Woodlands, Sylvan Runkel and Alvin Bull write,
Small delicate flowers, usually less than 1/2 inch across, vary from white to pink with characteristic darker pink veining. The flowers are arranged in two rows along one side of the main stem. The flowers themselves turn toward the sunshine. [...] Each flower has five rounded petals and only two green sepals.
The pink veining is more visible in these photos, thanks to a friend who helped me adjust the settings on my camera. Some spring beauties have a paler tone than others.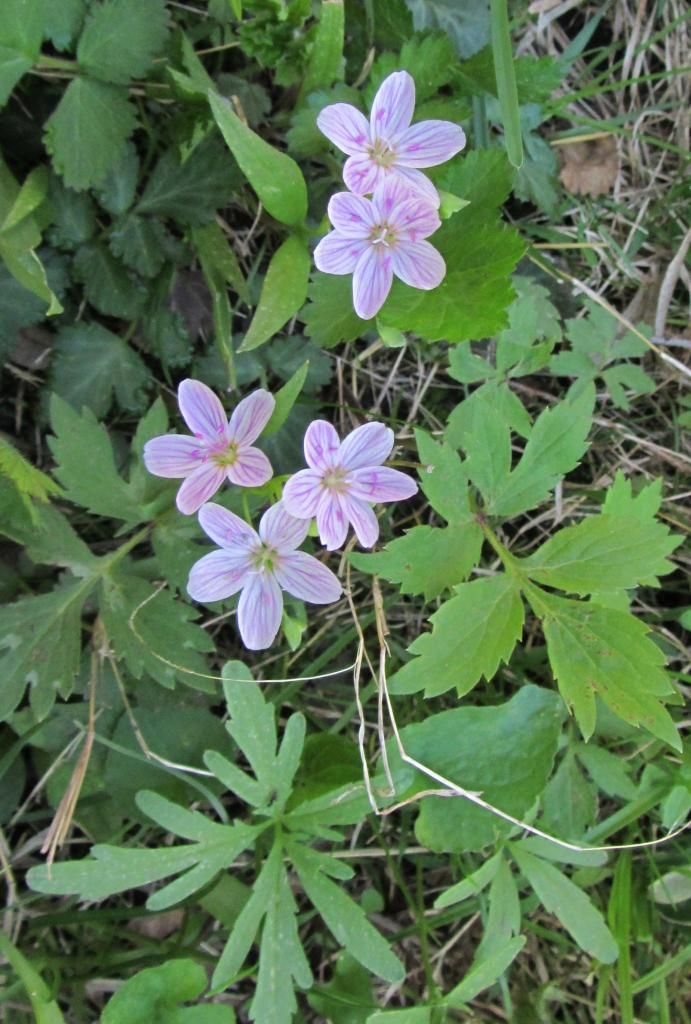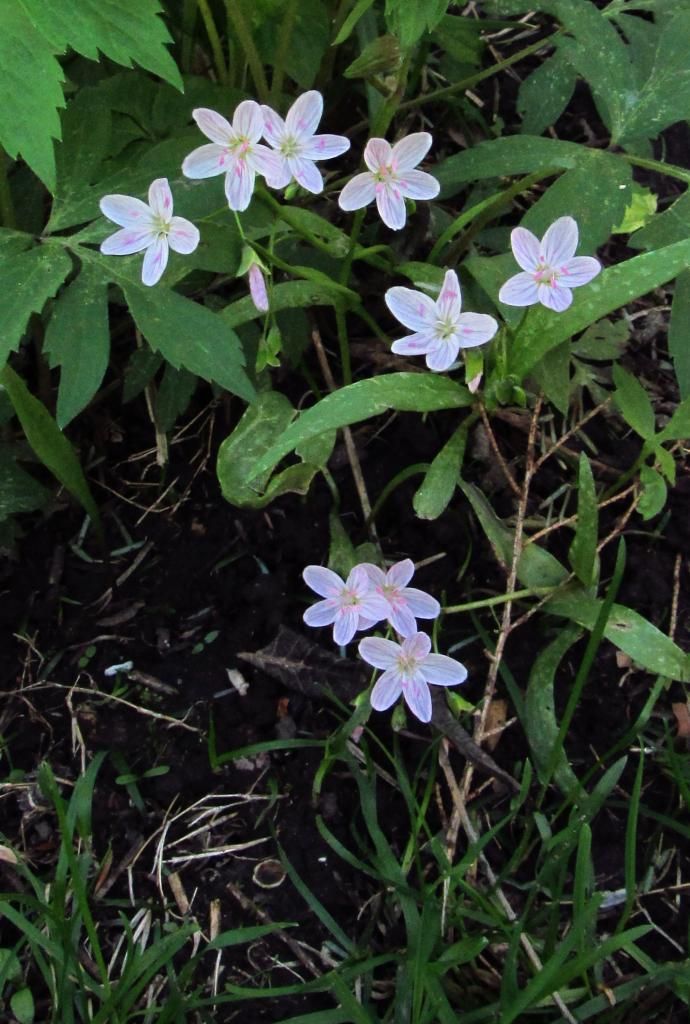 Although you can't see the detail on the spring beauties in this shot, I wanted to include this batch of spring beauties near a stand of May apples (umbrella plants) that are starting to flower. Bleeding Heartland featured May apples last year.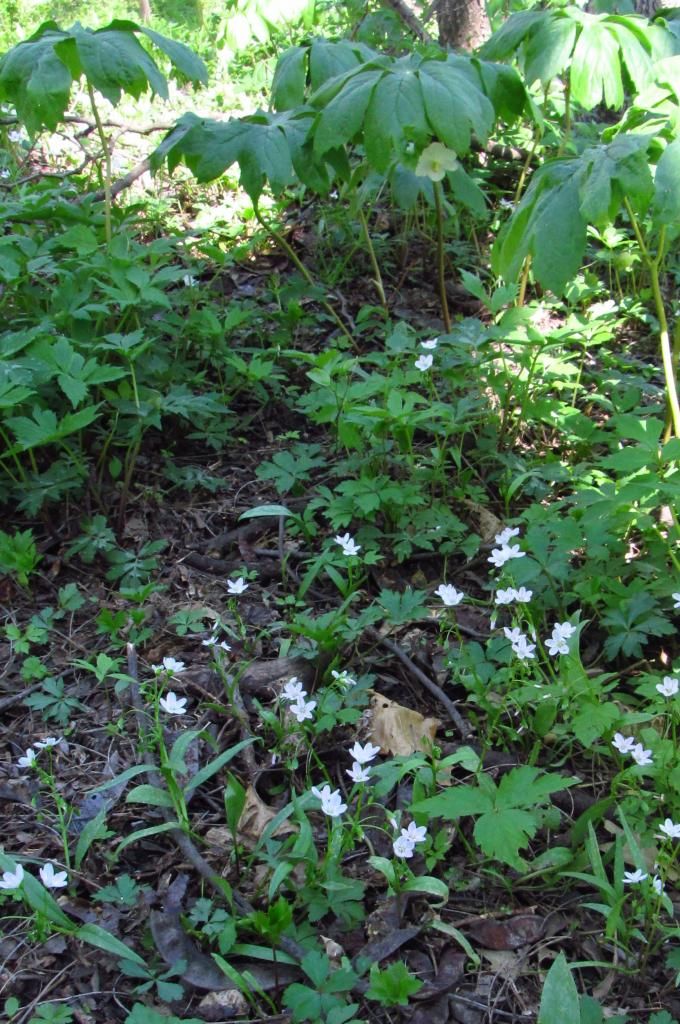 I hope some readers will be able to identify the mystery tiny white flowers in this photo. Keep in mind that the spring beauty blossoms are only about a half-inch across.
Final mystery for this week: I saw a lot of these yellow flowers recently on the Bill Riley trail. They look like early buttercups (Ranunculus fascicularis) to me, but does anyone know for sure?