It's a busy day at the state capitol, where lawmakers struck final deals on education reform, expanding Medicaid, commercial property tax cuts, K-12 school funding and other state spending. I will need some time to sort through what's being voted on in the rush to adjourn. Bleeding Heartland will cover final results from the 2013 legislative session in a series of posts beginning tomorrow morning.
Meanwhile, here's your mid-week open thread, featuring a stunning spring wildflower. I found several patches of prairie smoke along the Meredith bike trail between Gray's Lake and downtown Des Moines. Photos are enclosed below, along with a couple of plants I need help identifying. UPDATE: Thanks to Bleeding Heartland user conservative demo for identifying the purple flower as spiderwort, an Iowa native.
Prairie smoke (Geum triflorum) is a member of the rose family and native to most of western and central North America, as well as parts of the northeast. Other common names for the flower include old man's whiskers and purple avens. Among "the first prairie flowers to bloom in the spring," this plant has distinctive seed heads as well as flowers. This description comes from the Lady Bird Johnson Wildflower Center at the University of Texas:
This is an attractive, 6-18 in. plant with foot-wide, basal clumps of ferny, blue-green, hairy leaves and reddish-purple, bell-shaped flowers that hang in groups of three. Clumps of feathery, plumed, pink-gray fruits stay on the plant much of the summer. The leaves of prairie smoke turn deep red in fall and are sometimes evergreen.

After fertilization, the bell-like flowers turn upward and plumes begin to grow from the pistils, ready to be caught by the wind or a passing animal and the seed so dispersed.
From a distance, the plumes look like puffs of smoke or a wispy beard. The prairie smoke flowers I found were more pink than red.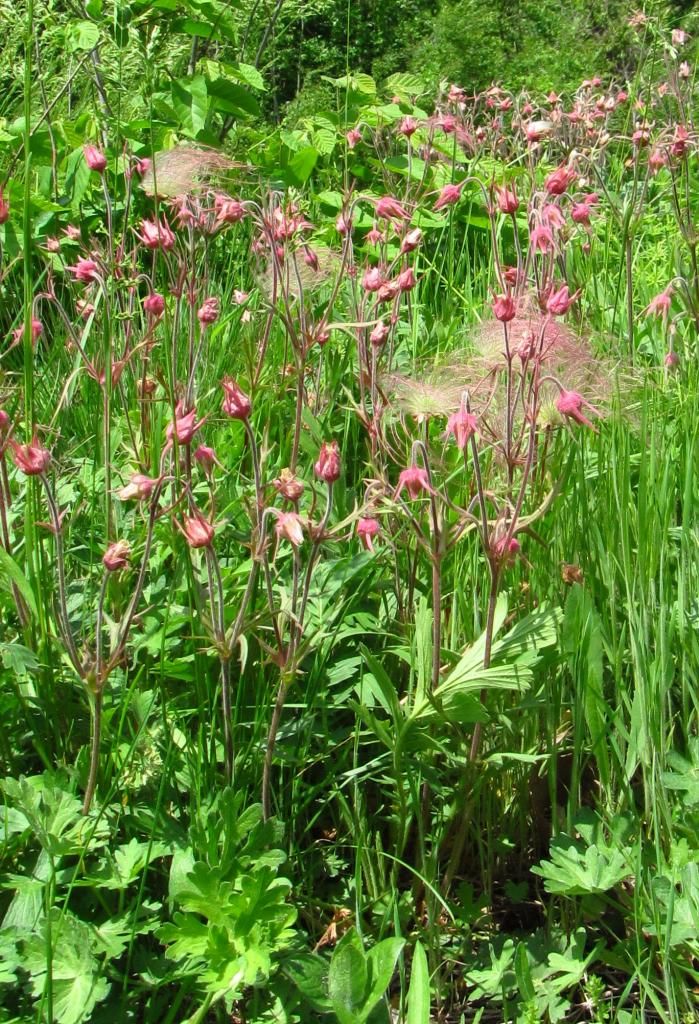 In this closer view, you can see the seed plumes a little more clearly.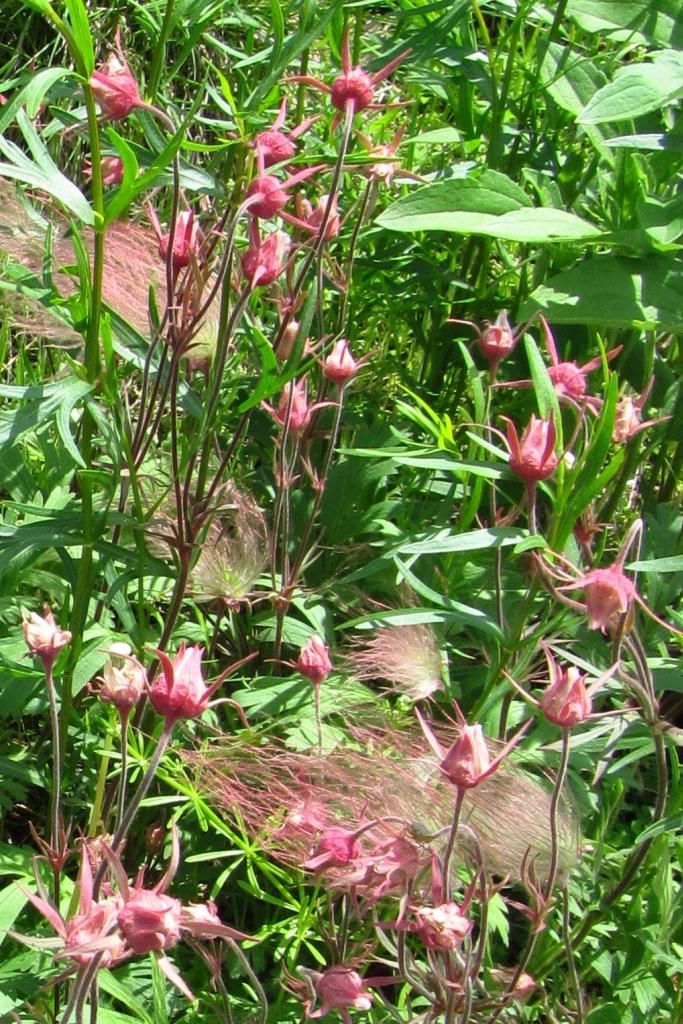 I'm not a gardener, but according to gardening author Nikki Phipps,
The prairie smoke wildflower (Geum triflorum) is a plant of many uses. It works well in a garden setting or in a prairie or meadow like environment. You can use it as a ground cover, put it in a rock garden, or add it to beds and borders with other similar growing plants such as coneflower, wild flax, and liatris (blazing star). [...]

Growing prairie smoke is easy, as it's tolerant of most any soil type, including sandy and clay soils. However, it does prefer a well-draining soil enriched with organic matter above all else. While prairie smoke can also tolerate partial shade, the plant performs much better in full sun.

It is usually planted in spring but fall planting can also be done. [...]

Prairie smoke is considered a low maintenance plant. In fact, there is little involved with prairie smoke care. While it should receive adequate moisture during spring growth, especially those newly planted, prairie smoke prefers drier conditions during the remainder of the year, as it's quite drought tolerant in its native habitat.
Sylvan Runkel and Dean Roosa write in Wildflowers of the Tallgrass Prairie that roots of prairie smoke were used medicinally by several native American tribes and by European settlers.
Near the patches of prairie smoke, I found these purple flowers, but I'm not sure whether they're native to Iowa or escaped from someone's garden. UPDATE: According to Bleeding Heartland user conservative demo, this is spiderwort.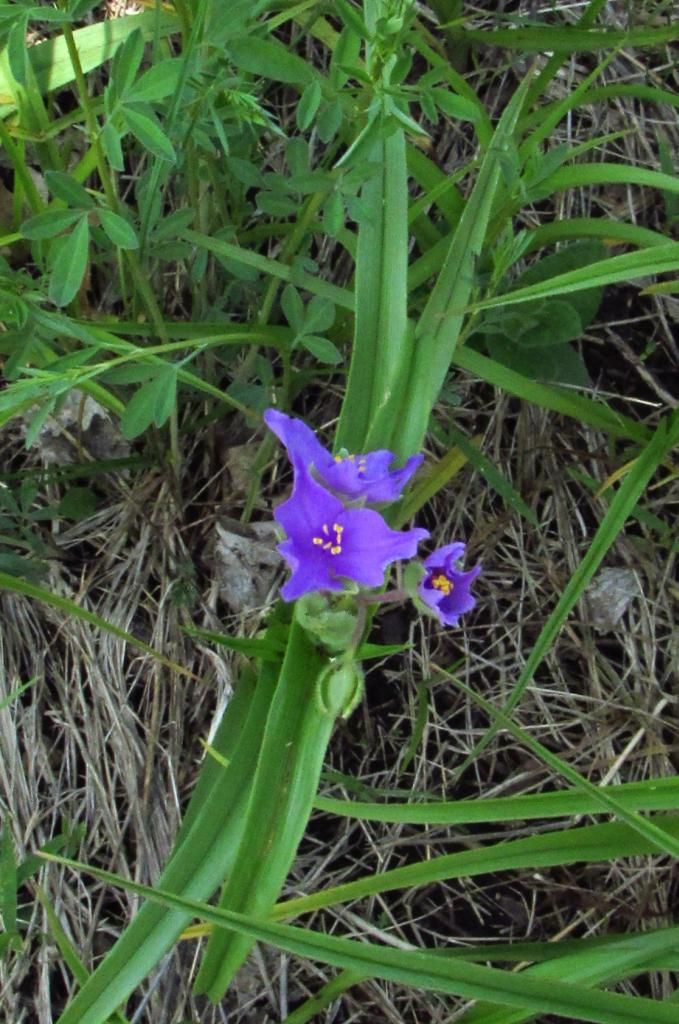 If you recognize that flower, please post a comment in this thread or contact me at desmoinesdem AT yahoo.com.
I would also appreciate help from Bleeding Heartland readers who can identify this grass, which I've seen growing near the edges of woods. It's between one and two feet tall. Sorry for the dim light.