Last week's featured Iowa wildflower is striking enough to catch your eye from a moving car or bicycle. This week, I decided to focus on a flower that is easily overlooked, even from a short distance. Littleleaf buttercup, also known as littleleaf crowfoot or crowfoot buttercup, is found in 44 states and across most of Canada. In central Iowa, it typically blooms in April or May. Several photos are after the jump.
This is an open thread: all topics welcome.
To the best of my knowledge, the pictures below depict Littleleaf buttercup (Ranunculus abortivus), but even experts have trouble telling some of the buttercups apart. More than 90 species in that group have been identified in the United States. The plants I found resembled littleleaf buttercup or littleleaf crowfoot more than anything else I could find on wildflower databases. The plant has hairless stems, roundish leaves near the base, and longer, lobed leaves higher up on the branched stems. The flowers themselves are very small, far less than an inch in diameter, with five small yellow petals. The plants I've seen are approximately 12 to 18 inches tall. I found it challenging to get good pictures of the littleleaf buttercups, because they blend in with surrounding plants.
In this shot, you can see that the rounded arrow-shaped basal leaves look a little like the arrow-shaped leaves of the purple violets in the picture. There are a couple of spring beauty blooms near the left of the frame.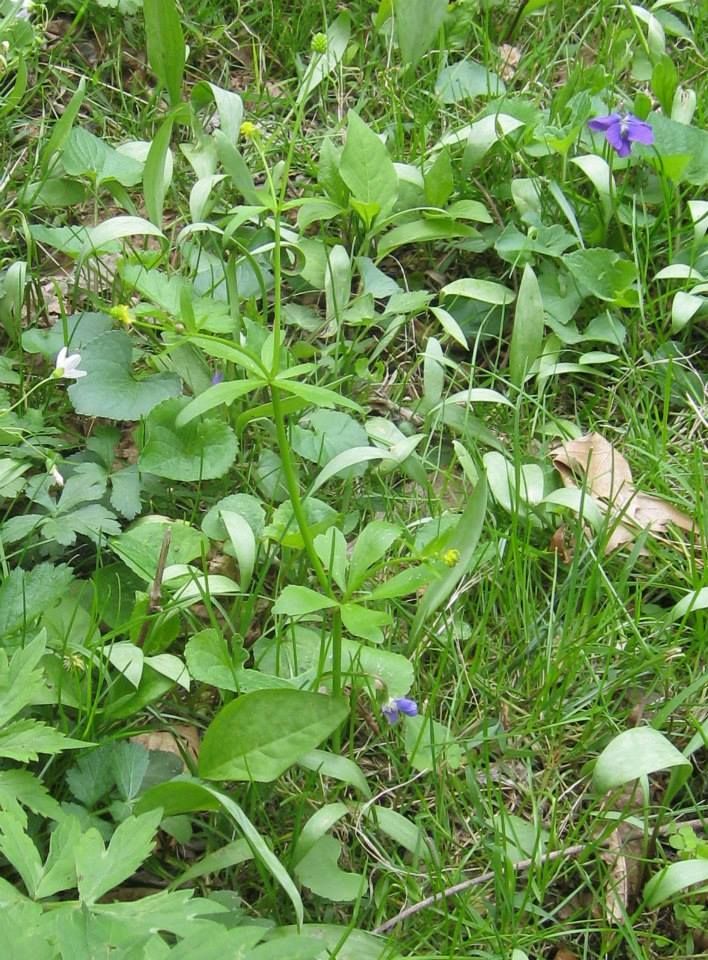 This top view gives you a better look at the flower with five yellow petals and shows the difference between the leaves near the base and the longer leaves higher up on the stem.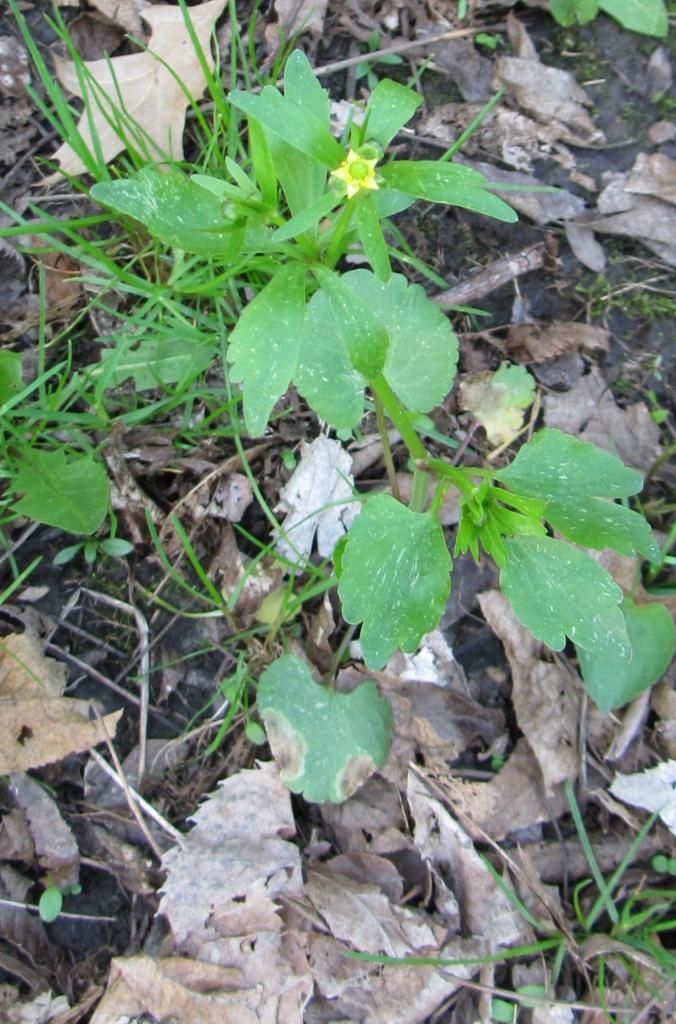 The U.S. Wildflowers website provides a closer view of these flowers.
Littleleaf buttercup tends to be overshadowed by other spring woodland flowers. The May apple (umbrella plant) in bloom dominates this photo, and the littleleaf buttercup seems tiny by comparison. Near the left edge of the frame, some spring beauties have closed up for the evening, and near the right edge, you can see the bud of a Virginia waterleaf that will open within a week or so.
In these shots, the Sweet William, also known as blue phlox, is much more striking than the littleleaf buttercups.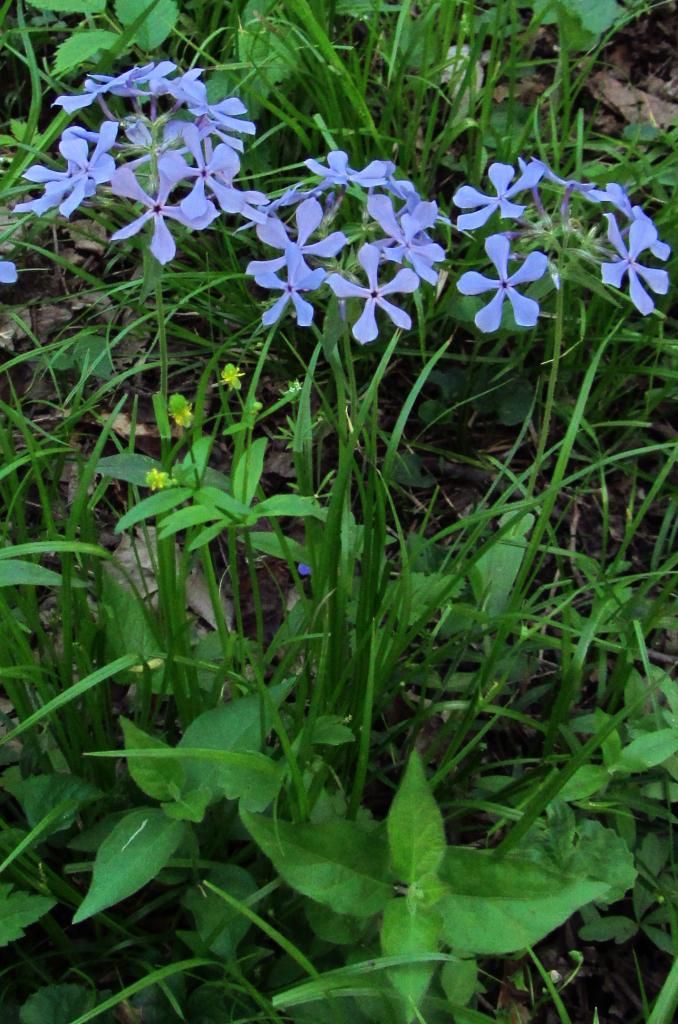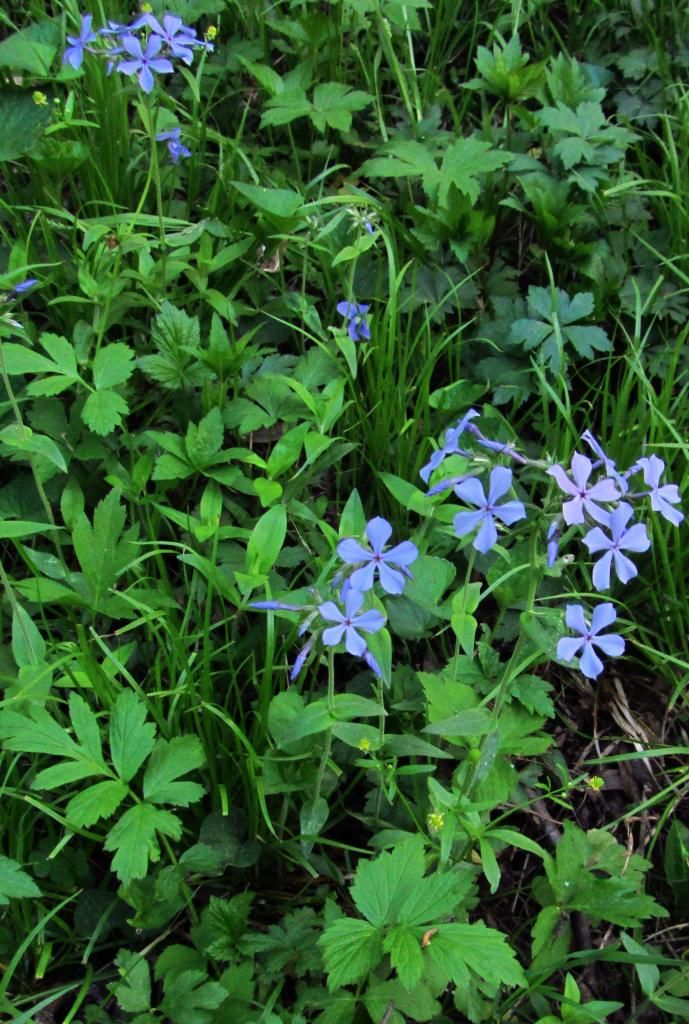 Speaking of buttercups, I'm still looking for confirmation that this yellow flower is an early buttercup (Ranunculus fascicularis). If you can identify this plant, please post a comment in this thread or e-mail me at desmoinesdem AT yahoo.com.