Assuming State Senator Jack Hatch follows through on the gubernatorial bid he is exploring, one of Iowa's most Democratic-leaning Senate districts will be open in 2014.
Yesterday former State Senator Tony Bisignano announced that he plans to run for Senate district 17. After the jump I've posted background on Bisignano, a district map, and the latest voter registration figures. I expect a highly competitive Democratic primary, since Republicans have no realistic chance of winning this seat.
Senate district 17 covers most of the south side of Des Moines, plus much of downtown and the Sherman Hill neighborhood between downtown and the interstate.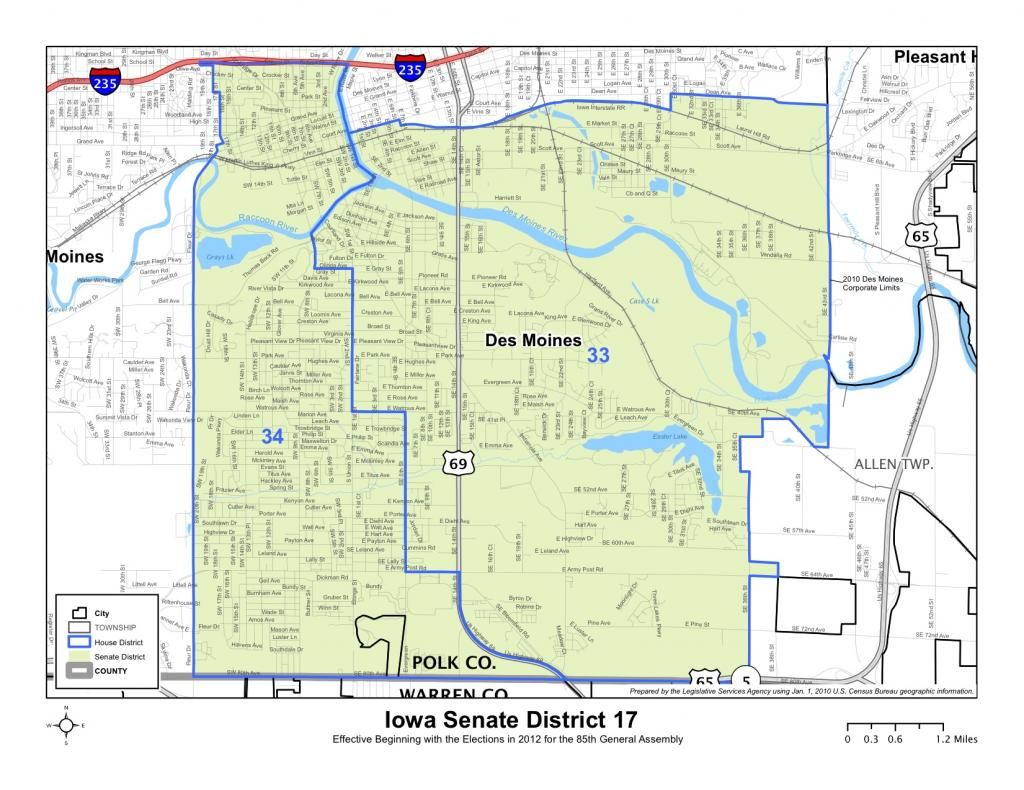 Des Moines' south side has traditionally been a Democratic stronghold. According to the Iowa Secretary of State's office, Senate district 17 contained 16,960 registered Democrats, 7,178 Republicans, and 11,109 no-party voters as of May 2013. Republicans will probably nominate a candidate in this district, but the Democratic primary election will be the real election.
Before the 2011 redistricting, State Senator Matt McCoy represented some of these south-side neighborhoods. And before McCoy was first elected to the Iowa Senate in 1996, there was Tony Bisignano. He served three terms in the Iowa House and one term in the Iowa Senate before retiring in 1996. He is currently director of human resources for Polk County and the legislative coordinator for the county board of supervisors.
Yesterday the Des Moines Register's Jennifer Jacobs covered Bisignano's speech to the Central Iowa Building Trades Council:
Bisignano held the third-highest leadership position in the Senate until he chose not to seek re-election in 1997 [sic].

He was charged with possession of a loaded gun stemming from an October 1995 incident at the Des Moines home of Susan Parkins, with whom he was having an extramarital affair. Bisignano did not contest the charge. He was given a deferred judgment, without admitting any guilt, and was sentenced to a year's probation and community service in 1996.

In his first political speech in 15 years, to a meeting of the Central Iowa Building Trades this morning, Bisignano said: "I developed some very serious problems that caused a great deal of pain to family, to my kids, to my parents, my constituents and my supporters."

He cleared his throat, then went on. "I chose to go back and rebuild my family relationship and get my life back in order."
Bisignano's family suffered a tragedy in 2005, when his teenage son Nick was killed in a high-speed crash while driving drunk. Bisignano and his wife established the Nick Bisignano Foundation, which has placed billboards in the Des Moines area periodically to raise awareness about the dangers of drinking and driving. Tony Bisignano has also advocated legislation to increase "punishment for adults who provide alcohol to kids."
Jacobs reported that the Central Iowa Building Trades Council "voted unanimously to endorse Bisignano for Senate" in a closed session shortly after the candidate's speech. The council is a large labor organization, and their support will be helpful to Bisignano in a primary.
Two Democrats represent the halves of this Senate district in the Iowa House: House Minority Leader Kevin McCarthy (district 33) and Bruce Hunter (district 34). I expect them both to stay in the House rather than run for the Iowa Senate.
Jacobs mentioned three other Democrats who are seriously considering this race if Hatch does not seek re-election.
NATHAN BLAKE: Blake, 33, is a state assistant attorney general in the Consumer Protection Division. The married father of two young children worked for President Barack Obama's re-election campaign.

CHRIS DIEBEL: Diebel, 32, is managing director of LPCA Public Strategies and is an active volunteer for many Des Moines organizations.

NED CHIODO: Chiodo, 70, was elected to five terms in the Iowa House and one term as Polk County auditor, and is now manager of Des Moines' city golf courses.
Any relevant comments are welcome in this thread.
UPDATE: State Senator McCoy posted on Facebook the morning of May 30,
My good friend Christopher Diebel is strongly considering running for the Iowa Senate seat that Jack Hatch will leave open if he runs for governor next year. Join me in encouraging upstanding individuals like Chris to run for office and support Chris as he makes his decision.