The big disappointment in a generally good election for Iowa Democrats last November was leaving the state House majority on the table. Republicans ended up with 53 out of 100 seats in the legislature's lower chamber, while four Democratic nominees lost House districts by fewer than 200 votes. Democrats also lost a couple of seats that appeared winnable on paper. Democrat-turned-Republican Brian Moore managed to hold on to House district 58, where Democrats greatly outnumbered GOP registrants. Former Iowa House Speaker Pro-Tem Jeff Kaufmann's retirement opened up House district 73, where Democrats had a slim registration advantage. However, Kaufmann's son Bobby Kaufmann kept this district in the Republican column, beating Dick Schwab by more than 2,000 votes, a 56.4 percent to 43.6 percent margin.
Democrats will likely target this seat as they attempt to regain the Iowa House majority. David Johnson, who lost to Schwab in the 2012 Democratic primary, is already actively campaigning in House district 73. After the jump I've posted background on Johnson, as well as a detailed district map and the latest voter registration totals.
House district 73 covers all of Cedar County, eastern parts of Johnson County, including the town of Solon, and the town of Wilton in Muscatine County: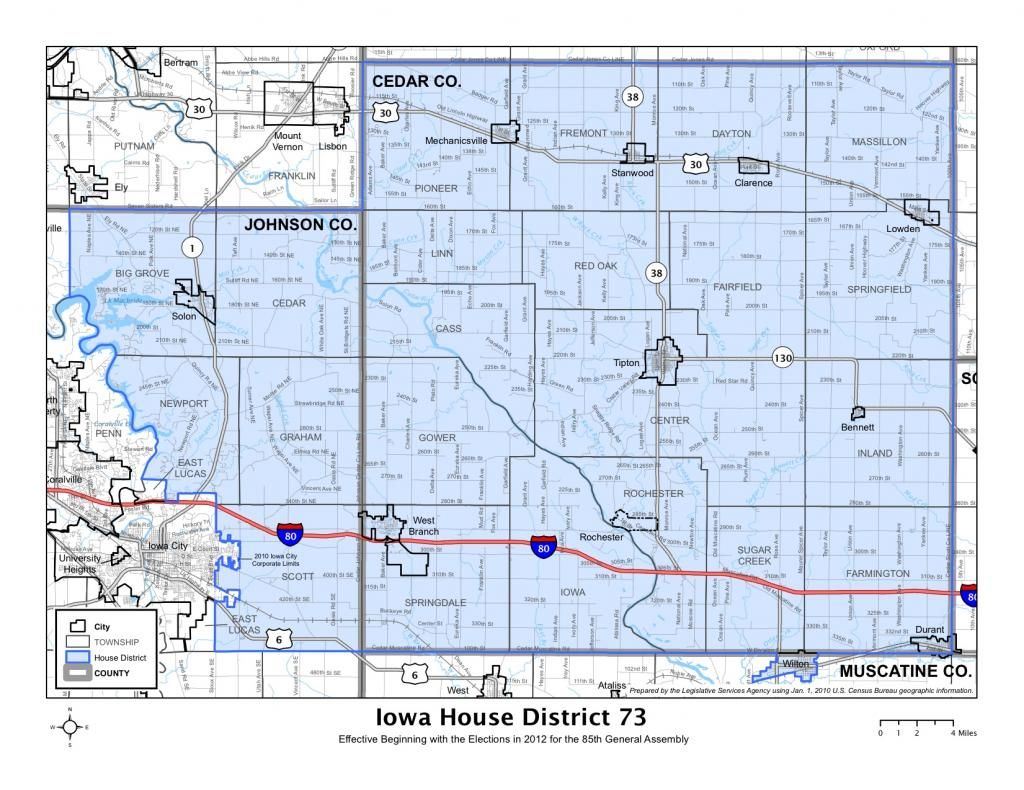 The latest figures from the Iowa Secretary of State's office indicate that House district 73 contains 6,837 registered Democrats, 6,012 Republicans, and 8,249 no-party voters.
I didn't have a dog in the contentious 2012 primary battle between Schwab, a Johnson County philanthropist, and Johnson, a Cedar County native and former West Branch city council member. I can't tell you exactly why Kaufmann won House district 73 by a surprisingly large margin. The Johnson County Democratic spin would say that sore losers from the primary "publicly trashed" Schwab instead of being team players. The Cedar County spin would counter that Schwab ran a lousy campaign and that it was predictable a Johnson County liberal would lose the swing vote in Cedar.
I wonder how many people thought they were voting for longtime incumbent Jeff Kaufmann when they checked the box for his son.
Schwab's campaign manager Paul Deaton wrote several fascinating blog posts about the experience shortly after the November election. Unfortunately, he has pulled down those posts, or at least I am no longer able to find them. My recollection is that Deaton realized at least two months before election day that the race was unwinnable for his candidate.
Whatever the reasons, Cedar County carried the day for Kaufmann. As of November 2012, Republicans had only a small registration advantage in the county, with a plurality of voters affiliated with neither party. Barack Obama defeated Mitt Romney by about 450 votes in Cedar County, thanks to strong early GOTV. Yet Kaufmann beat Schwab among Cedar voters by well over 2,000 votes. Schwab's small advantage in Johnson County wasn't nearly enough to compensate.
Supporters of David Johnson argued during the 2012 primary campaign that only a Cedar County candidate could beat Kaufmann in House district 73. I would say Johnson deserves an opportunity to prove his case next year, since he is already working the district. Here's the bio from Johnson's campaign website, re-launched this week.
Born: June 3, 1965

Family Status: Married to Jennie Embree

Children: Anneke, Donovan and August

Hometown: West Branch

Employer: University of Iowa

Education: BA University of Iowa

Military: Army - Gulf War Vet

Elected Offices: City Council - West Branch

Organizations: American Legion, American Associations of Collegiate Registrar and Admissions Officers,

Upper Midwest Association of Collegiate Registrar and Admissions Officers

David Johnson was the youngest child to Paul and Rosemary Johnson, and was their seventh child. When David was 8 years-old his family moved to West Branch, Iowa following his father's transfer to the Rock Island Arsenal. Being from a large family meant that there wasn't much money for college funds, so David joined the U.S. Army with the intention of getting his college education paid for with the Montgomery G.I. Bill. During his time in the Army, war broke out in Kuwait and he was deployed to the Gulf, where he served as a Hawk Missile crew-member for an anti aircraft artillery battery.

After completing his time in the military David came back to Iowa and got his degree at the University of Iowa, and was subsequently hired by the Registrar's Office where he works today as a Senior Database Administrator, as well as a Certifying Official for GI Bill benefits. The experiences he went through to pay for his degree has made the cause of higher education one of his deepest passions.

In May of 2001 he met Jennie Embree, and within two months proposed to her on top of the Empire State Building. They were married the following year and currently have three wonderful children. (Anneke, Donovan and August)

In 2007 after serving as the Chair of the West Branch Cable Commission, David ran for a seat on the West Branch City Council and won. His time on the city council gave him a new perspective on the process of local government. It also became very clear to him that many of the challenges faced by small communities could be better addressed at the state level. This was the impetus for his drive to run for the State House.

Throughout his time on the city council, David fought for greater transparency in local government and was instrumental in pushing the city into 21st century access to city documents. If elected, David will continue to push for greater transparency at the state level and will fight the corporate influence that has proliferated in Des Moines over the years.
Johnson's website has an unusually detailed issue page for a statehouse candidate, which I appreciate. His campaign is on Facebook here and is raising money through this Act Blue page.
Midterm election years tend to favor Republican candidates, but Bobby Kaufmann is inexperienced, and incumbents tend to be more vulnerable as freshmen than after they've had several terms of service in the Iowa legislature.