Since last week's featured flower was strangely white, stem and all, I wanted to include a splash of color today. After the jump you can find several photos of butterfly milkweed, a gorgeous prairie plant that is easy to grow from seed in gardens. As the name suggests, butterflies love the bright orange flowers. The plant is more striking than the common milkweed that's more prevalent along Iowa roadsides.
I also included below some pictures of elderberry shrubs, which are blooming in Iowa now. I saw tons this week on the Windsor Heights bike trail, the Clive Greenbelt trail, and the Jordan Creek trail in West Des Moines. Some people collect the elderflowers to make cordial. I've never tried it but have heard it's tasty. The flower clusters can also be battered and fried. Later this year, the dark purple, almost black elderberries can be used in baked desserts or turned into syrup or tincture that may boost immunity.
Finally, I enclose a photo of a white flower I haven't been able to identify. If you recognize this plant, blooming now in wooded areas of central Iowa, please post a comment in this thread or send an e-mail to desmoinesdem AT yahoo.com. UPDATE: Twitter user Lynzey515 suggests that the mystery flower is White avens (Geum canadense). That looks like a strong possibility.
This is an open thread: all topics welcome.
Butterfly milkweed (Asclepias tuberosa) is also known as Butterflyweed, Orange milkweed, or Pleurisy root. It's among the milkweed species favored by butterflies in the eastern part of the U.S., although its range extends across most of the country and throughout eastern Canada. As with other milkweeds, flowers have five petals pointing up and five pointing down.
Butterfly milkweed is a popular garden plant, and I took these photos in a recently-planted school garden, rather than in a prairie setting. It's easier to see the shape of the leaves against the wood chips on the ground here.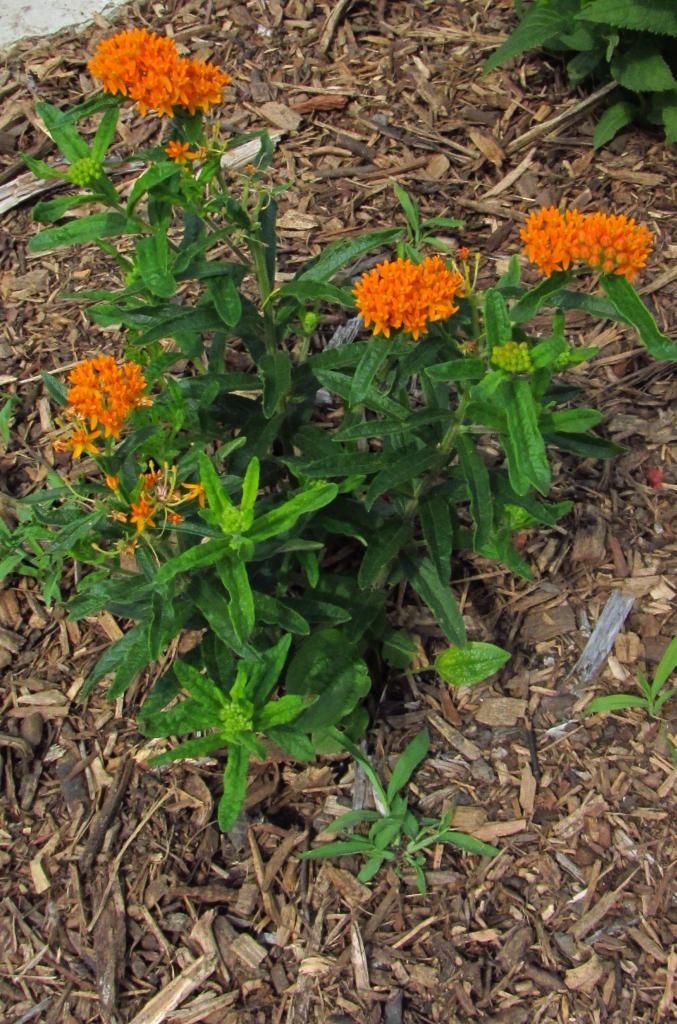 At first, buds on the butterfly milkweed plant are green. They turn orange shortly before opening into flowers that are typically orange (occasionally yellow according to Wildflowers of the Tallgrass Prairie by Sylvan Runkel and Dean Roosa).
The U.S. Wildflowers site has some gorgeous close-ups of butterfly milkweed flowers. My attempt at a closer look doesn't convey the same level of detail:
Larry Stritch notes on the U.S. Forest Service website,
Native Americans harvested fibers from the dried stems that were made into ropes and used in weaving cloth. Many tribes used various parts of the butterfly weed as food. In colonial America, dried leaves of butterfly weed and skunk cabbage were made into a tea to treat chest inflammations thus giving butterfly weed an alternative name: pleurisy root. Pleurisy root was listed in the American Pharmacopoeia and the National Formulary until 1936.

Butterfly weed is a coarse perennial forb consisting of many stems. The stems are straight and very hairy. The leaves are alternate and simple. Unlike other species of milkweed butterfly weed does not contain the characteristic thick milky sap but instead has a watery translucent sap. The inflorescence is slightly rounded to flat and made up many individual flowers. The flower consists of five petals pointing down and topped by a crown of five erect hoods. The fruit is a pod containing numerous brown seed each with a tuft of silky white hairs. Many a child and adult have gleefully pulled the seeds from a ripened, opened pod and let them float gracefully on a gentle breeze.

Butterfly weed is commonly planted in formal garden borders and in meadow and prairie gardens. This wildflower does not transplant well as it has a deep woody taproot. It is easily propagated from seed. Collect the seed from the pods has they just begin to open. Butterfly weed seed need a three-month cold stratification. Therefore, it is best to plant the seed in autumn and they will easily germinate the following spring.
Here's a common milkweed plant from the same butterfly garden. The flowers resemble the butterfly milkweed in shape if not in color, but the leaves look quite different. Also, butterfly milkweed doesn't have milky sap flowing from the stem if you break it.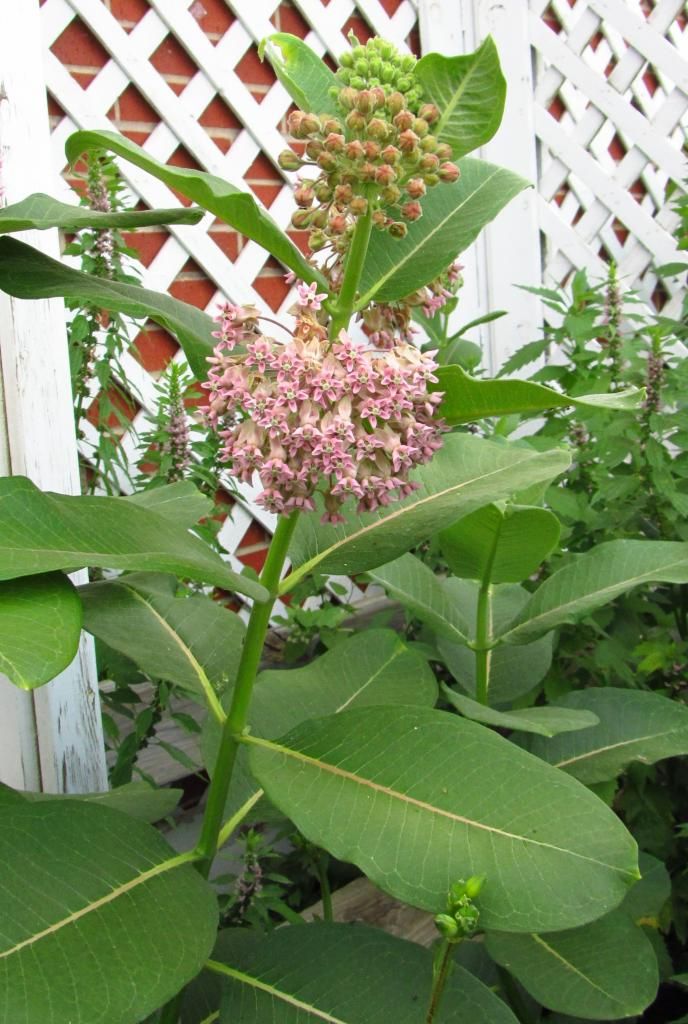 The common elderberry (Sambucus canadensis) is a shrub that can be small but often grows six or eight feet tall in wooded areas. Other names for the plant include Black elder, Mexican elderberry or Common elder. You'll often find it along streambeds, which is why it's easy to spot on various bike trails. The white flowers are small but grouped in large clusters. Don Kurz describes the plant as follows in Shrubs and Woody Vines of Missouri:
Leaves opposite, compound, 4 to 12 inches long with 5 to 7 leaflets; leaflets 2 to 6 inches long, 1 to 2 inches wide, lance-shaped to sometimes broadest at the middle; margins sharply toothed; upper surface shiny, bright green, smooth; lower surface paler, barely or densely hairy. Flowers white, sweet-scented, about 1/4 inch across, in flattened flower clusters sometimes up to 10 inches across at the tip of twigs; petals 5.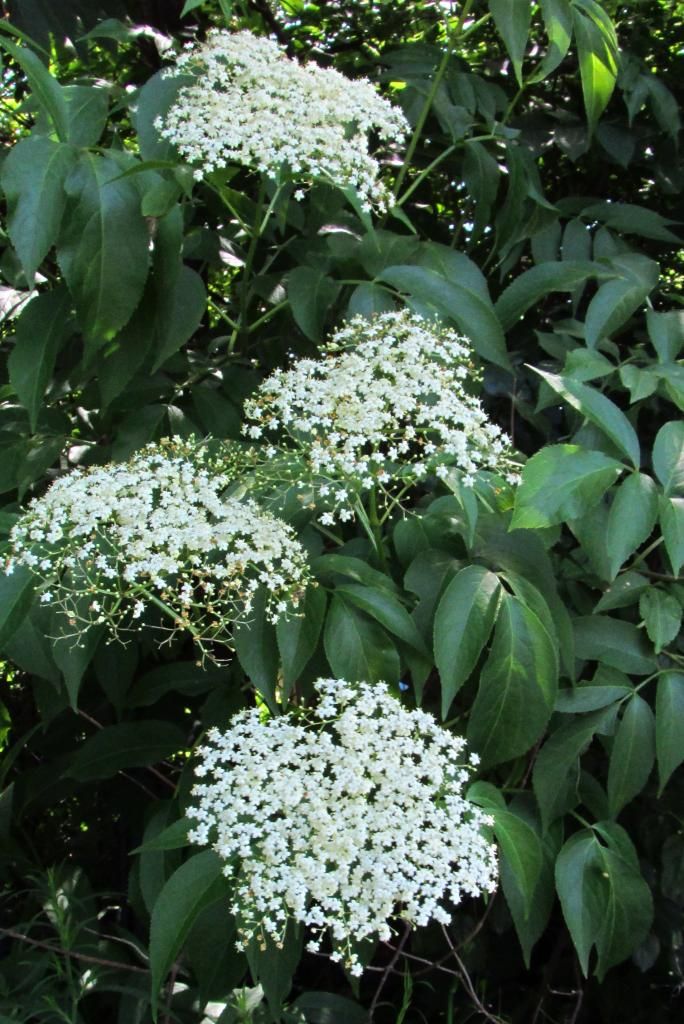 I had trouble getting clear shots of the tiny flowers, because even a slight breeze makes the photo come out blurry. Here's a closer view of an elderberry blooming.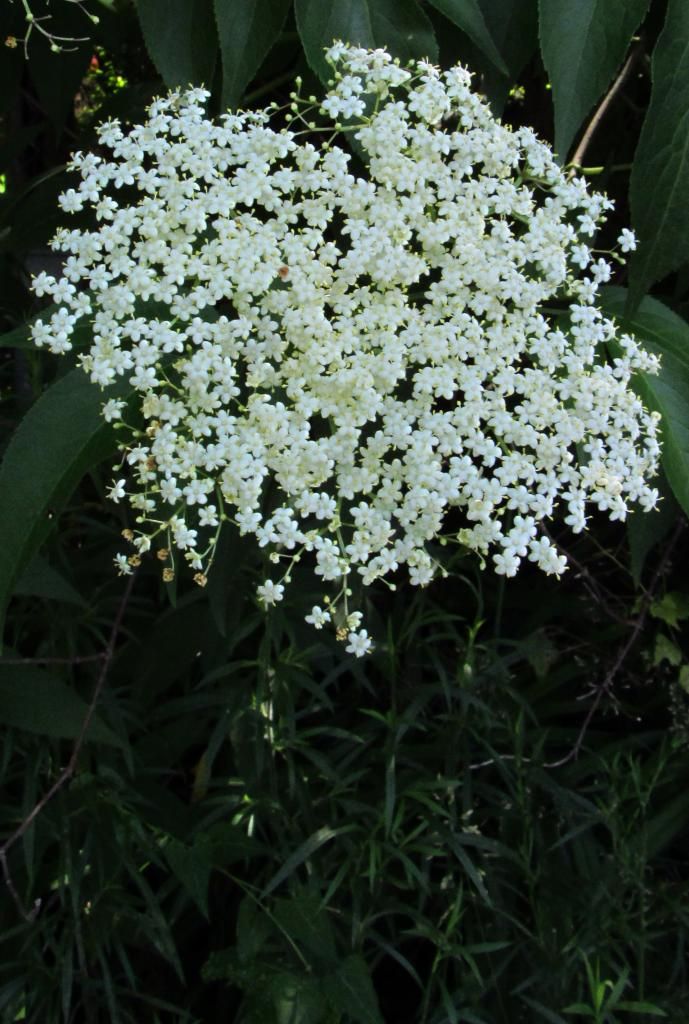 Finally, here's the mystery flower I need help identifying. I am not sure whether it's native, but many wildflowers native to North America have five petals.
UPDATE: Thanks to Lynzey515 for suggesting that this flower is White avens (Geum canadense). I never connected those annoying burs that get stuck to my dog with this pretty little flower.