Each party has at least one candidate ready to run in Iowa House district 91 next year. Republican Mark Lofgren is leaving the seat open in order to run for Congress against Representative Dave Loebsack. As of July 2013, House district 91 contained 6,298 registered Democrats, 6,287 Republicans, and 8,425 no-party voters.
Earlier this week, Muscatine City Council member Mark LeRette told the Muscatine Journal and The Iowa Republican blog that he plans to run for House district 91. LeRette is a past chair of the Muscatine County Republican Party.
Last year's Democratic candidate John Dabeet confirmed to me yesterday that he will seek the office again in 2014. Dabeet plans to formally launch his campaign at the Muscatine County Democratic Party's August central committee meeting. UPDATE: Forgot to mention that in November 2012, Lofgren defeated Dabeet by 7,426 votes to 6,511 (53.3 percent to 46.7 percent). Turnout is sure to be lower in a midterm election.
After the jump I've posted a district map and background on LeRette and Dabeet. Some have speculated that Lofgren's daughter Emily Lofgren might become a candidate in House district 91. Emily Lofgren ran her father's first Iowa House campaign in 2010, when he defeated three-term incumbent Democrat Nathan Reichert.
Most voters in the new House district 91 reside in the city of Muscatine. The district also includes the small town of Fruitland as well as some rural areas in eastern Muscatine County.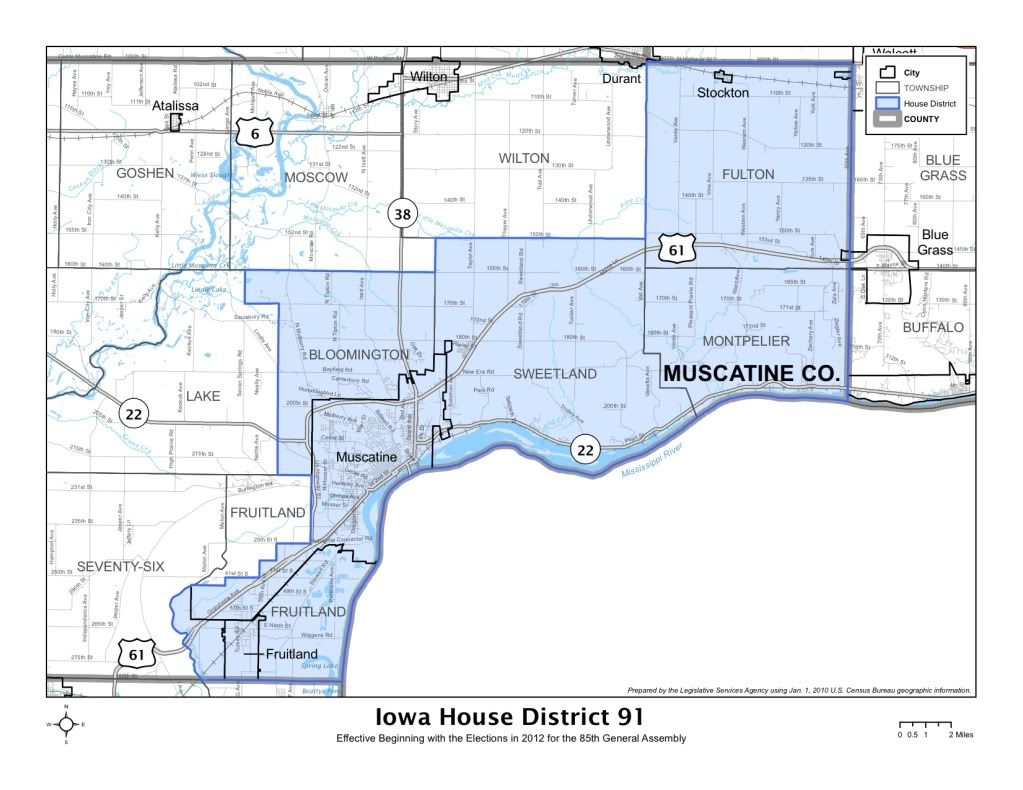 From Mike Ferguson's article for the Muscatine Journal:
LeRette's term representing the Second Ward on the Muscatine City Council expires Dec. 31, 2013. [...]

"The opportunity came up suddenly, but I always thought at some point I might test those waters and serve at the next level," LeRette said. "Now we have the whole summer parade and fair season to build up my name recognition. I can't miss out on the opportunity to meet with people." [...]

LeRette, a senior programming analyst with Centro Inc. in North Liberty, said his four year term on the city council has helped him learn the process of how governments form their budgets. "There are some things at the state level that really have a negative cost impact on us at the local level," he said, including rapidly-increasing pension costs for firefighter and police officers. While Gov. Terry Branstad has said pension reform will be a legislative priority for next year, "it is an election year, so we will see," LeRette said.

LeRette said he and others on the city council have completed much of the items on his agenda when he ran four years ago, including reorganizing the Muscatine Convention and Visitors Bureau, beginning a curbside recycling program and promoting a tax abatement program for historic renovation.

If he's elected to the House of Representatives next year, LeRette said he'd like to help take on the state's infrastructure funding, particularly road construction and repair, as well as bridge replacement. "They're trying to fill a $250 million hole with a gas tax increase, and I don't think that's viable," LeRette said.
From The Iowa Republican's post on LeRette:
LeRette is currently the Alderman representing the city's 2nd Ward, which includes the West Hill Historic District and historic Downtown Muscatine. He also serves as the city's representative on the Board of Directors of the Muscatine County Solid Waste Management Agency, which has overseen a reduction in the city's landfill debt of over 1.5 million dollars during his tenure. He is the Vice Chairman of that Board.

LeRette is also the Chairman Emeritus of the Muscatine County Republican Party, having served as Chairman during the last two years.
The Iowa House Democrats released this bio of Dabeet when he launched his 2012 campaign.
The Chair of the Business Department at Muscatine Community College John Dabeet today announced that he will run for state representative in District 91, which includes the city of Muscatine and eastern Muscatine County.

"I'm proud of my work helping people in Muscatine get the skills they need to land a good-paying job, continue their education, or start their own business. Community colleges are the key to growing Iowa's skilled workforce and strengthening the middle class," said Dabeet, a Democrat. "My top priorities in the Iowa House will be making sure every Iowan gets a world class education from preschool to higher education and helping local communities create jobs."

Now in his 17th year at Muscatine Community College, Dabeet teaches economics and statistics in addition to his duties chairing the Business Department. He is also the student government advisor and serves on Eastern Iowa Community College district wide globalization initiative as well as the student council. Dabeet is also an adjunct professor at Iowa Wesleyan College in Mt. Pleasant.

"As state representative, I will put aside the partisanship and listen to the people of our community. I look forward to engaging the citizens of Muscatine just like I engage my students in the classroom and seek their input on the critical issues our state faces. It's a humbling experience to run for state representative and I'm excited to meet Muscatine residents at their doorstep," said Dabeet, who received the Excellency in Volunteerism Award from the Greater Muscatine Chamber of Commerce and Industry in 2002-2003.

Dabeet, a Christian, is currently serving as President of the national Americans & Palestinians for Peace organization and has been involved in a host of other activities and organizations in Muscatine. He is Past President of Muscatine Sister City Association and former Chair of the Diversity Service Center of Iowa, which is based in Muscatine. For eight years, he served on the Board of Directors for the Greater Muscatine Chamber of Commerce and Industry.

John and his wife, Abeer, have two twin boys, Nabeel and Anton, who are three years old. He received Sister Cities International 50th Anniversary Distinguish Volunteer Award in 2006, was nominated by his students for Who's Who of America's Best Teachers, and received the Chancellor's Award for Excellence in Teaching at MCC.