Here's your mid-week open thread: all topics welcome. Today's featured Iowa wildflower is spiderwort, a purple mystery to me when I noticed it near a patch of Prairie smoke in bloom about six weeks ago. Thanks to Bleeding Heartland user conservative demo and others who identified it.
The spiderwort family contains many plants, including the dayflower Bleeding Heartland featured last year. I am not sure whether the pictures below depict Tradescantia ohiensis (Ohio spiderwort) or Tradescantia virginiana (Virginia spiderwort). Wildflowers of the Tallgrass Prairie by Sylvan Runkel and Dean Roosa lists Ohio spiderwort as common in our state. It typically blooms from June through August, but I took the pictures below in late May, near the Meredith bike trail between Gray's Lake and downtown Des Moines.
Speaking of pretty bluish/purple flowers, this week I've finally seen some American bellflowers blooming. That's one of my Iowa summer favorites.
I didn't notice the spiderwort at first, because from a distance the long narrow leaves look like thick grass. When I got closer, I noticed the purple flowers.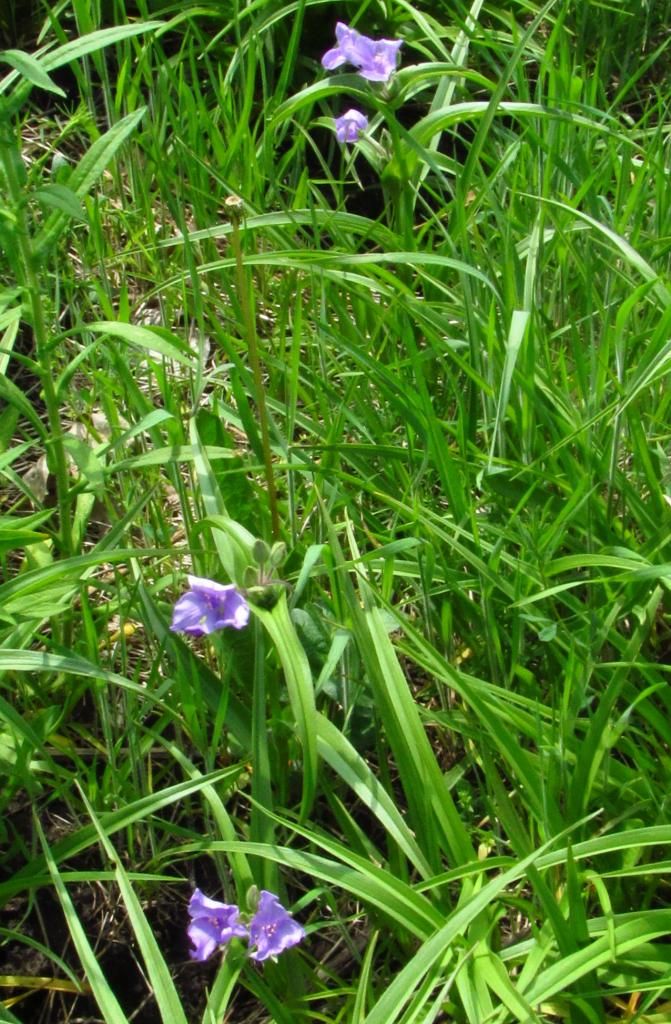 According to Wildflowers of the Tallgrass Prairie, spiderwort is also known as blue jackets, cow slobbers, Job's tears, and widow tears.
The flowers tend to open in the morning. When touched in the heat of the day, they shrivel to a fluid jelly that trickles like a tear, which accounts for several common names. [...]

The plant was once thought to be a cure for spider bites, hence, the common name spiderwort. American Indians used the stems of several species as pot herbs.

It is used in biology classes to study the movement of protoplasm in the hairs in the center of the flower.

Because some selected plants have been found to change flower color when exposed to nuclear or radioactive radiation, the spiderwort has recently been adopted by some environmental and activist groups as a plant watchdog or indicator of radiation or nuclear activity in areas around nuclear plants.
Here's a closer look at these flowers, which are supposedly easy to grow in gardens. The purple and gold might make them a fun choice for fans of the UNI Panthers.