I've been on a prairie flower kick this summer, and today's installment continues the trend. Several woodland wildflowers Bleeding Heartland featured last year are now blooming along Iowa trails and meadow edges, so if you're walking or bicycling in a wooded area, keep your eyes open for the yellow blossoms of common evening primrose, wingstem, and cutleaf coneflower. I've seen some goldenrods flowering lately too.
Speaking of yellow flowers, I enclosed a bonus photo below of big bluestem on a restored prairie in Dallas County. Big bluestem is the "star component of the Big Four native grass species that characterize the tallgrass prairies of central North America."
This is an open thread: all topics welcome.
When rattlesnake master (Eryngium yuccifolium) emerges in the spring, it resembles a desert plant. The basal leaves are tough and "yucca-like", with spines running along the edges. You can see the spines in this photo from the Lady Bird Johnson Wildflower Center gallery and in the last picture in this post from the Show Me Nature photography blog.
I took this picture of rattlesnake master seedlings at the Neal Smith National Wildlife Refuge in April. Although the spines aren't visible here, you can see how the clumps of basal leaves look early in the season.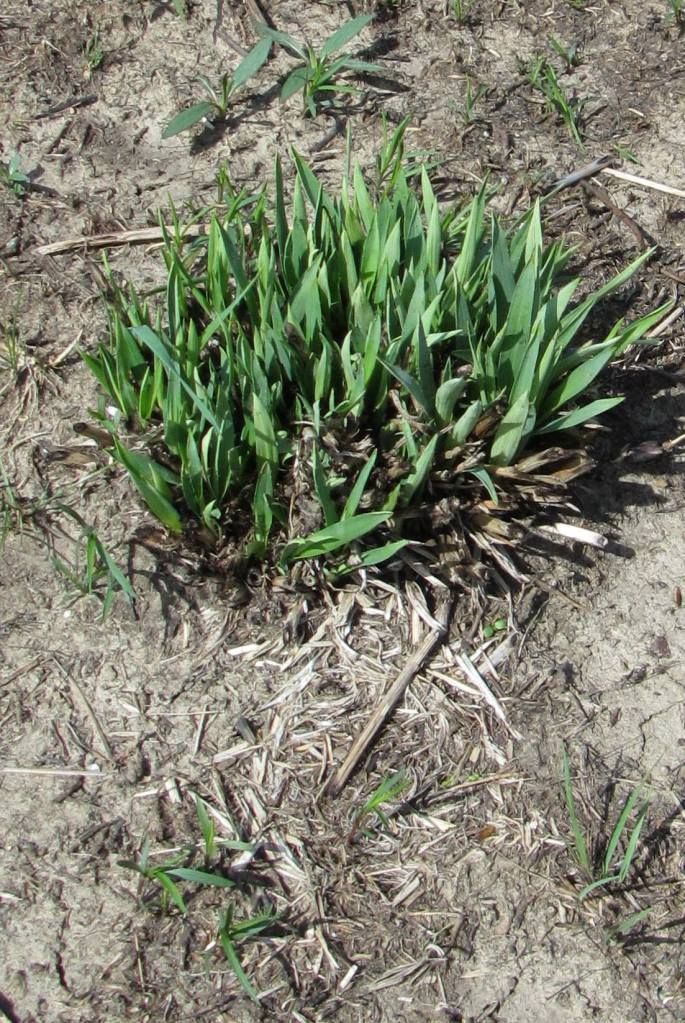 By midsummer, round flower heads are starting to appear at the top of stems, which can grow several feet taller than the spiny leaves. I took this picture at a prairie patch near the Cedar Rapids airport in July. The rattlesnake master isn't blooming yet, but you can see its light green, round flower heads. The yellow flowers in the background are gray-headed coneflowers. The bits of pink are horsemint (bergamot, bee balm) in bloom.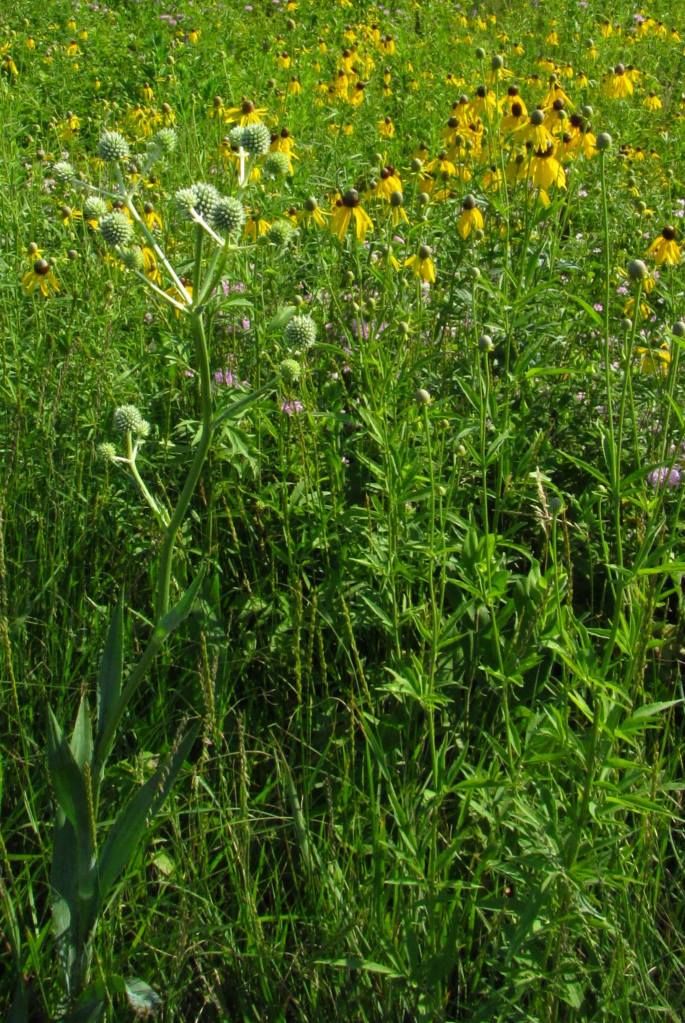 Sylvan Runkel and Dean Roosa write in Wildflowers of the Tallgrass Prairie,
Each globose or nearly spherical flower head is from 1/2 to 1 inch in diameter. Each head is made up of many small flowers. Whitish bracts stick out sharply from the flowers, which gives the flower head a rough, prickly feels and appearance. The heads have a "honeylike" odor.
The Lady Bird Johnson Wildflower Center website adds:
Their spiny leaves make walking through clumps of these plants difficult, and also make them unpalatable to grazing livestock. They were once credited with a variety of curative powers. Their flower heads develop a bluish cast with maturity.
Here are rattlesnake master flowers blooming with some gray-headed coneflowers in the foreground and horsemint in the background.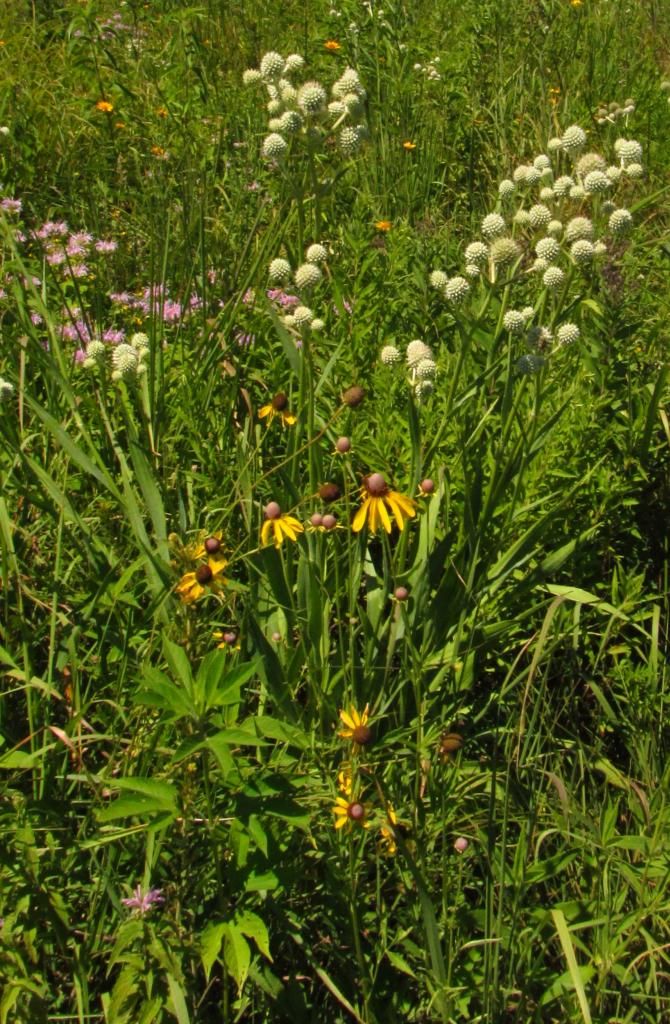 Runkel and Roosa also mention medicinal uses of rattlesnake master root by native Americans as well as pioneers. The plant's common name comes from its as an antidote to rattlesnake venom and other poisons. It also was used for some liver and bladder problems and muscle pains.
Here's another cluster of rattlesnake master in bloom. I believe the grass that looks like a grain near the center-right of this photo is Canada rye.
Finally, here's a bonus picture of big bluestem (Andropogon gerardii) with small yellow flowers. One of the key plants on the tallgrass prairie, big bluestem has yellow flowers for a relatively short time. I've mostly seen the plant with seed heads that branch into three parts, creating a "turkey foot" appearance.