Today's wildflower offers some of the most striking colors on the tallgrass prairie in late summer. Blazing star, also known as button snakeroot, gay-feather, or prairie blazing star, is closely related to the rough blazing star that Bleeding Heartland featured last year.
This is an open thread: all topics welcome.
Some prairie wildflowers, such as whorled milkweed, are easily overlooked unless you're standing close by. In contrast, blazing star (Liatris pycnostachya) may catch your attention from a distance. In Wildflowers of the Tallgrass Prairie, Sylvan Runkel and Dean Roosa write,
This dramatic plant is one of the most conspicuous of the prairie inhabitants. Its leafy stem grows erect and unbranched to a height of 5 feet. […]

The top two-thirds of blazing star is a spike of rose-purple, thistle-like flowers that are given a somewhat fuzzy appearance by extended white stamens (male flower parts) and pistils (female flower parts). Flowering starts at the top of the spike and moves progressively downward. The oblong flower head has a mass of 5 to 12 tubular florets that somewhat resemble those of horsemint. […]

The roots of blazing star have been described as having the flavor of carrots.
I took all of the enclosed photos on a restored prairie in Dallas County. You can't miss the blazing star here. Some rattlesnake master is blooming near the center of the photo. I believe that the grass resembling wheat is Canada rye, and the stalk with closed buds near the lower right is stiff goldenrod.
The Lady Bird Johnson Wildflower Center's website comments,
One of the most popular of the blazing stars, this [(Liatris pycnostachya)] is sometimes grown as an ornamental. The species name, from the Greek for crowded, describes both the leaves and the flower heads.
Compared to rough blazing star, the flower heads of blazing star are clustered more closely together, so they don't appear to be distinct "buttons."
Here's another shot of blazing star in a community of prairie plants. In addition to the rattlesnake master, Canada rye, and stiff goldenrod, yellow or gray-headed coneflower stands out near the upper left and right of this photo.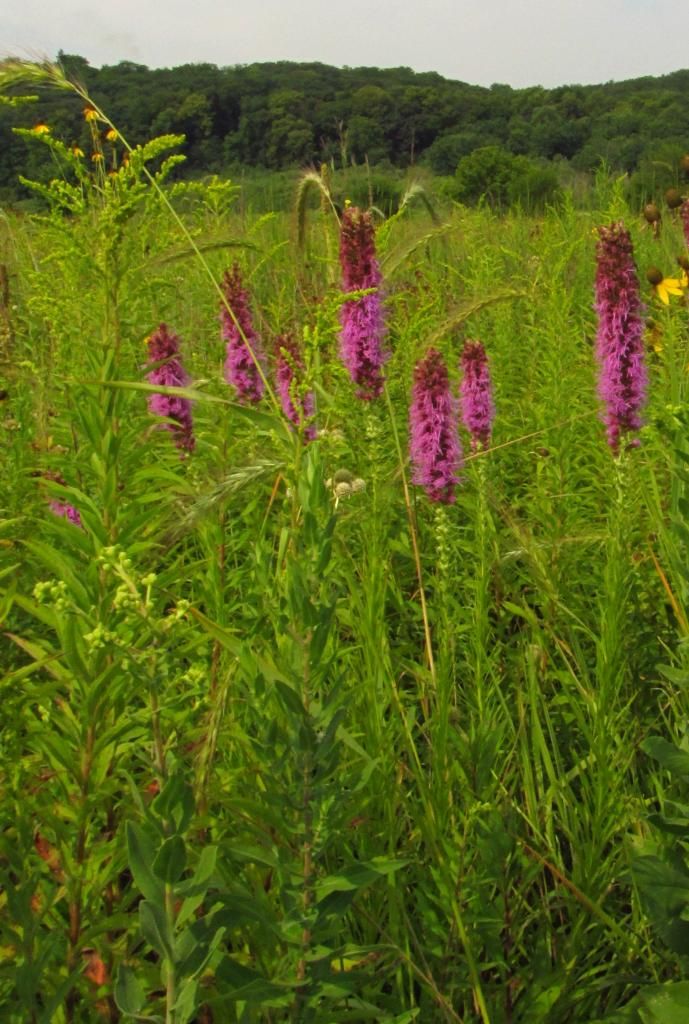 More coneflowers, most of which have finished blooming, are in the background of this picture.