You don't have to travel to a natural area to see today's featured plant. Ironweed grows near many Iowa roadsides as well as on prairies or in marshes, and its bright pink/purple color makes it easy to spot. After the jump I've posted several pictures of ironweed growing in a restored Dallas County prairie.
This is an open thread: all topics welcome.
Ironweed (Vernonia fasciculata), also known as prairie ironweed or common ironweed, typically starts blooming in July and continues through September in Iowa. Each plant has many flower heads. In this shot you can see quite a few buds as well as open flowers.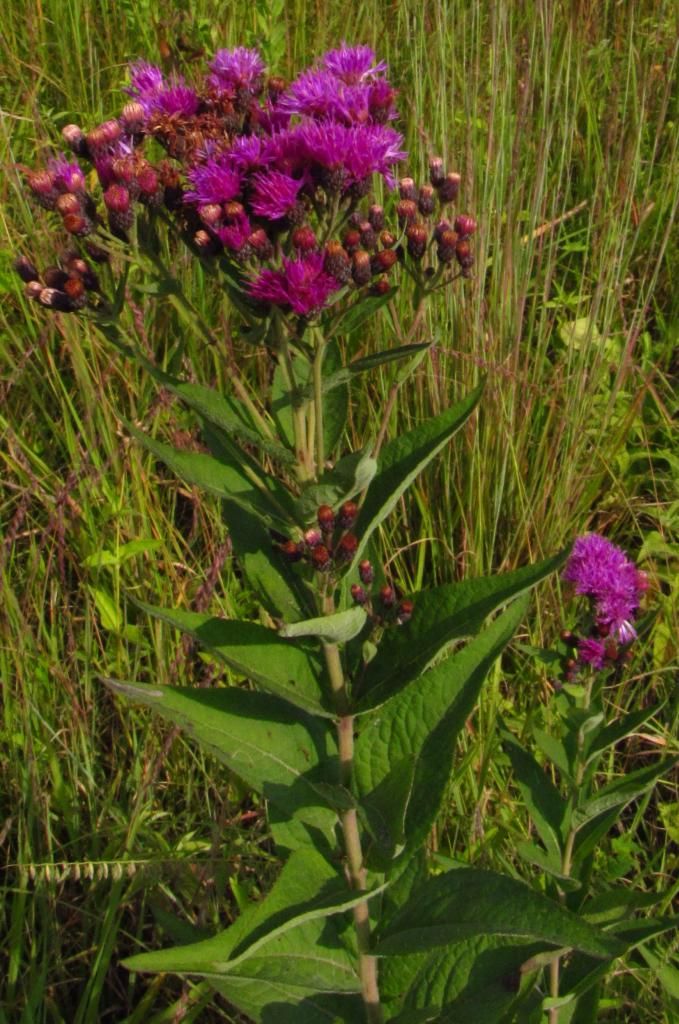 Sylvan Runkel and Dean Roosa write in Wildflowers of the Tallgrass Prairie,
Due to its tough, fibrous nature and bitter taste, ironweed has been of apparently little or no use as a medicinal plant or as a food for wildlife. It may become a pest in prairie pastures and is a sign of overgrazing. Since it is considered unpalatable, it is usually undisturbed while other plants are grazed.

The name ironweed comes from the toughness of the plant. Beekeepers know it as a good nectar producer. [...]

Many people think the ironweeds are the loveliest of the late summer and fall blooming prairie plants. They add a splash of intense purple color to the otherwise subdued autumn prairie landscape.
In this shot, the ironweed stands out on the lower right. To the left you can see yellow or gray-headed coneflower. I think that the lighter pink flowers in between are some kind of tick trefoil, possibly Illinois tick trefoil or showy tick trefoil. Some compass plants are blooming in the middle distance.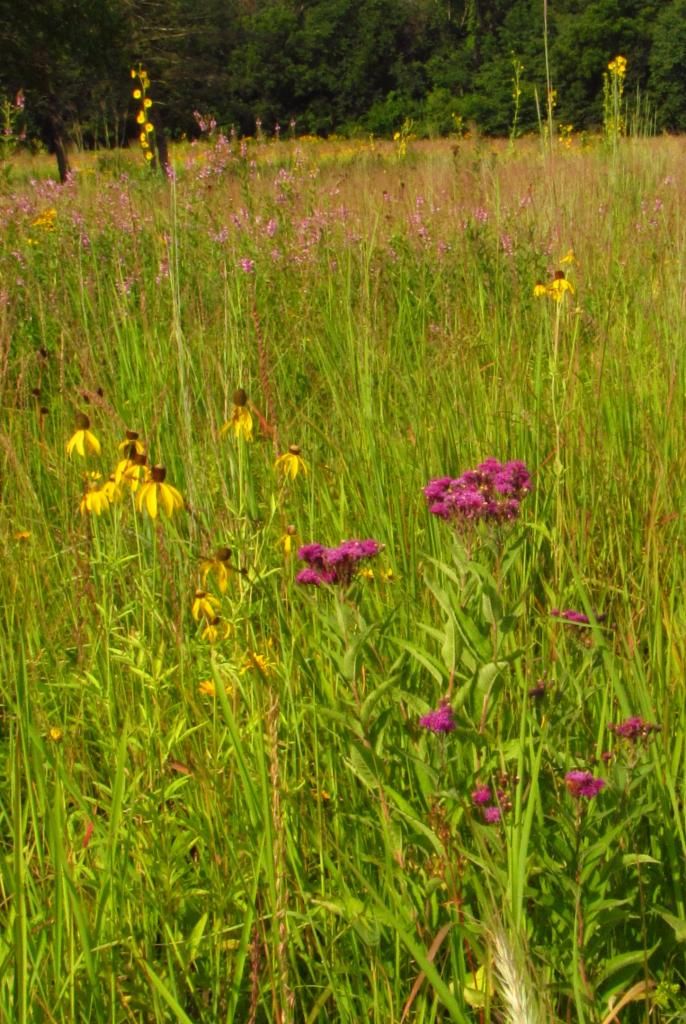 For those planning a butterfly garden, the Lady Bird Johnson Wildflower Center's website notes that ironweed attracts butterflies and is a larval host for the American painted lady species. The same site warns that this plant is "Too aggressive for small areas. Needs competition." The Missouri Botanical Garden advises gardeners that ironweed is
Easily grown in average, medium to wet soils in full sun. Although it is mostly seen growing in the wild in moist soils, with tolerance for periodic but brief flooding, it performs quite well in cultivation in average garden soils. Plants generally grow taller in moist soils. Overall plant height may be reduced by cutting back stems in late spring. Easily grown from seed. Remove flower heads before seed develops to avoid any unwanted self-seeding.
Here are a couple more photos taken last month.