In order to win an Iowa Senate majority, Republicans need to defeat at least one Democratic incumbent next November. One of the likely targets, three-term Senator Daryl Beall, got his first Republican challenger earlier this month in Iowa Senate district 5.
Follow me after the jump for my first take on Tim Kraayenbrink's chances against Beall. I've enclosed a district map and the latest voter registration numbers, along with background on both candidates.
As a general rule, I consider any Democratic legislator who survived the 2010 Republican wave a favorite to be re-elected again in 2014, unless the incumbent either faces a stronger challenger or is running in a much more difficult district. Beall defeated first-time Republican candidate Chris McGonegle by more than 1,600 votes in 2010 (pdf). I am seeking comment from McGonegle on a possible rematch next year. Meanwhile, Tim Kraayenbrink announced his candidacy in mid-October.
The candidate owns Kraayenbrink Financial and Associates, an independent investment advising firm he started in 2007.

From 1988 to 2007, he was a district representative for Aid Association for Lutherans/Thrivent.

The Paullina native started his professional career in 1982 at the former Northwest Webster School District, which is today's Manson Northwest Webster Community School District. There, he taught high school industrial arts and drivers education. He was also the head football coach.
At this writing, I haven't seen any official campaign presence for Kraayenbrink online, such as a website or Facebook page. His business website is here. I couldn't find much record of political involvement by Kraayenbrink. Searching his contributions to other state campaigns, all I found were a bunch of $20 donations to a PAC representing financial advisers and a $100 donation to a Fort Dodge City Council candidate six years ago.
Beall's district did become somewhat more Republican under the map approved in 2011. He continues to represent most of Webster County, including Fort Dodge, and Calhoun County. Instead of Greene County to the south, he now represents Pocahontas and Humboldt to the north. Here's a closer look: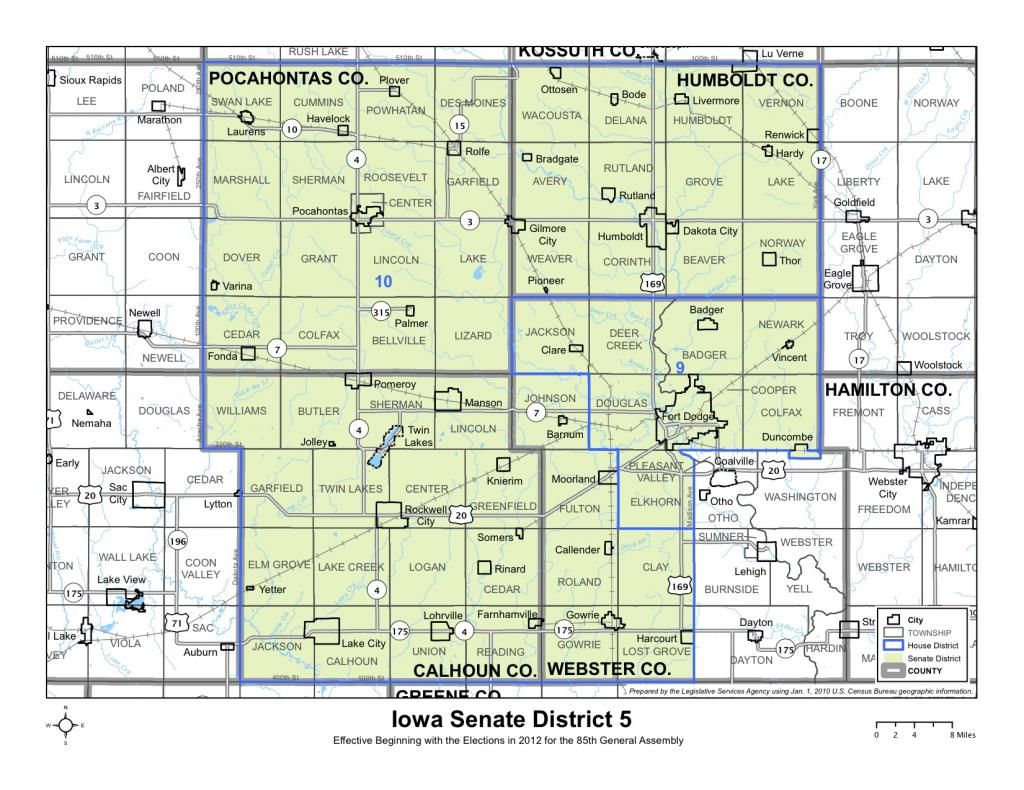 As of October 2013, Senate district 5 contained 12,319 registered Democrats, 12,985 Republicans, and 16,835 no-party voters. That's not a significant advantage for the GOP, but the district did vote for Mitt Romney over Barack Obama by a narrow margin. Beall's current district is a bit more Republican than his old Senate district 25, which contained about 1,000 more Democrats than Republicans as of November 2010. But Beall was re-elected by more than 1,000 votes in 2010, despite generally poor Democratic turnout across Iowa. He must have done quite well among independents.
That's not surprising, since Beall's work in the Senate hasn't focused on highly contentious partisan issues. Here's his official biography from the Iowa Senate website.
Daryl Beall was elected in 2010 to his third four-year term in the Iowa Senate. He represents the people of Calhoun, Humboldt, Pocahontas and Webster counties.

Senator Beall is chair of the Veterans Affairs Committee, vice-chair of the Transportation Committee and vice-chair of the Transportation, Infrastructure and Capitals Budget Subcommittee. He also serves on the Agriculture, Commerce and Education committees, and is vice chair of the Joint House-Senate International Relations Committee. He is a commissioner with the Education Commission of the States, an interstate compact.

Beall was born in Fort Dodge and grew up near the Calhoun County town of Somers. He attended Iowa Central Community College in Fort Dodge, where he earned his associate degree and served as student body president. He earned a B.A. in political science from Buena Vista University and a Master of Public Administration degree from Drake University. He was a Taft Fellow at Macalester College in St. Paul, Minnesota, and is a graduate of the FBI Citizens Academy.

Beall taught political science courses at Urbandale High School, where he created and directed the Government Intern program in which students worked for state legislators. He earned the Teacher's Medal from the Freedoms Foundation at Valley Forge for his innovative teaching style. He later was twice elected to the Fort Dodge School Board.

Beall managed his family-owned furniture business in Fort Dodge and was president of the Downtown Retailers Association. He also served as president of the Interfaith Forum, the Kiwanis Club, and as a board member of the Child Abuse Council, and the alcoholism treatment center. Beall is a member of the Kiwanis Club and Trinity United Methodist Church.

He was active in Sister City, serving as president, and helped organize linkages in Japan, Canada and Russia. He worked as a mission volunteer with the Lakota people in South Dakota.

Beall earned the 2002 Martin Luther King Jr. Award for Community Service for his demonstrated efforts to promote racial harmony and tolerance of all people. The Izaak Walton League named Beall Legislator of the Year in 2006 for legislative leadership on recycling and environmental protection. In 2010, he received the President Herbert Hoover "Uncommon Public Service Award." In 2008, the Iowa Asian Alliance named him "Asian Ambassador," and in 2011 the Iowa Chinese Association presented him The Community Service Diversity Award. In 2009, he received the "Leadership in Citizen Diplomacy Award," and was the keynote speaker at the 2009 World Youth Leadership Institute in Beijing, China.

Iowa Central Community College named Beall "Outstanding Alumni" and Iowa Sister State awarded Beall the Governor Robert Ray Community Service Award in 2012. Beall earned The Charles Dick Medal of Merit from the National Guard Association of the United States for his dedication to veterans.

Beall ran for Secretary of State in 1972 and remains the youngest statewide candidate in the history of Iowa.

Beall was a newspaper columnist, editor, publisher and public relations manager at weekly and daily newspapers in Iowa, Colorado and South Dakota before returning to Fort Dodge, where he was marketing director for The Messenger. He earned several state, national and Associated Press awards for column and editorial writing and for newspaper promotion. He also served as University Relations Director and on the President's Council at Dakota Wesleyan University.

Daryl and his wife, Jo Ann, have three grown children and eleven grandchildren.
Controversial bills rarely run through the Veterans Affairs Committee Beall chairs, and he's not associated with any hot-button bills that have emerged from the Transportation Committee, Education, Agriculture, or Commerce committees. Beall was an early voice against a pro-nuclear power bill that would have been a huge rip-off for Iowa consumers. Polling at the time that bill was under consideration showed strong opposition to its key points.
Beall was the key sponsor of a bill that "would have required coverage of autism spectrum disorders on group and individual insurance plans." That bill passed the Iowa Senate with strong bipartisan support in 2012 but died in the Republican-controlled Iowa House. Insurance coverage for autism spectrum disorders is an issue that affects many Iowa families regardless of party affiliation, and Beall worked hard to try to address the problem.
Clearly, Kraayenbrink's strategy will be to keep the incumbent's margin down in the Fort Dodge area, where both candidates live, and run up the score in more Republican-leaning Calhoun, Pocahontas, and Humboldt Counties. Beall has a reputation for being a diligent door-knocker, though, so I doubt he will be outworked by any rookie candidate. I don't see boilerplate conservative talking points working well against him, because he doesn't have a strongly partisan profile.
It's way too early to know what the political atmosphere will be like in November 2014, but at this point, my money is on Beall winning a fourth term.
Any relevant comments are welcome in this thread.