At least two Republicans will seek to represent Iowa House district 25, now open because of Julian Garrett's special election victory in Iowa Senate district 13. Retired attorney Stan Gustafson announced his campaign yesterday. He "moved to rural Cumming in Madison County after retiring as an attorney practicing international law in California." His press release indicates that he will focus on Iowa's business climate, keeping taxes low, and protecting veterans.
Former Madison County Supervisor Joan Acela, a retired teacher in Winterset schools, confirmed by telephone this morning that she will also seek the Republican nomination in House district 25. When the House seat covering Madison County was open in 2010, Acela finished third in the GOP primary. In 2012, she fell short in her primary challenge to then-incumbent Garrett despite having support from The FAMiLY Leader organization run by Bob Vander Plaats and Chuck Hurley. Here's a link to her questionnaire for that group, which shows her views on many issues important to social conservatives.
After Governor Terry Branstad sets a date for the special election in House district 25, both parties will hold nominating conventions to choose a candidate. The Republican selected will be heavily favored to hold this seat. As of November 2013, House district 25 contained 6,252 registered Democrats, 7,977 Republicans, and 8,271 no-party voters. The presidential vote in House district 25 split 54.1 percent for Mitt Romney, 44.3 percent for Barack Obama last year. I've posted a district map after the jump.
While House district 25 is vacant, Republicans hold 52 seats and Democrats 47 seats in the Iowa House.
UPDATE: Added a short bio provided by Joan Acela. SECOND UPDATE: Added more background on Stan Gustafson.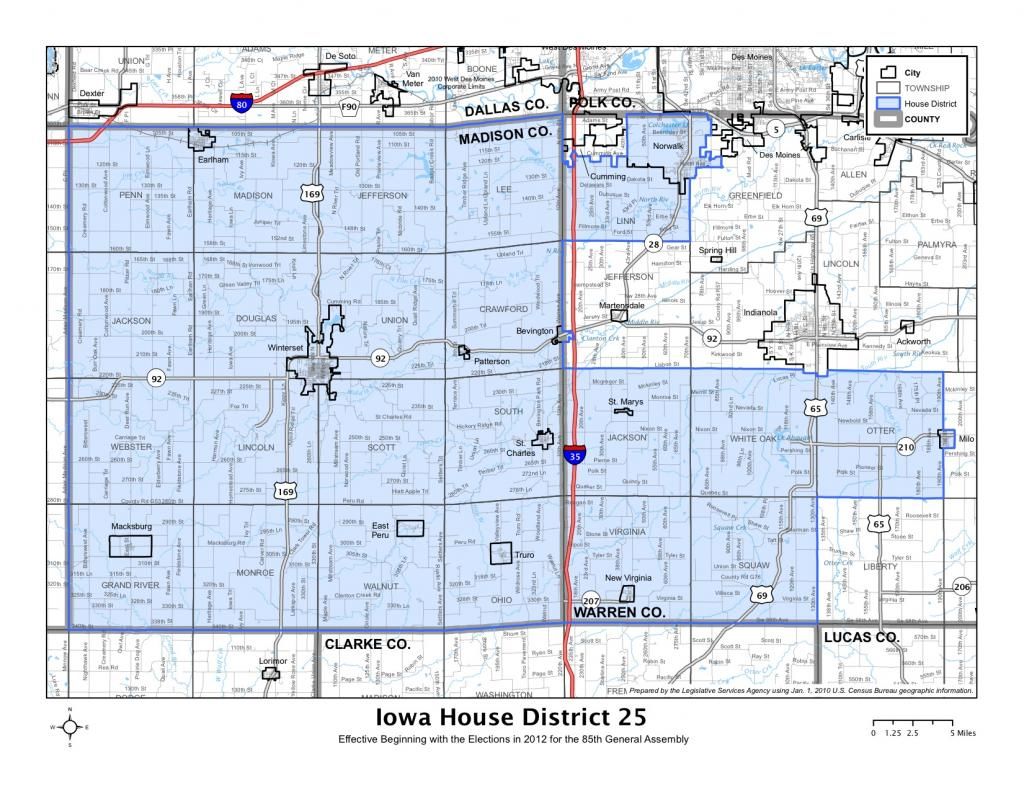 Excerpt from Acela's November 21 press release announcing her candidacy in House district 25:
Joan served as the first woman Madison County Supervisor from 2007 through 2010. She also served as a legislative aide for Representative Guy Vander Linden during the 2011 session of the Iowa Legislature. Joan's background includes teaching in the Johnston Community School District for seven years, and teaching in the Winterset Community School District for twenty-seven years. She was elected to serve on the Board of Directors of the Madison County Health Care System for a four-year term. Joan has served on local, regional, and state boards, so she has become very informed about concerns facing Iowans today. She is currently active in community groups and civic organizations.
Stan Gustafson provided this biographical information via e-mail:
1. Stan Gustafson 3139 Cumming Road, Cumming, Ia 50061.

2. USMC 1965 – 1991, retired as Lt. Col. Served in Viet Nam as a Forward Artillery Observer.

3. University of California – Berkeley, BS Finance

Cal State – Los Angeles – studied Middle Eastern History/Comparative Religions

South Bay University, School of Law – Juris Doctorate

4. Attorney, specialized in Import/Export; Manager, Material Control, Mattel Toys, International Division.

5. Lt. Col, USMCR – Battery Commander, Battalion Operations Officer (S-3);

President – American Congress Bridge League – Unit 216 Central Iowa;

Judge Advocate – Marine Corps League – Des Moines

Member – American Legion Post 562 – Cumming

Member – Republican Central Committee – Madison County – 7 years