Three days before the deadline to file as a major-party candidate for the state legislature, a Democrat finally stepped up to run against first-term State Senator Rick Bertrand in Iowa Senate district 7. Likely to be among the most competitive statehouse races this year, Senate district 7 is a must-hold for Republicans trying to win a majority in a chamber Democrats have controlled by 26 votes to 24 since 2011. Leading Democrats view the district as a pick-up opportunity, in part because of a voter registration advantage and strong performance by Democratic candidates there in 2012.
Follow me after the jump for a first look at this race. I've included a district map and the latest voter registration numbers as well as background on Bertrand and his Democratic challenger, Jim France.
Senate district 7 covers parts of Woodbury County, including most of Sioux City other than the south side of town. Here's a closer look: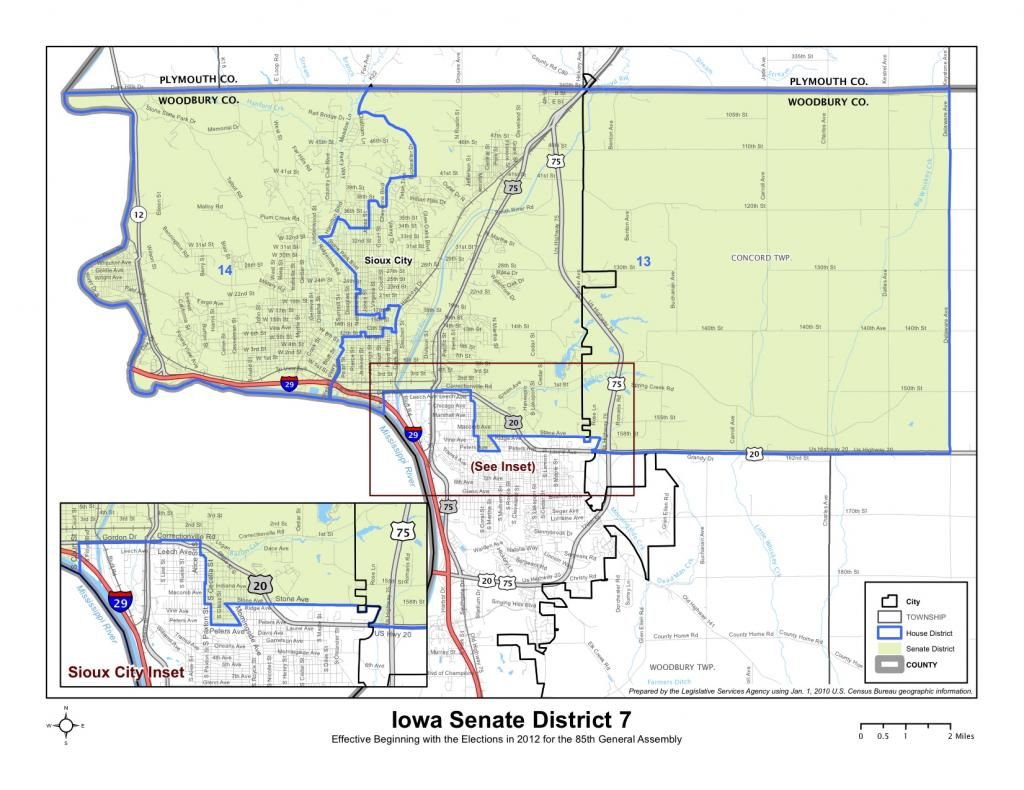 Earlier this year, Senate Majority Leader Mike Gronstal mentioned the Sioux City district among a group of Republican-held seats that are "in play," making him optimistic about chances to expand his majority.
At least three factors put Bertrand on the target list.
1. Incumbents are often most vulnerable in their first re-election attempt, and Bertrand's a first-termer who barely won in a landslide Republican year. To be precise, he won an open seat by only 222 votes in 2010, aided by a last-minute controversy over an attack ad run by Democrats. (Bertrand later won damages in a defamation lawsuit over that television commercial. The Iowa Supreme Court is now considering that case.)
2. As of March 2014, Senate district 7 contained 12,876 registered Democrats, 9,583 Republicans, and 11,654 no-party voters. Only one Republican in the Iowa Senate (Mark Chelgren in Ottumwa) represents a district with a larger Democratic registration advantage.
3. Democrats had spectacular GOTV in the Sioux City area in 2012. Woodbury County was the only Iowa county that went for Barack Obama in 2012 after going for John McCain in 2008. In fact, Obama's share of the vote in Senate district 7 was 56.7 percent to just 41.9 percent for Mitt Romney. No Iowa Senate district held by a Republican went for Obama by a larger margin in 2012--not even Chelgren's seat in the Ottumwa area.
Democratic candidates won both Iowa House districts that make up Senate district 7 by surprisingly large margins in 2012. Chris Hall won re-election in House district 13 (the eastern part of Sioux City and much of downtown) by nearly 800 votes, even though he faced a strong opponent, Republican State Representative Jeremy Taylor. David Dawson carried House district 14 (most of the west side) by more than 2,000 votes, even though his opponent had previously been elected to the Sioux City school board.
Inevitably, this year's midterm electorate will be much smaller than the 2012 voter universe. But it's notable that turnout in Sioux City was incredibly low in 2010. Only about 15,000 people cast ballots in Bertrand's victory over Rick Mullin, whereas voters cast well over 20,000 ballots in most of the competitive 2010 Iowa Senate races. Democrats don't need to match 2012 turnout to have a chance at defeating Bertrand. They do need to improve on their 2010 GOTV, though.
A strong candidate is essential when competing against an incumbent. Many Democrats were hoping that former State Senator Steve Hansen, who retired from the legislature in 2002, would run against Bertrand. Hansen opted not to run, but Democrats recruited someone with a lot of local stature. Here's the March 11 press release from the Iowa Senate Majority Fund:
SIOUX CITY - Retired Executive Director of the Siouxland Human Investment Partnership (SHIP) Jim France has announced his candidacy for the Iowa Senate in District 7.

District 7 is entirely within Woodbury County and includes Sioux City north of Highway 20 as well as Concord Township.

"I'm running for the State Senate because I believe our community isn't being served by the current State Senator," said France. "I've lived in Siouxland for over forty years, completing my college education, serving in the National Guard, working with several local manufacturing businesses, and until recently, directing an agency that administers health, human service, education and public safety initiatives for over 100,000 children and families.

"I want to take that diverse set of experiences and background to serve the broader community of District 7 in the Iowa Senate."

After retiring from SHIP, France remained active in the Sioux City community, where he serves on the board of Victory Education Services, an organization dedicated to helping veterans find job training, employment and affordable housing in Sioux City. He also is a board member of the Iowa Chapter of Child Advocacy Centers, Siouxland's Council on Sexual Assault & Domestic Violence, and ARC of Woodbury County.

"I have always believed in service and in taking an active volunteer role in the community," France said. "It's important to support your community and do whatever you can to make sure people get a chance to make the best life possible in Siouxland."

France moved to Siouxland in 1965. He earned his bachelor's degree in English & Speech from Westmar College in Le Mars and his MBA from the University of South Dakota. France served in the Iowa National Guard from 1970-1976. His wife, Ginger, recently retired after teaching for 40 years, the last 18 years in the Sioux City Schools.

France added: "I will be campaigning by contacting voters in Senate District 7. I want to find out what's important to the people here. I'm going to take advantage of this warmer weather and try to meet people right on their front porch, which if they're like me, they'll be ready to get out on after this long winter."

France added that he welcomes calls and emails from the people of Senate District 7. "If we don't get a chance to talk in person, please call or email me at jimfrance4senate@gmail.com or (712) 253-4868."

A diligent Iowa Senate candidate can realistically hope to knock on the doors of most district residents over the course of seven or eight months. France already has many local contacts through his work and volunteering, but reaching thousands of voters directly will be critical to raising his profile during this campaign.
Bertrand is well-known in the Sioux City area, not only as a politician but as owner of the McCarthy & Bailey's Irish Pub. His bio on the Iowa Senate Republicans website is short and sweet:
Rick Bertrand was born and raised on a small farm on the Northeast edge of Sioux City. Rick graduated from the University of Northern Iowa in 1993 where he studied Economics and Political Science. Rick and his wife, Tammy, were married in 1998 and are blessed with three children.

Rick is an established entrepreneur and commercial developer at the local, national, and international level.
The bio page from his 2010 campaign website contains more background. Excerpt:
Rick Bertrand grew up on a family farm within Sioux City's District 1. Here Rick was taught the value of family, and the rewards of hard work.

Rick attended Grant Elementary before graduating from Bishop Heelan High School in 1988. Bertrand attended Iowa Central Community College in Fort Dodge Iowa before earning his Bachelor's Degree in Political Science from the University of Northern Iowa in 1993. For the past 14 years Rick has worked passionately in the healthcare industry marketing products and programs for the treatment of Diabetes. Rick's commitment to the patient, and solutions based philosophy, has earned him the trust and respect locally, and nationally in the Diabetes arena. [...]

Bertrand's agricultural background, business experience, and personal values form the foundation of his leadership and discussion making ability. Bertrand's genuine ability to listen enables him to connect with people, broker solutions, and simply get things done.

Rick is a positive, innovative, hard working Iowan that believes in a small limited government and personal responsibility. Bertrand's local, national, and international experience provides a fresh perspective on local business development and state government responsibility. Bertrand is committed to Iowa family values, fiscal discipline, tax relief, education, and simplifying government.

Rick completed in 2009 his 2 year term on the Sioux City Community School Board Advisory Committee. Bertrand's "return on investment" approach is an innovative plan that combines a high quality education with a vision that encompasses social and economic goals beyond graduation.

Capitalizing on his entrepreneurial spirit, Bertrand founded TARINI Wines in early 2004 and is the current president of JAR Imports.

After battling a Thyroid illness in 2003, Bertrand recommitted himself to maximizing life. In the fall of 2008 Rick conquered his 4th marathon, The New York City Marathon. Rick currently serves on the Sioux City Art Center Board of Directors, and sat on the June E.Nylen Cancer Center fundraising committee. Rick and Tammy are both life long Iowa District 1 residents and are active members of St. Joseph parish.
Note: JAR Imports "introduced and now distributes Argentinian wines" throughout Iowa.
Bertrand has been a vocal proponent of adding lanes to U.S. Highway 20 in northwest Iowa. Unlike many advocates of Iowa road-building, though, he staunchly opposes any increase in the state gasoline tax.
In late January, Bertrand suffered a mild stroke and had a short hospital stay. The Iowa Senate Journals indicate that he was back in committee meetings on February 4, and he has been present for most of the Senate floor votes this session.
I have no doubt that Republicans will spend heavily to defend Bertrand, if necessary. It's hard to see Republicans winning 26 Iowa Senate seats without holding Senate district 7. They don't have many promising Democratic targets, and they hold a couple of seats at risk in eastern Iowa. Furthermore, Bertrand is on good terms with Iowa Senate Minority Leader Bill Dix, who backed his candidacy financially in 2010. Bertrand returned the favor by supporting Dix's first attempt to lead the Senate GOP caucus. Soon after Dix became the top Iowa Senate Republican in November 2012, Bertrand became Senate minority whip. He stepped down from that position just before this year's legislative session in order to focus on his re-election campaign.
I was surprised that Bertrand didn't raise more money for his campaign last year. His campaign finance report covering 2013 showed just $30,285 in contributions from a range of individuals and political action committees. (Many of those PACs gave similar amounts to dozens of Iowa legislators, so that fundraising required no effort from Bertrand.) I suppose he's counting on other Republican sources, but Dix started 2014 with only $132,973.89 cash on hand and several other key races to fund.
Please share any comments or predictions about the race in Senate district 7.